AuNRs/mesoporous silica/hydroxyapatite nanovehicles with thermally responsive polymeric cap for remotely controlled drug delivery
Abstract
In this study, Au nanorods (AuNRs)/mesoporous silica (SiO2)/hydroxyapatite (HAP) nanovehicles with thermally responsive polymeric cap for remotely controlled drug delivery were prepared. The degradability of the hybrid nanovehicles could be greatly enhanced by introducing pH-responsive HAP into mesoporous SiO2 shell, which would result in the corrosion of HAP from the hybrid matrix in acid media. Thermal-/pH-sensitive poly(N-isopropylacrylamide-co-acrylic acid) (PNA, P(NIPAM-co-AAc)) was employed as the smart polymeric cap to control the drug delivery of hybrid nanoparticles. The in vitro drug delivery results showed that the hybrid nanoparticles displayed excellent drug loading efficiency and distinct near-infrared (NIR)–, thermal-, and pH-responsive drug delivery properties. The results of cell viability also demonstrated that the prepared P(NIPAM-co-AAc)-capped AuNRs/SiO2/HAP nanoparticles exhibited the outstanding biocompatibility. The present study provides a facile way to prepare multi-responsive nanovehicles with excellent biocompatibility and degradability by combining intelligent polymer with hybrid inorganic skeleton, which is greatly promising for remotely controllable drug release.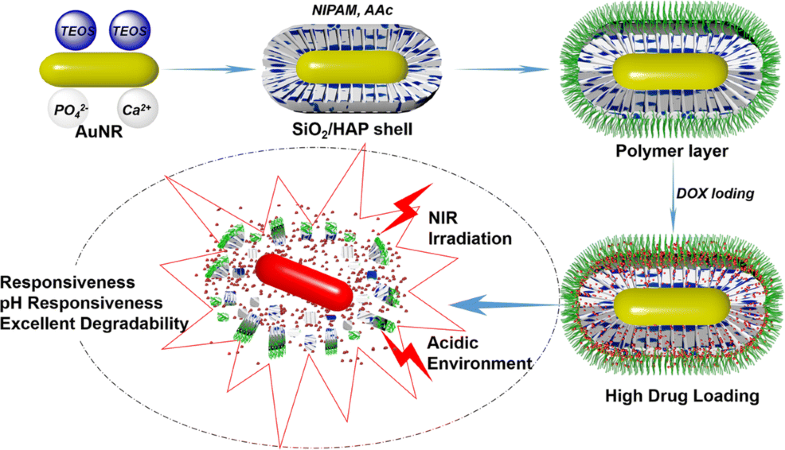 Keywords
Gold nanorods 
Hydroxyapatite 
P(NIPAM-co-AAc) 
Smart drug delivery 
NIR-responsiveness 
Notes
Funding information
This work was financially supported by the Henan Provincial Natural Science Foundation of China (Project 162300410257) and the National Natural Science Foundation of China (Project 20874090).
Compliance with ethical standards
Conflict of interest
The authors declare that they have no conflict of interest.
Copyright information
© Springer Nature Switzerland AG 2019