A novel flexible room temperature positive temperature coefficient material for thermal management
Abstract
In order to solve the installation application problem of positive temperature coefficient (PTC) materials in the field of thermal management for electronic devices and energy conversion system, a novel flexible thin film room temperature polymer PTC material is prepared and studied in this paper. The material is prepared by mixing graphite powder (GP) in paraffin/olefin block copolymer (OBC) in which OBC provides flexibility as a supporting material. Besides, the PTC characteristics and mechanical properties of the material are studied experimentally. It is found that the prepared composites have good PTC characteristics and flexibility. The measuring results show that flexibility of the novel PTC material is optimal when the content of graphite powder is 40% and mass proportion of OBC/paraffin is 30:70; at this time, the PTC intensity of the material can reach 2.9 and low temperature resistivity of the material is about 1800 Ω∙cm. Meanwhile, the novel PTC material is compared with the conventional PTC material through various experiments. It is found that the novel PTC material prepared in this paper has better performance than the conventional PTC material in many aspects, and has better prospect and practical value.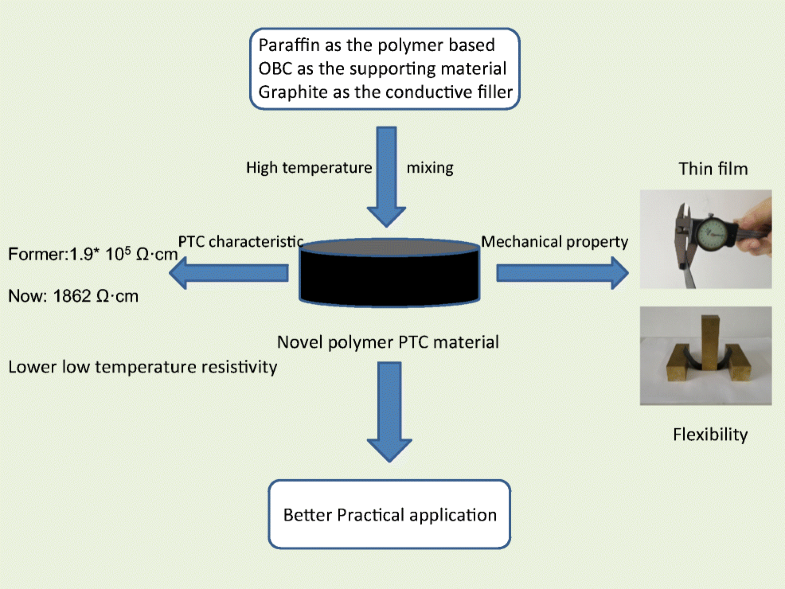 Keywords
Thermal management 
Positive temperature coefficient 
Flexibility 
Mechanical property 
Notes
Funding information
This work is supported by the National Science Foundation of China (Grant No. 51876198).
Compliance with ethical standards
Conflict of interest
The authors declare that there are no conflicts of interest.
Copyright information
© Springer Nature Switzerland AG 2019