Use of BN-coated copper nanowires in nanocomposites with enhanced thermal conductivity and electrical insulation
Abstract
Copper nanowires (CuNWs), as one-dimensional nanostructures, could be highly helpful as thermal management tools because of inherent thermal conductivity, high aspect ratio, and low cost. In this study, boron nitride-coated copper nanowires (CuNWs@BN) were successfully synthesized by an amenable and rapid technique and incorporated into synthetic polyimide (PI) to increase thermal conductivity while providing electrical insulation to nanocomposites. Maximal thermal conductivity in CuNWs@BN/PI composites containing fillers loading up to 20% volume rose to 4.12 W/mK, indicating an amelioration of 23 times in comparison with that of pure PI, while volume resistivity remained greater than 4.8 × 1013 Ω cm. Such nanocomposites with high thermal conductivity and electrical insulation could constitute important tools for thermal management.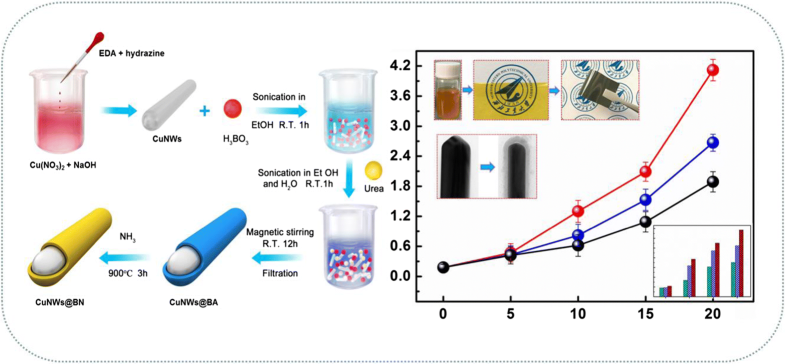 Keywords
Copper nanowires (CuNWs) 
Boron nitride (BN) 
Thermal properties 
Electrical properties 
Polymer composites materials (PCMs) 
Notes
Acknowledgments
We would like to thank the Analytical & Testing Center of Northwestern Polytechnical University for their equipment supporting.
Funding
This study was supported by the National Natural Science Foundation of China (51707159), the Natural Science Foundation of Shaanxi Province (2017JM5073), the State Key Laboratory of Electrical Insulation and Power Equipment (EIPE17205), and the Fundamental Research Funds for the Central Universities (3102017zy047).
Compliance with ethical standards
Conflict of interest
The authors declare that they have no conflict of interest.
Copyright information
© Springer Nature Switzerland AG 2019