Preparation, development, outcomes, and application versatility of carbon fiber-based polymer composites: a review
Abstract
The high strength to weight ratio of carbon fiber has made it as an attractive energy-saving material over the conventional strength-bearing materials like steel. Realizing the trend, the high-weight steel is being progressively replaced by the low-weight and corrosion-resistant carbon fiber composites in many strength applications. The carbon fiber-reinforced polymer matrix composite (PMC) have thereby become forefront material in aerospace, automobile, sporting goods, and other applications which demand high strength and high modulus. Moreover, the gradual reduction of its cost curtsy to the extensive research in the field of carbon fiber technology in recent years has been opened its market in different construction applications. This review is the discussion of carbon fiber loaded a variety of polymer matrix composites where the structural importance of these composites has been emphasized. The objective of this discussion is to provide information on the whole spectrum of carbon fiber-based polymeric composites. It also includes brief discussion about preparation and properties of carbon fibers along with processing, fabrication, and structural applications of these carbon fiber-based polymer composites.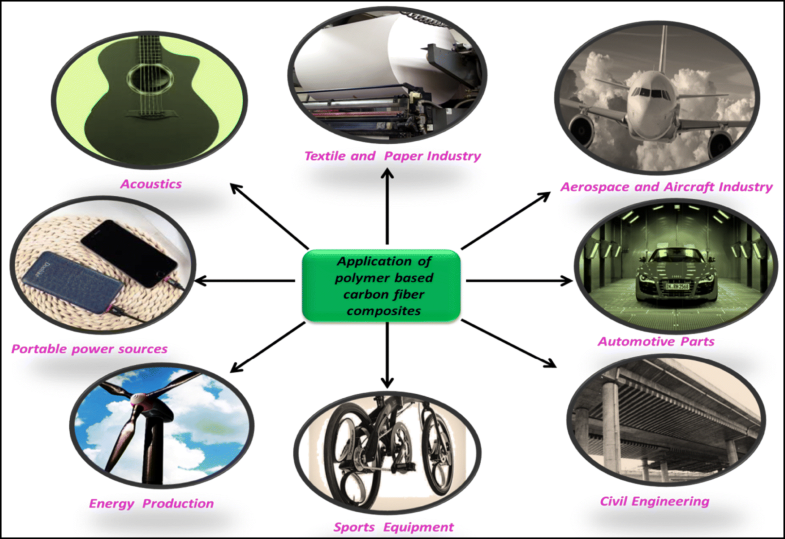 Keywords
Carbon fiber 
Polymer matrix composite 
Reinforcement 
Structural applications 
Abbreviations
CF

Carbon fiber

GF

Glass fiber

PMC

Polymeric matrix composite

FRP

Fiber-reinforced polymer composite

AF

Aramid fibers

PAN

Polyacrylonitrile

UHM

Ultrahigh modulus

HM

High modulus

IM

Intermediate modulus

SHT

Super high tensile strength

HIT

High-heat treatment

IHT

Intermediate-heat treatment

LHT

Low-heat treatment

PES

Polyethersulfone

PPS

Polyphenyl sulfide

PEEK

Polyetheretherketone

PEI

Polyetherimide

PI

Polyimide

RTM

Resin transfer molding

EMI

Electromagnetic interference

Tg

Glass transition temperature

PC

Polycarbonate

PLA

Polylactic acid

SEM

Scanning electron microscope

STM

Scanning tunneling microscope
Notes
Compliance with ethical standards
Conflict of interest
The authors declare that they have no conflict of interest.
Copyright information
© Springer Nature Switzerland AG 2019