Developing high-performance thin-film composite forward osmosis membranes by various tertiary amine catalysts for desalination
Abstract
A desirable membrane with high separation performance, excellent antifouling properties, and chemical stability is important to the advance of forward osmosis (FO) technology in the wastewater treatment and desalination processes. In this work, three different tertiary amines, i.e., tri-ethylamine (TEA), tris(2-aminoethyl) amine (TAEA), and hexamethylenetetramine (HMTA), are employed as catalysts to accelerate the interfacial polymerization (IP) reaction for constructing the PA layer with optimized properties and performance of the resulting membranes. For the first time, the effect of different tertiary amines on the microstructure, morphology, and surface properties of formed PA layers, as well as the separation performance, fouling, and chemical resistance of the resulting TFC membranes, are studied systematically with various characterization techniques. As compared with the control membrane, modified membranes exhibit obviously improved separation performance and greater potential in the desalination process. Furthermore, modified membranes also exhibit improved fouling resistance and chemical stability. Therefore, the tertiary amine modification of TFC membranes may shed a new light for their future applications in harsh conditions.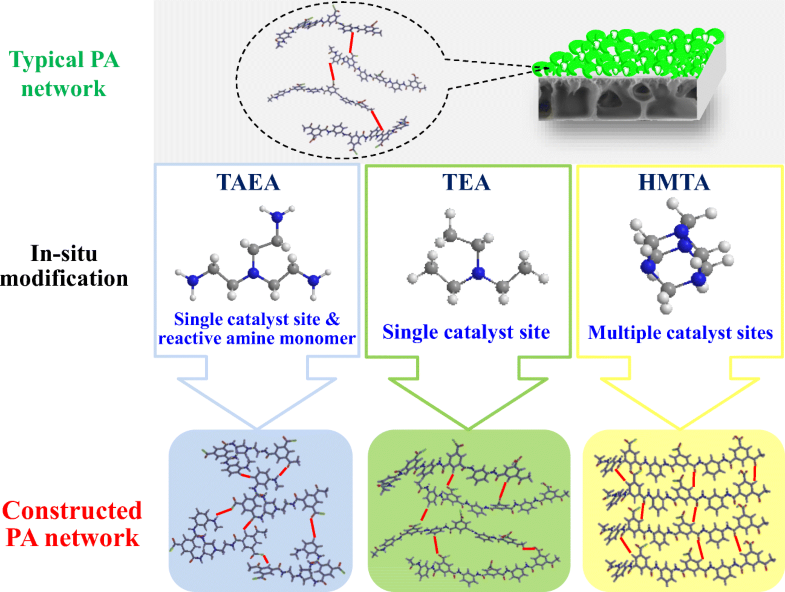 Keywords
Forward osmosis 
Thin-film composite membrane 
In situ modification 
Tertiary amine catalyst 
Desalination 
Notes
Acknowledgments
We thank the financial support from the National Key Technology Support Program (no. 2014BAD12B06); National Natural Science Foundation of China (no. 21306058); Natural Science Foundation of Hubei Scientific Committee (2016CFA001); and Opening project of Key Laboratory of Biomedical Polymers of Ministry of Education at Wuhan University (no. 20140401). Special thanks are also given to the Analysis and Testing Center, the Analysis and Testing Center of Chemistry and Chemical Engineering School, and the State Key Laboratory of Materials Processing and Die & Mould Technology, in Huazhong University of Science and Technology, for their help with material characterizations.
Compliance with ethical standards
Conflict of interest
The authors declare that they have no conflict of interest.
Copyright information
© Springer Nature Switzerland AG 2018