Thermodynamics equilibrium analysis on the chemical vapor deposition of HfC as coatings for ceramic matrix composites with HfClx(x = 2–4)-CyHz(CH4, C2H4 and C3H6)-H2-Ar system
Abstract
A detailed thermodynamic equilibrium analysis in the chemical vapor deposition of HfC as coatings for ceramic matrix composites with HfClx(x = 2–4)-CyHz(CH4, C2H4 and C3H6)-H2-Ar system has been investigated using the FactSage code. To protect the excellent performance of the composites, we demand a suitable composition and yield of condensed phases. They have been examined as functions of the inject reactant ratios of HfClx/(HfClx + CyHz) and H2/(HfClx + CyHz), temperatures, and pressures. The results show that the HfCl4 species are the optimal Hf-source in the deposition process. The ideal ratio parameters for production of single phase HfC are Log[H2/(HfCl4 + CyHz)] = 2 and Hf/C = 1. And the optimum temperature condition is above 1200 K. A lower pressure of 5 kPa is found to be more favorable for the deposition of a pure HfC phase. The co-deposition of HfC with C or Hf will be easily obtained by only controlling the ratios of HfCl4/(HfCl4 + CyHz) and H2/(HfCl4 + CyHz). The HfCl4-C3H6-H2 precursor system should be the best choice in the experiment due to a higher yield of HfC at the same deposition conditions. The results in this work will be helpful for the further experiment investigation under different deposition conditions and put forward a new idea in exploration of the preparation method of coatings for ceramic matrix composites.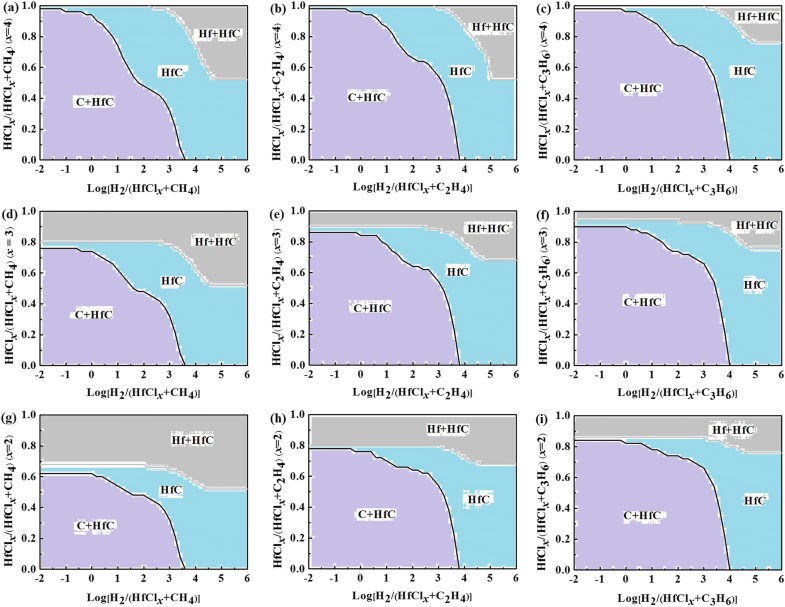 Keywords
Hafnium carbide 
Production of condensed phase 
Thermodynamics 
Chemical vapor deposition 
Notes
Funding
The authors would like to acknowledge the financial support of Natural Science Foundation of China (51672218), Shaanxi science and technology research and development projects (2014K08-20), Creative Research Foundation of Science and Technology on Thermostructural Composite Materials Laboratory (6142911020106), the Research Fund of the State Key Laboratory of Solidification Processing (NWPU, SKLSP201645), China (Grant No. 145-QZ-2016), and the special fund for basic scientific research of central colleges of Chang'an University (No. 0012-310600161000).
Compliance with ethical standards
Conflict of interest
The authors declare that they have no conflict of interest.
Copyright information
© Springer Nature Switzerland AG 2018