Poly(butylene adipate-co-terephthalate) bionanocomposites: effect of SnO2 NPs on mechanical, thermal, morphological, and antimicrobial activity
Abstract
As the demand for ready-made food is increasing, it is necessary to develop effective food packaging materials with antimicrobial activity to ensure microbiological safety of food. In this study, SnO2 nanoparticles (SnO2 NPs) are prepared with chemical precipitation method. Different amounts of SnO2 NPS (1, 3, 5, 7, and 10 wt%) are reinforced into the poly(butylene adipate-co-terephthalate) (PBAT) using ultrasonication method, and the nanocomposites are made using solvent casting method. The structural properties of nanocomposites have been analyzed with FT-IR, XRD, SEM, and TEM. The investigation on structural properties is confirming the strong attraction between the SnO2 and the PBAT. Mechanical tests like elongation at break and tensile strength have been investigated, and our results show the enhancement in mechanical strength of nanocomposites over pure PBAT. This is due to uniform dispersion of SnO2 NPs in the PBAT matrix and strong interaction between the carbonyl group of PBAT and oxygen atom of SnO2. Oxygen and water permeability of PBAT/SnO2 showed that the nanocomposites had better barrier properties than the PBAT. In addition, the PBAT/SnO2 (PSO-10) nanocomposites exhibited profound antibacterial activity against the food-borne pathogens E.coli and S. aureus. Therefore, PBAT/SnO2 nanocomposites can be used for food packaging applications as it shows a good mechanical, thermal, degradation, barrier, and antimicrobial activities.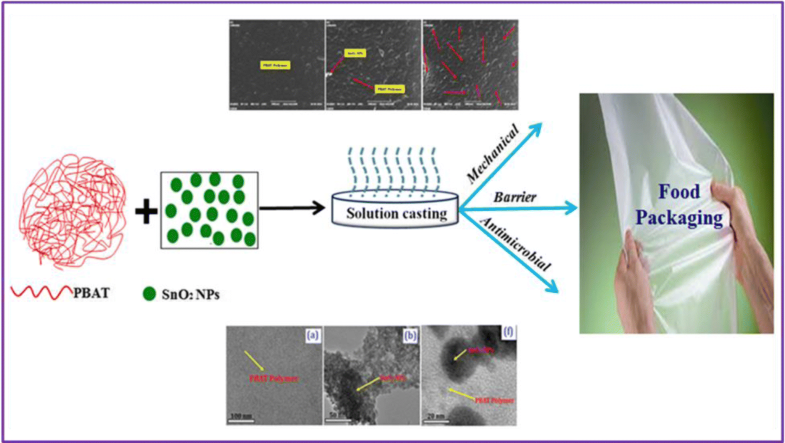 Keywords
Poly(butylene adipate-co-terephthalate) 
Composites 
Mechanical strength 
Barrier properties 
Antimicrobial activity 
Notes
Acknowledgements
One of the authors, RV, acknowledges Dr. A. Tamilselvi, Principal Scientist, CSIR-Central Leather Research Institute, Adyar, Chennai, for helping in the biological studies. The authors also acknowledge Mr. J. Sandeep, Assistant Professor, Department of Printing Technology, Anna University, Chennai, for the very helpful discussions.
Funding information
The authors specially thank the Centre for Research, Anna University, for providing financial support (proc. no. CR/ACRF/2013-10; dated, 27.02.2013) to carry out the research work.
Compliance with ethical standards
Conflict of interest
The authors that they have no conflict of interest.
Copyright information
© Springer Nature Switzerland AG 2018