A Model Hierarchy for Psychological Science
Abstract
Lee et al. (2019) provided a comprehensive list of recommendations for modelers that aims at improving the robustness of their results. Drawing from the literature on philosophy of science, the present commentary argues for a broader view of modeling that considers the different roles that they play in our scientific practices. Following Suppes (1966), I propose a model hierarchy and discuss the distinct issues that arise at each of its levels. The benefit of a hierarchy of this kind is that it can aid researchers in better understanding the different challenges that they face.
Keywords
Cognitive modeling 
Robustness 
Model comparison 
There is much to like in Lee et al.'s (2019) recommendations. However, I cannot avoid thinking that something important is missing. If I had to express my concern in one sentence, it would be that "methodology is downstream of conceptual analysis." In order to discuss methods and approaches in modeling and attribute them some utility, we first need to have a clear understanding of the different roles that models can play in our scientific practices. In psychological science, the term "model" is often exclusively understood in a "statistical sense," denoting a parametric function that yields probability distributions over a well-defined sample space. In this commentary, I will rely on a broader understanding found in the philosophy of science literature, in which a model is any representation of some "target system" (for reviews, see Frigg and Hartmann 2018, Morgan et al. 1999).
A good starting point for discussing the roles that models can take is Patrick Suppes' (
1966
) seminal paper
Models of Data
. In this short piece, Suppes argues that there is no direct contact between a researcher's theory and the world. Instead, their relationship is mediated by multiple models that interact with each other in a somewhat hierarchical fashion:
... a whole hierarchy of models stands between the model of the basic theory and the complete experimental experience. Moreover, for each level of the hierarchy there is a theory in its own right. Theory at one level is given empirical meaning by making formal connections with theory at a lower level. (...) It is precisely the fundamental problem of scientific method to state the principles of scientific methodology that are to be used to answer these questions — questions of measurement, of goodness of fit, of parameter estimation, of identifiability, and the like. (Suppes 1966, pp. 260)
Figure 
1
illustrates one possible Suppes-type hierarchy (for alternative formulations, see Giere
2004
,
2010
; Mayo
1996
). At the top and bottom levels of the hierarchy, we have the researcher and the world, with the former holding theories and hypotheses about the latter. There is a deductive gap between the two, however. We cannot deduce a given observation
O
from a theory or hypothesis alone. To do so, we also need to introduce a number of auxiliary assumptions. The implication is that no set of observations (
O
or not-
O
) is by itself sufficient to change our beliefs about any scientific theory or hypothesis (Duhem
1954
). This is where the models in the hierarchy come in. By providing
representations
of the theory, the data, and the experiment, they allow the researcher to bridge the deductive gap between her hypotheses and the world. On one hand, models enable the application of an abstract theory to some real system (e.g., observable behavior in a given experiment). On the other, they allow us to represent this real system in a more abstract and idealized manner that is amenable to theoretical description (Frigg and Hartmann
2018
; Morgan et al.
1999
).
1
Finally, note that the arrows illustrate the crosstalk between the different levels of the hierarchy—they denote the presence of joint constraint and the fact that learning occurs via an iterative process. All levels of the hierarchy are to be continuously revisited through "loosening" and "tightening" activities, with new ideas being generated and tested (for discussions, see Box
1976
, Fiedler
2018
).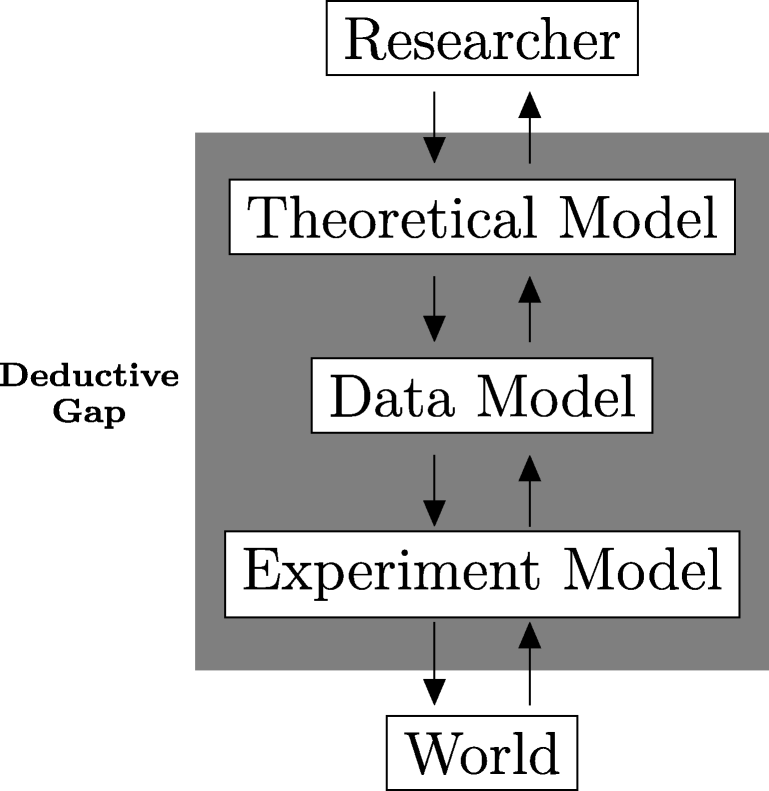 The differentiation of models established by the proposed hierarchy is helpful in two ways. First, it highlights the nature of representation: To represent something is to engage in an intentional act of relating two objects according to an established set of goals and criteria. It involves somebody (the researcher) bestowing the representing object (the model) a given function. Cases of misrepresentation are those in which the representing object fails to serve this function and live up to the established criteria. A subway map deviates in many ways from the actual subway system. But because its goal is to tell you how to go places, we can only refer to it as a misrepresentation if it fails to take you from point A to B (for an overview, see Van Fraassen 2008). Second, the proposed differentiation makes the problem of appraisal and error checking more tractable, allowing researchers to investigate the possibility of assumption violations separately at each level. We can then refer to our modeling efforts as robust when are shown to withstand our best efforts to dismiss them (Mayo 1996).
Notes
Acknowledgments
I thank Mike L. Kalish, Henrik Singmann, and Andrea L. Turnbull for valuable comments on an earlier draft.
Copyright information
© Society for Mathematical Psychology 2019