Abstract
It has been more than 80 years since the discovery of vitamin D and its ability to cure rickets in children. Vitamin D is a secosteroid and comes in two distinct forms, vitamin D2 and vitamin D3. During the last 40 years, the synthesis and metabolism of vitamin D were elucidated and more than 50 metabolites of vitamin D have been discovered, though commercial measurement procedures have been developed for only a few of them. The clinical significance of vitamin D in calcium and phosphorus homeostasis is well appreciated. However, recent epidemiological data have indicated that it has several extra-skeletal physiologic actions which are still a matter of scientific debate. Both research findings and the debate around the interpretation of the research results have created increased interest in more measurements of vitamin D. With the ever growing family of measurable vitamin D metabolites and the measuring techniques comes a question: What metabolic product will provide the right answers and which is the best way to measure it. The right choice of analytical technique is connected with the question of which metabolite we aim to measure, what is its serum concentration, and the purpose of the measurement. The aim of the first part of this review is to provide a brief overview of vitamin D metabolism and a more detailed analysis of the existing methods and the status of standardization for the measurement of 25-hydroxyvitamin D.
This is a preview of subscription content, log in to check access.
Access options
Buy single article
Instant unlimited access to the full article PDF.
US$ 39.95
Price includes VAT for USA
Subscribe to journal
Immediate online access to all issues from 2019. Subscription will auto renew annually.
US$ 99
This is the net price. Taxes to be calculated in checkout.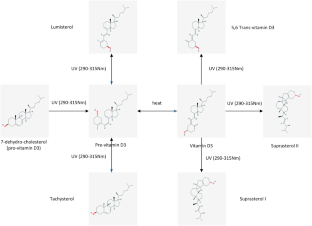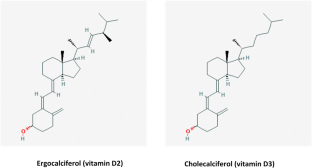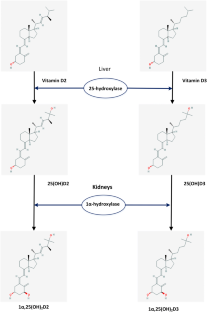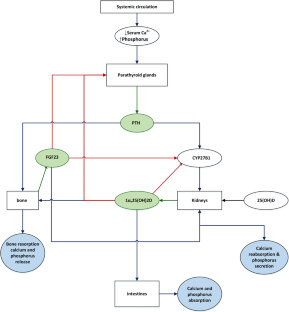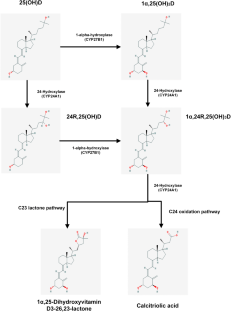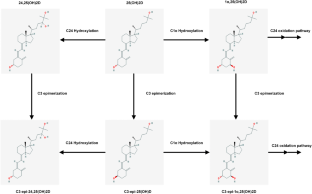 Abbreviations
7-DHC:

dehydrocholesterol or provitamin D3

24,25(OH)2D3:

24,25-dihydroxyvitamin D3

25(OH)D3:

calcidiol or 25-hydroxyvitamin D3

1α,25(OH)2D3:

calcitriol or 1,25-dihydroxyvitamin D3

C3-epi-25(OH)D:

C3-epimer of the 25(OH)D

CYP27B1:

25(OH)D-1a-hydroxylase

CYP24A1:

24-hydroxylase

PTH:

parathyroid hormone

FGF-23:

fibroblast growth factor-23

VDBP:

vitamin D binding protein

VDDR:

vitamin D-dependent rickets

VDR:

vitamin D receptor

VDSP:

Vitamin D Standardization Program

CLD:

chronic liver disease

CKD:

chronic kidney disease

SHPT:

secondary hyperparathyroidism

UV:

ultraviolet

HPLC:

high-performance liquid chromatography

LC-MS/MS:

liquid chromatography coupled with mass spectrometry

CPBA:

competitive protein binding assays

RIA:

radioimmunoassays

ELISA:

enzyme-linked immunosorbent assays

CLIA:

chemiluminescent assays

RMP:

reference measurement procedure

PRM:

primary reference material

NIST:

National Institute for Standards and Technology

IFCC:

International Federation of Clinical Chemistry

JCTLM:

Joint Committee for Traceability in Laboratory Medicine

AACC:

American Association for Clinical Chemistry

DEQAS:

Vitamin D External Quality Assessment Scheme

CAP:

College of American Pathologists

CDC:

Center for Disease Control

EQA:

External Quality Assessment
References
1.

Bikle DD (2012) Vitamin D and bone. Curr Osteoporos Rep 10(2):151–159

2.

Holick MF (1995) Environmental factors that influence the cutaneous production of vitamin D. Am J Clin Nutr 61(3 Suppl):638S–645S

3.

Holick MF (2007) Vitamin D deficiency. N Engl J Med 357(3):266–281

4.

Haddad JG, Matsuoka LY, Hollis BW, Hu YZ, Wortsman J (1993) Human plasma transport of vitamin D after its endogenous synthesis. J Clin Invest 91(6):2552–2555

5.

Jones G (2012) Metabolism and biomarkers of vitamin D. Scand J Clin Lab Investig Suppl 243:7–13

6.

Christakos S, Dhawan P, Verstuyf A, Verlinden L, Carmeliet G (2016) Vitamin D: Metabolism, molecular mechanism of action, and pleiotropic effects. Physiol Rev 96(1):365–408

7.

Jones G, Prosser DE, Kaufmann M (2014) Cytochrome P450-mediated metabolism of vitamin D. J Lipid Res 55(1):13–31

8.

Henry HL (2011) Regulation of vitamin D metabolism. Best Pract Res Clin Endocrinol Metab 25(4):531–541

9.

Jones G, Kottler ML, Schlingmann KP (2017) Genetic diseases of Vitamin D metabolizing enzymes. Endocrinol Metab Clin N Am 46(4):1095–1117

10.

Nykjaer A, Dragun D, Walther D, Vorum H, Jacobsen C, Herz J et al (1999) An endocytic pathway essential for renal uptake and activation of the steroid 25-(OH) vitamin D3. Cell 96(4):507–515

11.

Kaseda R, Hosojima M, Sato H, Saito A (2011) Role of megalin and cubilin in the metabolism of vitamin D(3). Ther Apher Dial 15(Suppl 1):14–17

12.

Takeda E, Yamamoto H, Taketani Y, Miyamoto K (1997) Vitamin D-dependent rickets type I and type II. Acta Paediatr Jpn 39(4):508–513

13.

Bikle DD (2014) Vitamin D metabolism, mechanism of action, and clinical applications. Chem Biol 21(3):319–329

14.

Bosworth C, de Boer IH (2013) Impaired vitamin D metabolism in CKD. Semin Nephrol 33(2):158–168

15.

Jones G, Strugnell SA, DeLuca HF (1998) Current understanding of the molecular actions of vitamin D. Physiol Rev 78(4):1193–1231

16.

Jones G (2008) Pharmacokinetics of vitamin D toxicity. Am J Clin Nutr 88(2):582S–586S

17.

Tebben PJ, Singh RJ, Kumar R (2016) Vitamin D-mediated Hypercalcemia: mechanisms, diagnosis, and treatment. Endocr Rev 37(5):521–547

18.

Gupta RP, He YA, Patrick KS, Halpert JR, Bell NH (2005) CYP3A4 is a vitamin D-24- and 25-hydroxylase: analysis of structure function by site-directed mutagenesis. J Clin Endocrinol Metab 90(2):1210–1219

19.

Roizen JD, Li D, O'Lear L, Javaid MK, Shaw NJ, Ebeling PR et al (2018) CYP3A4 mutation causes vitamin D-dependent rickets type 3. J Clin Invest 128(5):1913–1918

20.

Reddy GS, Muralidharan KR, Okamura WH, Tserng KY, McLane JA (2001) Metabolism of 1alpha,25-dihydroxyvitamin D(3) and its C-3 epimer 1alpha,25-dihydroxy-3-epi-vitamin D(3) in neonatal human keratinocytes. Steroids 66(3–5):441–450

21.

Bailey D, Veljkovic K, Yazdanpanah M, Adeli K (2013) Analytical measurement and clinical relevance of vitamin D(3) C3-epimer. Clin Biochem 46(3):190–196

22.

Kamao M, Tatematsu S, Hatakeyama S, Sakaki T, Sawada N, Inouye K et al (2004) C-3 epimerization of vitamin D3 metabolites and further metabolism of C-3 epimers: 25-hydroxyvitamin D3 is metabolized to 3-epi-25-hydroxyvitamin D3 and subsequently metabolized through C-1alpha or C-24 hydroxylation. J Biol Chem 279(16):15897–15907

23.

Singh RJ, Taylor RL, Reddy GS, Grebe SK (2006) C-3 epimers can account for a significant proportion of total circulating 25-hydroxyvitamin D in infants, complicating accurate measurement and interpretation of vitamin D status. J Clin Endocrinol Metab 91(8):3055–3061

24.

Lensmeyer G, Poquette M, Wiebe D, Binkley N (2012) The C-3 epimer of 25-hydroxyvitamin D(3) is present in adult serum. J Clin Endocrinol Metab 97(1):163–168

25.

Zerwekh JE (2008) Blood biomarkers of vitamin D status. Am J Clin Nutr 87(4):1087S–1091S

26.

Baecher S, Leinenbach A, Wright JA, Pongratz S, Kobold U, Thiele R (2012) Simultaneous quantification of four vitamin D metabolites in human serum using high performance liquid chromatography tandem mass spectrometry for vitamin D profiling. Clin Biochem 45(16–17):1491–1496

27.

Wong RG, Myrtle JF, Tsai HC, Norman AW (1972) Studies on calciferol metabolism. V. the occurrence and biological activity of 1,25-dihydroxy-vitamin D 3 in bone. J Biol Chem 247(18):5728–5735

28.

Norman AW, Okamura WH, Friedlander EJ, Henry HL, Johnson RL, Mitra MN et al (1976) Current concepts of the chemical conformation, metabolism, and interaction of the steroid, vitamin D, with the endocrine system for calcium homeostasis. Calcif Tissue Res 21(Suppl):153–159

29.

Herrmann M, Farrell CL, Pusceddu I, Fabregat-Cabello N, Cavalier E (2017) Assessment of vitamin D status - a changing landscape. Clin Chem Lab Med 55(1):3–26

30.

Heureux N, Vitamin D (2017) Testing-where are we and what is on the horizon? Adv Clin Chem 78:59–101

31.

Makowski AJ, Rathmacher JA, Horst RL, Sempos CT (2017) Simplified 25-Hydroxyvitamin D standardization and optimization in dried blood spots by LC-MS/MS. J AOAC Int 100(5):1328–1336

32.

Hayden Y, Pillay T, Marx G, de Lange W, Kuyl Johannes M. Pre-analytical stability of 25(OH)-vitamin D in primary collection tubes. Clinical Chemistry and Laboratory Medicine (CCLM)2015. p. e55

33.

Maxwell JD (1994) Seasonal variation in vitamin D. Proc Nutr Soc 53(3):533–543

34.

Webb AR, Kline L, Holick MF (1988) Influence of season and latitude on the cutaneous synthesis of vitamin D3: exposure to winter sunlight in Boston and Edmonton will not promote vitamin D3 synthesis in human skin. J Clin Endocrinol Metab 67(2):373–378

35.

Wang TJ, Zhang F, Richards JB, Kestenbaum B, van Meurs JB, Berry D et al (2010) Common genetic determinants of vitamin D insufficiency: a genome-wide association study. Lancet 376(9736):180–188

36.

Guessous I, Dudler V, Glatz N, Theler JM, Zoller O, Paccaud F et al (2012) Vitamin D levels and associated factors: a population-based study in Switzerland. Swiss Med Wkly 142:0

37.

Gallagher JC (2013) Vitamin D and aging. Endocrinol Metab Clin N Am 42(2):319–332

38.

Gloth FM 3rd, Gundberg CM, Hollis BW, Haddad JG Jr, Tobin JD (1995) Vitamin D Deficiency in homebound elderly persons. Jama 274(21):1683–1686

39.

Migliaccio S, Di Nisio A, Mele C, Scappaticcio L, Savastano S, Colao A et al (2019) Obesity and hypovitaminosis D: causality or casualty? Int J Obes Suppl 9(1):20–31

40.

Vanlint S (2013) Vitamin D and obesity. Nutrients 5(3):949–956

41.

Clemens TL, Adams JS, Henderson SL, Holick MF (1982) Increased skin pigment reduces the capacity of skin to synthesise vitamin D3. Lancet 1(8263):74–76

42.

Jablonski NG (2004) The evolution of human skin and skin color. Annu Rev Anthropol 33(1):585–623

43.

Arteh J, Narra S, Nair S (2010) Prevalence of Vitamin D deficiency in chronic liver disease. Dig Dis Sci 55(9):2624–2628

44.

Costa Silva M, Erotides Silva T, de Alentar ML, Honorio Coelho MS, Wildner LM, Bazzo ML et al (2015) Factors associated with 25-hydroxyvitamin D levels in patients with liver cirrhosis. Ann Hepatol 14(1):99–107

45.

Kitson MT, Roberts SK (2012) D-livering the message: the importance of vitamin D status in chronic liver disease. J Hepatol 57(4):897–909

46.

Corey RL, Whitaker MD, Crowell MD, Keddis MT, Aqel B, Balan V et al (2014) Vitamin D deficiency, parathyroid hormone levels, and bone disease among patients with end-stage liver disease and normal serum creatinine awaiting liver transplantation. Clin Transpl 28(5):579–584

47.

Lai JC, Bikle DD, Lizaola B, Hayssen H, Terrault NA, Schwartz JB (2015) Total 25(OH) vitamin D, free 25(OH) vitamin D and markers of bone turnover in cirrhotics with and without synthetic dysfunction. Liver Int 35(10):2294–2300

48.

Wiese RJ, Uhland-Smith A, Ross TK, Prahl JM, DeLuca HF (1992) Up-regulation of the vitamin D receptor in response to 1,25-dihydroxyvitamin D3 results from ligand-induced stabilization. J Biol Chem 267(28):20082–20086

49.

Dusso AS, Tokumoto M (2011) Defective renal maintenance of the vitamin D endocrine system impairs vitamin D renoprotection: a downward spiral in kidney disease. Kidney Int 79(7):715–729

50.

Jean G, Souberbielle JC, Chazot C (2017) Vitamin D in Chronic Kidney Disease and Dialysis Patients. Nutrients 9(4)

51.

Dusso AS (2011) Kidney disease and vitamin D levels: 25-hydroxyvitamin D, 1,25-dihydroxyvitamin D, and VDR activation. Kidney Int Suppl 1(4):136–141

52.

Guessous I, McClellan W, Kleinbaum D, Vaccarino V, Zoller O, Theler JM et al (2014) Comparisons of serum vitamin D levels, status, and determinants in populations with and without chronic kidney disease not requiring renal dialysis: a 24-hour urine collection population-based study. J Ren Nutr 24(5):303–312

53.

Melamed ML, Astor B, Michos ED, Hostetter TH, Powe NR, Muntner P (2009) 25-hydroxyvitamin D levels, race, and the progression of kidney disease. J Am Soc Nephrol 20(12):2631–2639

54.

Agarwal R, Georgianos PI (2016) Con: nutritional vitamin D replacement in chronic kidney disease and end-stage renal disease. Nephrol Dial Transplant 31(5):706–713

55.

Goldsmith DJ (2016) Pro: should we correct vitamin D deficiency/insufficiency in chronic kidney disease patients with inactive forms of vitamin D or just treat them with active vitamin D forms? Nephrol Dial Transplant 31(5):698–705

56.

Bosworth CR, Levin G, Robinson-Cohen C, Hoofnagle AN, Ruzinski J, Young B et al (2012) The serum 24,25-dihydroxyvitamin D concentration, a marker of vitamin D catabolism, is reduced in chronic kidney disease. Kidney Int 82(6):693–700

57.

Lee SW, Russell J, Avioli LV (1977) 25-hydroxycholecalciferol to 1,25-dihydroxycholecalciferol: conversion impaired by systemic metabolic acidosis. Science 195(4282):994–996

58.

Vanholder R, Patel S, Hsu CH (1993) Effect of uric acid on plasma levels of 1,25(OH)2D in renal failure. J Am Soc Nephrol 4(4):1035–1038

59.

Saraf R, Morton SM, Camargo CA Jr, Grant CC (2016) Global summary of maternal and newborn vitamin D status - a systematic review. Matern Child Nutr 12(4):647–668

60.

Christesen HT, Elvander C, Lamont RF, Jorgensen JS (2012) The impact of vitamin D in pregnancy on extraskeletal health in children: a systematic review. Acta Obstet Gynecol Scand 91(12):1368–1380

61.

Heijboer AC, Blankenstein MA, Kema IP, Buijs MM (2012) Accuracy of 6 routine 25-hydroxyvitamin D assays: influence of vitamin D binding protein concentration. Clin Chem 58(3):543–548

62.

Lips P (2007) Relative value of 25(OH)D and 1,25(OH)2D measurements. J Bone Miner Res 22(11):1668–1671

63.

Su Z, Narla SN, Zhu Y (2014) 25-Hydroxyvitamin D: analysis and clinical application. Clin Chim Acta 433:200–205

64.

Bikle DD, Vitamin D (2018) Assays. Front Horm Res 50:14–30

65.

Holick MF (2009) Vitamin D status: measurement, interpretation, and clinical application. Ann Epidemiol 19(2):73–78

66.

Gil A, Plaza-Diaz J, Mesa MD (2018) Vitamin D: Classic and novel actions. Ann Nutr Metab 72(2):87–95

67.

Haddad JG, Chyu KJ (1971) Competitive protein-binding radioassay for 25-hydroxycholecalciferol. J Clin Endocrinol Metab 33(6):992–995

68.

Hollis BW, Napoli JL (1985) Improved radioimmunoassay for vitamin D and its use in assessing vitamin D status. Clin Chem 31(11):1815–1819

69.

Couchman L, Moniz CF (2017) Analytical considerations for the biochemical assessment of vitamin D status. Ther Adv Musculoskelet Dis 9(4):97–104

70.

Sturgeon CM, Viljoen A (2011) Analytical error and interference in immunoassay: minimizing risk. Ann Clin Biochem 48(Pt 5):418–432

71.

Ward G, Simpson A, Boscato L, Hickman PE (2017) The investigation of interferences in immunoassay. Clin Biochem 50(18):1306–1311

72.

Ekins RP (1989) Multi-analyte immunoassay. J Pharm Biomed Anal 7(2):155–168

73.

Omi K, Ando T, Sakyu T, Shirakawa T, Uchida Y, Oka A et al (2015) Noncompetitive immunoassay detection system for haptens on the basis of antimetatype antibodies. Clin Chem 61(4):627–635

74.

Cavalier E, Lukas P, Bekaert AC, Peeters S, Le Goff C, Yayo E et al (2016) Analytical and clinical evaluation of the new Fujirebio Lumipulse(R)G non-competitive assay for 25(OH)-vitamin D and three immunoassays for 25(OH)D in healthy subjects, osteoporotic patients, third trimester pregnant women, healthy African subjects, hemodialyzed and intensive care patients. Clin Chem Lab Med 54(8):1347–1355

75.

Jones G, DeLuca HF (1975) High-pressure liquid chromatography: separation of the metabolites of vitamins D2 and D3 on small-particle silica columns. J Lipid Res 16(6):448–453

76.

Jones G, Kaufmann M (2016) Vitamin D metabolite profiling using liquid chromatography–tandem mass spectrometry (LC–MS/MS). J Steroid Biochem Mol Biol 164:110–114

77.

Zelzer S, Goessler W, Herrmann M (2018) Measurement of vitamin D metabolites by mass spectrometry, an analytical challenge. J Lab Precis Med 3

78.

Holick MF, Binkley NC, Bischoff-Ferrari HA, Gordon CM, Hanley DA, Heaney RP et al (2012) Guidelines for preventing and treating vitamin D deficiency and insufficiency revisited. J Clin Endocrinol Metab 97(4):1153–1158

79.

Io M (2011) In: Ross AC, Taylor CL, Yaktine AL, Del Valle HB (eds) Dietary reference intakes for calcium and Vitamin D. The National Academies Press, Washington, p 1132

80.

Binkley N, Krueger D, Cowgill CS, Plum L, Lake E, Hansen KE et al (2004) Assay variation confounds the diagnosis of hypovitaminosis D: a call for standardization. J Clin Endocrinol Metab 89(7):3152–3157

81.

Sempos CT, Durazo-Arvizu RA, Binkley N, Jones J, Merkel JM, Carter GD (2016) Developing vitamin D dietary guidelines and the lack of 25-hydroxyvitamin D assay standardization: the ever-present past. J Steroid Biochem Mol Biol 164:115–119

82.

Sempos CT, Vesper HW, Phinney KW, Thienpont LM, Coates PM, Vitamin DSP (2012) Vitamin D status as an international issue: national surveys and the problem of standardization. Scand J Clin Lab Investig Suppl 243:32–40

83.

Binkley N, Carter GD (2017) Toward clarity in clinical Vitamin D status assessment: 25(OH)D assay standardization. Endocrinol Metab Clin N Am 46(4):885–899

84.

Stepman HCM, Vanderroost A, Van Uytfanghe K, Thienpont LM (2011) Candidate reference measurement procedures for serum 25-Hydroxyvitamin D3 and 25-Hydroxyvitamin D2 by using isotope-dilution liquid chromatography–tandem mass spectrometry. Clin Chem 57(3):441–448

85.

Greg Miller W, Myers GL, Lou Gantzer M, Kahn SE, Schonbrunner ER, Thienpont LM et al (2011) Roadmap for harmonization of clinical laboratory measurement procedures. Clin Chem 57(8):1108–1117

86.

Tai SS, Bedner M, Phinney KW (2010) Development of a candidate reference measurement procedure for the determination of 25-hydroxyvitamin D3 and 25-hydroxyvitamin D2 in human serum using isotope-dilution liquid chromatography-tandem mass spectrometry. Anal Chem 82(5):1942–1948

87.

Mineva EM, Schleicher RL, Chaudhary-Webb M, Maw KL, Botelho JC, Vesper HW et al (2015) A candidate reference measurement procedure for quantifying serum concentrations of 25-hydroxyvitamin D(3) and 25-hydroxyvitamin D(2) using isotope-dilution liquid chromatography-tandem mass spectrometry. Anal Bioanal Chem 407(19):5615–5624

88.

Binkley N, Sempos CT, Vitamin DSP (2014) Standardizing vitamin D assays: the way forward. J Bone Miner Res 29(8):1709–1714

89.

Sempos CT, Betz JM, Camara JE, Carter GD, Cavalier E, Clarke MW et al (2017) General steps to standardize the laboratory measurement of serum Total 25-Hydroxyvitamin D. J AOAC Int 100(5):1230–1233

90.

Stockl D, Sluss PM, Thienpont LM (2009) Specifications for trueness and precision of a reference measurement system for serum/plasma 25-hydroxyvitamin D analysis. Clin Chim Acta 408(1–2):8–13

91.

Vesper HW, Thienpont LM (2009) Traceability in laboratory medicine. Clin Chem 55(6):1067–1075

92.

Miller WG, Jones GR, Horowitz GL, Weykamp C (2011) Proficiency testing/external quality assessment: current challenges and future directions. Clin Chem 57(12):1670–1680
Acknowledgments
None of the authors declares any funding or grant related to this article.
Ethics declarations
Conflict of interest
The authors declare that they have no conflict of interest.
Additional information
Publisher's note
Springer Nature remains neutral with regard to jurisdictional claims in published maps and institutional affiliations.
About this article
Cite this article
Makris, K., Sempos, C. & Cavalier, E. The measurement of vitamin D metabolites: part I—metabolism of vitamin D and the measurement of 25-hydroxyvitamin D. Hormones (2020) doi:10.1007/s42000-019-00169-7
Received:

Accepted:

Published:
Keywords
Vitamin D

25-hydroxyvitamin D

Liquid chromatography

Mass spectrometry

Immunoassays

Standardization

Vitamin D standardization program