Obesity and bone metabolism
Abstract
The interaction between obesity and bone metabolism is complex. The effects of fat on the skeleton are mediated by both mechanical and biochemical factors. Though obesity is characterized by higher bone mineral density, studies conducted on bone microarchitecture have produced conflicting results. The majority of studies indicate that obesity has a positive effect on skeletal strength, even though most likely the effects are site-dependent and, in fact, obese individuals might be at risk of certain types of fractures. Mechanical loading and higher lean mass are associated with improved outcomes, whereas systemic inflammation, observed especially with abdominal obesity, may exert negative effects. Weight loss interventions likely lead to bone loss over time. Pharmacological treatment options seem to be safe in terms of skeletal health; however, the skeletal effects of bariatric surgery are dependent on the type of surgical procedure. Malabsorptive procedures are associated with higher short-term adverse effects on bone health. In this narrative review, we discuss the effects of obesity and weight loss interventions on skeletal health.
Keywords
Fracture 
Diabetes 
Leptin 
Adipose tissue 
Fat 
Weight 
Abbreviations
11β-HSD1

11β-hydroxysteroid dehydrogenase type 1

5-HT2C

5-hydroxytryptamine 2c

AACE

American Association of Clinical Endocrinologists

AACS

acetoacetyl-CoA synthetase

aBMD

areal bone mineral density

AGB

adjustable gastric band

ASBMS

American Society for Metabolic and Bariatric Surgery

Bglap2

bone gamma-carboxyglutamate protein 2

BM

bone marrow

BMC

bone mineral content

BMI

body mass index

BPD-LL

long limb-biliopancreatic diversion

Ca

calcium

c-fms

colony-stimulating factor

CLA

conjugated linoleic acid

Col1a1

collagen Iα1

CSA

cross-sectional area

CT

computed tomography

DXA

dual energy x-ray absorptiometry

EMA

European Medicines Agency

FDA

Food and Drug Administration

FN

femoral neck

FRAX

Fracture Risk Assessment Tool

HFD

high-fat diet

HR-pQCT

high-resolution pQCT

IGF-1

insulin-like growth factor-1

IL-6

interleukin 6

Insr

insulin receptor

LCN2

lipocalin 2

Lepr

leptin receptor

LS

lumbar spine

LSG

laparoscopic sleeve gastrectomy

MC4R

melanocortin 4 receptor

NFκB

nuclear factor kappa-light-chain-enhancer of activated B cells

NTx

N-telopeptide crosslinks

OPG

osteoprotegerin

pQCT

peripheral QCT

QCT

quantitative computed tomography

RANK

receptor activator of nuclear factor kappa-B

RANKL

RANK ligand

RD

restricted diet

RYGB

Roux-en-Y gastric bypass

SAT

subcutaneous adipose tissue

T2DM

type 2 diabetes mellitus

TBS

trabecular bone score

TNFα

tumor necrosis factor-a

TOS

The Obesity Society

VAT

visceral adipose tissue

VBG

vertical banded gastroplasty

vBMD

volumetric BMD

β-CTX

beta C-terminal telopeptide
Introduction
Obesity is becoming a global epidemic, with 2.8 million people estimated to die each year as a result of being overweight or obese [1]. The worldwide prevalence of obesity virtually doubled between 1980 and 2008 and the numbers are expected to increase further. In Europe, more than 20% of men and women were obese in 2008, while, alarmingly, rates of obesity and overweight are very high among children as well [2].
The interaction of obesity with bone metabolism is complex and not as yet fully elucidated. Traditionally, it was thought that obesity, as demonstrated by high body mass index (BMI), has protective effects on the skeleton [3]. BMI is incorporated in the fracture risk assessment tool (FRAX), and higher BMI is associated with lower future fracture risk. However, this notion has recently been challenged, with studies showing that obesity is associated with lower risk for certain fractures but higher risk for others [4]. Results from animal studies have also resulted in conflicting findings. Moreover, medical and surgical management of obesity can also directly affect bone metabolism.
In this narrative review, we discuss the molecular mechanisms associated with the interaction between obesity and the skeleton and discuss the effects of obesity on the risk of fractures and on bone mineral density (BMD). We also review the effects of treatment interventions for obesity on skeletal health.
Pathophysiology
Various molecular pathways have been proposed by which adipose tissue communicates with the bone microenvironment (Fig.
1
). This involves systemic factors such as vitamin D, leptin and proinflammatory cytokines, and local factors mainly associated with local changes in the bone marrow microenvironment.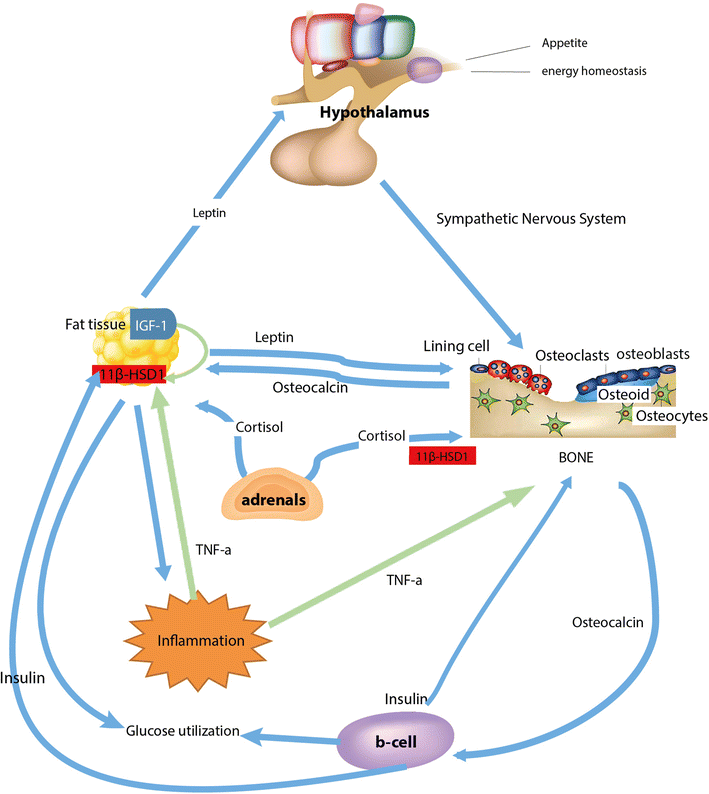 Bone density and microarchitecture
Obese individuals have higher BMD than the normal weight population, though it has been postulated that this might be an artifact due to overlying soft tissue. Moreover, the coefficient of variation between repeat measurements is higher in obesity [41] and therefore longitudinal BMD monitoring in obese individuals might be challenging.
BMD measurements using quantitative computed tomography (QCT) and peripheral QCT (pQCT) are not as affected by overlying soft tissue, providing a more reliable way to assess bone density in obesity. Moreover, they provide separate information about the cortical and trabecular compartment of the bone. In a cross-sectional case-control study, it was demonstrated that obese women had higher volumetric BMD (vBMD) at the lumbar spine and that both obese men and women had higher vBMD at the distal radius and distal tibia when compared to normal weight individuals [42]. This suggests that the higher BMD is a true effect and not an artifact caused by overlying soft tissue. Moreover, parameters of bone microarchitecture were better in obese compared to normal weight individuals, suggesting higher skeletal strength.
Lean mass, which is usually higher in obese individuals along with fat mass, correlates positively with BMD and parameters of bone microarchitecture, as measured by pQCT [43, 44]. This is especially relevant to cortical thickness and area, whereas total fat mass has a positive correlation with trabecular number and density even after adjusting for lean mass [44]. It seems that fat mass is not the main contributing factor to increased bone strength, while muscle force (represented by lean mass) is associated with osteogenic adaptation [45]. Fat mass does not seem to have a positive association with BMD in obese adults [46] and adolescents [47]. A case control study has shown that excess weight or higher BMI does not have a proportional positive effect on bone strength parameters. Moreover, lean mass seems to be an important determinant of bone microarchitecture, geometry, and metabolism when compared to fat mass [48].
As VAT is metabolically active and associated with inflammation, there has been growing interest in the differential effects of VAT and SAT. In a study investigating the correlation of visceral fat with skeletal parameters in the peripheral skeleton, VAT was measured using CT scans, and skeletal bone microarchitecture parameters were measured by high-resolution pQCT (HR-pQCT) at the distal radius and tibia. The investigators found that higher visceral fat was associated with higher BMD and improved microarchitecture with the exception of higher cortical porosity at the distal radius. When findings were adjusted for BMI, they were no longer significant, suggesting that the effect is mostly associated with obesity in general rather than with visceral fat [49].
In contrast, in another study examining the correlation of VAT with vBMD using data from CT scans, researchers found that VAT had an inverse correlation with vBMD at the spine and that there was an inverse correlation with low muscle attenuation (a marker of fat infiltration in the muscle) even after adjusting for age, sex, and BMI [50].
The trabecular bone score (TBS) is a dual-energy x-ray absorptiometry (DXA)-derived variable which has a good correlation with bone microarchitecture and predicts vertebral fracture risk independent of BMD [51]. However, TBS seems to be affected by overlying soft tissue [52]. TBS has been shown to have a negative correlation with body size variables, and this correlation is higher for waist circumference than for other variables and for trunk fat mass [53, 54]. However, the latter finding is probably not reflective of higher fracture risk. In older men, obesity variables were positively associated with lumbar spine vBMD, but had a negative correlation with TBS, while the association between vBMD and TBS was variable and depended significantly on BMI and lean trunk mass [55]. It is therefore postulated that TBS might not predict fracture risk in individuals with high BMIs or high trunk lean mass as accurately as in normal weight subjects.
It has been postulated that the effects of fat on the skeleton might differ according to age and that they might have more pronounced negative effects during growth. In a pQCT study in girls post- adolescence where girls were divided into groups according to the percentage body fat rather than their weight, the girls with higher fat content were found to have lower total CSA and cortical CSA and lower bone strength after adjusting for body weight [56]. In a longitudinal study in adolescents, VAT was inversely associated with bone strength at the tibia and radius, as measured by pQCT, in girls but not in boys, and the association was more significant for younger rather than older girls, indicating that early obesity might have more pronounced effects on bone accrual [57].
In young adults with a history of early onset severe obesity at a young age, both obese men and women had improved bone parameters as compared to normal weight controls, but after adjustment for BMI, the findings were attenuated [58]. However, obese men had lower radius cross-sectional area after adjustment for BMI. Interestingly, even though as expected, obese individuals had lower levels of physical activity, there was no correlation between bone parameters and physical activity. Overall, these findings suggest that obesity during skeletal growth might interrupt the skeletal adaptation to mechanical forces. This might either be associated with decreased physical activity in obese individuals, with direct effects of fat on bone metabolism, or come about through negative effects on the muscles. Interestingly, in young girls, researchers found a negative association between SAT and bone strength in the weight bearing tibia, and this finding was correlated with higher fat infiltration in the calf and thigh muscles [59].
Obesity is associated with low bone turnover as measured by bone turnover markers [60]. To our knowledge, there are no histomorphometric data on bone mineralization in obese humans, apart from occasional reports showing abnormal mineralization compatible with mild osteomalacia, these, however, in the context of vitamin D deficiency and secondary hyperparathyroidism [61]. Data from animal studies indicate that obesity induced by HFD, despite inducing higher bone mass probably caused by an increase in mechanical loading, leads to reduced bone formation [62]. This is associated with an increase in bone marrow adiposity. In histomorphometric studies, obesity has been shown to induce lower osteoblast surface, osteoid surface, and osteoid volume, indicating low osteoblastic activity, though with no change in the mineralization process [63].
In conclusion, the existing data seem to differ depending on the technique employed to estimate BMD and microarchitecture and the methods used to assess fat mass, VAT and SAT, age, and bone compartment (cortical vs trabecular). In general, obesity results in higher BMD and improved bone microarchitecture parameters, albeit it might be associated with negative effects (mostly VAT), especially during bone accrual, resulting in impaired adaptation of the skeleton to the increased weight.
Fracture risk in obesity
Data regarding fracture risk in obese people are somewhat contradictory (Table
1
). Originally, it was thought that fracture rates in obese individuals were lower compared to normal weight individuals due to the higher areal BMD (aBMD) and local fat padding. The association of BMI with fracture risk, however, is more complex and seems to be different depending on the skeletal site [
64
,
65
]. Data from a multisite, multiethnic cohort of 1924 women were analyzed and demonstrated that obesity is associated with increased aBMD but lower bone strength relative to load, with increased fracture hazard and increased impact forces in falls [
66
]. Higher applied loads from higher body weight may contribute to increased fracture risk during certain activities [
67
].
Table 1
Fracture risk in obese individuals compared to normal weight
| Upper limb | Lower limb | Ref. |
| --- | --- | --- |
| ↓ | ↓ | 83 |
| ↓ | ↑ | 4 |
| ↑ | ↔ | 82 |
|   | ↑ | 86 |
|   | ↑ | 87 |
In a study in older men (> 65 years), it was demonstrated that overweight/obese men had a lower risk of hip, clinical vertebral, and upper limb fractures, although there was no association between BMI and the risk for proximal humerus and tibial fractures [65]. However, it should be noted that in the above study, the control group consisted of men with BMI < 25 kg/m2; therefore, men with lower BMI and thus higher fracture risk were apparently included. In a large, multinational, prospective study of postmenopausal women, obese women were shown to have a higher risk of ankle and upper leg fractures and a lower risk of wrist fractures as compared to non-obese women [4].
In a meta-analysis of 25 prospective cohorts, including 398,610 women with an average age of 63 years and a follow-up for approximately 2.26 million person-years, it was demonstrated that even though osteoporotic fractures as a whole were observed less often in obese compared to non-obese women (HR 0.85, 95% CI 0.82–0.88), upper arm fractures were observed more often, while there was no association between BMI and lower leg fractures [64]. As previously demonstrated, low BMI was associated with a higher risk of all osteoporotic fractures but was, however, protective against lower leg fractures. The differences in the effects of obesity at different skeletal sites are thought to be related to differences in the pattern of falls and the characteristics of mechanical forces induced by a fall. However, it should be noted that differences among studies might also be related to the control population. Including subjects with low BMI as controls might mask the increased fracture risk associated with obesity or increased risk for certain fractures.
Interestingly, differences in fat distribution seem to be important for skeletal health. Two separate recent meta-analyses showed that abdominal obesity might in fact be associated with higher hip fracture rates [68, 69]. Higher waist circumference and higher waist to hip ratio conferred a higher risk of hip fracture and individuals with a waist circumference higher than 105 cm had a 55% higher risk by comparison with those with a waist circumference of less than 80 cm [68]. The differential effects of visceral fat and subcutaneous fat to systemic inflammation might be the causal factor behind this finding.
Effects of weight loss interventions on bone
Conclusions
The relationship between obesity and bone metabolism is complex and includes several factors. Mechanical loading, as expected, exerts positive effects; however, low-grade systemic inflammation is potentially harmful. Effects might differ depending on the age and children, and adolescents are probably at higher risk of negative effects. Weight loss interventions are very important to treat obesity, and strategies to prevent the associated bone loss are needed.
Notes
Acknowledgments
The authors would like to thank Dimitri Koutsomitis for his kind support with the illustrations.
Compliance with ethical standards
Conflicts of interest
The authors declare that they do not have conflict of interest.
Copyright information
© Hellenic Endocrine Society 2018