Graphene oxide-catalyzed two-step continuous-flow conversion of aryl amine to unsymmetrical thioether
Abstract
A sustainable continuous-flow protocol for the conversion of aryl amine to unsymmetrical thioether is described. This technique is a two-step process involving graphene oxide (GO) catalyzed diazotization followed by the reaction with aryl/alkyl thiols. The continuous-flow conditions afford the desired thioethers in very good yields, effectively suppressing formation of possible disulfide, a common by-product in conventional process. The flow reaction is carried out under ambient conditions, applied to a variety of aryl amines and aryl/alkyl thiols and found to be scalable. The catalytic activity of the GO bed under continuous-flow conditions is found within standard time range and recyclable for ten consecutive runs without any loss of its performance.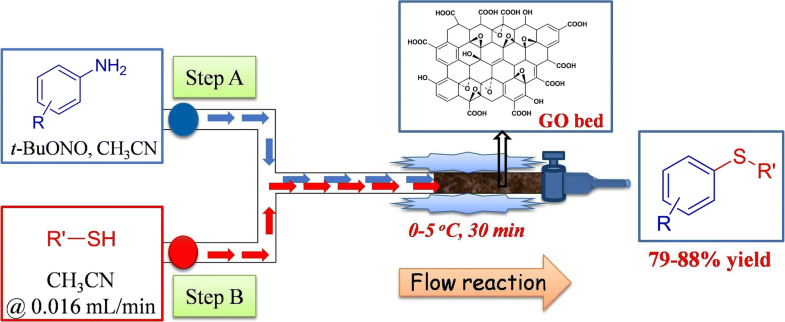 Keywords
Arylamine 
Catalysis 
Continuous-flow reaction 
Diazotization 
Graphene oxide 
Green chemistry 
Thioether 
Notes
Acknowledgements
Financial support from Science and Engineering Research Board (Grant No EMR/2015/000549), New Delhi, is gratefully acknowledged. PC thanks UGC, New Delhi, for Senior Research Fellowship under UGC–NET.