Prevention of external apical root resorption during orthodontic treatment
Part of the following topical collections:
Abstract
The issue of orthodontic-induced external apical root resorption (EARR) has attracted the interest of clinicians and investigators because of the alarming clinical and legal implications associated with its occurrence in a severe form. The January/February 2005 issue of the American Association of Orthodontist's Bulletin reported that medical malpractice is a significant problem in the USA today and that patients are filing claims and lawsuits against medical and dental practitioners, including orthodontists, in record numbers. EARR is a common iatrogenic consequence of orthodontic treatment. Cross-sectional as well as longitudinal studies show that EARR is a small problem for the average orthodontic patient, with radiographic mean resorption of less than 2.5 mm. This magnitude of resorption has no adverse clinical consequences. However, 1–5% of orthodontic patients experience a severe form of EARR, defined as exceeding 4 mm or one-third of the original root length. Severe root resorption mainly occurs in maxillary incisors. It compromises crown–root ratios and can result in tooth mobility. The main etiologic risk factor for the severe form of EARR is genetic predisposition. Emphasis is thus given on the root-sparing treatment procedures to minimize the risk for development of the severe form of EARR. Orthodontists are highly trained dental caregivers obligated to abide by the Hippocratic Oath of doing no harm. It is the author's hope that this article will create awareness among clinicians that there are orthodontic and orthopedic treatment regimes designed precisely to minimize or even avoid the development of EARR. Successful treatment should begin at a young age so that the clinician can take advantage of eruption guidance and of growth modification when a Class II skeletal problem exists. Suggested treatment regimes outlined in this paper minimize the distance that teeth/root apices need to be moved.
Keywords
External apical root resorption 
Orthodontic treatment 
Genetic predisposition 
Risk management 
Root-sparing treatment procedures 
Eruption guidance 
Growth modification 
Quick reference/description
External apical root resorption (EARR) is the loss of root structure involving the apical region (Fig. 
1
). In severe cases, patients may experience a loss of more than 4 mm or one-third of the original root length. To successfully treat EARR, an adequate patient education and proper risk management is essential.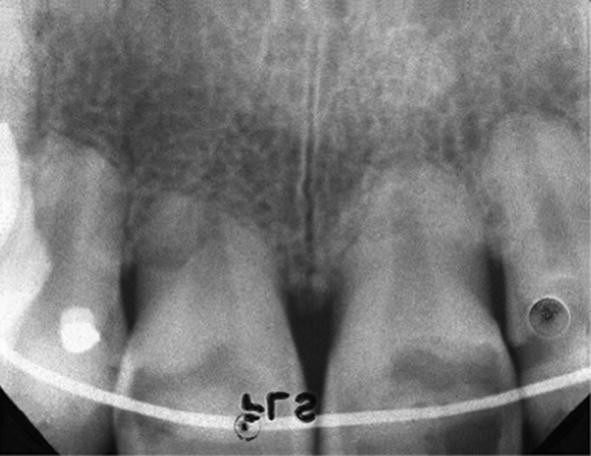 Different types of root resorption include:
Type

Causative factor

Infection root resorption

Microbial pathogens

Ankylotic root resorption

Macrophages

Pressure root resorption

Orthodontic forces

Pressure of impacted teeth

Tumors against adjacent roots
Materials/instruments
Arch wires
Fixed appliances
Intracoronal stabilizer
Palatal tongue spur appliance
Procedure
External apical root resorption caused due to orthodontic pressure can be assessed by:
Pathology

Epidemiology

Risk factors

Etiology

Prognosis

Clinical recommendations to protect patients from developing EARR

Recommendations to minimize or avoid complaints
Undermining resorption occurs as a result of compression of periodontal ligament which causes EARR. A sustained orthodontic force results in compression of the periodontal ligament that causes total occlusion of the blood vessels resulting in discontinuation of the blood supply to PDL area.
Development of EARR is related to degree of applied orthodontic force, treatment duration, amount of apical displacement and patient's individual genetic predisposition or susceptibility.
Following are the orthodontic treatment-related and the patient-related risk factors:
Treatment-related risk factors are

Patient-related risk factors

Treatment duration

Previous history of EARR

Magnitude of applied force

Tooth-root morphology, length, and roots with developmental abnormalities

Direction of tooth movement

Genetic influences

Amount of apical displacement

Systemic factors including drugs (nabumetone)

Method of force application (continuous vs. intermittent)

Hormone deficiency, hypothyroidism, and hypopituitarism

Type of appliance

 Treatment technique

Asthma

Root proximity to cortical bone

Alveolar bone density

Chronic alcoholism

Previous trauma

Endodontic treatment

Severity and type of malocclusion and patient age

Patient gender

Patient habits
Etiology

Genetic predisposition

Inhibition of bone resorption in the direction of tooth movement

Idiopathic root resorption
Prognosis of EARR can be divided as:
(a)

Pretreatment prognosis–pretreatment risk assessment can be done by considering patient's genetic background and patients with dental history of macro trauma.

 

(b)

Active treatment prognosis-If EARR progresses during the treatment, either the treatment can be stopped or it can be continued.

While continuing the orthodontic treatment following points should be considered:

Radiographic monitoring

Application of lighter forces

Alternate upper and lower arch wire activations

Building rest periods during treatment

 

(c)

Posttreatment prognosis-occlusal equilibration for eliminating interferences is important for improvement of post-orthodontic treatment

 
Clinical recommendations to protect patients from developing EARR
To minimize EARR:
Use light forces for moving teeth

Monitor radiographs periodically

Move teeth for least distance possible
Root-sparing orthodontic treatment regimes that can be used for minimizing EARR include:
Growth Modification to Correct Severe Skeletal Class II Malocclusions (Early Treatment)

Early interception of maxillary canines with mesial eruption paths

Serial extraction to modify eruption paths

Correction of anterior open bite with a palatal tongue spur appliance

Orthognathic surgery to avoid moving teeth large distances and against cortical plates
Recommendations to minimize or avoid complaints
To minimize the risk for development of the severe form of EARR and also to avoid complaints:
Obtain quality initial patient records

Obtain signed informed consent forms specifically outlining EARR

Look at siblings and parents' post-orthodontic periapical radiographs if available

Use treatment strategies that spare the root apices

Use light and well-distributed forces

Obtain periapical radiographs 6 months after fixed appliance placement of every patient
When EARR is detected during orthodontic treatment:
Inform the patient and/or parents

Change treatment plans if necessary

Interrupt treatment for approximately 3 months using passive archwires.

Alternatively reactivate maxillary and mandibular archwires every other month

Avoid tooth movement against cortical plates.

Obtain final patient records
Pitfalls and complications
Large defects created at the apex during orthodontic treatment can result in separation of the defect from the root surface.

In case of patients having crestal alveolar bone height loss and teeth with short roots there is increased risk of tooth mobility and/or loss.

The mandibular and maxillary growth is different in individual patients. Therefore, patients will not always grow in a favorable direction and magnitude, resulting in unpredictable results.

Good patient compliance is needed.
Copyright information
© Springer Nature Switzerland AG 2018