Abstract
In the recent years it has been experienced that improvement of software qualities are gaining more attention by using Goal Question Metrics methods for business driven organization. Software products are often struggle with quality problems due to size and its complexities, software engineers are often not capable to handle such situations. Many high-tech software projects turn out to be disastrous due to above problems. As the uses of internet technology increases for getting more information and services the risk of potential liability, cost and its negative consequences increases as well, because it has been reported that a large numbers of security attacks are performing almost every day. One most important security problem is not allowing the security requirements of the whole project.
This is a preview of subscription content, log in to check access.
Access options
Buy single article
Instant access to the full article PDF.
US$ 39.95
Price includes VAT for USA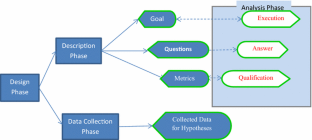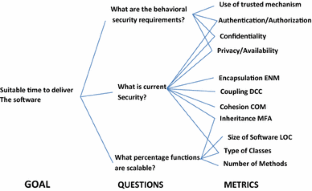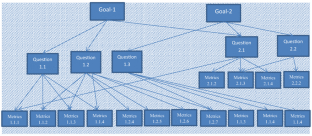 References
1.

Buglione L, Abran A (2000) Balanced scorecard and GQM: what are the differences?. FESMA-AEMES software measurement conferences

2.

Basili VR, Rombach HD (1988) The TAME project: towards improvement-oriented software environments. IEEE Trans Softw Eng 14(6):758–773

3.

Rosenberg LH, Hyatt L (1996) Developing an effective metrics program. In: European Space Agency Software Assurance Symposium, the Netherlands

4.

Zubrow D (1998) Measurement with a focus goal-driven software measurement. CrossTalk 24–26:15

5.

Berander P, Jonsson P (2006) A goal question metric based approach for efficient measurement framework definition. ISESE'06, ACM

6.

Norman F, Shari LP (1996) Software metrics: a rigorous and practical approach, 2nd edn. IT Publishing Company, Chennai

7.

Symantec Inc. (2010) Symantec global internet security threat report trends for 2009. Symant Glob Int Secur Threat Rep XV:7

8.

Elahi G, Yu E, Zannone N (2010) A vulnerability-centric requirements engineering framework: analyzing security at countermeasures, and requirements based on vulnerabilities. Requir Eng pp 41–62

9.

Mellado D, Blanco C, S´anchez L, FernadezMedina E (2010) A systematic review of security requirements engineering. Comput Stand Interface pp 153–165

10.

Tondel I, Jaatun M, Meland H (2008) Security requirements for the rest of us: a survey. IEEE Softw 25:20–27

11.

McConnell S (2004) Code complete. Microsoft Press, New York

12.

Taylor D, McGraw G (2005) Adopting a software security improvement program. IEEE Secur Privacy pp 88–91

13.

Mahtab A (2010) Software security requirements checklist. Int J Softw Eng IJSE 3(1):53–62

14.

Basili VL, Briand L, Melo WL (1996) Avalidation of object-oriented metrics as quality indicators. IEEE Trans Softw Eng 22(10):751–761

15.

Sanders B (2009) Security metrics: state of the art and challenges. Information Trust Institute, University of Illinois, Illinois

16.

Seddigh N, Pieda P, Matrawy A, Nandy B, Lambadaris I, Hatfield A (2004) Current trends and advances in information assurance metrics. In: Proceedings of the 2nd annual conference on privacy, security and trust (PST 2004), Fredericton, NB

17.

Applied Computer Security Associates (ACSA) (2001) Proceedings of workshop on information-security-system rating and ranking (WISSRR), Williamsburg, Virginia
About this article
Cite this article
Alam, M. Object oriented software security: goal questions metrics approach. Int. j. inf. tecnol. 12, 175–179 (2020). https://doi.org/10.1007/s41870-018-0189-x
Received:

Accepted:

Published:

Issue Date:
Keywords
Goal question metrics

Encapsulation

Inheritance

Function point

Software security

Requirement