Abstract
Background/objectives
We live in two worlds: the physical and the digital. We can touch, see, feel, hear and taste the physical world. The digital represents the information, data, and software. The basic idea of our system is to take a part of the physical word, filled with music and drop it into the digital word by replacing a guitar, a drum set or any other kind of musical instrument with merely two hand gloves.
Methods/statistical analysis
Each of the gloves will embed a micro controller, an Inertial Measurement Unit (IMU) and a transmitter. The motion of the IMU will be processed in each of the micro controller and will be transmitted via respective transmitters. The data will be received by the third micro controller, consisting of two receiving modules. The signals will be transmitted on the respective movements of one's hand and the bend experienced in the fingers (the same situation occurs while playing the actual guitars). The received data will be processed at the receivers end and henceforth converted to musical sound.
Findings
The system will be light weighted, easy for a learner and can be used to play multiple types of sounds. It is working efficiently as soothing amplified sound produced.
Application/improvements
The system will be easier to carry and may replace big clumsy musical instruments. It will be much easier to play for everyone especially for people with disabilities.
This is a preview of subscription content, log in to check access.
Access options
Buy single article
Instant access to the full article PDF.
US$ 39.95
Price includes VAT for USA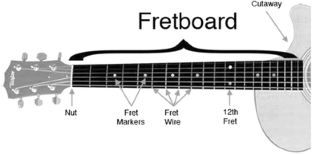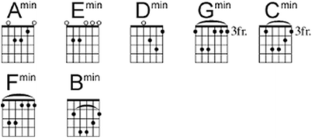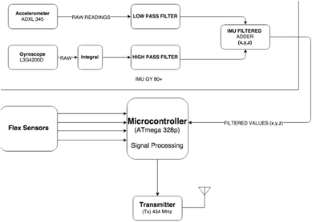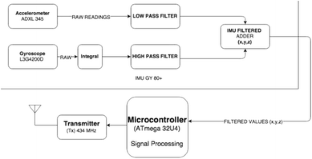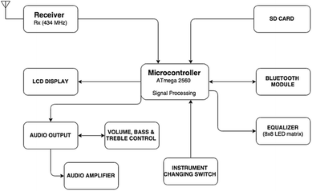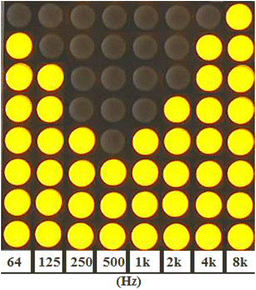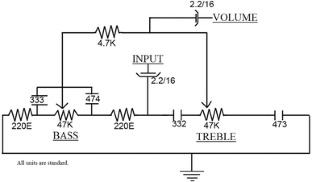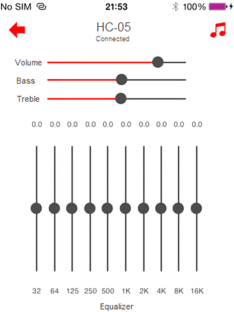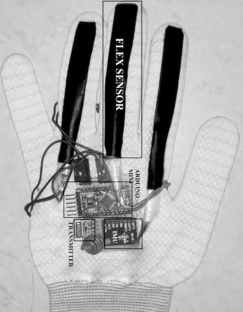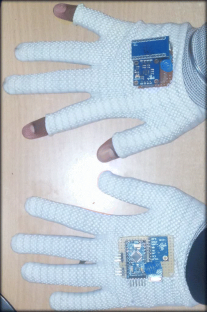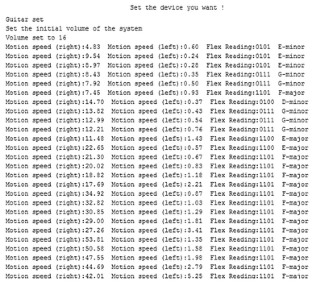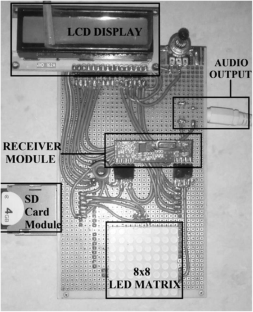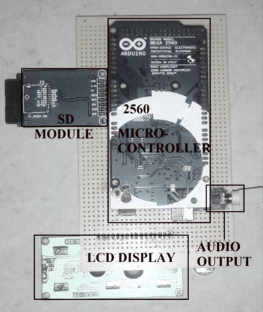 References
1.

Platt C (2009) Make: electronics (learning by discovery), 1st edn. O'Reilly media, CA, pp 352

2.

Doscher J (2008) Accelerometer design and applications (analog devices) brochure, Norwood, MA, pp 1–61

3.

Higgins W (1975) A comparison of complementary and kalman filtering. IEEE Trans Aerosp Electron Syst 3:321–325

4.

Atmel (2004) AVR319: Using the USI module for SPI communication. https://www.catagle.com/40-1/doc2582_1.htm. Accessed 10 June 2014

5.

Worthington AM (1906) Dynamics of rotation. Green and Co., London, p 21X

6.

Atmel (2013) AVR310: using the USI module as a I2C master. http://www.atmel.com/images/atmel-2561-using-theusi-module-as-a-i2c-master_ap-note_avr310.pdf. Accessed 10 June 2014

7.

Franklin GF, Powell JD, Workman M (1998) Digital control of dynamic systems, 3rd edn. Addison Wesley, Menlo Park

8.

Jazwinski AH (1970) Stochastic processes and filtering theory. Academic Press, Cambridge

9.

Euston M, Coote P, Mahony R, Kim J, Hamel T (2008) A complementary filter for attitude estimation of a fixed-wing UAV. Proceedings of IEEE/RSJ international conference on intelligent robots and systems, 22–26 September 2008. Acropolis Convention Center, France, pp 340–345

10.

Brown RG, Hwang PYC (1997) Introduction to random signals and applied kalman filtering with matlab exercises and solutions, 3rd edn. Wiley, New York

11.

Bharathi V, Asaph AA, Ramya R (2011) Vocal pitch detection for musical transcription. 2011 international conference on signal processing, communication, computing and networking technologies (ICSCCN), IEEE. pp 724–6

12.

Zien YY, Yap FT (2016) Monophonic piano music transcription. Indian J Sci Technol. https://doi.org/10.17485/ijst/2016/v9i28/97359

13.

Nechaev YB, Peshkov IV (2015) Assessment of the impact of orthogonal directional pattern generating algorithms on the accuracy of wireless direction finding by BS-MUSIC and BS-Capon methods. Indian J Sci Technol. https://doi.org/10.17485/ijst/2015/v8i29/86862
About this article
Cite this article
Jhamb, P., Rehalia, A. Wireless hand gesture controlled multiple musical instruments. Int. j. inf. tecnol. 12, 19–25 (2020). https://doi.org/10.1007/s41870-018-0096-1
Received:

Accepted:

Published:

Issue Date:
Keywords
Complementary filters

Inertial measurement unit

Flex sensing

Gesture recognition