Inception of a Discovery: Re-defining the Use of Socratic Dialogue in Cognitive Behavioral Therapy
Abstract
Cognitive behavioral therapy (CBT) was designed as a psychotherapy to support client ownership and self-confidence in the change process, not simply provide clients with the answers to their problems. In the first published guide for practice, Beck, Rush, Shaw, and Emery (Cognitive therapy of depression, New York: Guilford Press, 1974) described the therapeutic relationship as an environment where the therapist would exemplify the use of questioning to help evaluate the maladaptive beliefs and structures that lead to, or maintain, the client's emotional distress. However, little research has been undertaken to examine the client's adoption of self-questioning, or Socratic dialogue as relational process and intervention in CBT. This article presents an introduction to a special series in the International Journal of Cognitive Therapy, which aims to build upon previous efforts to unpack the complexities and nuances of Socratic dialogue in CBT by (a) compiling the most current expert opinion on the definition, role, and application of Socratic dialogue; (b) providing an account of key elements of the dialogue process; and (c) presenting the latest empirical examination of behavioral shaping as a potential mechanism underlying the change process during Socratic dialogue. In providing a greater conceptual understanding of contemporary issues and knowledge regarding core CBT processes, it is hoped that this special series will also encourage the practitioners to ask more questions of their own practice, as well as the gaps in the existing knowledge base, thereby widening the pathway for further scientific discoveries.
Keywords
Cognitive behavioral therapy 
Socratic dialogue 
Socratic questioning 
Review 
Cognitive behavioral therapy (CBT; Beck et al. 1979) positioned a central role for cognitive processes in the development and maintenance of psychopathology, and as a focus for intervention (see also Beck and Bredemeier 2016). Techniques, when effectively tailored for an individual based on case conceptualization, target both the processes (e.g., acceptance, tolerance) and content in cognition (e.g., belief reappraisal, decentering, defusion) in the service of achieving desirable treatment outcomes of reduced emotional distress, improved functioning, and enhanced well-being and quality of life (Barlow et al. 2017; Hayes and Hofmann 2017, 2018). At the same time, the patient-therapist interaction, or relationship, has also been recognized as important for the effective practice of CBT (Kazantzis 2018; Lorenzo-Luaces et al. 2015).
When the role of the patient-therapist relationship was first outlined in CBT, a distinction was made by Beck et al. (1979) between generic elements of the therapeutic relationship (e.g., expressed empathy, expressed positive regard, alliance) and those that were of particular importance to CBT's change processes (i.e., collaborative-empiricism; Kazantzis et al. 2017). Although not labeled as "Socratic" in the original Beck et al. guide for practice, helping patients to develop the ability to ask themselves the same questions that their therapist asks them (i.e., self-questioning) was considered necessary to the generalization of the full compliment of techniques (see Petrik et al. 2013 for range of techniques). More specifically, the therapists use of questioning in CBT was designed to be several things: (a) a feature of the therapeutic relationship, which was designed to (b) support the patient's development of an empirical framework, or adoption of the scientific method as a basis for evaluating their subjective experience, while also (c) facilitating a range of cognitive change processes (i.e., distancing, belief reappraisal, and so forth). Indeed, it could be argued that the effective practice of CBT involves an ongoing cyclical process starting with assessment or enquiry, leading to a discovery, then moving to further enquiry, and so forth.
The Cognitive Therapy Scale (CTS; Young and Beck 1980) was designed as an observational tool for the purpose of evaluating clinician skill in CBT practice. While revisions of the CTS have been developed (Barber et al. 2003; Blackburn et al. 2001; and see review in Kazantzis 2003), the original scale remains central to the assessment of treatment integrity in research (Aviram and Westra 2011; Carter et al. 2013; Muse and McManus 2013; Schoenwald and Garland 2013), as well as accreditation (i.e., Academy of Cognitive Therapy) and specialist supervision (i.e., Beck Institute for Cognitive Behavior Therapy). Aside from therapeutic relationship specific items (i.e., feedback, understanding, interpersonal effectiveness, collaboration), the scale includes an item labeled "Guided Discovery" within the section covering conceptualization, strategy, and technique. Lower scores on this item are reserved for reliance on "persuasion, debate, and lecturing", whereas higher scores are assigned to "helping the patient see new ideas through guided discovery… used questioning appropriately" and "helping the patient to draw his/her own conclusions…an excellent balance between skillful questioning and other modes of intervention" (Young and Beck 1980, p. 3). Since the CTS is used as a measure of treatment integrity and accreditation in CBT, questioning in the process of guided discovery is expected in every CBT session and requires collaboration for skilled use.
The evidence base for the in-session use of Socratic dialogue for guided discovery is only emerging, a status reflected across the range of in-session processes in CBT (Lorenzo-Luaces and DeRubeis 2018). For example, meta-analyses of generic elements of the therapeutic relationship, such as alliance and collaboration, have not specifically examined differences by therapeutic modality (Fluckiger et al. 2012; Kazantzis et al. 2015; Safran et al. 2011; Tryon and Winograd, 2011). Within CBT, research has necessarily been devoted towards the establishment of overall treatment effectiveness for a range of clinical disorders and populations, as well as its specific change mechanisms (Kazantzis et al. 2018b). Specific evidence for Socratic dialogue is lacking. Those studies that have been conducted have examined the content of therapist questions in CBT, either in relation to their immediate in-session effects (Froján-Parga et al. 2011) or next session symptom change (Braun et al. 2015). Recently, a study examined the perceived helpfulness of therapist questions using pre-recorded video role-plays and found that a directive approach was rated as less helpful among lay individuals surveyed (Heiniger et al. 2018). However, other than through the assessment of guided discovery within CTS assessments, as part of a larger assessment of therapist competence, no existing research has examined the process of using Socratic dialogue in sessions—which arguably has the potential to offer the most clear and immediate guidance for the practicing clinician.
Inception of a Discovery
An inception can be defined as "an act, process, or instance of beginning" ("Inception" n.d.), and to discover "is to make known or visible" ("Discover" n.d.). According to the CTS, when guided discovery is at its best, it enables the client to come up with a completely new idea. Indeed, the issue of whether guided discovery is about changing the client's mind, or facilitating a discovery, has been the subject of much previous discussion (Padesky 1993, and also see Carey and Mullan 2004). However, the CTS also points to the idea that, as therapists, we do not need to choose between a successful discovery and a successful process—we can achieve both. Indeed, when fuse these apparently mutually exclusive elements of collaboration and discovery together, we achieve a hybrid, something that is totally different. For example, a therapist elected to use questioning to support a patient who was being bullied in the workplace by a senior colleague. There are at least four ways that collaboration could have been embedded in that dialogue: (1) the therapist might have simply sought information from the patient, explored pros and cons for the patient's thought "my colleague really out to attack my reputation and career" and then presented them with an alternative view "isn't it possible your colleague feels threatened, and strengthening alliances with all your colleagues could support a healthier and more productive workplace for everyone?"; (2) the therapist might have asked a perspective shifting question, such as questions designed to seek lessons learned from past experiences or model responses to similar situations expressed by a family member or friend; (3) the therapist might have also asked synthesizing questions that could lead to a new direction in the dialogue, directed by the client's response; or (4) the nature of the collaboration in the dialogue was such that there was opportunity for the client to direct the course of the dialogue throughout.
Figure
1
illustrates the trajectories of the four dialogue processes in the above clinical example. There is no question in the first dialogue, where the therapist simply instructs, or interprets, an alternative response for the patient, is more efficient and straightforward. However, in CBT, as opposed to other therapies that incorporate disputation and debate (e.g., Ellis
1971
; Glasser
1999
), a collaborative approach is expected throughout. This inclusive approach to the incorporation of all of the client's ideas, concerns, feedback, no matter how small, or fleeting, is a recipe for the discovery of an extraordinary new idea, or inception—something that can be relevant to a range of therapeutic techniques and applications. Nevertheless, the matter of whether or not a more collaborative Socratic dialogue process, or indeed a less hurried discovery results in greater treatment effects remains an empirical question.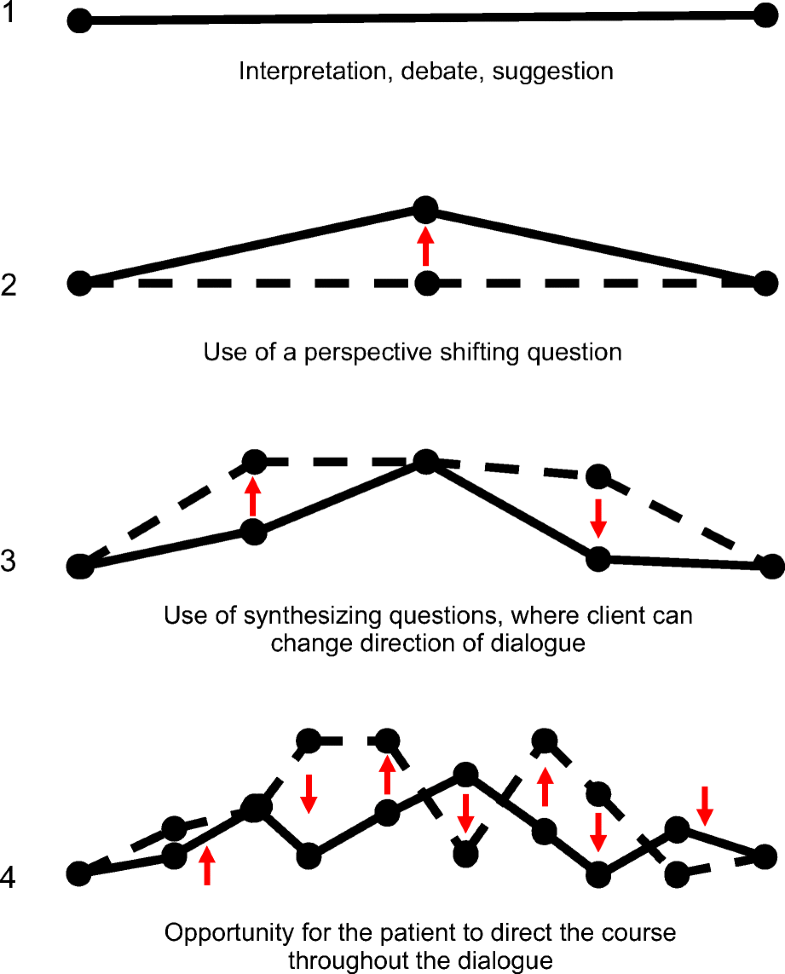 Introducing the Articles in This Special Issue
This Special Issue of International Journal of Cognitive Therapy presents the latest scientific work on the use of questioning and other forms of dialogue as a basis for guiding discovery in CBT. The paper presents a helpful up-to-date conceptual account of Socratic dialogue as a process in CBT (Overholser 2018). Then, a series of two papers use a modified Delphi method to seek expert opinion on the role of Socratic dialogue in CBT (Kazantzis et al. 2018a); and how other elements of the therapeutic relationship can be modified by the case formulation and facilitative of cognitive change (Kazantzis et al. 2018c). The issue continues with a survey of a focused group of experts on the role of Socratic dialogue in CBT (Clark and Egan 2018), and an interesting empirical study examining the relationship between verbal content as a facilitator of cognitive changes (Froján Parga et al. 2018). Collectively, the articles in this special issue provide important conceptual clarification regarding Socratic dialogue and can be a stimulus for future research on dialogue-outcome relations.
Concluding Comments
Our field is moving towards the identification and evaluation of treatment processes (Hayes and Hofmann 2017) that address core dimensions in unified models of psychopathology (Beck and Bredemeier 2016), as well as in-session processes (Kazantzis 2018) that show significant relations with treatment outcome. Socratic dialogue differentiates itself from other prominent features of the CBT armamentarium by its multidimensional role, comprising both key relational and technical functions, with the variance in interpersonal style and the degree of collaboration within the dialogue thought to have an appreciable difference on the process and quality of therapeutic discovery (Kazantzis et al. 2014). It is noteworthy that this complexity makes Socratic dialogue a difficult therapeutic element to clearly define, measure, and evaluate (Clark and Egan 2015), and perhaps as a result, there is yet to be a detailed empirical analysis of the process of using Socratic dialogue as it appears in-session. It is hoped that this IJCT special series—which highlights current areas of consensus and divergence and provides practical, theoretical, philosophical, and mechanistic examinations of Socratic dialogue—will not only broaden the CBT practitioner's knowledge of the relational and technical aspects of Socratic dialogue but also serve as a platform for wider research and conversation, the inception of a much deeper understanding into the art and science of core therapeutic processes.
Copyright information
© International Association of Cognitive Psychotherapy 2018