Spannung durch neue Programmformate
39th SICOT Orthopaedic World Congress 2018
Aus unserem Fach Tagungen und Kongresse
Während des 39. Kongresses der SICOT (Société Internationale de Chirurgie Orthopédique et de Traumatologie) vom 10. bis 13. Oktober 2018 in Montreal hingen die Wolken tief, wirklich von Belang aber war nur das hochspannungsaktive wissenschaftliche Kongressprogramm.
Montreal hat sich vom Wetter her nicht gerade von seiner besten Seite gezeigt, was aber sicher nicht alleine dazu beigetragen hat, dass die Teilnehmer sich eher in den Sessions als in der Stadt aufgehalten haben. Denn Dr. Vikas Khanduja aus Cambridge hatte erneut ein sehr professionelles Programm aufgestellt, dessen Statistiken beeindrucken: 2.251 Teilnehmer aus 83 Ländern. 22 Keynote Lectures haben mit drei Plenary Lectures eine hohe Zugkraft für die Teilnehmer entwickelt. Es gab 134 Sessions, arrangiert aus 2.671 Abstracts.
Besonderen Anklang fanden die 88 Just a Minute presentations, die die Teilnehmer dazu zwangen, ihre Arbeit tatsächlich nur in 60 Sekunden zu präsentieren. Danach wurde rigoros abgebrochen. Eine ganz interessante Atmosphäre, aufgeheizt durch Spannung und Stress — ein bisschen wie in einer Arena. Dieses Format fand auf dem Ausstellungsgelände statt, was die 220 Aussteller sicher gefreut hat. Durch die aufregenden Präsentationen und die damit verbundene lautstarke Geräuschkulisse war der Verkehr auf dem Gelände der Ausstellungen sichtbar erhöht.
Neu waren diesmal auch Cadaver Labs, die in Deutschland so sicher nicht möglich gewesen wären, aber großen Anklang vor Ort fanden.
Dr. James Waddell hatte als neuer Generalsekretär und Nachfolger von Prof. Dr. Jochen Eulert sein Debüt in seiner Heimat — er kommt aus Toronto. Dr. Julio Fernandes war der lokale Kongresspräsident, der direkt in Montreal agiert hat. Vor dem eigentlichen Kongress trafen sich die einzelnen Gruppierungen (gesteuert von Sub-Specialty Chairmen), die inhaltlich eigenständig arbeiten, aber auch den Kongress mitgestalten: Academic Writing — Dr. Marius Scarlat; Computer Assisted Surgery — Dr. Ajeya Adhikari; Developing World — Dr. John Dormans; Medico Legal — Andrew Quaile; Microsurgery — Prof. Marko Bumbaširević; Paediatric Orthopaedics — Dr. Patricia Fucs; Pain Management — Dr. Ajeya Adhikari; Research — Dr. Hamish Simpson; Shoulder and Elbow — Dr. Nuri Aydin; Spine — Dr. Evalina Burger; Sports Medicine — Dr. Vikas Khanduja; Trauma — Dr. Chris Pape und Dr. Gershon Volpin; Tumors — Prof. Dr. Pietro Ruggieri; YSC Young Surgeons Committee — Dr. Fatih Kucukdurmaz/Dr. Mohamed Sukeik; Disaster Management and Injury Prevention — Prof. Dr. Guenter Lob; Foot and Ankle — Dr. Gow Thevendran; Hands — Dr. Frederic Schuind; Hip — Dr. Jacques Caton; Infections — Dr. Ferdinando Da Rin de Lorenzo; Knee — Dr. Francesco Falez.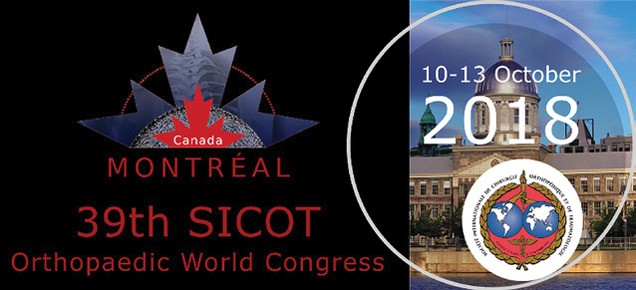 Verjüngung angestrebt
Es wurde durch die neue Führung der SICOT in Brüssel deutlich, dass eine Verjüngung der Gesamtstruktur der SICOT angestrebt wird. Auch sollen die einzelnen Positionen in kürzeren Abständen gewechselt werden. Wir werden sehen, wie sich das auf die Gesellschaft auswirkt. Sicher hat es einen positiven Effekt. Wobei die Kontinuität natürlich wie immer gewahrt bleiben sollte und langfristige Projekte so etwas schwieriger zu realisieren sind.
Nächstes Mal im Oman
Der nächste SICOT-Kongress findet vom 4. bis 7. Dezember 2019 im Oman statt. Das wird ebenfalls eine besondere Erfahrung werden. Präsident ist Dr. Mohamed Darwish, der gleichzeitig Präsident der Pan Arab Orthopaedic Association ist. Ich würde mich als Nationaldelegierter der SICOT freuen, wenn viele Kollegen aus Deutschland teilnehmen.
Mehr Informationen: www.sicot.org/muscat