In vitro bioactivity and corrosion resistance enhancement of Ti-6Al-4V by highly ordered TiO2 nanotube arrays
Abstract
In the present study, the structural features, corrosion behavior, and in vitro bioactivity of TiO2 nanotubular arrays coated on Ti–6Al–4V (Ti64) alloy were investigated. For this reason, Ti64 plates were anodized in an ammonium fluoride electrolyte dissolved in a 90:10 ethylene glycol and water solvent mixture at room temperature under a constant potential of 60 V for 1 h. Subsequently, the anodized specimens were annealed in an argon gas furnace at 500 and 700 °C for 1.5 h with a heating and cooling rate of 5 °C min−1. From XRD analysis and Raman spectroscopy, a highly crystalline anatase phase with tetragonal symmetry was formed from the thermally induced crystallization at 500 °C. Besides, the Ti 2p3/2 and Ti 2p1/2 binding energies showed the presence of the Ti4+ oxidation state. According to the in vitro bioassay, the modified surface proved its outstanding capability in enhancing the bioactivity, where a thick layer of bone-like apatite was formed on the annealed TiO2 nanotube surface. In addition, the corrosion measurements indicated that the corrosion protection efficiency increased remarkably and reached 87% after annealing at 500 °C.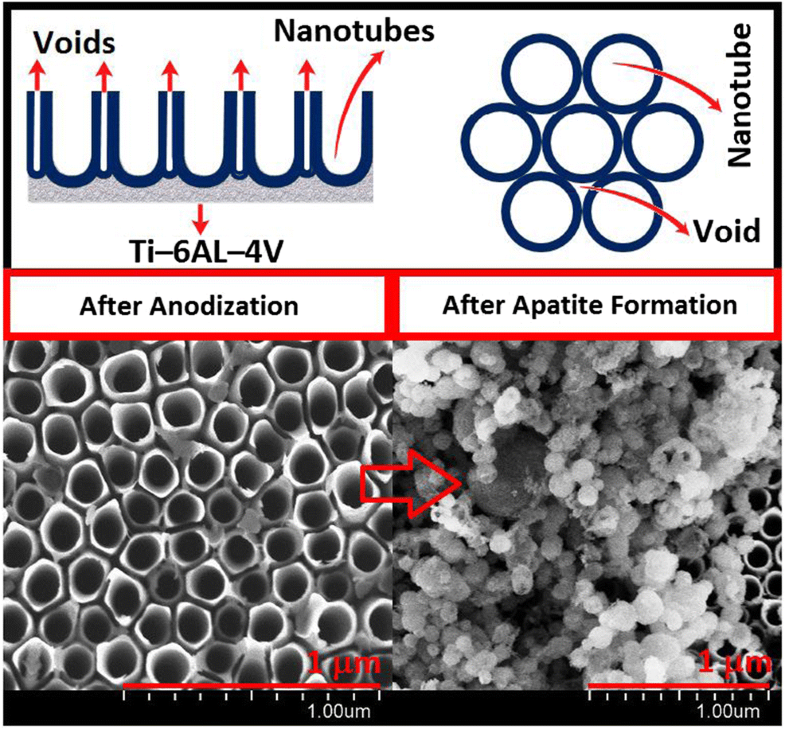 Keywords
TiO2 nanotubes 
Anodization 
Ti–6Al–4V 
Corrosion resistance 
In vitro bioactivity 
Highlights
–

 Corrosion behavior and bioactivity of TiO2 nanotubes on Ti64 were investigated.

–

 Themodified surface showed an outstanding capability in enhancing the bioactivity.

–

 Corrosion protection efficiency increased remarkably after annealing at 500 °C.

–

 Ti 2p3/2 and Ti 2p1/2 components confirmed the existence of Ti4+ state.
Notes
Acknowledgements
The authors would like to acknowledge the University of Malaya for providing the necessary facilities and resources for this research. The authors are also grateful to Research Affairs of Islamic Azad University, Najafabad Branch for supporting this research.
Funding information
This research was fully funded by the University of Malaya with the high impact research grant numbers of RP032C-15AET and PG081-2014B.
Copyright information
© Australian Ceramic Society 2018