Abstract
Although there is a large body of previous studies on the cooling effect of green roofs on urban heat islands (UHIs), more empirical studies with an experimental setting measuring the role of green roof on mitigating urban heat should be considered. The purpose of this research is to determine the air temperature difference between green and bare roofs located on two buildings in the same local climate zone, and calculate the expected cooling effect extended from the green roof to the local climate. The study site consisted of an extensive green roof and a bare roof which were close to each other and were located in a highly built-up same area. During the three and a half clean days of testing in the middle of summer, air temperature data were collected from each roof using an air temperature logger and a local automatic weather station close to both roofs; these data were then converted to hourly data. The data were analyzed by the t test, ANOVA test, and a regression analysis to determine the heat mitigation effect of green roofs. As a result, the green roof's air temperature showed much lower than the bare roof's and followed the local station's air temperature change during the day. At night the air temperature difference between the two roofs was only slight and the green roof's air temperature kept lower than the local station's. Thus, even extensive green roofs can reduce air temperature through their cooling effects from their vegetation and substrates against solar radiation. The established models reported that the green roof contributed to lowering air temperatures in a local climate zone, while the bare roof made such zones more heated. The findings of this study contribute to the existing literature by proving that green roofs can be expected to help cool down not only at the small scale with building units, but also at the broader scale of urban district area. The study also gives field-experimented values to be used as updated variables to local climate simulation models.
This is a preview of subscription content, log in to check access.
Access options
Buy single article
Instant access to the full article PDF.
US$ 39.95
Price includes VAT for USA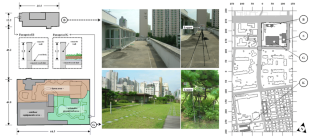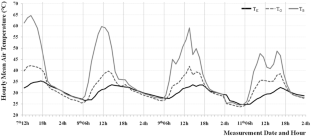 References
Akbari H (2002) Shade trees reduce building energy use and CO2 emissions from power plants. Environ Pollut 116(SUPPL. 1):119–126. https://doi.org/10.1016/S0269-7491(01)00264-0

Blackhurst M, Hendrickson C, Matthews HS (2010) Cost-effectiveness of green roofs. J Archit Eng 16(4):136–143. http://ascelibrary.org/doi/abs/10.1061/(ASCE)AE.1943-5568.0000022

Castletona HF, Stovinb V, Beck SB, Davison JB (2010) Green roofs; building energy savings and the potential for retrofit. Energy Build 42(10):1582–1591. http://www.sciencedirect.com/science/article/pii/S0378778810001453

Chan ALS, Chow TT (2013) Evaluation of overall thermal transfer value (OTTV) for commercial buildings constructed with green roof. Appl Energy 107:10–24. https://doi.org/10.1016/j.apenergy.2013.02.010

Chen C-F (2013) Performance evaluation and development strategies for green roofs in Taiwan: a review. Ecol Eng 52:51–58. https://doi.org/10.1016/j.ecoleng.2012.12.083

Clark C, Adriaens P, Talbot FB (2008) Green roof valuation: a probabilistic economic analysis of environmental benefits. Environ Sci Technol 42(6):2155–2161. https://doi.org/10.1021/es0706652

Coma J, Pérez G, Solé C, Castell A, Cabeza LF (2016) Thermal assessment of extensive green roofs as passive tool for energy savings in buildings. Renew Energy 85:1106–1115. https://doi.org/10.1016/j.renene.2015.07.074

Costanzo V, Evola G, Marletta L (2016) Energy savings in buildings or UHI mitigation? Comparison between green roofs and cool roofs. Energy Build 114:247–255. https://doi.org/10.1016/j.enbuild.2015.04.053

Coutts AM, Daly E, Beringer J, Tapper NJ (2013) Assessing practical measures to reduce urban heat: green and cool roofs. Build Environ 70:266–276. https://doi.org/10.1016/j.buildenv.2013.08.021

Doick K, Hutchings T (2013) Air temperature regulation by urban trees and green infrastructure. Forestry Commission Research Note 12, pp 1–10. https://www.forestry.gov.uk/pdf/FCRN012.pdf/$FILE/FCRN012.pdf

Doug B, Hitesh D, James L, Paul M (2005) Report on the environmental benefits and costs of green roof technology for the city of Toronto. Toronto. https://mpra.ub.uni-muenchen.de/70526/1/MPRA_paper_70526.pdf

Dvorak B, Volder A (2010) Green roof vegetation for North American ecoregions: a literature review. Landsc Urban Plan 96(4):197–213. https://doi.org/10.1016/j.landurbplan.2010.04.009

Erell E, Leal V, Maldonado E (2003) On the measurement of air temperature in the presence of strong solar radiation. In: 5th int conf urban climate, Lodz. http://www.academia.edu/download/45321327/On_the_measurement_of_air_temperature_in20160503-27168-14v67nr.pdf

Gaffin SR, Rosenzweig C, Khanbilvardi R, Parshall L, Mahani S, Glickman H, Goldberg R, Blake R, Slosberg RB, Hillel D (2008) Variations in New York city's urban heat island strength over time and space. Theor Appl Climatol 94:1–11. https://doi.org/10.1007/s00704-007-0368-3

Gaffin SR, Khanbilvardi R, Rosenzweig C (2009) Development of a green roof environmental monitoring and meteorological network in New York City. Sensors 9(4):2647–2660. https://doi.org/10.3390/s90402647

Gago EJ, Roldan J, Pacheco-Torres R, Ordonez J (2013) The city and urban heat islands: a review of strategies to mitigate adverse effects. Renew Sustain Energy Rev 25:749–758. https://doi.org/10.1016/j.rser.2013.05.057

Getter KL, Rowe DB (2006) The role of extensive green roofs in sustainable development. HortScience 41(5):1276–1285. http://doi.org/10.17776/csj.30292

Getter KL, Bradley Rowe D, Cregg BM (2009) Solar radiation intensity influences extensive green roof plant communities. Urban For Urban Green 8(4):269–281. https://doi.org/10.1016/j.ufug.2009.06.005

Giridharan R, Lau SSY, Ganesan S, Givoni B (2008) Lowering the outdoor temperature in high-rise high-density residential developments of coastal Hong Kong: the vegetation influence. Build Environ 43(10):1583–1595. http://www.sciencedirect.com/science/article/pii/S0360132307001813

Grant G (2006) Extensive green roofs in London. Urban Habitats 4(1):51–65

Hamada S, Ohta T (2010) Seasonal variations in the cooling effect of urban green areas on surrounding urban areas. Urban For Urban Green 9(1):15–24. https://doi.org/10.1016/j.ufug.2009.10.002

Hamdi R, Schayes G (2008) Sensitivity study of the urban heat island intensity to urban characteristics. Int J Climatol 982:973–982. https://doi.org/10.1002/joc

Harlan SL, Brazel AJ, Prashad L, Stefanov WL, Larsen L (2006) Neighborhood microclimates and vulnerability to heat stress. Soc Sci Med 63:2847–2863. https://doi.org/10.1016/j.socscimed.2006.07.030

Jim CY (2014a) Air-conditioning energy consumption due to green roofs with different building thermal insulation. Appl Energy 128:49–59. https://doi.org/10.1016/j.apenergy.2014.04.055

Jim CY (2014b) Building thermal-insulation effect on ambient and indoor thermal performance of green roofs. Ecol Eng 69:265–275. https://doi.org/10.1016/j.ecoleng.2014.04.016

Jim CY (2014c) Passive warming of indoor space induced by tropical green roof in winter. Energy 68:272–282. https://doi.org/10.1016/j.energy.2014.02.105

Jim CY, Peng LLH (2012) Weather effect on thermal and energy performance of an extensive tropical green roof. Urban For Urban Green 11(1):73–85. https://doi.org/10.1016/j.ufug.2011.10.001

Karachaliou P, Santamouris M, Pangalou H (2016) Experimental and numerical analysis of the energy performance of a large scale intensive green roof system installed on an office building in Athens. Energy Build 114:256–264. https://doi.org/10.1016/j.enbuild.2015.04.055

Kim J-H, Gu D, Sohn W, Kil S-H, Kim H, Lee D-K (2016) Neighborhood landscape spatial patterns and land surface temperature: an empirical study on single-family residential areas in Austin, Texas. Int J Environ Res Public Health 13(9):1–15. https://doi.org/10.3390/ijerph13090880

Kjelgren RK, Clark JR (1992) Microclimates and tree growth in three urban spaces. J Environ Hortic 10(3):139–145

Kleerekoper L, van Esch M, Salcedo TB (2012) How to make a city climate-proof, addressing the urban heat island effect. Resour Conserv Recycl 64:30–38. https://doi.org/10.1016/j.resconrec.2011.06.004

Köhler M, Schmidt M, Laar M (2003) Green roofs as a contribution to reduce urban heat islands. In: World climate & energy event, Rio de Janeiro, pp 493–497

Kumar R, Kaushik S (2005) Performance evaluation of green roof and shading for thermal protection of buildings. Build Environ 40(11):1505–1511. https://doi.org/10.1016/j.buildenv.2004.11.015

Lazzarin RM, Castellotti F, Busato F (2005) Experimental measurements and numerical modelling of a green roof. Energy Build 37(12):1260–1267. https://doi.org/10.1016/j.enbuild.2005.02.001

Lehmann I, Mathey J, Rößler S, Bräuer A, Goldberg V (2014) Urban vegetation structure types as a methodological approach for identifying ecosystem services—application to the analysis of micro-climatic effects. Ecol Indic 42:58–72. https://doi.org/10.1016/j.ecolind.2014.02.036

Li D, Bou-Zeid E, Oppenheimer M (2014) The effectiveness of cool and green roofs as urban heat island mitigation strategies. Environ Res Lett 9:55002. https://doi.org/10.1088/1748-9326/9/5/055002

Loughner CP, Allen DJ, Zhang DL, Pickering KE, Dickerson RR, Landry L (2012) Roles of urban tree canopy and buildings in urban heat island effects: parameterization and preliminary results. J Appl Meteorol Climatol 51(10):1775–1793. https://doi.org/10.1175/JAMC-D-11-0228.1

McPherson EG, Muchnick J (2005) Effects of street tree shade on asphalt concrete pavement performance. J Arboric 31(6):303–310

Memon RA, Leung DYC, Chunho L (2008) A review on the generation, determination and mitigation of urban heat island. J Environ Sci (China) 20(1):120–128

Middel A, Chhetri N, Quay R (2015) Urban forestry and cool roofs: assessment of heat mitigation strategies in Phoenix residential neighborhoods. Urban For Urban Green 14(1):178–186. https://doi.org/10.1016/j.ufug.2014.09.010

Mullen JD, Lamsal M, Colson G (2013) Green roof adoption in Atlanta, Georgia: the effects of building characteristics and subsidies on net private, public, and social benefits. Environ Sci Technol 47(19):10824–10831. http://pubs.acs.org/doi/abs/10.1021/es401806j

Napoli M, Massetti L, Brandani G, Petralli M, Orlandini S (2016) Modeling tree shade effect on urban ground surface temperature. J Environ Qual 45(1):146–156

Niachou A, Papakonstantinou K, Santamouris M, Tsangrassoulis A, Mihalakakou G (2001) Analysis of the green roof thermal properties and investigation of its energy performance. Energy Build 33(7):719–729. https://doi.org/10.1016/S0378-7788(01)00062-7

Oke TR (1987) Boundary layer climates, 2nd edn. Routledge, New York

Oke TR (2004) Initial guidance to obtain representative meteorological observations at urban sites. World Meteorological Organization. http://www.wmo.int/pages/prog/www/IMOP/publications/IOM-81/IOM-81-UrbanMetObs.pdf

Ouldboukhitine S-E, Belarbi R, Jaffal I, Trabelsi A (2011) Assessment of green roof thermal behavior: a coupled heat and mass transfer model. Build Environ 46(12):2624–2631. https://doi.org/10.1016/j.buildenv.2011.06.021

Ouldboukhitine S-E, Belarbi R, Sailor DJ (2014) Experimental and numerical investigation of urban street canyons to evaluate the impact of green roof inside and outside buildings. Appl Energy 114:273–282. https://doi.org/10.1016/j.apenergy.2013.09.073

Park J, Kim J-H, Lee DK, Park CY, Jeong SG (2017) The influence of small green space type and structure at the street level on urban heat island mitigation. Urban For Urban Green 21:203–212. https://doi.org/10.1016/j.ufug.2016.12.005

Petralli M, Massetti L, Orlandini S (2009) Air temperature distribution in an urban park: Differences between open-field and below a canopy. In: 7th int conf urban climate, Yokohama

Ren Z, He X, Zheng H, Zhang D, Yu X, Shen G, Guo R (2013) Estimation of the relationship between urban park characteristics and park cool island intensity by remote sensing data and field measurement. Forests 4(4):868–886. https://doi.org/10.3390/f4040868

Rosenzweig C, Gaffin S, Parshall L (2006) Green roofs in the New York Metropolitan Region. Columbia University Center for Climate Systems Research and NASA Goddard Institute for Space Studies. New York. https://pdfs.semanticscholar.org/0674/e24ef22180c90a9fde90f0573c782a7f84eb.pdf#page=17

Saaroni H, Ben-Dor E, Bitan A, Potchter O (2000) Spatial distribution and microscale characteristics of the urban heat island in Tel-Aviv, Israel. Landsc Urban Plan 48(1–2):1–18. https://doi.org/10.1016/S0169-2046(99)00075-4

Sailor D (2008) A green roof model for building energy simulation programs. Energy Build 40:1466–1478. http://www.sciencedirect.com/science/article/pii/S0378778808000339

Santamouris M (2014) Cooling the cities—a review of reflective and green roof mitigation technologies to fight heat island and improve comfort in urban environments. Sol Energy 103:682–703. https://doi.org/10.1016/j.solener.2012.07.003

Scherba A, Sailor DJ, Rosenstiel TN, Wamser CC (2011) Modeling impacts of roof reflectivity, integrated photovoltaic panels and green roof systems on sensible heat flux into the urban environment. Build Environ 46(12):2542–2551. https://doi.org/10.1016/j.buildenv.2011.06.012

Shashua-Bar L, Pearlmutter D, Erell E (2011) The influence of trees and grass on outdoor thermal comfort in a hot-arid environment. Int J Climatol 31(10):1498–1506. https://doi.org/10.1002/joc.2177

Smith C, Levermore G (2008) Designing urban spaces and building to improve sustainability and quality of life in a warmer world. Energy Policy 36:4558–4562

Solecki WD, Rosenzweig C, Parshall L, Pope G, Clark M, Cox J, Wiencke M (2005) Mitigation of the heat island effect in urban New Jersey. Environ Hazards 6(1):39–49. https://doi.org/10.1016/j.hazards.2004.12.002

Speak AF, Rothwell JJ, Lindley SJ, Smith CL (2013) Reduction of the urban cooling effects of an intensive green roof due to vegetation damage. Urban Clim 3:40–55. https://doi.org/10.1016/j.uclim.2013.01.001

Spronken-Smith RA, Oke TR (1998) The thermal regime of urban parks in two cities with different summer climates. Int J Remote Sens 19(11):2085–2104. https://doi.org/10.1080/014311698214884

Stewart ID, Oke TR (2012) Local climate zones for urban temperature studies. Bull Am Meteorol Soc 93:1879–1900. https://doi.org/10.1175/BAMS-D-11-00019.1

Stewart ID, Oke TR, Krayenhoff ES (2014) Evaluation of the "local climate zone" scheme using temperature observations and model simulations. Int J Climatol 34(4):1062–1080. https://doi.org/10.1002/joc.3746

Sun T, Grimmond CSB, Ni G-H (2016) How do green roofs mitigate urban thermal stress under heat waves? J Geophys Res Atmos 121(10):5320–5335. https://doi.org/10.1002/2016JD024873

Susca T, Gaffin SR, Dell'osso GR (2011) Positive effects of vegetation: urban heat island and green roofs. Environ Pollut 159(8–9):2119–2126. https://doi.org/10.1016/j.envpol.2011.03.007

Tan J, Zheng Y, Tang X, Guo C, Li L, Song G, Zhen X, Yuan D, Kalkstein AJ, Li F, Chen H (2010) The urban heat island and its impact on heat waves and human health in Shanghai. Int J Biometeorol 54(1):75–84. https://doi.org/10.1007/s00484-009-0256-x

Tan CL, Wong NH, Jusuf SK (2014) Effects of vertical greenery on mean radiant temperature in the tropical urban environment. Landsc Urban Plan 127:52–64

Tsang SW, Jim CY (2011) Theoretical evaluation of thermal and energy performance of tropical green roofs. Energy 36(5):3590–3598. https://doi.org/10.1016/j.energy.2011.03.072

Vijayaraghavan K (2016) Green roofs: a critical review on the role of components, benefits, limitations and trends. Renew Sustain Energy Rev 57:740–752. https://doi.org/10.1016/j.rser.2015.12.119

Williams NSG, Rayner JP, Raynor KJ (2010) Green roofs for a wide brown land: opportunities and barriers for rooftop greening in Australia. Urban For Urban Green 9(3):245–251. https://doi.org/10.1016/j.ufug.2010.01.005

Wong JKW, Lau LS-K (2013) From the "urban heat island" to the "green island"? A preliminary investigation into the potential of retro fitting green roofs in Mongkok district of Hong Kong. Habitat Int 39:25–35. https://doi.org/10.1016/j.habitatint.2012.10.005

Wong N, Chen Y, Ong C, Sia A (2003) Investigation of thermal benefits of rooftop garden in the tropical environment. Build Environ 38(2):261–270. http://www.sciencedirect.com/science/article/pii/S0360132302000665

Xiao M, Lin Y, Han J, Zhang G (2014) A review of green roof research and development in China. Renew Sustain Energy Rev 40:633–648. https://doi.org/10.1016/j.rser.2014.07.147

Yuen B, Nyuk Hien W (2005) Resident perceptions and expectations of rooftop gardens in Singapore. Landsc Urban Plan 73(4):263–276. https://doi.org/10.1016/j.landurbplan.2004.08.001

Zinzi M, Agnoli S (2012) Cool and green roofs. An energy and comfort comparison between passive cooling and mitigation urban heat island techniques for residential buildings in the Mediterranean region. Energy Build 55:66–76. https://doi.org/10.1016/j.enbuild.2011.09.024
Acknowledgements
This research was supported by a Grant (16AUDP-B102406-02) from the Architecture and Urban Development Research Program (AUDP) funded by the Ministry of Land, Infrastructure and Transport of Korean government.
About this article
Cite this article
Park, J., Kim, J., Dvorak, B. et al. The Role of Green Roofs on Microclimate Mitigation Effect to Local Climates in Summer. Int J Environ Res 12, 671–679 (2018). https://doi.org/10.1007/s41742-018-0124-9
Received:

Revised:

Accepted:

Published:

Issue Date:
Keywords
UHI

Rooftop garden

Local climate zone

Urban area

Albedo