Eliminating Steam Requirement of Aqueous Ammonia Capture Process by Lean Solution Flash and Vapor Recompression
Abstract
Dilute aqueous ammonia (NH3) process is considered as one of the alternative post-combustion carbon dioxide capture (PCC) technologies. However, the energy consumption for solvent regeneration is quite high, about 0.15–0.25 MWh/ton CO2 captured as equivalent work consumption. Therefore, reducing this valuable energy duty is still the major technical challenge to extensive deployment of this PCC technology. In this work, the NH3-based carbon capture process was developed using the lean vapor recompression approach. A parametric study revealed that the optimum energy consumption occurs at the lean solvent characterized by NH3 concentration of 5.0 wt% and CO2 loading of 0.275 mol CO2/mol NH3, with the stripper and flash pressures operated at 10.50 bar and 4.17 bar, respectively. Operating under such conditions, the total work duty for a CO2 capture plant was substantially reduced to 0.087 MWh/ton CO2 captured. In this process, the need of reboiler is completely eliminated.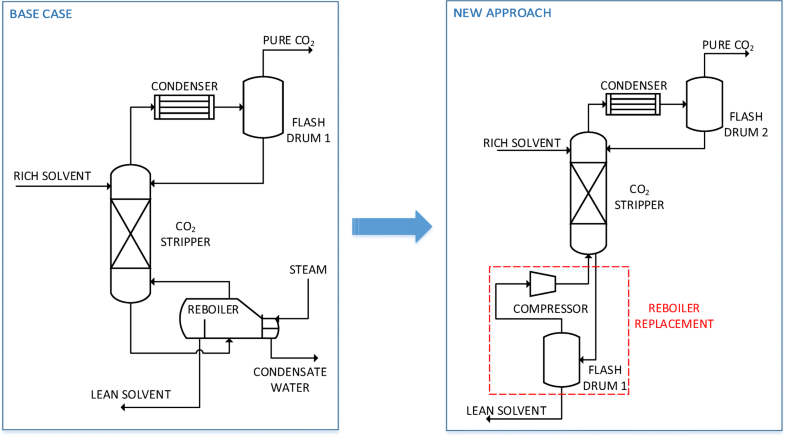 Keywords
Aqueous ammonia 
Post-combustion carbon capture 
Energy saving 
Lean vapor recompression 
New stripper configuration 
Notes
Acknowledgments
The authors are grateful to the financial support from the Ministry of Science and Technology of the Republic of China under Grant MOST 106-3113-E-007-002.
Copyright information
© Springer Nature Singapore Pte Ltd. 2018