Abstract
To investigate the synergistic effect of dexmedetomidine and cognitive behavioral therapy (CBT) on chronic insomnia. Forty-six chronic insomnia patients were selected and randomly assigned to the CBT group (CBT-I) or the CBT combined with dexmedetomidine (CBT-I + DEX) group. The sleep indexes and polysomnographic parameters were assessed before treatment, 4 weeks after treatment, and 8 weeks after treatment. The daily sleep conditions were recorded during the entire treatment course. Eight patients in the CBT-I group quit treatment, with a success rate of 65.2 %, and two patients in the CBT-I + DEX group quit treatment, with a success rate of 91.3 %, revealing a significant difference between the two groups (P < 0.05). At 4 and 8 weeks after treatment, the soma-arousal level was significantly decreased in the CBT-I + DEX group compared with the CBT-I group (P < 0.01), but no significant difference in the cognitive arousal. Polysomnographic monitoring results show that the sleep time at non-REM stage 3 (N3) and the total sleep time in the CBT-I + DEX group was longer than the CBT-I group after 4 weeks of treatment (P < 0.05). The number of awakenings, sleep latency, REM sleep latency and sleep efficiency were significantly improved in both groups at the end of treatment (P < 0.05), but the total sleep time was not obviously increased in both groups. Dexmedetomidine hydrochloride-induced sleep effectively reduced the patients' arousal level, prolonged deep sleep, reduced the degree of daytime sleepiness, and improved the success rate of CBT.
This is a preview of subscription content, log in to check access.
Access options
Buy single article
Instant access to the full article PDF.
US$ 39.95
Price includes VAT for USA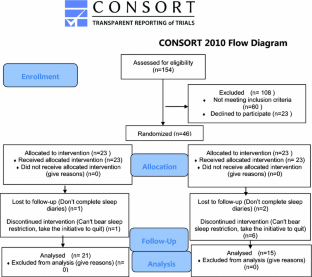 Abbreviations
CBT:

Cognitive behavioral therapy

DEX:

Dexmedetomidine

DIS:

Dexmedetomidine induced sleep

SCT:

Stimulus control therapy

CR:

Cognitive restructuring

RT:

Relaxation training

SHE:

Sleep hygiene education

SD:

Sleep diary

ISI:

Insomnia Severity Index

PSAS:

Pre-Sleep Arousal Scale

HAS:

The Hyperarousal Scale

PSQI:

The Pittsburgh Sleep Quality Index

ESS:

The Epworth Sleepiness Scale
References
1.

National Institutes of Health State of the Science Conference Statement. Manifestations and management of chronic insomnia in adults. Sleep. 2005;28:1049–57.

2.

Espiea CA, Broomfield NM, et al. The attention-intention-effort pathway in the development of psychophysiologic insomnia: a theoretical review. Sleep Med Rev. 2006;10:215–45.

3.

Sivertsen B, Omvik S, Pallesen S, Bjorvatn B, Havik OE, Kvale G, et al. Cognitive behavioral therapy vs zopiclone for treatment of chronic primary insomnia in older adults: a randomized controlled trial. J Am Med Assoc. 2006;295:2851–8.

4.

Ong JC, Kuo TF, Manber R. Who is at risk for dropout from group cognitive-behavior therapy for insomnia? J Psychosom Res. 2008;64(4):419–25.

5.

Morin CM, Bonneau SB, Ivers H, et al. Speed and trajectory of changes of insomnia symptoms during acute treatment with cognitive–behavioral therapy, singly and combined with medication. Sleep Med. 2014;15:701–7.

6.

Mantz J, Josserand J, Hamada S. Dexmedetomidine: new insights[J]. Eur J Anaesthesiol. 2001;28:3–6.

7.

Venn RM, Bradshaw CJ, Spencer R, et al. Preliminary UK experience of dexmedetomidine, a novel agent for postoperative sedation in the intensive care unit[J]. Anesthesia. 1999;54:1136–42.

8.

Guo-Zhong M, Xiao-Jiang J, Zhi-Qiang X. Effect of dexmedetomidine-induced sleep balance treatment on the chronic refractory primary insomnia patients. J Basic Appl Sci. 2014;10:102–9.

9.

Dijk DJ. Slow-wave sleep deficiency and enhancement: implications for insomnia and its management. World J Biol Psychiatry. 2010;11:22–8.

10.

American Psychiatric Association. Diagnostic and statistical manual of mental disorders. 5th ed. Arlington: American Psychiatric Publishing; 2013.

11.

Morgenthaler T, Kramer M, Alessi C, et al. Practice parameters for the psychological and behavioral treatment of insomnia: an update. An American Academy of Sleep Medicine report. Sleep. 2006;29:1415–19.

12.

Morin CM, Bootzin RR, Buysse DJ, et al. Psychological and behavioral treatment of insomnia: update of the recent evidence (1998–2004). Sleep. 2006;29:1398–414.

13.

Perlis ML, Jungquist C, Smith MT, et al. Cognitive behavioral treatment of insomnia: a session-by session guide. New York: Springer; 2005.

14.

Buysse DJ, Ancoli-Israel S, Edinger JD, Lichstein KL, Morin CM. Recommendations for a standard research assessment of insomnia. Sleep. 2006;29:1155–73.

15.

Lichstein KL, Stone KC, Donaldson J, Nau SD, Soeffing JP, Murray D, Aguillard RN. Actigraphy validation with insomnia. Sleep. 2006;29:232–9.

16.

Bastien C, Vallieres A, Morin C. Validation of the Insomnia Severity Index as an outcome measure for insomnia research. Sleep Med. 2001;2:297–307.

17.

Buysse DJ, Reynolds CF III, Monk TH, Berman SR, Kupfer DJ. The Pittsburgh Sleep Quality Index: a new instrument for psychiatric practice and research. Psychiatry Res. 1989;28:193–213.

18.

Johns MW. A new method for measuring daytime sleepiness: the Epworth Sleepiness Scale. Sleep. 1991;14:540–5.

19.

Nicassio PM, Mendlowitz DR, Fussell JJ, Petras L. The phenomenology of the pre-sleep state: the development of the pre-sleep arousal scale. Behav Res Ther. 1985;23:263–71.

20.

Pavlova M, Berg O, Gleason R, Walker F, Roberts S, Regestein Q. Self-reported hyperarousal traits among insomnia patients. J Psychosom Res. 2001;51:435–41.

21.

Smith MT, Perlis ML, Park A, et al. Comparative meta-analysis of pharmacotherapy and behavior therapy for persistent insomnia. Am J Psychiatry. 2002;159(1):5–11.

22.

Constantino MJ, Manber R, Ong J, et al. Patient expectations and therapeutic alliance as predictors of outcome in group cognitive-behavioral therapy for insomnia. Behav Sleep Med. 2007;5(3):210–28.

23.

Ellis JG, Deary V, Troxel WM. The role of perceived partner alliance on the efficacy of CBT-I: preliminary findings from the partner alliance in insomnia research study (PAIRS). Behav Sleep Med. 2014:1–9 (ahead of print).

24.

Matthews Ellyn E, Todd Arnedt J, Michaela S, et al. Adherence to cognitive behavioral therapy for insomnia: a systematic review. Sleep Med Rev. 2013;17(6):453–64.

25.

Perlis ML, Smith MT, Orff H, Enright T, et al. The effects of modafinil and cognitive behavior therapy on sleep continuity in patients with primary insomnia. Sleep. 2004;27(4):715–25.

26.

McChargue DE, Sankaranarayanan J, Visovsky CG, et al. Predictors of adherence to a behavioral therapy sleep intervention during breast cancer chemotherapy. Support Care Cancer. 2010;20:245–52.

27.

Manber R, Bernert RA, Suh S, et al. CBT for insomnia in patients with high and low depressive symptom severity: adherence and clinical outcomes.[J] Clin. Sleep Med. 2011;7:645–52.

28.

Hsu YW, Cortinez LI, Robertson KM, et al. Dexmedetomidine pharmacodynamics: part I crossover comparison of the respiratory effects of dexmedetomidine and remifentanil in heathy volunteers[J]. Anesthesiology. 2004;101:1066–76.

29.

Shouse MN, Staba RJ, Saquib SF, Farber PR. Monoamines and sleep: microdialysis findings in pons and amygdala. Brain Res. 2000;860:181–9.

30.

Park SP. In vivo microdialysis measures of extracellular norepinephrine in the rat amygdala during sleep–wakefulness. J Korean Med Sci. 2002;17:395–9.

31.

Foster D, Wilson M. Reverse replay of behavioral sequences in hippocampal place cells during the awake state. Nature. 2006;440:680–3.

32.

Belleville G, Guay C, Guay B, Morin CM. Hypnotic taper with or without self-help treatment of insomnia: a randomized clinical trial. J Consult Clin Psychol. 2007;75:325–35.

33.

Dirksen SR, Epstein DR. Efficacy of an insomnia intervention on fatigue, mood and quality of life in breast cancer survivors. J Adv Nurs. 2008;61:664–75.

34.

Jacobs GD, Pace-Schott EF, Stickgold R, Otto MW. Cognitive behavior therapy and pharmacotherapy for insomnia: a randomized controlled trial and direct comparison. Arch Intern Med. 2004;164:1888–96.

35.

Rybarczyk B, Stepanski E, Fogg L, et al. A placebo-controlled test of cognitive behavioral therapy for comorbid insomnia in older adults. J Consult Clin Psychol. 2005;73:1164.
Acknowledgments
The study was supported by the funding of new technology research about regulating center nerve hyperarousal state and correcting accumulated sleep debt (No. 12BJZ51).
Ethics declarations
Conflict of interest
There is no conflict of interest declared.
About this article
Cite this article
Li, X., Jiang, X., Liu, Y. et al. Efficacy of dexmedetomidine with cognitive behavioral therapy for treating chronic insomnia related to conditioned arousal: a randomized controlled trial. Sleep Biol. Rhythms 14, 75–85 (2016). https://doi.org/10.1007/s41105-015-0025-7
Received:

Accepted:

Published:

Issue Date:
Keywords
Conditioned arousal

Chronic insomnia

Cognitive behavioral therapy

Dexmedetomidine

Sleep induction