Abstract
Corrosion of concrete sanitary sewers has become a major problem around the world. Concrete durability in sewerage systems is mainly related to the presence of effluents containing sulfur-rich compounds that lead to an acid attack and expansion reactions. This paper presents a microstructural analysis of concretes (two case studies) taken from corroded sewer pipes. The objective of this investigation is to highlight and identify the pathologies of cementitious materials in sanitation networks. A scanning electron microscope equipped with energy dispersive X- ray analysis (SEM–EDS) was performed on fragments of concrete samples taken at different areas. In addition to these microstructural analysis, bulk density and water-accessible porosity tests are performed, the results obtained were compared with those of a reference concrete (new pipe). The results of the analysis showed a deterioration of the pipes in both faces (internal and external) with the presence of products prejudicial for their durability.
This is a preview of subscription content, log in to check access.
Access options
Buy single article
Instant access to the full article PDF.
US$ 39.95
Price includes VAT for USA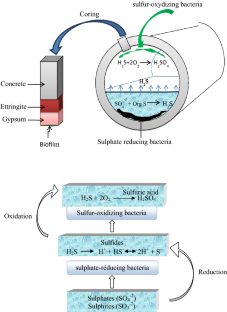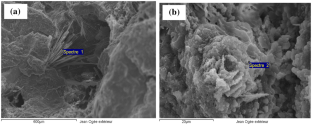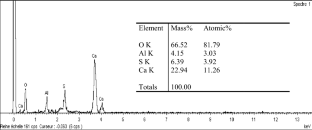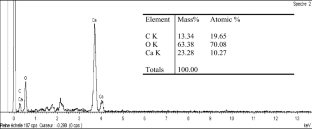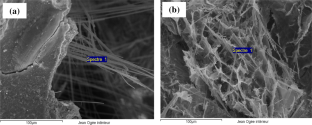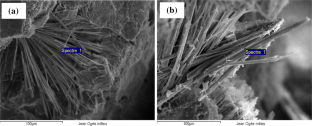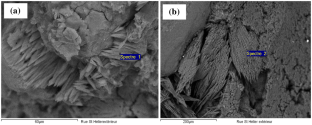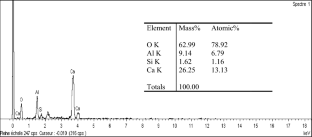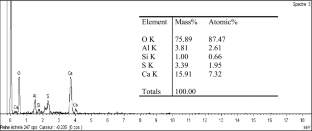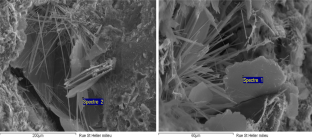 References
1.

O'Connell M, McNally C, Richardson MG (2010) Biochemical attack on concrete in wastewater applications: a state of the art review. Cement Concr Compos 32:479–485

2.

Grandclerc A, Guéguen-Minerbe M, Chaussadent T (2018) Accelerated biodeterioration test of cementitious materials in sewer networks, RILEM 253-MCI Conference Microorganisms-Cementitious Materials Interactions, june 25–27, Toulouse, France

3.

Olmsted F-H, Hamlin H (1900) Converting portions of the Los Angeles outfall sewer into a septic tank. Eng News 44(19):317–318

4.

Parker CD (1947) Species of sulphur bacteria associated with the corrosion of concrete. Nature 159:439–440

5.

Okabe S, Odagiri M, Ito T, Satoh H (2007) Succession of sulfur-oxidizing bacteria in the microbial community on corroding concrete in sewer systems. Appl Environ Microbiol 73(3):971–980

6.

Zhang L, De Schryver P, De Gusseme B, De Muynck W, Boon N, Verstraete W (2008) Chemical and biological technologies for hydrogen sulfide emission control in sewer systems. Water Res 42:1–12

7.

Brongers M, Koch G, Thompson N (2001) Corrosion costs and preventive strategies in the United States, Report FHWA-RD-01-156. Federal Highway Administration, Washington

8.

Herisson J, Eric D, Van Hullebusch, Gueguen Minerbe M, Taquet P, Eychenne-Baron C, Chaussadent T (2013) Better durability of calcium aluminate cement regarding biocorrosion in sewer networks, In: 1st International conference on the chemistry of construction materials, Germany. pp 5

9.

Hvitved-Jacobsen T, Vollertsen J, Matos JS (2002) The sewer as a bioreactor—a dry weather approach. Water Sci Technol 45(3):11–24

10.

Sydney R, Esfandi E, Surapaneni S (1996) Control concrete sewer corrosion via the crown spray process. Water Environ Res 68(3):338–347

11.

Tazaki K, Mori T, Nonaka T (1992) Microbial jarosite and gypsum from corrosion of Portland cement concrete. Can Mineral 30:431–444

12.

De Graef B, Cnudde V, Dick J, De Belie N, Jacobs P, Verstraete W (2005) A sensitivity study for the visualization of bacterial weathering of concrete and stone with computerized X-ray microtomography. Sci Total Environ 341:173–183

13.

Lea F-M, Desch CH (1935) The chemistry of cement and concrete. Edward Arnold & Co., London

14.

Parker CD (1945) The corrosion of concrete. The function of thiobacillus-concretivorus (Nov-Spec) in the corrosion of concrete exposed to atmospheres containing hydrogen sulphide. Aust J Exp Biol Med Sci 23(2):91–98

15.

Davis JL, Nica D, Shields K, Roberts DJ (1998) Analysis of concrete from corroded sewer pipe. Int Biodeterior Biodegradation 42:75–84

16.

Mori T, Nonaka T, Tazaki K, Koga M, Hikosaka Y, Noda S (1992) Interactions of nutrients, moisture and pH on microbial corrosion of concrete sewer pipes. Water Res 26:29–37

17.

Oualit M, Jauberthie R, Melinge Y, Abadlia M-T (2012) Performance and analysis of concrete in sewer environment: anisotropy of damage. Appl Mech Mater 146:147–159

18.

Oualit M, Jauberthie R, Rendell F, Melinge Y, Abadlia M-T (2012) External corrosion to concrete sewers: a case study. Urban Water J 9(6):429–434

19.

Ollivier J-P (1997) Les résultats des essais croisés AFREM pour la détermination de la masse volumique apparente et de la porosité accessible à l'eau des bétons. Compte rendu des journées techniques AFPC–AFREM, Durabilité des bétons, Méthodes recommandées pour la mesure des grandeurs associées à la durabilité, pp 121–124, Toulouse, France
Acknowledgements
This work was done at the Laboratory of Civil Engineering, Mechanical Engineering (Materials) of the National Institute of Applied Sciences (INSA) of Rennes (France). This work is part of a research project between INSA and the City of Rennes. The authors would like to warmly reiterate all the staff of the center with these different laboratories as well as the Faculty of Sciences of the Rennes University.
Ethics declarations
Conflict of interest
On behalf of all authors, the corresponding author states that there is no conflict of interest.
Additional information
Publisher's Note
Springer Nature remains neutral with regard to jurisdictional claims in published maps and institutional affiliations.
About this article
Cite this article
Oualit, M., Jauberthie, R. & Abadlia, M.T. Concrete pathologies in sewer structures: microstructural analysis. J Build Rehabil 4, 12 (2019). https://doi.org/10.1007/s41024-019-0051-y
Received:

Accepted:

Published:
Keywords
Concrete sewer

SEM–EDS analysis

Pathologies

Durability

Degradation