Phase Evolution of β-Al5FeSi During Recycling of Al–Si–Fe Alloys by Mg Melt
Abstract
The recycling of aluminum materials is an important green initiative since it can avoid the need for primary metals and Al–Si–Fe is a typical scrap aluminum alloy. One key goal in recycling of Al–Si–Fe alloys is to reduce the Fe content via some techniques to separate Al and Fe. A proposed method to obtain this goal via introducing the Al–Si–Fe alloy into a Mg melt has been investigated in this work. A separation layer with gathered Fe-rich and Al-poor Fe3Al0.7Si0.3 particles was obtained at the bottom of the cooled ingot, indicating that β-Al5FeSi phase evolves into Fe3Al0.7Si0.3, and quantities of Al are released to the upper Mg matrix simultaneously. However, the evolution of Al3Fe by adding binary Al–Fe alloy into Mg melt is different. It is proposed that the element Si plays an important role in the phase evolution procedure, thus affecting the performance of this method.
Keywords
Al recycling 
Mg melt 
phase evolution 
casting 
Introduction
The rapid development of aeronautic, automotive and aerospace technologies strongly depends on the consumption of materials, while sustainable development is the future direction.1,2 Aluminum is a recyclable material, and Fe is one of the most common impurities in it. Fe may be introduced into Al alloys by adding low-purity alloying materials and by using unprotected ferrous crucible, tools or equipment.3, 4, 5, 6 For instance, wear-resistant rings are usually inserted into piston head when producing Al–Si-based pistons, and an infiltration procedure of putting the cast iron rings into Al melt before casting is always essential. As a result, both the remelting of pistons and the reuse of Al melt for infiltrating rings lead to the enrichment of Fe element, which can be as high as 5 wt%.7
It is widely known that coarse β-Al5FeSi particles will form in high Fe-contained Al–Si–Fe alloys which is harmful for the mechanical properties.8, 9, 10 In the past decades, several methods have been investigated which can be widely referenced.11, 12, 13, 14, 15, 16 These methods can be divided into two kinds. One is to aggregate and remove the Fe-rich phase through the methods of centrifugation, gravity filtration or magnetic separation. Another way is modifying the morphology of flake-like Fe-rich phase, e.g., β-Al5FeSi, by overheating the melt or adding neutralized elements. However, these traditional methods are rarely used in industries due to respective disadvantages, while the commonly applied method is using primary aluminum for dilution. However, only less than 30 wt% of scrap Al can be added into primary Al melt for each melt while it also results in the decrease in product quality simultaneously.17
Based on our previous work,18,19 a method of using Mg melt to deal with Al–12Si–4Fe alloy has been studied in this paper. Due to the evolution preference of the Fe-rich phase and the density variation between it and the Mg melt, the separation of Al and Fe can be achieved. The performance of this method dealing with Al–4Fe alloy was also investigated for comparison.
Experimental
The materials used in this study include commercial purity Mg (99.8 wt%), commercial purity Al (99.8 wt%), commercial purity crystalline Si (99.9 wt%) and commercial purity Fe (99.9 wt%). Ternary Al–12Si–4Fe and binary Al–4Fe alloys were firstly prepared in a high-frequency induction furnace. To check the separation performance of Al and Fe elements by this method, the experiments were carried out as follows: First, Mg ingot was melted under the protection of 1% RJ-2 flux (40–50 wt% MgCl
2
, 35–45 wt% KCl, 5–8 wt% BaCl
2
, 5–8 wt% CaF
2
, 5–8 wt% NaCl and CaCl
2
) in a BN ceramic crucible as shown in Figure 
1
a, by using a resistance furnace to 780 °C. Then, Al–12Si–4Fe or Al–4Fe alloy was added into the melt with the proportion of 10 wt%. After the alloy totally melted, the melt was held for 30 min and air cooled to room temperature. Mg–Al alloy can be obtained in the upper part of the ingot, while a deposition layer can be obtained at the bottom of the crucible, as shown in Figure 
1
b, c. The chemical compositions of the upper part and bottom part were detected by an Inductively Coupled Plasma-Atomic Emission Spectrometer PE8000 machine, and the results are shown in Table 
1
.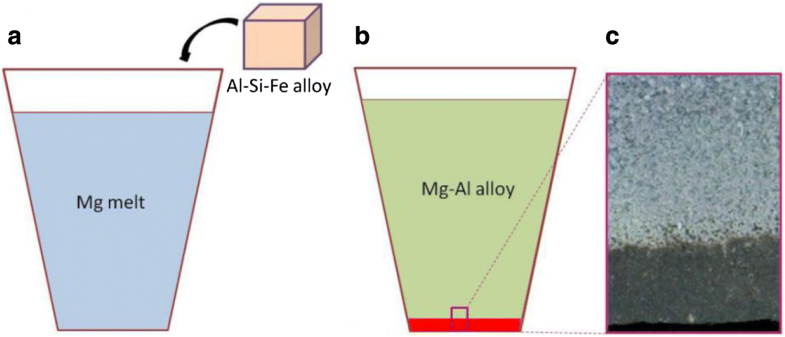 Table 1
Chemical Compositions of the Alloys in the Upper and Bottom of the Cooled Ingots for Al–12Si–4Fe and Al–4Fe Recycling
Samples

Average element contents

Al

Si

Fe

Mg

Impurities

Al–12Si–4Fe recycling

 U#

8.52

1.28

0.0497

90.10

Balance

 B#

2.29

> 1.60

6.29

89.20

Balance

Al–4Fe recycling

 U#

7.30

0.030

0.0441

92.60

Balance

 B#

8.04

0.029

3.36

88.54

Balance
Metallographic specimens were mechanically ground and polished by using MgO turbid liquid as in standard routines. The microstructure observations were carried out by a field emission scanning electron microscope (FESEM, Hitachi SU-70) operated at 15 kV and linked with an energy-dispersive X-ray spectrometry (EDX) attachment. The phase identification of the samples was detected by X-ray diffraction (XRD) with a D/max-RB diffractometer (Rigaku, Tokyo, Japan) using CuKα radiation at 40 kV and 100 mA.
The ab initio molecular dynamics simulation (AIMD), based on density functional theory, was used to calculate the information of clusters in Mg–Al–Fe system. The AIMD simulation was conducted using the Vienna ab initio simulation package (VASP)20 by implementing the projector augmented wave method.21
Results and Discussion
Based on the different behaviors of β-Al5FeSi and Al3Fe in Mg melt, it is reasonable to suppose that Si plays an important role in the phase evolution during recycling of Al–Si–Fe alloys. It is believed that the detailed mechanism still needs further study. Besides, since the industrial scrap Al–Si–Fe alloys may have complex composition, the influence of other impurities on the performance of this method remains doubtful. Continued efforts should be made for promoting this method in industries.
Conclusions
The separation performance on Al and Fe by introducing 10 wt% of Al–6Si–4Fe alloy into Mg melt has been discussed in this work. Along with the evolution from flake-like β-Al5FeSi to block-like Fe3Al0.7Si0.3, a separation layer rich of Fe-rich particles was obtained at the bottom of the melt. Through this procedure, Al can be released to the upper melt and thus can be gathered and recycled. Compared with β-Al5FeSi, the evolution of Al3Fe in Mg melt is different. Only morphological evolution, not phase structure evolution was detected. It is regarded that Si plays a significant role in the evolution procedure.
Notes
Acknowledgements
This research was financially supported by the National Natural Science Foundation of China (No. 51601106) and the China Postdoctoral Science Foundation (No. 2017T100489).
Copyright information
© American Foundry Society 2018