Microstructure and Mechanical Properties of an AlN/Mg–Al Composite Synthesized by Al–AlN Master Alloy
Abstract
In this work, a kind of AlN particles reinforced Mg–Al matrix composite was fabricated by introducing Al–12.5AlN master alloy into the Mg melt during casting. In the 0.8AlN/Mg–8Al composite, the nano-sized AlN particles are uniformly distributed, exhibiting a clean interface with the matrix. The introduction of AlN results in the refinement of α-Mg grains through modifying its dendrite morphology, and the β-Mg17Al12 intermetallic was also changed from continuous coarse-like to fine morphology. As a result, compared with Mg–8Al matrix alloy, the tensile strength and elongation of the 0.8AlN/Mg–8Al composite were increased by 31% and 213%, respectively. The strengthening mechanism and fracture behaviors were discussed.
Keywords
Al–12.5AlN master alloy 
AlN/Mg–Al composite 
microstructure 
mechanical properties 
Introduction
It has attracted considerable attention in the development of lightweight materials in order to achieve energy saving and sustainable development in many industries, especially automotive and aerospace fields.1, 2, 3 Magnesium (Mg) is the lightest structural metal, with a density that is 23% of steel and 66% of aluminum; therefore it has tremendous potential to be widely used.4,5 However, Mg alloys generally exhibit low strength, poor ductility and lack of high-temperature creep resistance, which severely limits its applications. In order to overcome these disadvantages, different forms of reinforcements have been used to fabricate Mg-matrix composites.6,7 Compared with continuous fiber reinforced composites, particle reinforced Mg-matrix composites are favored by researchers due to the advantages of a relatively simple process, less expensive and isotropic properties.8
Recently, ceramic particles such as SiC,9 TiC,10 TiB211 have been extensively used to fabricate Mg-matrix composites. Similar to Mg, AlN also exhibits a hexagonal structure and has similar lattice parameters. It has excellent properties such as a relatively low density of 3.26 g/cm3, high elastic modulus (308–315 GPa), low coefficient of thermal expansion (4.4 × 10−6 K−1, 293–673 K) and high thermal conductivity (110–170 W m−1 K−1).12, 13, 14 Therefore, AlN may be a promising candidate using as reinforcement for producing Mg-matrix composites, which has indeed been investigated by scholars. A common method is directly introducing AlN particles into Mg melt. For instance, Cao et al.15 tried to synthesize 1 wt% AlN/AZ91D composite by directly introducing AlN powders into Mg melt followed with continuously stirring. Chen et al.16 prepared AlN reinforced Mg–9Al composites through powder metallurgy method. However, it is widely known that due to the poor wettability between ex-situ particles and Mg melt, the preparation of these composites is either hard to achieve or has unclean AlN/Mg interface. Besides, the ex-situ fine particles are also preferred to aggregate, which is detrimental to properties of the composites.17,18
In order to overcome the above shortages, other methods have also been investigated. Bedolla et al.19 prepared AlN/AZ91E composite by pressureless infiltration, which performs quite attractive mechanical and thermoelectric properties due to the good wettability and capillarity between the AlN particles and Mg matrix. Yang et al.20 synthesized AlN particles reinforced Mg–9Al matrix composites through nitrogen gas bubbling method, i.e., by carrying out the reaction between N2 and dissolved Al in the Mg melt. Even though these methods can obtain a clean reinforcement/matrix interface and is beneficial to improve the aggregation of AlN particles, they still require a complex procedure and equipment.
Using particles-contained master alloy to prepare composites may be another acceptable method, which is not only simple but also easy to conduct. For instance, the application of Al–SiC and Al–Al3BC master alloy can easily introduce SiC and Al3BC particles into melts.21,22 Therefore, in this paper, an Al–12.5AlN master alloy was used to prepare a 0.8AlN/Mg–8Al composite during casting. The stability and distribution of AlN particles and their effect on the microstructure of the composites were investigated. The tensile properties were tested, and the strengthening mechanisms were discussed.
Experimental
The raw materials in this paper contain commercial Mg ingots (99.8%, all compositions quoted in this paper are in wt% unless otherwise stated), commercial Al ingots (99.7%) and Al–12.5AlN master alloys. High-purity Ar gas (99.9%) was selected as inert atmosphere during casting. The Al–12.5AlN master alloy is provided by Shandong Al & Mg Melt Technology Co. Ltd., which is prepared by following methods. Firstly, Al powders (99.7%, 75 μm) and nitride plastid powders (a ball-milled mixed powder containing AlN and Al with less than 0.1 wt% of graphene) were well mixed and cold-compacted into cylindrical specimens. Then, by conducting a liquid–solid reaction at 750 °C in a vacuum electric resistance furnace, the Al–12.5AlN master alloy can be successfully fabricated. Finally, the specimens were extruded into rods at 500 °C with an extrusion ratio of 20:1.
The AlN/Mg–Al composite was prepared through the following procedures. First, Mg melt was held at 740 °C under the protection of Ar gas in a corundum crucible using a resistance furnace. Then, the preheated Al–12.5AlN master alloy was added into Mg melt, as shown in Figure 
1
a. The melt was then held for 20 min, during which regular stirring was applied using a four blade (pitch 45°) stainless steel impeller at 300 r/min for 30 s every 5 min. Finally, after refining and slag removal, the melt was poured into a tensile specimen steel mold preheated to 200 °C, which is presented in Figure 
1
b. As a comparison, the Mg–8Al matrix alloy was also prepared through similar procedure.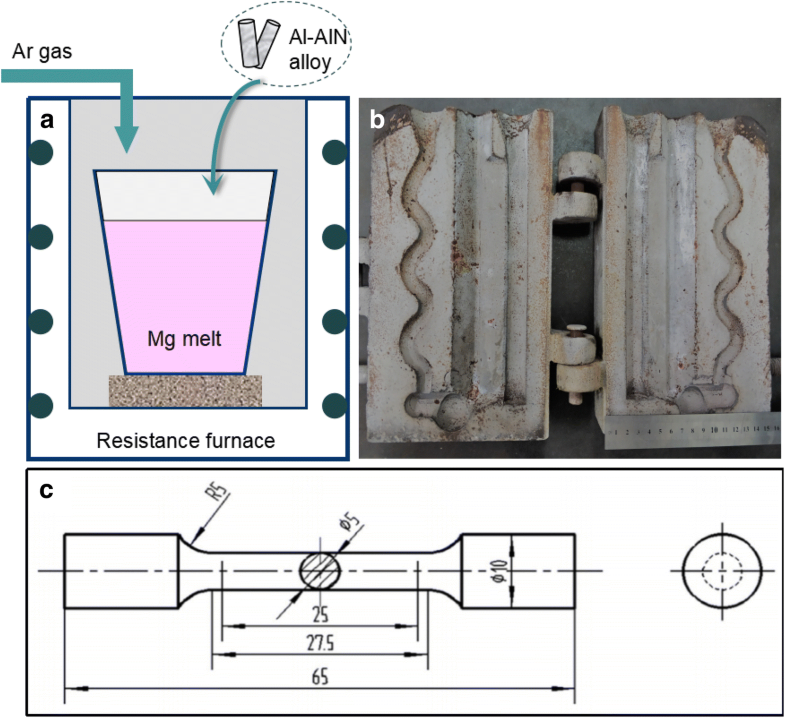 After the samples were ground with sandpapers and polished using a MgO suspension following standard routines. A compositional analysis was performed using an X-ray fluorescence spectrometer (XRF), and the results are listed in Table 
1
. For microstructure analysis, as-cast and T4 (solid solution treated at 413 °C for 12 h, and then cooled in 60 °C warm water)-treated samples were prepared. Preliminary observations of the microstructure were carried out under a Leica DM2700 High-Scope Video Microscope (HSVM). Further microscopic observations were performed using field emission scanning electron microscopy (FESEM) and transmission electron microscopy (TEM) equipped with an energy-dispersive spectroscopy (EDS) detector. Phase identification of the composites was conducted by X-ray diffraction (XRD) with Cu Kα radiation at 40 kV, 100 mA.
Table 1
Chemical Composition of Mg–8Al Matrix Alloy and the 0.8AlN/Mg–8Al Composite (wt%)
Alloy

Element

Al

Mn

Zn

Fe

Other

Mg

Mg–8Al

7.9

< 0.001

< 0.001

< 0.002

–

Bal.

0.8AlN/Mg–8Al

8.5

0.004

< 0.001

0.011

0.28

Bal.
After the samples were machined to 'dog-bone'-shaped specimen (Figure 1c) with 25 mm gauge length in compliance with ASTM E8M-16a standard, tensile properties of the 0.8AlN/Mg–8Al composite and Mg–8Al matrix alloy were tested on a WDW-100D electronic universal testing machine at room temperature. The tensile rate was set as 2.0 mm/min. Real-time monitoring of loads, stresses and strains during testing through computer-controlled data acquisition system was obtained. The average data were acquired from at least five tensile specimens in each case.
Conclusions
In this study, 0.8AlN/Mg–8Al composite was successfully synthesized by introducing Al–12.5AlN master alloy into Mg melt through a casting method. The nano-sized (< 200 nm) AlN particles are relatively uniformly distributed in the matrix, performing good interfacial combination with the matrix. The strengthening effect of AlN and its modification performance on α-Mg grains and β-Mg17Al12 intermetallic contribute to the enhanced tensile properties of the composite. Compared with Mg–8Al matrix alloy, the tensile strength and elongation of the as-cast 0.8AlN/Mg–8Al composite are increased by 31% and 213%, respectively. The results in this paper may inspire new approaches for the preparation of Mg-matrix composites.
Notes
Acknowledgements
This research was financially supported by the National Natural Science Foundation of China (Nos. 51601106 and 51731007), China Postdoctoral Science Foundation (No. 2017T100489), Fundamental Research Funds of Shandong University (2016GN012).
Copyright information
© American Foundry Society 2018