Abstract
Pseudomyxoma peritonei is a rare clinical condition that is most commonly secondary to a perforated appendiceal tumour. Here, we present the case of a lady with mucinous adenocarcinoma of the ovary who was diagnosed with pseudomyxoma peritonei on the basis of gelatinous ascites and classical findings on radiology.
This is a preview of subscription content, log in to check access.
Access options
Buy single article
Instant unlimited access to the full article PDF.
US$ 39.95
Price includes VAT for USA
Subscribe to journal
Immediate online access to all issues from 2019. Subscription will auto renew annually.
US$ 99
This is the net price. Taxes to be calculated in checkout.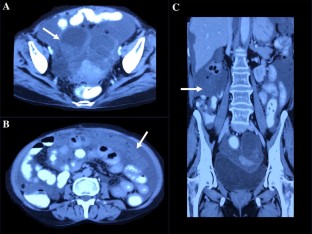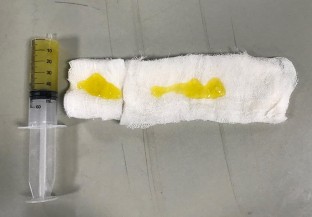 References
1.

Mittal R, Chandramohan A, Moran B. Pseudomyxoma peritonei: natural history and treatment. Int J Hyperthermia. 2017;33(5):511–9.

2.

Sugarbaker PH. Pseudomyxoma peritonei. A cancer whose biology is characterized by a redistribution phenomenon. Ann Surg. 1994;219(2):109–11.

3.

Sugarbaker PH, Ronnett BM, Archer A, et al. Pseudomyxoma peritonei syndrome. Adv Surg. 1996;30:233–80.

4.

Ronnett BM, Zahn CM, Kurman RJ, et al. Disseminated peritoneal adenomucinosis and peritoneal mucinous carcinomatosis. A clinicopathologic analysis of 109 cases with emphasis on distinguishing pathologic features, site of origin, prognosis, and relationship to "pseudomyxoma peritonei". Am J Surg Pathol. 1995;19(12):1390–408.

5.

Ramaswamy V. Pathology of mucinous appendiceal tumors and pseudomyxoma peritonei. Indian J Surg Oncol. 2016;7(2):258–67.

6.

Järvinen P, Ristimäki A, Kantonen J, et al. Comparison of serial debulking and cytoreductive surgery with hyperthermic intraperitoneal chemotherapy in pseudomyxoma peritonei of appendiceal origin. Int J Colorectal Dis. 2014;29(8):999–1007.

7.

Levy AD, Shaw JC, Sobin LH. Secondary tumors and tumorlike lesions of the peritoneal cavity: imaging features with pathologic correlation. Radiographics. 2009;29(2):347–73.

8.

Diop AD, Fontarensky M, Montoriol PF, et al. CT imaging of peritoneal carcinomatosis and its mimics. Diagn Interv Imaging. 2014;95(9):861–72.
Ethics declarations
Conflict of interest
The authors have no conflict of interest to declare.
Patient Consent
Patient consent has been obtained from the patient herself.
Additional information
Publisher's Note
Springer Nature remains neutral with regard to jurisdictional claims in published maps and institutional affiliations.
About this article
Cite this article
Chakrabarti, D., Resu, A.V., Gupta, I.J. et al. Jelly, Cake, and Scallops. Indian J Gynecol Oncolog 18, 21 (2020). https://doi.org/10.1007/s40944-020-0369-z
Received:

Accepted:

Published:
Keywords
Ovarian carcinoma

Ovarian adenocarcinoma

Mucinous adenocarcinoma

Pseudomyxoma peritonei

Omental caking

Intraperitoneal chemotherapy