Abstract
Researchers have developed many thrombosis models in the mouse. Some methods for establishing the model require specialized equipment and have high cost. The present study develops a low-cost, easy-to-operate, and well-controlled vascular injury thrombosis model in the mouse carotid artery induced by a guidewire. Superficial injury was induced in the carotid artery by scratching with a guidewire. Thrombus formation was observed and recorded in real time. Thrombosis quantification analyses were performed using Metamorph and Graphpad software. Transmission electron microscopy (TEM), scanning electron microscopy (SEM), and hematoxylin and eosin (HE) staining were employed for the histological analysis of the injured vessel wall. Three clinical drugs were respectively administrated to this model for further evaluation. Complete removal of the endothelium was observed by TEM in this injury model. Platelets covered the denuded surface, in which the aggregates were detected by HE staining and SEM. A transient thrombus reaching peak at around 1 min after injury and vanishing gradually within 3 min formed in the model. Administration of clinical medicaments decreased thrombus formation in this model. All lesions were sensitive to platelet GPIIb-IIIa, P2Y12 inhibition, and thrombin blockade. The proposed model has good reproducibility and feasibility and could be applied in therapeutic targeting and anti-thrombotic drug screening.
This is a preview of subscription content, log in to check access.
Access options
Buy single article
Instant unlimited access to the full article PDF.
US$ 39.95
Price includes VAT for USA
Subscribe to journal
Immediate online access to all issues from 2019. Subscription will auto renew annually.
US$ 99
This is the net price. Taxes to be calculated in checkout.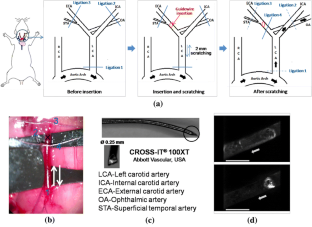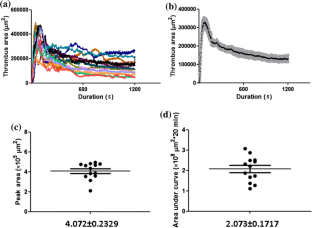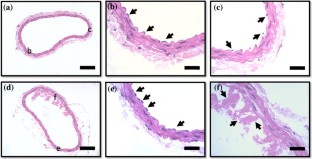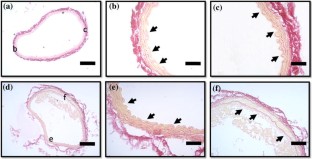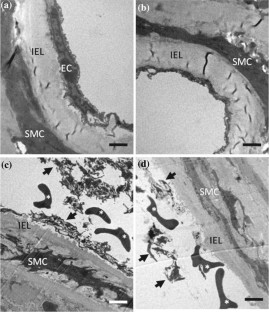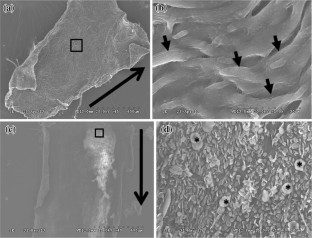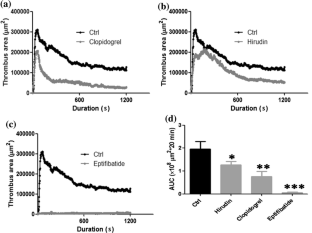 References
1.

Day, S. M., Reeve, J. L., Myers, D. D., & Fay, W. P. (2004). Murine thrombosis models. Thrombosis and Haemostasis, 92, 486–494.

2.

Denis, C., Methia, N., Frenette, P. S., Rayburn, H., Ullman-Cullere, M., Hynes, R. O., & Wagner, D. D. (1998). A mouse model of severe von Willebrand disease: Defects in hemostasis and thrombosis. Proceedings of the National Academy of Sciences, 95, 9524–9529.

3.

Haberstock-Debic, H., Andre, P., Mills, S., Phillips, D. R., & Conley, P. B. (2011). A clopidogrel-insensitive inducible pool of P2Y12 receptors contributes to thrombus formation: Inhibition by elinogrel, a direct-acting, reversible P2Y12 antagonist. Journal of Pharmacology and Experimental Therapeutics, 339, 54–61.

4.

Kurz, K. D., Main, B. W., & Sandusky, G. E. (1990). Rat model of arterial thrombosis induced by ferric chloride. Thrombosis Research, 60, 269–280.

5.

Falati, S., Gross, P., Merrill-Skoloff, G., Furie, B. C., & Furie, B. (2002). Real-time in vivo imaging of platelets, tissue factor and fibrin during arterial thrombus formation in the mouse. Nature Medicine, 8, 1175–1181.

6.

Furie, B., & Furie, B. C. (2008). Mechanisms of thrombus formation. New England Journal of Medicine, 359, 938–949.

7.

Gachet, C., Hechler, B., Nonne, C., Cazenave, J. P., Lanza, F., & Aleil, B. (2006). Atherothrombosis: Transposition of the models to the clinic and reciprocally. Therapie, 61, 389–394.

8.

Nonne, C., Lenain, N., Hechler, B., Mangin, P., Cazenave, J. P., Gachet, C., & Lanza, F. (2005). Importance of platelet phospholipase Cgamma2 signaling in arterial thrombosis as a function of lesion severity. Arteriosclerosis, Thrombosis, and Vascular Biology, 25, 1293–1298.

9.

Kalia, N., Auger, J. M., Atkinson, B., & Watson, S. P. (2008). Critical role of FcR gamma-chain, LAT, PLCgamma2 and thrombin in arteriolar thrombus formation upon mild, laser-induced endothelial injury in vivo. Microcirculation, 15, 325–335.

10.

Kusada, A., Isogai, N., & Cooley, B. C. (2007). Electric injury model of murine arterial thrombosis. Thrombosis Research, 121, 103–106.

11.

Westrick, R. J., Winn, M. E., & Eitzman, D. T. (2007). Murine models of vascular thrombosis (Eitzman series). Arteriosclerosis, Thrombosis, and Vascular Biology, 27, 2079–2093.

12.

Lindner, V., Majack, R. A., & Reidy, M. A. (1990). Basic fibroblast growth factor stimulates endothelial regrowth and proliferation in denuded arteries. The Journal of Clinical Investigation, 85, 2004–2008.

13.

Barr, J. D., Chauhan, A. K., Schaeffer, G. V., Hansen, J. K., & Motto, D. G. (2013). Red blood cells mediate the onset of thrombosis in the ferric chloride murine mode. Blood, 121, 3733–3741.

14.

Lindner, V., Fingerle, J., & Reidy, M. A. (1993). Mouse model of arterial injury. Circulation Research, 73, 792–796.

15.

Massberg, S., Gawaz, M., Gruner, S., Schulte, V., Konrad, I., Zohlnhofer, D., et al. (2003). A crucial role of glycoprotein VI for platelet recruitment to the injured arterial wall in vivo. Journal of Experimental Medicine, 197, 41–49.

16.

Hechler, B., & Gachet, C. (2011). Comparison of two murine models of thrombosis induced by atherosclerotic plaque injury. Thrombosis and Haemostasis, 105, S3–S12.

17.

Gachet, C., Cattaneo, M., Ohlmann, P., Hechler, B., Lecchi, A., Chevalier, J., et al. (1995). Purinoceptors on blood platelets: Further pharmacological and clinical evidence to suggest the presence of two ADP receptors. British Journal of Haematology, 91, 434–444.

18.

Schaff, M., Tang, C., Maurer, E., Bourdon, C., Receveur, N., Eckly, A., et al. (2013). Integrin α6β1 is the main receptor for vascular laminins and plays a role in platelet adhesion, activation and arterial thrombosis. Circulation, 128, 541–552.

19.

Kim, K., Bae, O. N., Lim, K. M., Noh, J. Y., Kang, S., Chung, K. Y., & Chung, J. H. (2012). Novel antiplatelet activity of protocatechuic acid through the inhibition of high shear stress-induced platelet aggregation. Journal of Pharmacology and Experimental Therapeutics, 343, 704–711.

20.

Hechler, B., Nonne, C., Eckly, A., Magnenat, S., Rinckel, J. Y., Denis, C. V., et al. (2010). Arterial thrombosis: Relevance of a model with two levels of severity assessed by histologic, ultrastructural and functional characterization. Journal of Thrombosis and Haemostasis, 8, 173–184.
Acknowledgments
This study was funded by NNSF of China (Grant No. 31300781) and the Fundamental Research Funds for the Central Universities (Project No. CQDXWL-2012-125). We thank Dr. Christian Gachet's laboratory and Dr. Pierre H. Mangin's laboratory in EFS-Alsace, France, for kindly providing partial experimental support. Partial work was supported by FFCSA (Fondation Franco-Chinoise pour la Science et ses Applications), the National "111 plan" Base of China (B06023) as well as Public Experiment Center of State Bioindustrial Base (Chongqing) of China.
Additional information
Lu Huang and Daoxi Lei have contributed equally to this work.
Electronic supplementary material
Below is the link to the electronic supplementary material.
The movie displayed the developing thrombi post-injury with guidewire scratching in the carotid. 20 seconds in movie represented 5 minutes in real-time (WMV 1226 kb)
About this article
Cite this article
Huang, L., Lei, D., Dong, W. et al. Thrombosis Model in Mouse Carotid Induced by Guidewire. J. Med. Biol. Eng. 36, 236–244 (2016) doi:10.1007/s40846-016-0125-0
Received:

Accepted:

Published:

Issue Date:
Keywords
Animal model

Vascular injury

Thrombosis

Anti-thrombotic

Guidewire