Abstract
Steelmaking slag contains considerable quantities of valuable elements such as P and Mn; however, its intrinsic value has not been fully exploited. In steelmaking slag, P is primarily distributed in the 2CaO·SiO2–3CaO·P2O5 solid solution, which can be dissolved readily in the aqueous solution compared with other phases. To separate and recover P from steelmaking slag, selective leaching of the P-containing solid solution was proposed. In this study, sulfuric acid was used as the leaching agent to reduce production costs. The effects of the cooling method of the molten slag, valence of Fe in slag, pH, and particle size on the dissolution characteristic of steelmaking slag were investigated. To achieve an improved selective leaching of P, the molten slag should be oxidized into the Fe2O3-containing slag and cooled slowly. As the pH decreased, the dissolution of the slag was promoted, resulting in a higher extraction efficiency of P. The majority of the solid solution was separated without dissolving the Fe-rich magnesioferrite at pH 3, indicating an improved selective leaching of P. Through selective leaching, the P2O5 content in the residue decreased significantly. If the formation of CaSO4 can be suppressed, this residue has the potential to be reused in the steel plant. Decreasing the particle size increased the dissolution rate of slag. A shrinking core model was used to describe the kinetics of slag dissolution. The dissolution of P in the sulfuric acid solution was controlled by diffusion in the residue layer.
This is a preview of subscription content, log in to check access.
Access options
Buy single article
Instant unlimited access to the full article PDF.
US$ 39.95
Price includes VAT for USA
Subscribe to journal
Immediate online access to all issues from 2019. Subscription will auto renew annually.
US$ 199
This is the net price. Taxes to be calculated in checkout.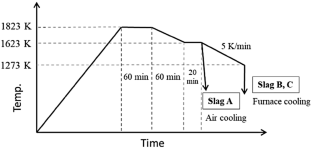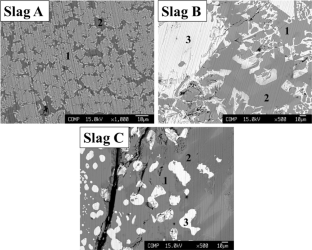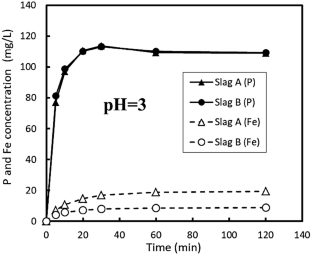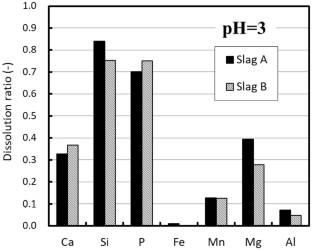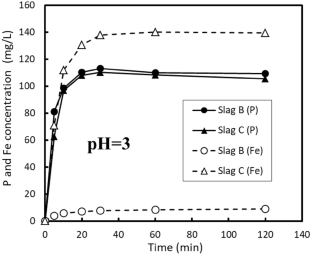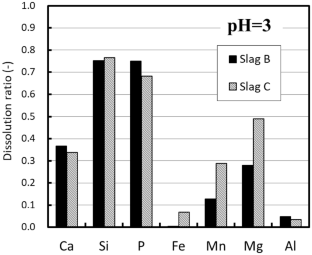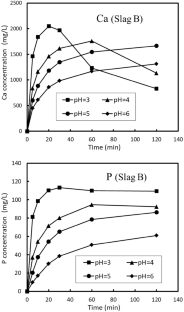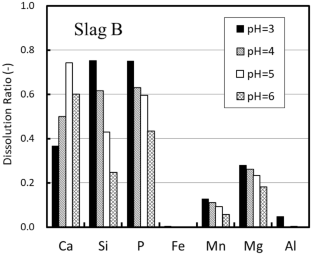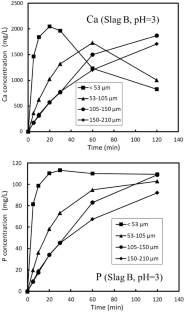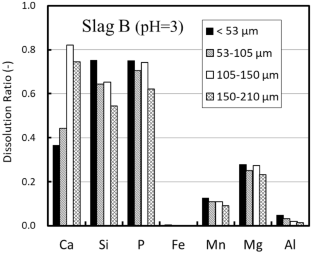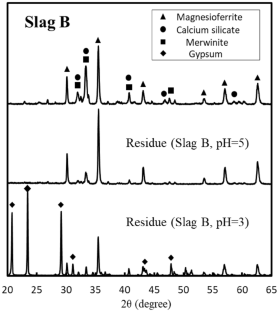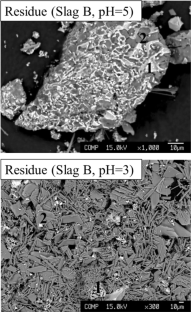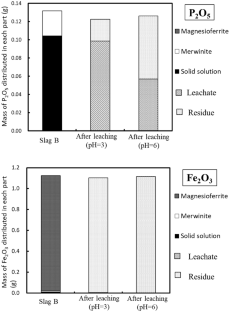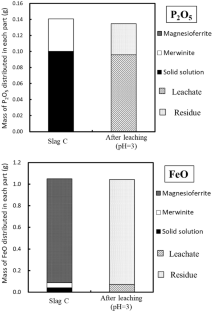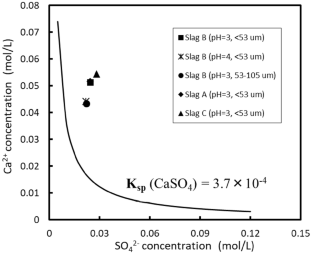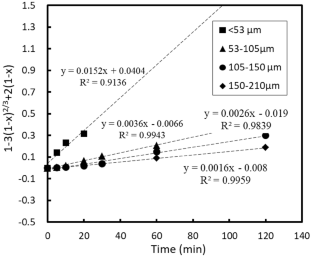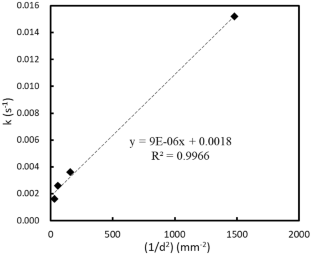 References
1.

Miki T, Kaneko S (2015) Separation of FeO and P2O5 from steelmaking slag utilizing capillary action. ISIJ Int 55:142–148

2.

Matsubae K, Yamasue E, Inazumi T, Webeck E, Miki T, Nagasaka T (2016) Innovations in steelmaking technology and hidden phosphorus flows. Sci Total Environ 542:1162–1168

3.

Matsubae-Yokoyama K, Kubo H, Nakajima K, Nagasaka T (2009) A material flow analysis of phosphorus in Japan. J Ind Ecol 13:687–705

4.

Ito K, Yanagisawa M, Sano N (1982) Phosphorus distribution between solid 2CaO·SiO2 and molten CaO–SiO2–FeO–Fe2O3 slags. Tetsu-to-Hagane 68:342–344

5.

Shimauchi K, Kitamura S, Shibata H (2009) Distribution of P2O5 between solid dicalcium silicate and liquid phases in CaO–SiO2–Fe2O3 system. ISIJ Int 49:505–511

6.

Du C, Gao X, Ueda S, Kitamura S (2018) Distribution of P2O5 and Na2O between solid solution and liquid phase in the CaO–SiO2–Fe2O3–P2O5–Na2O slag system with high P2O5 content. Metall Mater Trans B 49B:181–189

7.

Ono H, Inagaki A, Masui T, Narita H, Mitsuo T, Nosaka S, Gohda S (1980) Removal of phosphorus from LD converter slag by floating of dicalcium silicate during solidification. Tetsu-to-Hagane 66:1317–1326

8.

Yokoyama K, Kubo H, Mori K, Okada H, Takeuchi S, Nagasaka T (2007) Separation and recovery of phosphorus from steelmaking slags with the aid of a strong magnetic field. ISIJ Int 47:1541–1548

9.

Li C, Gao J, Guo Z (2016) Isothermal enrichment of P-concentrating phase from CaO–SiO2–FeO–MgO–P2O5 melt with super gravity. ISIJ Int 56:759–764

10.

Teratoko T, Maruoka N, Shibata H, Kitamura S (2012) Dissolution behavior of dicalcium silicate and tricalcium phosphate solid solution and other phases of steelmaking slag in an aqueous solution. High Temp Mater Proc 31:329–338

11.

Numata M, Maruoka N, Kim SJ, Kitamura S (2014) Fundamental experiment to extract phosphorous selectively from steelmaking slag by leaching. ISIJ Int 54:1983–1990

12.

Elgafi M (2016) Phosphoric acid and phosphate fertilizers. Taylor & Francis, UK

13.

Du C, Gao X, Ueda S, Kitamura S (2017) Effects of cooling rate and acid on extracting soluble phosphorus from slag with high P2O5 content by selective leaching. ISIJ Int 57:487–496

14.

Du C, Gao X, Ueda S, Kitamura S (2017) Effect of Na2O addition on phosphorus dissolution from steelmaking slag with high P2O5 content. J Sustain Metall 3:671–682

15.

Du C, Gao X, Ueda S, Kitamura S (2018) Optimum conditions for phosphorus recovery from steelmaking slag with high P2O5 content by selective leaching. ISIJ Int 58:860–868

16.

Du C, Gao X, Ueda S, Kitamura S (2018) Effect of slag composition on the dissolution of phosphorus from steelmaking slag by selective leaching. ISIJ Int 58:1659–1668

17.

Du C, Gao X, Ueda S, Kitamura S (2018) Effect of Fe2+/T.Fe ratio on the dissolution behavior of P from steelmaking slag with high P2O5 content. J Sustain Metall 4:443–454

18.

Iwama T, Du C, Koizumi S, Gao X, Ueda S, Kitamura S (2019) Extraction of phosphorus and recovery of phosphate from steelmaking slag by selective leaching. Tetsu-to-Hagane 105:479–487

19.

Koopman C, Witkamp GJ, Van Rosmalen GM (1999) Removal of heavy metals and lanthanides from industrial phosphoric acid process liquors. Sep Sci Technol 34:2997–3008

20.

Sawyer AK (1983) Solubility and Ksp of calcium sulfate: a general chemistry laboratory experiment. J Chem Educ 60:416

21.

Larba R, Boukerche I, Alane N, Habbache N, Djerad S, Tifouti L (2013) Citric acid as an alternative lixiviant for zinc oxide dissolution. Hydrometallurgy 134–135:117–123

22.

Souza AD, Pina PS, Leão VA, Silva CA, Siqueira PF (2007) The leaching kinetics of a zinc sulphide concentrate in acid ferric sulphate. Hydrometallurgy 89:72–81

23.

Aydogan S, Ucar G, Canbazoglu M (2006) Dissolution kinetics of chalcopyrite in acidic potassium dichromate solution. Hydrometallurgy 81:45–51

24.

Souza AD, Pina PS, Lima EVO, Silva CA, Leão VA (2007) Kinetics of sulphuric acid leaching of a zinc silicate calcine. Hydrometallurgy 89:337–345
Acknowledgment
This work was supported by JST-Mirai Program Grant Number JPMJMI17C2, Japan.
Ethics declarations
Conflict of interest
On behalf of all authors, the corresponding author states that there is no conflict of interest.
Additional information
Publisher's Note
Springer Nature remains neutral with regard to jurisdictional claims in published maps and institutional affiliations.
The contributing editor for this article was Bart Blanpain.
About this article
Cite this article
Du, C., Gao, X., Ueda, S. et al. Selective Leaching of P from Steelmaking Slag in Sulfuric Acid Solution. J. Sustain. Metall. 5, 594–605 (2019). https://doi.org/10.1007/s40831-019-00252-8
Keywords
Steelmaking slag

P recovery

Selective leaching

P-containing solid solution