Efficient Photoelectrochemical Water Splitting by g-C3N4/TiO2 Nanotube Array Heterostructures
Abstract
Well-ordered TiO
2
nanotube arrays (TNTAs) decorated with graphitic carbon nitride (g-C
3
N
4
) were fabricated by anodic oxidization and calcination process. First, TNTAs were prepared via the anodic oxidation of Ti foil in glycerol solution containing fluorinion and 20% deionized water. Subsequently, g-C
3
N
4
film was hydrothermally grown on TNTAs via the hydrogen-bonded cyanuric acid melamine supramolecular complex. The results showed that g-C
3
N
4
was successfully decorated on the TNTAs and the g-C
3
N
4
/TNTAs served as an efficient and stable photoanode for photoelectrochemical water splitting. The facile deposition method enables the fabrication of efficient and low-cost photoanodes for renewable energy applications.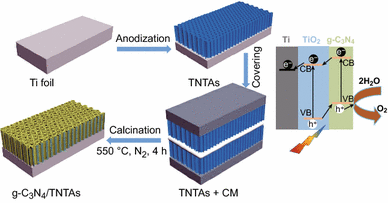 Keywords
TiO2 nanotube arrays 
Graphitic carbon nitride (g-C3N4) 
Heterojunction 
Photoelectrochemical 
Water splitting 
1

Highlights
Well-ordered TiO2 nanotube arrays (TNTAs) decorated with g-C3N4 were fabricated by anodic oxidization of titanium foil and calcination process.

The g-C3N4/TNTA heterojunction efficiently enhanced the photoelectrochemical activity for solar light-driven water splitting. Its photocurrent density and applied bias photon-to-current efficiency were, respectively, ~ 0.86 mA cm−2 and ~ 0.25%, about twofold higher compared with those of pristine TiO2 nanotube arrays.

The heterojunction expanded the optical absorption range of the TNTAs, accelerated the migration of carriers, and suppressed the recombination of photogenerated electron–hole pairs via an efficient band alignment between TiO2 and g-C3N4.
2

Introduction

Photoelectrochemical (PEC) water splitting is a promising process in which solar energy is transformed into chemical energy and stored in the form of hydrogen [1, 2, 3]. In the past decades, semiconductor-based photoelectrodes, such as Fe2O3 [4, 5], CdS [6, 7], ZnO [8, 9], CuInS2 [10], WO3 [11], and TiO2 [12, 13, 14], for PEC cells have been extensively utilized to convert solar energy into fuel. TiO2 nanotube arrays (TNTAs) are commonly employed as photocatalysts owing to their excellent photochemical and chemical stability, non-toxicity, low cost, and well-aligned nanostructures. Furthermore, TNTAs have a higher specific surface area and pore volume compared to TiO2 nanoparticles for other active catalysts adsorbed onto the surface of both sides of nanotubes [15, 16, 17]. Despite the considerable advantages in the morphology of the one-dimensional nanostructure, the photocatalytic activity of pristine TiO2 is greatly limited by its wide band gap of ~ 3.2 eV, which leads to the extremely low absorption in the visible region of solar spectrum. In addition, the fast recombination rate of the photogenerated electron–hole pairs also restricts their photochemical applications. Therefore, great efforts have been made to expand its absorption range to the visible region, including decoration with precious metals [12, 18], element doping [19, 20], dye-sensitization [21], or coupling with other semiconductors to form a heterojunction [22, 23, 24].

Recently, graphite-like carbon nitride (g-C3N4), as a significant metal-free polymeric semiconductor with inherent chemical and thermal stability, and a moderate band gap of 2.7 eV, has generated a lot of interest [25, 26, 27]. Compared to transition metal oxides and sulfide semiconductor photocatalysts, g-C3N4 is composed of strong covalent bonds between carbon and nitride atoms and demonstrates high stability in acidic and alkaline electrolytes, which is favorable for PEC applications [25, 28]. However, owing to the low quantum efficiency and high electron–hole recombination rate [29], the applications of pure g-C3N4 are limited by its relatively low photoelectric conversion efficiency. Therefore, there is a significant scope to explore and design novel hybrid materials and improve the applicability of pure g-C3N4.

Herein, we fabricated a g-C3N4/TNTA heterojunction by combining anodized TNTAs on titanium foil and g-C3N4 prepared via the calcination process of the hydrogen-bonded cyanuric acid melamine (CM) supramolecular complex [30]. Owing to the existence of free hydroxyl and amine groups, the CM complex could be attached to TNTAs and amorphous TiO2. We have presented a facile and simple method to grow carbon nitride on the inner and outer surface of the TNTAs. More importantly, the new heterostructures of g-C3N4/TNTAs exhibit enhanced PEC water splitting activity, which is twice that of pristine TNTAs and more than four times that of amorphous TiO2. In addition, the results of this work proved that the heterojunctions were highly efficient as photoanodes and demonstrated stable performances for PEC water splitting.
3

Experimental Section
3.1

Chemicals

All reagents were of analytical grade and used without further purification. Ammonium fluoride (NH4F), cyanuric acid, melamine, and glycerol were purchased from Sinopharm Chemical Reagent Co., Ltd.
3.2

Preparation of Photoelectrodes

The preparation of the g-C

3

N

4

/TNTAs is schematically shown in Fig. 

1

. In a typical synthetic procedure, Ti foil (99.9%) and a platinum sheet with a size of 1 × 1 cm

2

were used as the working and counter electrodes, respectively. The electrolyte solution was prepared by dissolving 0.5 wt% of NH

4

F in 20 mL H

2

O and 80 mL glycerol. The Ti foils (1 × 4 cm

2

with a thickness of 0.3 mm) were cleaned by ultrasonication in acetone, ethanol, and DI water sequentially. The well-ordered TNTAs on Ti foils were synthesized via a modified one-step anodization procedure at 30 V for 2 h at room temperature. Subsequently, the obtained TNTA precursor was thoroughly rinsed with DI water, annealed at 550 °C in air at a heating rate of 3 °C min

−1

for 2 h, and naturally cooled to room temperature.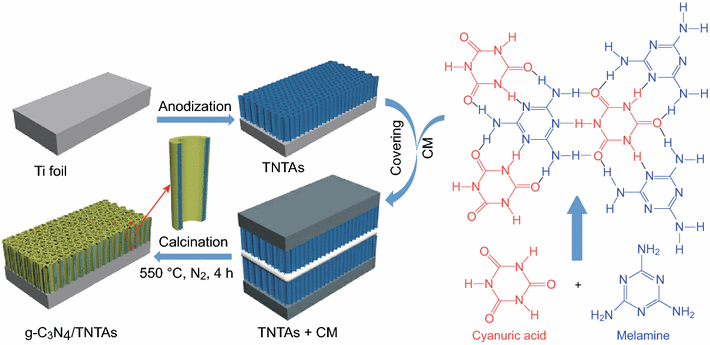 The g-C3N4 precursor (CM complexes) was prepared by dissolving cyanuric acid and melamine (1:1) in DI water and stirring for 4 h, after which the white CM complexes were precipitated. The white powders were washed several times with DI water, and the resulting powders were dried at 60 °C in a vacuum oven. The g-C3N4/TNTA heterojunctions were prepared by calcining in a tube furnace. A specified amount of CM complexes was placed between two slices of TNTAs (or Ti). These layers were then placed in a ceramic crucible and calcined at 550 °C for 4 h under nitrogen at a heating rate of 3 °C per minute. After heating, the residual powders were blown away by a strong airstream to obtain the g-C3N4/TNTAs. In order to investigate the role of the semiconductor, two clean Ti foils without anodic oxidation treatment were used to replace the TNTAs as the substrates. After subjecting to the same calcined process, the g-C3N4 thin film was obtained on amorphous TiO2 and the assembly was used as a photoelectrode for comparison with g-C3N4/TNTAs.
3.3

Structural and Optical Characterizations

The crystal structures were determined by X-ray diffraction (XRD) on a PANalytical X'Pert powder diffractometer with Cu Kα radiation (λ = 1.54 Å). Diffraction angle (2θ) ranged from 10° to 80° and the scanning step was 0.02°. The Raman spectra were obtained on a LabRAM HR Evolution spectrometer (HORIBA Jobin–Yvon) with an excitation wavelength of 532 nm. The morphology of the samples was studied by using a field emission scanning electron microscope (FE-SEM, FEI-quanta 200, 15 kV) and an atomic force microscope (AFM, Digital Instruments Nanoscope III, operating in tapping mode). The microstructure was observed by transmission electron microscopy (TEM) equipped with an energy-dispersive X-ray spectrometer (EDS). The surface compositions and elemental chemical states of the samples were examined by using an X-ray photoelectron spectrometer (XPS) with K-Alpha 1063 (Thermo Fisher Scientific, UK) instrument equipped with an Al Kα monochromator X-ray source. The light absorption of the samples was recorded with a UV–Vis spectrophotometer (UV-2500, Shimadzu, Japan).
3.4

Photoelectrochemical Measurements

The PEC properties of the fabricated samples were measured on an electrochemical workstation (CHI660E) comprised of a three-electrode cell system of an Ag/AgCl reference electrode and a platinum counter electrode in an aqueous solution of 0.1 M Na2SO4 as the electrolyte. Light was provided by a 300-W Xe arc lamp and its power density was adjusted to 100 mW cm−2. In our study, all potential readings have been reported with respect to the reversible hydrogen electrode (RHE) using the equation: ERHE = EAg/AgCl + (0.059 × 5.6) + 0.197 = EAg/AgCl + 0.53 (V). Linear sweep voltammetry (LSV) curves were collected at a scan rate of 10 mV s−1 with or without illumination. The periodically illuminated LSV measurement with on–off light was also recorded. In addition, the electrochemical impedance spectra (EIS) of the different photoelectrodes were obtained in the frequency range of 100 kHz–0.1 Hz without applied bias. The Mott–Schottky plots were obtained at 10 kHz frequency. The transient open-circuit potentials (OCPs) were also measured in the dark and under light illumination.
4

Results and Discussion

To further understand the electronic band structures and photocatalytic properties, the UV–Vis diffuse reflectance spectra (DRS) were obtained to characterize the TNTAs and g-C3N4/TNTAs. Figure S2a shows the UV–Vis absorption spectra converted from the reflection absorbance spectra by the standard Kubelka–Munk method. The pristine TNTAs and g-C3N4/TNTAs exhibited an absorption edge at ~ 400 nm, and the light absorption of g-C3N4/TNTAs was greatly enhanced [43]. In order to calculate the band gaps, the corresponding (αhυ)1/2 were plotted versus the photon energy (hυ) [44], as shown in Fig. S2b. The band gaps of the TNTAs and g-C3N4/TNTAs were calculated to be 3.23 and 3.10 eV, respectively, by extrapolating their plots to (αhυ)1/2 = 0, according to the linear-fit lines. To determine the existence of g-C3N4 in the photoanode heterostructure, the FTIR spectrum was obtained. As shown in Fig. S3, the FTIR spectrum of pristine g-C3N4 was very similar to that of g-C3N4, consistent with previous reports [45]. The absorption peaks located at 1230, 1316, 1398, 1553, and 1631 cm−1 were related to the typical stretching modes of aromatic C–N [46]. The wide peak observed at wavelengths higher than 3000 cm−1 is usually attributed to the H2O molecules adsorbed on the surface of the materials. The absorption peak at 808 cm−1 was typical of the out-of-plane bending mode of the thiazine unit. Compared to the IR spectrum of pristine g-C3N4, a series of similar peaks were observed in the case of g-C3N4/TNTAs, which indicated a full coverage of g-C3N4 over the TNTAs.
5

Conclusions

In summary, an efficient, easy, and universal method was used to prepare the g-C3N4/TNTAs heterojunction with a g-C3N4 shell and TiO2 nanotube array core, by powder coating with the cyanuric acid melamine supramolecular complex. The prepared g-C3N4/TNTAs exhibited an expanded optical absorption range and enhanced PEC activity. Moreover, the creation of a heterojunction of g-C3N4 and TNTAs significantly accelerated the migration of the charge carriers and greatly suppressed the recombination of the photogenerated electron–hole pairs. These results provide a deeper understanding of the role of semiconductor photoanodes during the PEC process of converting water to environmentally friendly hydrogen fuel.
Notes
Acknowledgements
The authors greatly acknowledge financial support from the National Natural Science Foundation of China (Nos. 51702025, 51574047), Natural Science Foundation of Jiangsu Province (Nos. BK20160277, BK20150259).
Copyright information
© The Author(s) 2018
Open AccessThis article is distributed under the terms of the Creative Commons Attribution 4.0 International License (http://creativecommons.org/licenses/by/4.0/), which permits unrestricted use, distribution, and reproduction in any medium, provided you give appropriate credit to the original author(s) and the source, provide a link to the Creative Commons license, and indicate if changes were made.