Reduced Graphene Oxide-Wrapped FeS2 Composite as Anode for High-Performance Sodium-Ion Batteries
Abstract
Iron disulfide is considered to be a potential anode material for sodium-ion batteries due to its high theoretical capacity. However, its applications are seriously limited by the weak conductivity and large volume change, which results in low reversible capacity and poor cycling stability. Herein, reduced graphene oxide-wrapped FeS
2
(FeS
2
/rGO) composite was fabricated to achieve excellent electrochemical performance via a facile two-step method. The introduction of rGO effectively improved the conductivity, BET surface area, and structural stability of the FeS
2
active material, thus endowing it with high specific capacity, good rate capability, as well as excellent cycling stability. Electrochemical measurements show that the FeS
2
/rGO composite had a high initial discharge capacity of 1263.2 mAh g
−1
at 100 mA g
−1
and a high discharge capacity of 344 mAh g
−1
at 10 A g
−1
, demonstrating superior rate performance. After 100 cycles at 100 mA g
−1
, the discharge capacity remained at 609.5 mAh g
−1
, indicating the excellent cycling stability of the FeS
2
/rGO electrode.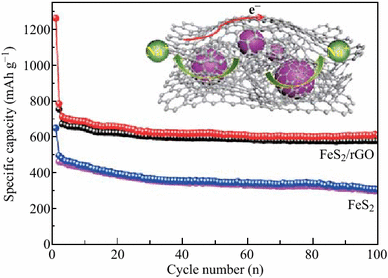 Keywords
FeS2 
Reduced graphene oxide (rGO) 
Enwrapping structure 
Anode material 
Sodium-ion battery 
1

Highlights
Reduced graphene oxide-wrapped FeS2 (FeS2/rGO) composite was synthesized by a facile two-step method.

The integral reduced graphene oxide networks not only connect the FeS2 nanoparticles but also prevent them from aggregating.

As anodes for sodium-ion batteries, the FeS2/rGO composite delivers high specific capacity and good cycling stability.
2

Introduction

Sodium-ion batteries (SIBs) have been considered to be promising candidates for large-scale energy storage systems, electric vehicles, and other portable devices because of their outstanding electrochemical performance and inexpensive characterization. As the most important parts of SIBs, electrolytes and electrodes have been extensively investigated. It has been demonstrated that polymer electrolytes (such as gel polymer electrolytes and ceramic electrolytes) may be desirable alternatives for liquid electrolytes because of their modularity and reliability in electrochemical devices [1, 2]. Various cathodes, including oxides (such as tunnel structure oxides and layered transition metal oxides), transition metal fluorides (typically FeF3), polyanionic compounds (such as NaFePO4, NaVPO4F, Na3M2(PO4)3 NASICON compounds), Prussian blue analogues, and organic electrodes, have displayed outstanding sodium storage performance [3]. Meanwhile, significant progress has been achieved in the area of anodes for SIBs. It has been revealed that carbon materials, metals, alloys, and metal oxides/sulfides are promising anode materials for SIBs [4, 5, 6]. Among these materials, iron sulfides, such as FeS2 [7, 8, 9], FeS [10] and Fe1−xS [11, 12], have attracted much attention due to their advantages of abundant reserves, non-toxicity, low cost, and high theoretical capacity (894 mAh g−1 for FeS2, based on the conversion reaction of FeS2 + 4Na ↔ 2Na2S + Fe). However, the intrinsically low conductivity and notable volume change during the charge–discharge process greatly restrain its rate performance and cycling stability, restricting its further commercialization.

To solve these problems, Chen's group tuned an electrolyte and applied a higher voltage cutoff to improve the electrochemical performance of Na/FeS2 and Li/FeS2 cells [13, 14]. Numerous studies have revealed that constructing nanostructured materials can greatly reduce the electron/ion transport pathways and effectively buffer the large volume expansion during electrochemical processes, thus improving the reversibility and rate capability of FeS2 anode materials [15, 16]. Moreover, the combination of a carbon or a polypyrrole (ppy) modification strategy to form a coating or an embedded structure (such as FeS2/C [17, 18, 19, 20], ppy@MoO3 [21, 22, 23], ppy@V2O5 [24]) would help prevent aggregation and improve the conductivity of the electrode materials, thus enhancing the cycling and rate performance. For example, Liu et al. designed FeS2@C nanoboxes and obtained discharge capacity of 511 mAh g−1 at 100 mA g−1 after 100 cycles [25]. Graphene is a highly conductive ultrathin nanosheet, with a large surface area and high flexibility, which is commonly used as modification material. In previous studies, FeS/reduced graphene oxide (rGO) [26], FeS2/rGO [27], Fe3O4/rGO [28], Fe2O3/rGO [29], and LiFePO4/rGO [30, 31] composites have been fabricated and used in lithium-ion batteries (LIBs). It is demonstrated that enwrapping anode materials in a conductive network is a favorable strategy to enhance the rate capability. However, the FeS2/graphene composite with an enwrapping structure for SIBs has not been reported.

Here, we report a two-step method for the preparation of a novel rGO-wrapped FeS2 (FeS2/rGO) composite for SIBs. Structural and morphological characterization revealed that the FeS2 nanoparticles are evenly surrounded in the interconnected rGO networks. The composite displayed superior sodium storage performance even at high charge–discharge current densities.
3

Experimental
3.1

Materials Synthesis

FeS2/rGO was synthesized via a hydrothermal method, followed by a sulfurization process. All chemicals were of analytical grade and used without further purification.

Synthesis of Fe 3 O 4 /rGO composite In a typical synthesis, 0.04 g of graphene oxide was dispersed in 65 mL of deionized water by sonication. Then, 0.4 g of Fe(NO3)3·9H2O was dissolved in the above suspension and stirred for 4 h at 70 °C. Following this, 5 mL of N2H4·H2O was added to the above system, and the solution was sealed in a 100-mL Teflon-lined stainless-steel autoclave for hydrothermal reaction at 150 °C for 6 h. Finally, the rGO-wrapped Fe3O4 composite was collected by centrifugation, washed with water and ethanol three times, and dried at 70 °C in a vacuum for 12 h.

Synthesis of FeS 2 /rGO Composite The as-prepared Fe3O4/rGO and sulfur powder in a weight ratio of 1:2 were mixed and pressed into a small tablet and sealed in a small quartz tube under Ar atmosphere. Then, the quartz tube was heated at 150 °C for 2 h and subsequently at 550 °C for 6 h in a quartz tube reactor. After cooling down and washing with CS2 to remove the residual sulfur powder, the final FeS2/rGO composite was obtained. For comparison, FeS2 nanoparticles were prepared using the same method without the addition of rGO.
3.2

Materials Characterization

The crystal structures of the as-prepared samples were characterized by powder X-ray diffraction (XRD) using Cu Ka radiation. The morphologies were investigated using field-emission scanning electron microscopy (SEM) on a JEOL JSM-7500FA system and transmission electron microscopy (TEM) on a Philips Tecnai 20 (200 kV). TG thermal nitrogen adsorption–desorption isotherms of the samples were obtained on a Quantachrome Autosorb-IQ2 analyzer at 77 K. Specific surface areas were measured by Brunauer–Emmett–Teller (BET) analysis.
3.3

Electrochemical Measurements

Electrochemical measurements were conducted using CR2032 two-electrode coin cells, with sodium metal as the counter and reference electrodes and glass fiber as the separator. The working electrodes were made by pasting a slurry on copper foil, followed by drying in vacuum at 80 °C for 12 h. The slurry was prepared by mixing active materials, Super P, and carboxymethyl cellulose in the weight ratio of 8:1:1. A solution of 1 M NaClO4 in ethylene carbonate/propylene carbonate (v/v = 1/1) with 5 wt% fluoroethylene carbonate additive was used as the electrolyte. Cyclic voltammetry (CV, 0–2.5 V, 0.1 mV s−1) tests and electrochemical impendence spectroscopy (EIS, with 5 mV amplitude in a frequency range from 100 kHz to 0.01 Hz at open-circuit potential) tests were conducted on a Biologic VMP-3 electrochemical workstation. The galvanostatic charge–discharge curves, cycling performance, and rate capabilities of the electrode materials were tested on a LAND Battery Test System, in the voltage range of 0.01–2.3 V. All the tests were carried out at room temperature.
4

Results and Discussion

The rate capability of the two FeS2 electrodes is evaluated using varying current densities from 0.1 to 10 A g−1 and back to 0.1 A g−1. As shown in Fig. 5c, the average specific capacities for FeS2/rGO electrodes are 705, 672, 613, 555, 496, 426, and 344 mAh g−1 at 0.1, 0.2, 0.5, 1, 2, 5, and 10 A g−1, respectively, which are remarkably higher than those for pure FeS2 electrode, demonstrating its superior rate performance. When the current density is altered back to 0.1 A g−1, the reversible capacity remains at ~ 655 mAh g−1 after 90 cycles, further confirming the excellent cycling stability of the FeS2/rGO composite. We further investigate the electrode process kinetics of the two materials through EIS. As shown in Fig. 5d, both the Nyquist spectra are composed of a semicircle in the high-frequency region and an inclined line in the low-frequency region. The bigger semicircle for the FeS2 electrode illustrates the poor electrical conductivity of the active materials. According to the Z-view program in the Sai software set, R ct for FeS2 and FeS2/rGO electrodes is 1055.1 and 291.9 Ω, respectively, illustrating the better charge transfer kinetics of the FeS2/rGO electrode.
5

Conclusions

In summary, an rGO-wrapped FeS2 composite has been successfully synthesized via a hydrothermal method, followed by sulfuration, and used as an anode for SIBs. The well-dispersed rGO constructs 3D conductive networks and markedly increases the BET surface area and conductivity of the FeS2 nanoparticles. Thus, the FeS2/rGO composite displays an initial discharge capacity of 1263.2 mAh g−1 at 100 mA g−1 and a high discharge capacity of 344 mAh g−1 at 10 A g−1. Moreover, the enwrapping structure helps in preventing the aggregation of the FeS2 nanoparticles during the electrochemical process, contributing to the excellent cycling stability. After 100 cycles, the discharge capacity is 609.5 mAh g−1. We believe that our strategy could be extended to the fabrication of other high-performance metal sulfide/rGO composites for LIBs or SIBs.
Notes
Acknowledgements
This work was supported by National Natural Science Foundation of China (51702138, 51702079), Natural Science Foundation of Jiangsu Province (BK20160213), and the Priority Academic Program Development of Jiangsu Higher Education Institutions.
Copyright information
© The Author(s) 2017
Open AccessThis article is distributed under the terms of the Creative Commons Attribution 4.0 International License (http://creativecommons.org/licenses/by/4.0/), which permits unrestricted use, distribution, and reproduction in any medium, provided you give appropriate credit to the original author(s) and the source, provide a link to the Creative Commons license, and indicate if changes were made.