Do People Naturally Cluster into Liberals and Conservatives?
Abstract
Many researchers have attempted to link evolutionary notions to political psychology by proposing a natural tendency for people to cluster into liberals and conservatives across various social and economic opinion domains. We review evidence showing that, in contrast, for the large majority of Americans, racial and economic opinions are only trivially correlated with opinions regarding matters of lifestyle and religious fundamentalism. The key exception is a group that does, in fact, show reasonably robust ideological alignment across diverse domains: whites with high levels of human capital (measured by education and test performance). Further, since the early 1980s, while the US public as a whole has increasingly tended to choose liberal/conservative labels and political parties in line with their issue opinions, substantial increases in cross-issue correlations have occurred only among whites with high levels of human capital. Nonetheless, mass public opinion is not unstructured—it maintains an underlying coherence grounded in domain-specific demographic connections relating to different opinion areas.
Keywords
Ideology 
Public opinion 
Domain-specific 
Political parties 
People have vast differences of opinion on a range of topics—income redistribution, abortion, immigration, healthcare, same-sex marriage, criminal justice, and more. Here, we look at explanations for these differences through an evolutionary lens, an approach that has been steadily gaining traction among political psychologists (Lopez & McDermott 2012; Petersen 2015), contrasting our approach with other candidate explanations.
In particular, one predominant explanation for differences in political opinions is that they derive from people's basic left-right or liberal-conservative orientations (Haidt 2012; Hibbing, Smith, & Alford 2013, 2014; Jost, Federico, & Napier 2009; Pinker 2002; Tuschman 2013), a view we will refer to as the General Orientations Model. Proponents of this view stress the "ancient and universal" reality of the liberal-conservative division (Hibbing, Smith, & Alford 2014; see also Pinker 2002; Tuschman 2013), seeing the psychological origins of individuals' positions on this continuum as stemming from basic personality features such as openness and conscientiousness (Haidt 2012; Hibbing, Smith, & Alford 2013; Jost, Federico, & Napier 2009; Pinker 2002), conceptions of human nature (Pinker 2002; Tuschman 2013), moral foundations (Haidt 2012), negativity bias (Hibbing, Smith, & Alford 2014), and so on.
In contrast to the General Orientations Model, we have proposed what we'll call a Domain-Specific Model of public opinion (Weeden & Kurzban 2014). The model begins with the idea that people have goals that are advanced or undermined by different policies affecting the redistribution of resources and support for the needy, meritocracy and discrimination regimes governing social status, and sexual and reproductive lifestyles. Our view is that people are generally able to identify the rough contours of their adaptive interests with respect to these diverse policy domains—often related to their demographic features—and tend to take positions consistent with these interests; to advance these interest-based goals, people might endorse or affiliate with ideological and party coalitions that seek to implement often unrelated policies (Weeden & Kurzban 2014). Petersen's (2015) view of the evolutionary political psychology of issue opinions is parallel to our own: "Political judgments are … informed by at least two general types of evolved mechanisms: first, adaptations designed to judge the fitness consequences for the self of the content of rules (in part, due to the effects on valuable others) and second, adaptations designed to coordinate judgments with other coalitional members, independently of rule content."
The General Orientations Model supposes that humans naturally cluster into liberals and conservatives; our Domain-Specific Model does not. So, for example, we have argued that views on lifestyle issues (abortion, marijuana legalization, and so on) derive in large part from strategic sexual and reproductive conflicts that are closely related to religiosity (Kurzban 2010; Kurzban, Dukes, & Weeden 2010; Weeden 2003; Weeden, Cohen, & Kenrick 2008). Similarly, we have proposed that views on social status policies are largely driven by group identities and human capital that determine whether one benefits from discriminatory or meritocratic rules when it comes to particular target groups. In addition, we've suggested that views on government economic redistribution relate more to socioeconomic status and the extent to which one's private support network reduces one's need for public safety nets (Weeden & Kurzban 2014). When opinions across such issue domains align in ideologically consistent ways—that is, when individuals are either liberal on various types of issues or conservative on various types of issues—we argue, echoing Petersen's (2015) view, that it's typically either, first, because the underlying domain-specific interests happen to align or, second, because the political coalitions happen to become organized such that various liberal constituencies are allied in competition against various conservative constituencies.
This point is easy to miss. The use of the terms "liberal" and "conservative" to describe disagreements over lifestyles, social status regimes, economic issues, and so on encourages a kind of intuitive reification of ideological categories. If "liberals" are pro-choice and "liberals" are in favor of expanded economic safety nets, then it seems natural to suppose that the people who are pro-choice tend as well to be the people in favor of expanded safety nets. Further, currently in many places, political competitions are organized around party coalitions that adopt either liberal positions on many issues or conservative positions on many issues. Perhaps nowhere is this more apparent than in the USA. The Democratic and Republican parties hold long-standing contrasting views on issues pitting economic security for the poor against the interests of business and the wealthy. However, in the past half-century, the parties have become divided as well by civil rights for racial and religious minorities, the availability of family planning services, immigration policies, and more (Noel 2013). Though it wasn't always so, the Democratic coalition has become most representative of individuals with liberal views across a wide variety of issues, while the Republican coalition has become most representative of individuals with conservative views across these many issues (Hussey 2012).
Observers might use the same labels to describe various opinion constituencies, and those constituencies might be represented by the same coalitions, but intra-coalitional constituencies might still maintain diverse opinions. So, for example, supporters of labor unions might favor the Democratic coalition and supporters of civil rights for homosexuals might also favor the Democratic coalition. We might call both of these animating concerns "liberal." However, from these facts alone, we don't know whether people who support labor unions tend to be the same people who support civil rights for homosexuals. The General Orientations Model supposes that they are, for deep psychological reasons; our Domain-Specific Model views these as separate interest-driven opinion domains that might or might not tend to align, depending on demographic and coalitional features.
Figure
1
provides a simple representation of possible patterns of ideology in public opinion. Along the left-to-right axis, people vary in whether they use the terms "liberal" and "conservative" consistently to describe their issue opinions. It's possible, for example, that many people might hold generally liberal, generally conservative, or thoroughly mixed views without also giving themselves matching ideological labels. Along the top-to-bottom axis, people vary in their tendency to have opinions that fall tightly into liberal or conservative clusters. It's possible that in a given population various areas of policy opinion simply don't tend to correlate with one another, such that, for example, views on religious issues are not typically consistently related to views on economic issues.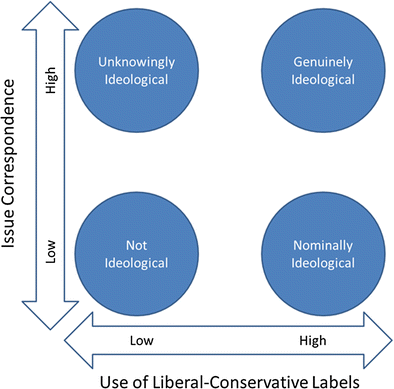 Combining outcomes across the two axes in Fig. 1 leads to a number of possibilities. A population might not consistently use liberal-conservative labels, and might show little ideological correspondence across issue domains—a region we've labeled "not ideological" in Fig. 1. In the opposite corner, a population might be "genuinely ideological," showing high use of liberal-conservative labels and a strong tendency for issue domains to correspond in line with a single liberal-conservative dimension. A population could also be "nominally ideological," showing little underlying left-right correspondence between issue domains, yet where people nonetheless commonly use matching ideological labels to describe their overall issue opinions. Here, liberal-conservative labels can be thought of as post hoc descriptions rather than deep psychological foundations. And, finally, a population could be "unknowingly ideological," showing little use of ideological labels, yet still containing individuals whose issue opinions across domains tend to follow an overall liberal-conservative dimension. Here, psychological forces work to align issue opinions, even though people don't typically label themselves accordingly.
The General Orientations Model supposes that people are either "unknowingly ideological" or "genuinely ideological"—that is, whether they label themselves so or not, people's views across issue domains tend to be driven broadly to the left or to the right by inherent psychological tendencies. The Domain-Specific Model, in contrast, supposes that the "unknowingly ideological" outcome is the least likely when considering issue domains without much interest-based demographic overlap. The likelihood of people being in the other regions depends in large part on the coalitional realities in a given place and time. When ideological labels aren't commonly used and don't describe operative coalitions (as, for example, in the USA in the middle of the twentieth century), we might find much of the population "not ideological"—failing to demonstrate widespread issue correspondence or consistent use of ideological labels. When ideological labels become common, and particularly when such labels describe real-world political coalitions, people are more likely to be in the "nominally ideological" and "genuinely ideological" regions.
A long line of political science—having its most direct origins in Converse (1964)—notes that members of the US general public tend not to have issue opinions that line up on a single left-right axis (Feldman & Johnston 2014; Stimson 1975; Treier & Hillygus 2009) and often don't use ideological terms in ways that reflect their issue opinions (Claassen, Tucker, & Smith 2015; Ellis & Stimson 2012). The "genuinely ideological" segments of the population tend to be limited to relatively narrow slices of the public who are more politically involved, are better educated, possess greater political knowledge, and so on (Feldman & Johnston 2014; Jacoby 1991; Jessee 2012).
Yet, disagreements within political science persist. Some researchers claim that, in fact, the general public shows substantial liberal-conservative issue correspondence across various opinions (Jessee 2012; Jost, Federico, & Napier 2009). An interesting question is why this debate, which ought to be empirically tractable—how much ideological coherence is there?—persists. One possible contribution to the disagreement has to do with the description of the primary division in public opinion as "economic" versus "social," with various researchers finding different levels of correlation between these groups of issues in public opinion (Carmines, Ensley, & Wagner 2012; Feldman & Johnston 2014; Hibbing, Smith, & Alford 2014; Hussey 2012; Klar 2014; Verhulst, Hatemi, & Eaves 2012). While the "economic" grouping is often justified, involving various issues relating to income redistribution and the provision of benefits for the needy, the "social" grouping might cast too wide a net, including issues relating to sexual lifestyles, religious fundamentalism, race, immigration, or criminal justice.
The primary problem with the "social" grouping, particularly with respect to the US public, is that while the demographic predictors of economic opinions indeed have little in common with the demographic predictors of opinions on religious issues, economic issues in fact share substantial demographic foundations with racial issues, linked primarily by the strong relationship of race with both opinion domains (Weeden & Kurzban 2014). Thus, studies including affirmative action, the death penalty, or related issues as "social" issues might find more substantial relationships between "social" and "economic" issues (e.g., Verhulst, Hatemi, & Eaves 2012) than studies limiting "social" issues to those relating to lifestyles and religious fundamentalism (e.g., Feldman & Johnston 2014).
A domain-specific perspective can help avoid such problems by focusing attention on how particular political issues relate to different underlying real-life concerns. In the following analyses, we use the US General Social Survey from 1980 to 2014, a large and representative dataset, to investigate public opinion in relation to three issue domains: economic (relating to income redistribution and government assistance for the poor and unemployed), racial (relating to African Americans, the death penalty, and immigration), and religious (relating to religious fundamentalism, discrimination on the basis of religion and sexual orientation, abortion, birth control, premarital sex, pornography, and marijuana legalization). We first look at how these issue domains have correlated over time, both in the sample as a whole and broken out by human capital (combining education and test performance) and race, and how these issue domains have related to use of liberal/conservative labels and political party affiliations. We then examine how these issue domains relate to a small set of politically salient demographic features.
Copyright information
© Springer International Publishing 2015