Sleep, Circadian Rhythms, and Fertility
Women and Sleep (A Wolfson and K Sharkey, Section Editors)
Part of the following topical collections:
Abstract
Adequate sleep is crucial for general health and wellbeing. Although the neuronal control of the reproductive axis and sleep-generating neurons share an anatomical location, little is known regarding the impact of sleep and circadian disruption on fertility in women. Animal models have established clear circadian control of the pre-ovulatory luteinizing hormone surge. Additionally, disruption of the circadian timing system by exposure to abnormal light-dark cycles or mutations of core clock genes results in diminished reproductive capacity in animals. Abnormalities in menstruation, fertility, and early pregnancy maintenance in female shift workers provide evidence for a role of circadian rhythms in the reproductive health of women. Reproductive hormones may modify sleep, and the relationship is bidirectional such that sleep disruption may alter the profile of reproductive hormone secretion. Therefore, sleep, apart from its circadian timing, may also have relevance in attaining pregnancy. Additionally, infertility is associated with psychological distress which may result in poor quality sleep. The interaction between psychological distress and disturbed sleep in reproduction has garnered minimal attention and may be a crucial factor to consider during the evaluation and treatment of infertility. This work reviews animal models and evidence in women that suggest a role for sleep and circadian rhythms in reproductive health and reveals areas that require future investigation.
Keywords
Sleep 
Circadian rhythms 
Infertility 
Fertility 
Ovulatory cycle 
Introduction
Infertility is defined as the inability to conceive after 12 months of regular, unprotected intercourse in women less than 35 years of age or after 6 months in women over 35 years of age. The prevalence of infertility in the USA is estimated at 15 %, and 5 billion dollars are spent yearly on its evaluation and treatment [117].
The World Health Organization (WHO) found that among 8500 couples, infertility was attributed to solely female factors in 37 % [127]. Many female conditions cause or contribute to infertility. This manuscript appraises the available literature and describes potential links between sleep and circadian disruption and female infertility.
The ovulatory cycle is a critical factor in reproductive success. The hypothalamic-pituitary-gonadal (HPG) axis refers to the anatomical locations that mediate the ovulatory cycle, which is approximately 28 days in duration [88]. The hypothalamus controls the ovulatory cycle by secreting gonadotropin-releasing hormone (GnRH) that stimulates the pituitary to synthesize and release luteinizing hormone (LH) and follicle stimulating hormone (FSH) [88]. The ovulatory cycle is divided into the follicular phase, which begins the first day of menses and concludes the day prior to LH surge, and the luteal phase, which begins the day of the LH surge [88].
During the follicular phase, pulsatile GnRH secretion results in FSH production, which acts on the ovary to promote follicular development [88]. The developing ovarian follicle produces estradiol which exerts negative feedback on hypothalamus and pituitary, suppressing FSH and LH release [88]. Estradiol continues to rise during the late follicular phase and peaks the day before ovulation. Coinciding with this sustained peak, the feedback of estradiol switches from negative to positive and results in the LH surge [88]. The mechanism underlying the change from negative to positive feedback is not fully understood [26]. The LH surge is followed by release of the oocyte from the dominant ovarian follicle.
After ovulation, the ruptured ovarian follicle develops the corpus luteum, which produces both estradiol and progesterone during the luteal phase. The endometrium thickens in preparation to receive a fertilized oocyte. In the absence of implantation of a fertilized oocyte, the corpus luteum regresses in approximately 14 days, estradiol and progesterone decline, and menses occurs [88].
The most common cause of female infertility is ovulatory dysfunction (including that accompanying reproductive aging); however, anatomical abnormalities (particularly of the fallopian tubes or uterus), endometriosis, cervical factors, medical disorders, or lifestyle factors may also be responsible.
Conclusion
In summary, multiple pathways exist by which sleep and circadian rhythms may influence fertility (Fig. 
1
). Disrupted sleep may modify hormone secretion which could have negative repercussions on ovulatory cycles. Insufficient sleep duration or sleep disrupted by obstructive sleep apnea may result in insulin resistance and glucose intolerance potentially contributing to infertility and early pregnancy loss, particularly among women with PCOS. Further, disturbed or inadequate sleep may produce biological changes similar to psychological distress and could modify the relationship seen between stress and infertility. Although well described in animals, circadian control of the ovulatory cycle is less clear in humans. However, the effects of shift work and circadian clock gene polymorphisms on miscarriage and the finding of oscillation of core clock components in peripheral reproductive organs suggest a potential circadian contribution to conception.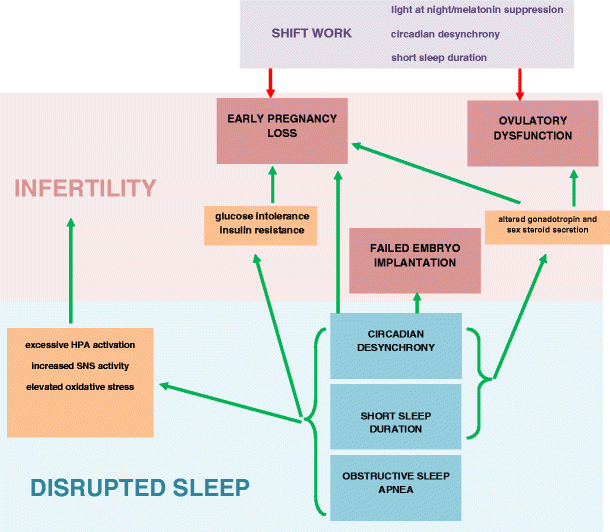 Despite joint consensus recommendations for 7–8 h of sleep per night [125], Centers for Disease Control (CDC) survey data show that approximately 30 % of women 25–44 years of age report sleep less than or equal to 6 h in a 24 h day and the mean sleep duration in this age group is approximately 7.1 h [41]. Further, the prevalence of obesity has significantly risen in women over the past decade and is currently estimated at 40 % [40] which increases the risk of sleep-disordered breathing and associated metabolic abnormalities in women of child bearing age. Additionally, as we become an increasingly 24-h society, misalignment between our endogenous circadian rhythm and external light-dark schedule may impair reproductive health as evident in female shift workers. These epidemics underscore the need to understand the role of insufficient, disturbed, or mistimed sleep in infertility.
Finally, coincident with the increase in first births in women over 35 years of age, IVF use has more than doubled since 1996 [111]. Thirteen states have laws that require insurance companies to cover infertility treatment [108]. Despite the increased resources devoted to IVF, the procedure is still largely unsuccessful with >50 % of cycles failing to result in live birth [105]. Factors exacerbated by sleep deprivation [19, 38, 80, 130], including excessive sympathetic activation [1, 4, 104], oxidative stress [31, 49], and increased ghrelin [66] may be detrimental to IVF outcomes. Additionally, psychological distress, which could be mediated by poor sleep [70], may reduce IVF success [56] or result in discontinuation of the IVF process [43]. Therefore, sleep remains an under-investigated, modifiable target that may provide a non-pharmacological, cost-effective, and patient-centered avenue to improve IVF outcomes.
Notes
Compliance with Ethical Standards
Conflict of Interest
Cathy A. Goldstein and Yolanda R. Smith declare that they have no conflict of interest.
Human and Animal Rights and Informed Consent
This article does not contain any studies with human or animal subjects performed by any of the authors.
Copyright information
© Springer International Publishing AG 2016