Abstract
Translational research is a buzzword which dominates discussions about the quality, the utilization, and the benefits of (bio)medical research. Yet, although translational research has become a prominent topic, no commonly agreed definition of this terminology exists. Instead, experts from different contexts such as biomedical research, clinical practice or nursing discuss translational research in multiple ways depending on how they define the problem that translational research is supposed to be the solution to. In this paper, we do not seek to find a 'correct' definition of translational research, but instead ask how actors using this terminology for describing their own research make sense of it. To do so, we asked three questions: Which actors are engaged in the debate about translational research? What kind of different meanings of translational research exist? And, which actors refer to which meaning of translational research when using the term? In answering these questions, we highlight the role this terminology plays in defining what medical science is about today.
This is a preview of subscription content, log in to check access.
Access options
Buy single article
Instant access to the full article PDF.
US$ 39.95
Price includes VAT for USA
Subscribe to journal
Immediate online access to all issues from 2019. Subscription will auto renew annually.
US$ 99
This is the net price. Taxes to be calculated in checkout.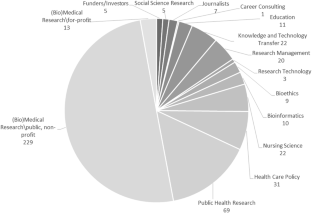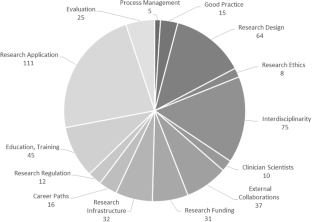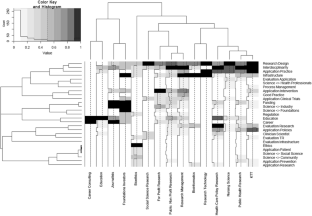 Notes
1.

For a critical view see Mittra (2013).

2.

3.

See for an overview of definitions of translational blocks and phases van der Laan and Boenink (2012).

4.

They highlight that words can be both, either a graphic depiction or spoken sound (Czarniawska and Bernward 1996, 20).

5.

It is important to note that Czarniawska and Joerges also use the term 'translation'. However, they use it as an analytical concept for understanding the process of diffusion instead of as a particular empirical phenomenon in the field of medicine.

6.

MEDLINE (Medical Literature Analysis and Retrieval System Online) is a public bibliographic database that is provided by the U.S. American National Center for Biotechnology Information (NCBI) and contains citations for international literature of all kinds of subspecialties of medicine from about 5.600 journals (see https://www.nlm.nih.gov/pubs/factsheets/medline.html).

7.

8.

The aim of Q-Methodology is to explore opinions and attitudes, to reveal and to understand the predominant viewpoints within a group regarding a topic of interest, i.e. how people think about a specific topic such as translational research (Stephenson 1953).

9.

We do not distinguish between biomedical and clinical research because in the majority of the cases it was not possible to tell if people were doing basic laboratory research or rather clinical research in patients.

10.

The number of mentions was then normalized, i.e. the mentions for each domain were recalculated in such a way that they comprise a 'portfolio' of relevant topics within this domain. The maximum for each column represents the highest number of domain representations. All other values were recalculated as shares of this maximum value.

11.

Both cell shades and vertical lines show the same information.

12.

In order to account for differences in respondents for each domain, the distance matrix calculation prior to the cluster analyses were based on cosine distances.

13.

We furthermore found that social scientists care about the evaluation of the translational research concept and its meaning as we do here in this article.
References
Abernethy, A. P., & Wheeler, J. L. (2011). True translational research: Bridging the three phases of translation through data and behavior. Translational Behavioral Medicine, 1(1), 26–30.

Agency for Healthcare Research and Quality (2004). AHRQ annual report on research and financial management. AHRQ Publication No. 04-0054. Retrieved August 28, 2019 from https://archive.ahrq.gov/about/annrpt03/annrpt03.pdf.

Barden, C. J., & Weaver, D. F. (2010). The rise of micropharma. Drug Discovery Today, 15(3–4), 84–87.

Bluemel, C., Gauch, S., Hendriks, B., Krueger, A. K. & Reinhart, M. (2015). In search of translational research: Report on the development and current understanding of a new terminology in medical research and practice. iFQ-BIH-Report, Berlin. Retrieved August 28, 2018 from https://www.bihealth.org/fileadmin/publikationen/dateien/iFQ-BIH-Report_2015_web.pdf.

Bornstein, S. R., & Licinio, J. (2011). Improving the efficacy of translational medicine by optimally integrating health care, Academia and Industry. Nature Medicine, 17(12), 1567–1569.

Brownson, R. C., & Jones, E. (2009). Bridging the gap: Translating research into policy and practice. Preventive Medicine, 49(4), 313–315.

Butler, D. (2008). Translational research: Crossing the valley of death. Nature, 453, 840–842.

Cambrosio, A., Keating, P., Mercier, S., Lewison, G., & Mogoutov, A. (2006). Mapping the emergence and development of translational cancer research. European Journal of Cancer, 42, 3140–3148.

Carpenter, S. (2007). Carving a career in translational research. Science, 317(5840), 966–967.

Chesla, C. A. (2008). Translational research: Essential contributions from interpretive nursing science. Research in Nursing & Health, 31(4), 381–390.

Cockburn, I. M. (2006). Is the pharmaceutical industry in a productivity crisis? Innovation Policy and the Economy, 7, 1–32.

Cossu, G. (2009). Challenges in translational research. EMBO Molecular Medicine, 1(2), 79–80.

Crabu, S. (2016). Translational biomedicine in action: Constructing biomarkers across laboratory and benchside. Social Theory & Health, 14(3), 312–331.

Czarniawska, B., & Bernward, J. (1996). Travels of ideas. In B. Czarniawska & G. Sevón (Eds.), Translating organizational change (pp. 13–48). Berlin: de Gruyter.

Disis, M. L., & Slattery, J. T. (2010). The road we must take: Multidisciplinary team science. Science Translational Medicine, 2(22), 1–4.

Etzkowitz, H., & Leydesdorff, L. (2000). The dynamics of innovation. From national systems and "mode 2" to a triple helix of university—industry—government relations. Research Policy, 29, 109–123.

Gibbons, M., Limoges, C., Nowotny, H., Schwartzman, S., & Scott, P. (1994). The new production of knowledge. The dynamics of science and research in contemporary societies. Thousand Oaks: Sage Publications.

Glasgow, R. E. (2013). What does it mean to be pragmatic? Pragmatic methods, measures, and models to facilitate research translation. Health Education & Behavior: The Official Publication of the Society for Public Health Education, 40(3), 257–265.

Godin, B. (1998). Writing performative history: The new new atlantis? Social Studies of Science, 28(3), 465–483.

Godin, B. (2015). Models of innovation. Why models of innovation are models, or what work is being done in calling them models? Social Studies of Science, 45(4), 570–596.

Gonda, T. A. (2012). Translational research in gastroenterology. Gastrointestinal Endoscopy, 76(4), 836–837.

Graham, I. D., Logan, J., Harrison, M. B., Straus, S. E., Tetroe, J., Caswell, W., et al. (2006). Lost in knowledge translation: Time for a map? The Journal of Continuing Education in the Health Professions, 26(1), 13–24.

Greenhalgh, T., & Sietse, W. (2011). Is it time to drop the 'knowledge translation' metaphor? A critical literature review. Journal of the Royal Society of Medicine, 104(12), 501–509.

Hendriks, B., Simons, A., & Reinhart, M. (2019). What are clinician scientists expected to do? The undefined space for professionalizable work in translational biomedicine. Minerva, 57(2), 219–237.

Hiatt, R., Miller, S. & Vernon, S. (2007). Translational research and good behavior. Cancer Epidemiology Biomarkers & Prevention, 16(11), 2184–2185.

Hobin, J. A., Deschamps, A. M., Bockman, R., Cohen, S., Dechow, P., Eng, C., et al. (2012). Engaging basic scientists in translational research: Identifying opportunities, overcoming obstacles. Journal of Translational Medicine. https://doi.org/10.1186/1479-5876-10-72.

Johnson, J. E. (1979). Translating research to practice. American Nurses Association, G-135, 125–133.

Kelley, M., Edwards, K., Starks, H., Fullerton, S., James, R., Goering, S., Holland, S., Disis, M. & Burke, W. (2012). Values in translation: How asking the right questions can move translational science Toward greater health impact. Clinical and Translational Science, 5(6), 445–451.

Kerner, J., Tajima, K., Yip, C., Bhattacharyya, C., et al. (2012). Knowledge exchange—Translating research into practice and policy. Asian Pacific Journal of Cancer Prevention, 13(4 Suppl), 37–48.

Kotlan, B., Stroncek, D. F., & Marincola, F. M. (2009). Turning laboratory findings into therapy: A marathon goal that has to be reached. Polskie Archiwum Medycyny Wewnetrznej, 119(9), 586–594.

Kraft, A. (2013). New light through an old window? The 'translational turn' in biomedical research: A historical perspective. In M. James & C. P. Milne (Eds.), Translational medicine. The future of therapy. Singapore: Pan Stanford Publishing.

Kubinyi, H. (2003). Drug research: Myths, hype and reality. Nature Reviews Drug Discovery, 2(8), 665–668.

Laan, A. L., & Boenink, M. (2012). Beyond bench and bedside: Disentangling the concept of translational research. Health Care Analysis, 23(1), 32–49.

Lam, T. K., Chang, C., Rogers, S. D., Khoury, M. J., & Schully, S. D. (2015). Evolution of the 'drivers' of translational cancer epidemiology: Analysis of funded grants and the literature. American Journal of Epidemiology, 181(7), 451–458.

Lean, M. E. J., Mann, J. I., Hoek, J. A., Elliot, R. M., & Schofield, G. (2008). Translational research. BMJ, 337, a863. https://doi.org/10.1136/bmj.a863.

Levin, N. (2014). What's being translated in translational research? Making and making sense of data between the laboratory and the clinic. Tecnoscienza: Italian Journal of Science & Technology Studies, 5(1), 91–113.

Lewis, J., Hughes, J., & Atkinson, P. (2014). Relocation, realignment and standardisation: Circuits of translation in Huntington's disease. Social Theory & Health, 12(4), 396–415.

Lorsch, J. R. (2015). Maximizing the return on taxpayers investments in fundamental biomedical research. Molecular Biology of the Cell, 26(9), 1578–1582.

Maienschein, J., Sunderland, M., Ankeny, R. A., & Robert, J. S. (2008). The ethos and ethics of translational research. The American Journal of Bioethics, 8(3), 43–51.

Marincola, F. (2003). Translational medicine: A two-way road. Journal of Translational Medicine, 1(1).

Marincola, F. (2011). The trouble with translational medicine. Journal of Internal Medicine, 270(2), 123–127.

Miles, M. B., & Huberman, A. M. (1994). Qualitative data analysis. An expanded sourcebook (2nd ed.). Thousand Oaks: Sage Publications.

Mitchell, P. H. (2004). Lost in translation? Journal of Professional Nursing, 20(4), 214–215.

Mittra, J. (2013). Repairing the 'broken middle' of the health innovation pathway: Exploring diverse practitioner perspectives on the emergence and role of 'translational medicine. Science & Technology Studies, 26(3), 103–123.

National Center for Biotechnology Information (2017). PubMed. https://www.ncbi.nlm.nih.gov/pubmed/.

National Institute of Environmental Health Sciences. (2011). Community engagement and research translation. Superfund research program. Retrieved August 28, 2019 from https://www.niehs.nih.gov/research/supported/centers/srp/outreach/index.cfm.

Nowotny, H., Scott, P., & Gibbons, M. (2003). "Mode 2" revisited. The new production of knowledge. Minerva, 41, 179–194.

Portilla, L. M., & Alving, B. (2012). Reaping the benefits of biomedical research: Partnerships required. Science Translational Medicine, 2(35), 35.

Roberts, S. F., Fischhoff, M. F., Sakowski, S., & Feldman, E. (2012). Perspective: Transforming science into medicine: How clinician-scientists can build bridges across research's "valley of death". Academic Medicine: Journal of the Association of American Medical Colleges, 87(3), 266–270.

Rubio, D., McGartland, E., Schoenbaum, E., Lee, L. S., Schteingart, D. S., Marantz, P. R., et al. (2010). Defining translational research: Implications for training. Academic Medicine, 85(3), 470–475.

Schully, S. D., Benedicto, C. D., & Khoury, M. J. (2012). How can we stimulate translational research in cancer genomics beyond bench to bedside? Genetics in Medicine, 14(1), 169–170.

Sieber, J. E. (2019). New research domains create new ethical challenges. Journal of Empirical Research on Human Research Ethics, 5(1), 1–2.

Simons, A., Hendriks, B., Reinhart, M., & Ahmed, F. (2019). How practitioners between bench and bedside evaluate biomedical translation. SocArXiv. https://doi.org/10.31235/osf.io/srcma.

Singh Dalmeet, C. (2015). Researchers wrestle with co-authorship. Nature, 528, 11.

Stephenson, W. (1953). The study of behavior: Q-technique and its methodology. Chicago, London: University of Chicago Press.

Strang, D., & Meyer, J. W. (1993). Institutional conditions for diffusion. Theory and Society, 22(4), 487–511.

Strasser, B. (2002). Institutionalizing molecular biology in post-war Europe a comparative study. Studies in History and Philosophy of Science Part C: Studies in History and Philosophy of Biological and Biomedical Sciences, 33(3), 515–546.

Straus, S. E., Tetroe, J., & Graham, I. D. (Eds.). (2013). Knowledge translation in health care. Chichester: Wiley.

Sturdy, S. (2011). Looking for trouble. Medical science and clinical practice in the historiography of modern medicine. Social History of Medicine, 24(3), 739–757.

Sturdy, S. (2013). What is new about translational medicine? Talk held at the Faculty of Medicine, University of Calgary. Retrieved August 28, 2019 from https://www.mixcloud.com/ccsstevents/podcast-steve-sturdy-whats-new-about-translational-medicine/.

Sulakhe, D., Balasubramanian, S., Xie, B., Berrocal, E., Feng, B., Taylor, A., et al. (2014). High-throughput translational medicine: Challenges and solutions. Advances in Experimental Medicine and Biology, 799, 39–67.

Sunder, R. K., & Leonelli, S. (2013). Introduction: Biomedical trans-actions, post-genomics and knowledge/value. Public Culture, 25(371), 463–475.

Szczerba, R. J., & Huesch, M. D. (2012). Why technology matters as much as science in improving healthcare. BMC Medical Informatics and Decision Making, 12, 103.

Terzic, A., & Waldman, S. A. (2010). Translational medicine: Path to personalized and public health. Biomarkers in Medicine, 4(6), 787–790.

Titler, M. G. (2004). Overview of the US invitational conference 'advancing quality care through translation research. Worldviews on Evidence-Based Nursing, 1, 1–5.

Trochim, W., Kane, C., Graham, M. J., & Pincus, H. A. (2011). Evaluating translational research: A process marker model. Clinical and Translational Science, 4(3), 153–162.

Vignola-Gagné, E., Rantanen, E., Lehner, D., & Hüsing, B. (2013). Translational research policies: Disruptions and continuities in biomedical innovation systems in Austria, Finland and Germany. Journal of Community Genetics, 4(2), 189–201.

Westfall, J. M., Mold, J., & Fagnan, L. (2007). Practice-based research: 'Blue highways' on the NIH Roadmap. Journal of American Medical Association, 297(4), 403–406.

Woolf, S. H. (2008). The meaning of translational research and why it matters. Journal of American Medical Association, 299(2), 211–213.

Zucker, D. (2012). Developing your career in an age of team science. Journal of Investigative Medicine: The Official Publication of the American Federation for Clinical Research, 60(5), 779–784.
Acknowledgements
We thank Jonas von Beckerath and Nicolas Rüffin for their support in the data collection process, the working group on translational research at Humboldt University Berlin and Elizabeth Toon and Michael Worboys for their helpful comments on earlier versions of this article.
Additional information
Publisher's Note
Springer Nature remains neutral with regard to jurisdictional claims in published maps and institutional affiliations.
About this article
Cite this article
Krueger, A.K., Hendriks, B. & Gauch, S. The multiple meanings of translational research in (bio)medical research. HPLS 41, 57 (2019). https://doi.org/10.1007/s40656-019-0293-7
Received:

Accepted:

Published:
Keywords
Translational research

Medical science

Nursing

Translation

Diffusion