Abstract
Background
Although a previous study has reported the relationship between intact parathyroid hormone (iPTH) and whole parathyroid hormone (wPTH) levels in patients undergoing dialysis, the w/i PTH ratio (whole/intact PTH ratio) among predialysis chronic kidney disease (CKD) patients remains unclear. The present study therefore aimed to examine the relationship between w/i PTH ratio and kidney function and determine other factors affecting the w/i PTH ratio.
Methods
An observational study including 773 predialysis CKD patients was conducted. The correlation between w/i PTH ratio and kidney function, as well as clinical factors at different CKD stages, were assessed using univariate and multivariate analyses. In addition, the relationship between w/i PTH ratio and composite renal outcome [kidney transplantation, dialysis, and 30% decline in estimated glomerular filtration rate (eGFR)] was examined.
Results
The w/i PTH ratio decreased as the CKD stage progressed. Patients in each CKD stage (1/2, 3, 4, and 5) had a w/i PTH ratio of 0.85, 0.81, 0.78, and 0.59, respectively. The inflection point in the correlation lines between eGFR and w/i PTH ratio was 24.1 mL/min/1.73 m2. In multivariate analysis, the w/i PTH ratio was significantly correlated with serum calcium levels only in the CKD5 group and with eGFR in the CKD3, CKD4 and CKD5 group. Furthermore, w/i PTH ratio, eGFR, serum phosphate levels, and urinary protein/creatinine ratio were determined to be significant independent predictors for composite renal outcome.
Conclusions
Our study demonstrated that changes in the w/i PTH ratio were associated with kidney function, abnormal mineral metabolism, and renal outcome.
This is a preview of subscription content, log in to check access.
Access options
Buy single article
Instant unlimited access to the full article PDF.
US$ 39.95
Price includes VAT for USA
Subscribe to journal
Immediate online access to all issues from 2019. Subscription will auto renew annually.
US$ 99
This is the net price. Taxes to be calculated in checkout.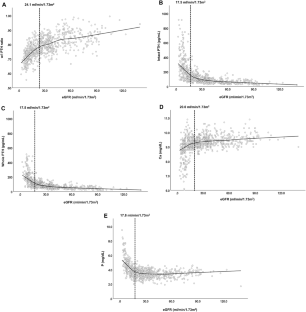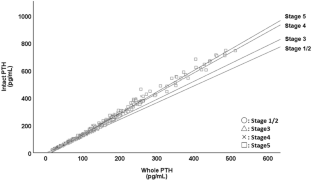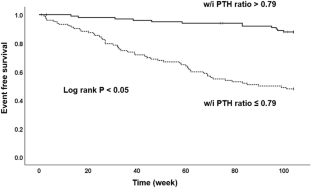 References
1.

Fukagawa M, Nakanishi S, Fujii H, Hamada Y, Abe T (2006) Regulation of parathyroid function in chronic kidney disease (CKD). Clin Exp Nephrol 10:175–179

2.

Block GA, Hulbert-Shearon TE, Levin NW, Port FK (1998) Association of serum phosphorus and calcium × phosphate product with mortality risk in chronic hemodialysis patients: a national study. Am J Kidney Dis 31:607–617

3.

Molony DA, Stephens BW (2011) Derangements in phosphate metabolism in chronic kidney diseases/endstage renal disease: therapeutic considerations. Adv Chronic Kidney Dis 18:120–131

4.

Kidney Disease: Improving Global Outcomes (KDIGO) CKD-MBD Update Work Group (2017) KDIGO clinical practice guideline update for the diagnosis, evaluation, prevention, and treatment of chronic kidney disease–mineral and bone disorder (CKD-MBD). Kidney Int Suppl 7:1–59

5.

Japanese Society for Dialysis Therapy (2012) Guidelines for the management for CKD-MBD. J Jpn Soc Dial Ther 45:301–356 (In Japanese)

6.

Melamed ML, Eustace JA, Plantinga LC, Jaar BG, Fink NE, Parekh RS, Coresh J, Yang Z, Cantor T, Powe NR (2008) Third-generation parathyroid hormone assays and all-cause mortality in incident dialysis patients: the CHOICE study. Nephrol Dial Transpl 23:1650–1658

7.

Slatopolsky E, Finch J, Clay P, Martin D, Sicard G, Singer G, Gao P, Cantor T, Dusso A (2000) A novel mechanism for skeletal resistance in uremia. Kidney Int 58:753–761

8.

Huan J, Olgaard K, Nielsen LB, Lewin E (2006) Parathyroid hormone 7–84 induces hypocalcemia and inhibits the parathyroid hormone 1–84 secretory response to hypocalcemia in rats with intact parathyroid glands. J Am Soc Nephrol 17:1923–1930

9.

Gao P, Scheibel S, D'Amour P, John MR, Rao SD, Schmidt-Gayk H, Cantor TL (2001) Development of a novel immunoradiometric assay exclusively for biologically active whole parathyroid hormone 1–84: implications for improvement of accurate assessment of parathyroid function. J Bone Miner Res 16:605–614

10.

Kurajoh M, Inaba M, Yamada S, Imanishi Y, Tsuchida T, Ishimura E, Nishizawa Y (2008) Association of increased active PTH(1–84) fraction with decreased GFR and serum Ca in predialysis CRF patients: modulation by serum 25-OH-D. Osteoporos Int 19:709–716

11.

Herberth J, Fahrleitner-Pammer A, Obermayer-Pietsch B, Krisper P, Holzer H, Malluche HH, Dobnig H (2006) Changes in total parathyroid hormone (PTH), PTH-(1–84) and large C-PTH fragments in different stages of chronic kidney disease. Clin Nephrol 65:328–334

12.

Brossard JH, Lepage R, Cardinal H, Roy L, Rousseau L, Dorais C, D'Amour P (2000) Influence of glomerular filtration rate on non-(1–84) parathyroid hormone (PTH) detected by intact PTH assays. Clin Chem 46:697–703

13.

Tsuchida T, Ishimura E, Hirowatari K, Matsumoto N, Imanishi Y, Jono S, Miki T, Inaba M, Nishizawa Y (2006) Serum levels of 1–84 and 7–84 parathyroid hormone in predialysis patients with chronic renal failure measured by the intact and bio-PTH assay. Nephron Clin Pract 102:c108–c114

14.

Kidney Disease: Improving Global Outcomes (KDIGO) CKD Work Group (2013) KDIGO clinical practice guideline for the evaluation and management of chronic kidney disease. Kidney Int Suppl 3:1–150

15.

Yamamoto S, Fukagawa M (2017) Uremic toxicity and bone in CKD. J Nephrol 30:623–627

16.

Isakova T, Wahl P, Vargas GS, Gutiérrez OM, Scialla J, Xie H, Appleby D, Nessel L, Bellovich K, Chen J, Hamm L, Gadegbeku C, Horwitz E, Townsend RR, Anderson CA, Lash JP, Hsu CY, Leonard MB, Wolf M (2011) Fibroblast growth factor 23 is elevated before parathyroid hormone and phosphate in chronic kidney disease. Kidney Int 79:1370–1378

17.

Nakano C, Hamano T, Fujii N, Matsui I, Tomida K, Mikami S, Inoue K, Obi Y, Okada N, Tsubakihara Y, Isaka Y, Rakugi H (2012) Combined use of vitamin D status and FGF23 for risk stratification of renal outcome. Clin J Am Soc Nephrol 7:810–819

18.

Estepa JC, Lopez I, Felsenfeld AJ, Gao P, Cantor T, Rodriguez M, Aguilera-Tejero E (2003) Dynamics of secretion and metabolism of PTH during hypo- and hypercalcaemia in the dog as determined by the 'intact' and 'whole' PTH assays. Nephrol Dial Transpl 18:1101–1107

19.

D'Amour P (2002) Effects of acute and chronic hypercalcemia on parathyroid function and circulating parathyroid hormone molecular forms. Eur J Endocrinol 146:407–410

20.

Kurajoh M, Inaba M, Okuno S, Nagayama H, Yamada S, Imanishi Y, Ishimura E, Shoji S, Yamakawa T, Nishizawa Y (2011) Reduction of whole PTH/intact PTH ratio as a predictor of bone metabolism in cinacalcet treatment of hemodialysis patients with secondary hyperparathyroidism. Osteoporos Int 22:923–930

21.

Monier-Faugere MC, Geng Z, Mawad H, Friedler RM, Gao P, Cantor TL, Malluche HH (2001) Improved assessment of bone turnover by the PTH-(1–84)/large C-PTH fragments ratio in ESRD patients. Kidney Int 60:1460–1468

22.

Tanaka M, Komaba H, Itoh K, Matsushita K, Hamada Y, Fujii H, Fukagawa M (2008) The whole-PTH/intact-PTH ratio is a useful predictor of severity of secondary hyperparathyroidism. NDT Plus 1:59–62

23.

Komaba H, Takeda Y, Shin J, Tanaka R, Kakuta T, Tominaga Y, Fukagawa M (2008) Reversed whole PTH/intact PTH ratio as an indicator of marked parathyroid enlargement: five case studies and a literature review. NDT Plus 1:54–58

24.

Nakajima K, Nohtomi K, Sato M, Takano K, Sato K (2009) PTH(7–84) inhibits PTH(1–34)-induced 1,25-(OH)2D3 production in murine renal tubules. Biochem Biophys Res Commun 381:283–287

25.

Yuan W, Pan W, Kong J, Zheng W, Szeto FL, Wong KE, Cohen R, Klopot A, Zhang Z, Li YC (2007) 1,25-dihydroxyvitamin D3 suppresses renin gene transcription by blocking the activity of the cyclic AMP response element in the renin gene promoter. J Biol Chem 282:29821–29830

26.

Schwarz S, Trivedi BK, Kalantar-Zadeh K, Kovesdy CP (2006) Association of disorders in mineral metabolism with progression of chronic kidney disease. Clin J Am Soc Nephrol 1:825–831

27.

Sugiura H, Yoshida T, Shiohira S, Kohei J, Mitobe M, Kurosu H, Kuro-o M, Nitta K, Tsuchiya K (2012) Reduced Klotho expression level in kidney aggravates renal interstitial fibrosis. Am J Physiol Renal Physiol 302:F1252–F1264

28.

Zhang Y, Kong J, Deb DK, Chang A, Li YC (2010) Vitamin D receptor attenuates renal fibrosis by suppressing the renin-angiotensin system. J Am Soc Nephrol 21:966–973

29.

Kaku Y, Ookawara S, Miyazawa H, Ito K, Ueda Y, Hirai K, Hoshino T, Mori H, Yoshida I, Morishita Y, Tabei K (2015) Approximation of corrected calcium concentrations in advanced chronic kidney disease patients with or without dialysis therapy. Nephron Extra 5:39–49

30.

Tepel M, Armbruster FP, Grön HJ, Scholze A, Reichetzeder C, Roth HJ, Hocher B (2013) Nonoxidized, biologically active parathyroid hormone determines mortality in hemodialysis patients. J Clin Endocrinol Metab 98:4744–4751
Acknowledgements
The authors thank the staff of Kobe University Graduate School of Medicine (Dr Shuhei Watanabe, Dr Kimihiko Goto, and Dr Nozomi Yamada).
Funding
None.
Ethics declarations
Conflict of interest
This study was partly supported by Roche Diagnostics K.K.
Ethical approval
All procedures performed in studies involving human participants were in accordance with the ethical standards of the institutional and/or national research committee and with the 1964 Helsinki declaration and its later amendments or comparable ethical standards.
Informed consent
Informed consent was obtained from all individual participants included in the study.
Additional information
Publisher's Note
Springer Nature remains neutral with regard to jurisdictional claims in published maps and institutional affiliations.
About this article
Cite this article
Okamoto, K., Fujii, H., Goto, S. et al. Changes in the whole/intact parathyroid hormone ratio and their clinical implications in patients with chronic kidney disease. J Nephrol (2020) doi:10.1007/s40620-019-00690-3
Received:

Accepted:

Published:
Keywords
Intact PTH

Whole PTH

whole/intact PTH ratio

Chronic kidney disease