Abstract
Background
Thyroid nodules (TN) are detected in a small number of asymptomatic children and adolescents but are more frequently malignant (22–26%) than in adults leading some clinicians to perform thyroid ultrasound (US) for all children with goiter or autoimmune thyroiditis (AIT). Our study was designed to determine if suspicious clinical features predict the presence of TN in children with goiter or AIT so that US could be performed on those at highest risk.
Methods
This was a retrospective review of 223 children and adolescents with goiter or AIT evaluated at a single institution. US was not performed on all patients. It is our practice to define glands that are large, firm, or nodular to palpation as "suspicious". Suspicious glands were interrogated by US and if TN was confirmed, this was further evaluated by fine-needle aspiration followed by surgery if indicated.
Results
The median age was 12.9 years with 74.4% female. TN were confirmed by US in 16.6% of all patients but only 4.8% of those with AIT. By univariate analysis, TN were more common in those with family history of TN or differentiated thyroid carcinoma (DTC), thyroid asymmetry, and lower thyrotropin (TSH) levels. Differentiated thyroid carcinoma (DTC) was identified in 10.8% of TN and 1.8% of all patients. Firmness was significantly more common in patients with DTC (p = 0.0013).
Conclusion
TN were less common in those with AIT than reported in previous studies, suggesting that clinical features might fail to identify the majority of TN in patients with AIT. However, patients with asymmetric thyroid and a family history of TN or DTC have greatest risk for TN.
This is a preview of subscription content, log in to check access.
Access options
Buy single article
Instant unlimited access to the full article PDF.
US$ 39.95
Price includes VAT for USA
Subscribe to journal
Immediate online access to all issues from 2019. Subscription will auto renew annually.
US$ 99
This is the net price. Taxes to be calculated in checkout.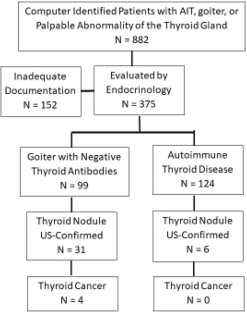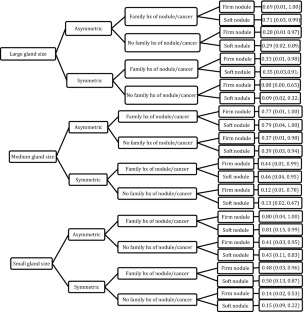 References
1.

Francis GL, Waguespack SG, Bauer AJ, Angelos P, Benvenga S, Cerutti JM et al (2015) Management guidelines for children with thyroid nodules and differentiated thyroid cancer. Thyroid 25(7):716–759

2.

Kambalapalli M, Gupta A, Prasad UR, Francis GL (2015) Ultrasound characteristics of the thyroid in children and adolescents with goiter: a single center experience. Thyroid 25(2):176–182

3.

Corrias A, Cassio A, Weber G, Mussa A, Wasniewska M, Rapa A et al (2008) Thyroid nodules and cancer in children and adolescents affected by autoimmune thyroiditis. Arch Pediatr Adolesc Med 162(6):526–531

4.

Radetti G, Loche S, D'Antonio V, Salerno M, Guzzetti C, Aversa T et al (2019) Influence of Hashimoto thyroiditis on the development of thyroid nodules and cancer in children and adolescents. J Endocr Soc 3(3):607–616

5.

Kovatch KJ, Bauer AJ, Isaacoff EJ, Prickett KK, Adzick NS, Kazahaya K, et al (2015) Pediatric thyroid carcinoma in patients with graves' disease: the role of ultrasound in selecting patients for definitive therapy. Horm Res Paediatr

6.

Carnell NE, Valente W (1998) Thyroid nodules in Graves' disease: classification, characterization, and response to treatment. Thyroid 8(8):647–652

7.

Baş VN, Aycan Z, Çetinkaya S, Üner C, Çavuşoğlu YH, Arda N (2012) Thyroid nodules in children and adolescents: a single institution's experience. J Pediatr Endocrinol Metab 25(7–8):633–638

8.

Shimura H, Sobue T, Takahashi H, Yasumura S, Ohira T, Ohtsuru A et al (2018) Findings of thyroid ultrasound examination within 3 years after the Fukushima nuclear power plant accident: the Fukushima health management survey. J Clin Endocrinol Metab 103(3):861–869

9.

Niedziela M, Handkiewicz-Junak D, Malecka-Tendera E, Czarniecka A, Dedecjus M, Lange D et al (2016) Diagnostics and treatment of differentiated thyroid carcinoma in children—guidelines of polish national societies. Endokrynol Pol 67(6):628–642

10.

Rosario PW, Mineiro Filho AF, Prates BS, Silva LC, Lacerda RX, Calsolari MR (2012) Ultrasonographic screening for thyroid cancer in siblings of patients with apparently sporadic papillary carcinoma. Thyroid 22(8):805–808

11.

Clement SC, Kremer LC, Verburg FA, Simmons JH, Goldfarb M, Peeters RP et al (2018) Balancing the benefits and harms of thyroid cancer surveillance in survivors of childhood, adolescent and young adult cancer: recommendations from the international late effects of childhood cancer guideline harmonization group in collaboration with the PanCareSurFup consortium. Cancer Treat Rev 63:28–39

12.

Gupta A, Ly S, Castroneves LA, Frates MC, Benson CB, Feldman HA et al (2014) How are childhood thyroid nodules discovered: opportunities for improving early detection. J Pediatr 164(3):658–660

13.

Rotondi M, de Martinis L, Coperchini F, Pignatti P, Pirali B, Ghilotti S et al (2014) Serum negative autoimmune thyroiditis displays a milder clinical picture compared with classic Hashimoto's thyroiditis. Eur J Endocrinol 171(1):31–36

14.

World Health Organization & International Council for Control of Iodine Deficiency Disorders (1997) Recommended normative values for thyroid volume in children aged 6–15 years. Bull World Health Organ 75(2):95–97

15.

Cibas ES, Ali SZ (2017) The 2017 Bethesda system for reporting thyroid cytopathology. Thyroid 27(11):1341–1346

16.

Septer S, Slowik V, Morgan R, Dai H, Attard T (2013) Thyroid cancer complicating familial adenomatous polyposis: mutation spectrum of at-risk individuals. Hered Cancer Clin Pract 11(1):13

17.

Bertherat J, Horvath A, Groussin L, Grabar S, Boikos S, Cazabat L et al (2009) Mutations in regulatory subunit type 1A of cyclic adenosine 5′-monophosphate-dependent protein kinase (PRKAR1A): phenotype analysis in 353 patients and 80 different genotypes. J Clin Endocrinol Metab 94(6):2085–2091

18.

de Kock L, Sabbaghian N, Soglio DB, Guillerman RP, Park BK, Chami R et al (2014) Exploring the association between DICER1 mutations and differentiated thyroid carcinoma. J Clin Endocrinol Metab 99(6):E1072–E1077

19.

Smith JR, Marqusee E, Webb S, Nose V, Fishman SJ, Shamberger RC et al (2011) Thyroid nodules and cancer in children with PTEN hamartoma tumor syndrome. J Clin Endocrinol Metab 96(1):34–37

20.

Lauper JM, Krause A, Vaughan TL, Monnat RJ Jr (2013) Spectrum and risk of neoplasia in Werner syndrome: a systematic review. PLoS ONE 8(4):e59709

21.

Niedziela M, Korman E, Breborowicz D, Trejster E, Harasymczuk J, Warzywoda M et al (2004) A prospective study of thyroid nodular disease in children and adolescents in western Poland from 1996 to 2000 and the incidence of thyroid carcinoma relative to iodine deficiency and the Chernobyl disaster. Pediatr Blood Cancer 42(1):84–92

22.

Caldwell KL, Makhmudov A, Ely E, Jones RL, Wang RY (2011) Iodine status of the US population, national health and nutrition examination survey, 2005–2006 and 2007–2008. Thyroid 21(4):419–427

23.

McLeod DS, Watters KF, Carpenter AD, Ladenson PW, Cooper DS, Ding EL (2012) Thyrotropin and thyroid cancer diagnosis: a systematic review and dose-response meta-analysis. J Clin Endocrinol Metab 97(8):2682–2692

24.

Boelaert K, Horacek J, Holder RL, Watkinson JC, Sheppard MC, Franklyn JA (2006) Serum thyrotropin concentration as a novel predictor of malignancy in thyroid nodules investigated by fine-needle aspiration. J Clin Endocrinol Metab 91(11):4295–4301

25.

Eszlinger M, Niedziela M, Typlt E, Jaeschke H, Huth S, Schaarschmidt J et al (2014) Somatic mutations in 33 benign and malignant hot thyroid nodules in children and adolescents. Mol Cell Endocrinol 393(1–2):39–45

26.

Jatana KR, Zimmerman D (2015) Pediatric thyroid nodules and malignancy. Otolaryngol Clin North Am 48(1):47–58

27.

Rinaldi S, Plummer M, Biessy C, Tsilidis KK, Østergaard JN, Overvad K et al (2014) Thyroid-stimulating hormone, thyroglobulin, and thyroid hormones and risk of differentiated thyroid carcinoma: the EPIC study. J Natl Cancer Inst 106(6):dju097

28.

Mussa A, Salerno MC, Bona G, Wasniewska M, Segni M, Cassio A et al (2013) Serum thyrotropin concentration in children with isolated thyroid nodules. J Pediatr 163(5):1465–1470

29.

Cunha LL, Morari EC, Guihen AC, Razolli D, Gerhard R, Nonogaki S et al (2012) Infiltration of a mixture of immune cells may be related to good prognosis in patients with differentiated thyroid carcinoma. Clin Endocrinol (Oxf) 77(6):918–925

30.

Dobrinja C, Makovac P, Pastoricchio M, Cipolat Mis T, Bernardi S, Fabris B et al (2016) Coexistence of chronic lymphocytic thyroiditis and papillary thyroid carcinoma. Impact on presentation, management, and outcome. Int J Surg 28(Suppl 1):S70–S74

31.

Iliadou PK, Effraimidis G, Konstantinos M, Grigorios P, Mitsakis P, Patakiouta F et al (2015) Chronic lymphocytic thyroiditis is associated with invasive characteristics of differentiated thyroid carcinoma in children and adolescents. Eur J Endocrinol 173(6):827–833

32.

Janus D, Wojcik M, Taczanowska A, Soltysiak P, Wedrychowicz A, Roztoczynska D et al (2019) Follow-up of parenchymal changes in the thyroid gland with diffuse autoimmune thyroiditis in children prior to the development of papillary thyroid carcinoma. J Endocrinol Invest 42(3):261–270

33.

Lee SJ, Lim GY, Kim JY, Chung MH (2016) Diagnostic performance of thyroid ultrasonography screening in pediatric patients with a hypothyroid, hyperthyroid or euthyroid goiter. Pediatr Radiol 46(1):104–111

34.

Nikiforov YE, Koshoffer A, Nikiforova M, Stringer J, Fagin JA (1999) Chromosomal breakpoint positions suggest a direct role for radiation in inducing illegitimate recombination between the ELE1 and RET genes in radiation-induced thyroid carcinomas. Oncogene 18(46):6330–6334

35.

Meadows AT, Friedman DL, Neglia JP, Mertens AC, Donaldson SS, Stovall M et al (2009) Second neoplasms in survivors of childhood cancer: findings from the childhood cancer survivor study cohort. J Clin Oncol 27(14):2356–2362

36.

Sklar C, Whitton J, Mertens A, Stovall M, Green D, Marina N et al (2000) Abnormalities of the thyroid in survivors of Hodgkin's disease: data from the childhood cancer survivor study. J Clin Endocrinol Metab 85(9):3227–3232

37.

Imaizumi M, Ohishi W, Nakashima E, Sera N, Neriishi K, Yamada M et al (2015) Association of radiation dose with prevalence of thyroid nodules among atomic bomb survivors exposed in childhood (2007–2011). JAMA Intern Med 175(2):228–236
Acknowledgements
Statistical analysis was supported by the Biostatistics Consulting Laboratory, which is partially supported by award No. UL1TR002649 from the National Institutes of Health's National Center for Advancing Translational Science and No. P30 CA016059NIH from the NCI Cancer Center Support Grant.
Ethics declarations
Conflict of interest
The authors have no conflicts of interest.
Ethical approval
This article does not contain any studies with human participants or animals performed by any of the authors.
Informed consent
For this type of study, formal consent is not required.
Additional information
Publisher's Note
Springer Nature remains neutral with regard to jurisdictional claims in published maps and institutional affiliations.
About this article
Cite this article
Allen, N., Desai, N., Song, C. et al. Clinical features may help to identify children and adolescents with greatest risk for thyroid nodules. J Endocrinol Invest (2020) doi:10.1007/s40618-019-01176-6
Received:

Accepted:

Published:
Keywords
Thyroid

Thyroid nodules

Differentiated thyroid cancer

Pediatrics