Abstract
Purpose
Incretin-based therapies have been introduced in clinical practice for type 2 diabetes mellitus (T2DM) treatment in the last few years. Current available medications of this class include glucagon-like peptide 1 (GLP-1) receptor agonists and dipeptidyl peptidase-4 (DPP-4) inhibitors. In addition to GLP-1, DPP-4 is able to inactivate many others peptides as hypothalamic growth hormone-releasing hormone (GHRH). The aim of this exploratory study was to evaluate, on adult diabetic patients, the impact of therapy with incretins, particularly DPP-4 inhibitors on GH/IGF-I axis.
Methods
60 patients with T2DM were included in the study and they were divided into three groups (age and sex comparable) on the basis of their hypoglycemic drugs in the last 4 months: group 1 (17 patients, exenatide or liraglutide + metformin), group 2 (18 patients, sitagliptin or vildagliptin + metformin), group 3 (25 patients, metformin). Anthropometric data, glycemia, glycosylated hemoglobin (HbA1c), IGF-I and acid-labile subunit (ALS) were collected in all patients.
Results
Weight, waist circumference and BMI of group 1 were significantly higher (P < 0.05) compared to the other groups. Fasting plasma glucose and HbA1c of the group 1 were similar compared to those of group 3 (P ns) and higher compared to those of group 2 (P < 0.05). IGF-I absolute values, IGF-I SDS were not significantly different in the three groups.
Conclusions
Our data evidence that DPP-4 inhibition does not influence significantly GH/IGF-I system, confirming what was observed in animal models. Further studies are needed to better characterize the properties of these molecules on endocrine system.
This is a preview of subscription content, log in to check access.
We're sorry, something doesn't seem to be working properly.
Please try refreshing the page. If that doesn't work, please contact support so we can address the problem.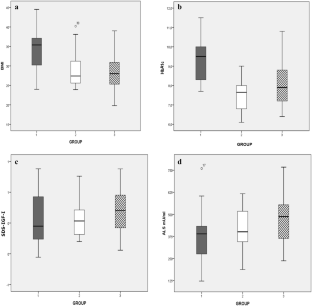 References
1.

Holst JJ (2006) Glucagon-like peptide-1: from extract to agent. The Claude Bernard Lecture, 2005. Diabetologia 49:253–260

2.

Wiedeman PE, Trevillyan JM (2003) Dipeptidyl peptidase IV inhibitors for the treatment of impaired glucose tolerance and type 2 diabetes. Curr Opin Investig Drugs 4:412–420

3.

Faidley TD, Leiting B, Pryor KD, Lyons K, Hickey GJ, Thompson R (2006) Inhibition of dipeptidyl-peptidase IV does not increase circulating IGF-I concentrations in growing pigs. Exper Biol Med (Maywood) 231:1373–1378

4.

Frohman LA, Downs TR, Heimer EP, Felix AM (1989) Dipeptidyl peptidase IV and trypsin-like enzymatic degradation of human growth hormone releasing hormone in plasma. J Clin Invest 83:1533–1540

5.

Mentlein R (1999) Dipeptidyl-peptidase IV (CD26) role in the inactivation of regulatory peptides. Reg Pept 85:9–24
Ethics declarations
Conflict of interest
The authors declare that they have no conflict of interest.
Ethical approval
All procedures performed in studies involving human participants were in accordance with the ethical standards of the institutional and/or national research committee and with the 1964 Helsinki declaration and its later amendments or comparable ethical standards.
Informed consent
Informed consent was obtained from all individual participants included in the study.
Additional information
Publisher's Note
Springer Nature remains neutral with regard to jurisdictional claims in published maps and institutional affiliations.
About this article
Cite this article
Teti, C., Talco, M., Albertelli, M. et al. Dipeptidyl peptidase-4 inhibitors do not alter GH/IGF-I axis in adult diabetic patients. J Endocrinol Invest 43, 389–393 (2020). https://doi.org/10.1007/s40618-019-01106-6
Received:

Accepted:

Published:

Issue Date:
Keywords
Incretins

Dipeptidyl peptidase-4 inhibitors

Growth hormone

IGF-I