Abstract
Background
Metformin is the first prescribed drug for hyperglycemia in type 2 diabetes mellitus. Mainly by activating AMPK pathway, this drug exerts various functions that among them protective effects are of the interest.
Purpose
Herein, we aimed to gather data about the protective impacts of metformin against various natural or chemical toxicities.
Results
An extensive search among PubMed, Scopus, and Google Scholar was conducted by keywords related to protection, toxicity, natural and chemical toxins and, metformin. Our literature review showed metformin alongside its anti-hyperglycemic effect has a wide range of anti-toxic effects against anti-tumour and routine drugs, natural and chemical toxins, herbicides and, heavy metals.
Conclusion
It is evident that metformin is a potent drug against the toxicity of a broad spectrum of natural, chemical toxic agents which is proved by a vast number of studies. Metformin mainly through AMPK axis can protect different organs against toxicities. Moreover, metformin preserves DNA integrity and can be an option for adjuvant therapy to ameliorate side effect of other therapeutics.
This is a preview of subscription content, log in to check access.
Access options
Buy single article
Instant unlimited access to the full article PDF.
US$ 39.95
Price includes VAT for USA
Subscribe to journal
Immediate online access to all issues from 2019. Subscription will auto renew annually.
US$ 99
This is the net price. Taxes to be calculated in checkout.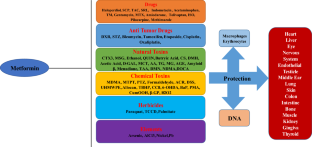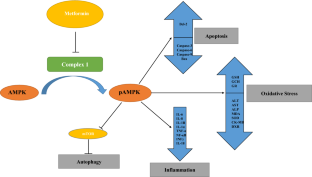 Abbreviations
DXR:

Doxorubicin

SOD:

Superoxide dismutase

GSHPx:

Glutathione peroxidase

CAT:

Catalase

MDA:

Malondialdehyde

AST:

Aspartate aminotransferase

ALT:

Alanine transaminase

CK-MB:

Creatinine phosphokinase

GSH:

Glutathione

LDH:

Lactate dehydrogenase

ROS:

Reactive oxygen species

CNP:

Serum C-type natriuretic peptide

TAC:

Total antioxidant capacity

LH:

Luteinizing hormone

FSH:

Follicle-stimulating hormone

NOS:

Nitrite oxide synthase

PCE:

Polychromatic erythrocytes

NCE:

Normochromatic erythrocytes

BALF:

Bronchoalveolar lavage fluid

NADH:

Nicotinamide adenine dinucleotide

AGEs:

Advanced glycation endproducts

AMPK:

AMP-activated protein kinase
References
1.

Zhou G, Myers R, Li Y, Chen Y, Shen X, Fenyk-Melody J et al (2001) Role of AMP-activated protein kinase in mechanism of metformin action. J Clin Investig 108(8):1167–1174

2.

Rena G, Hardie DG, Pearson ER (2017) The mechanisms of action of metformin. Diabetologia 60(9):1577–1585

3.

Villanueva-Paz M, Cotán D, Garrido-Maraver J, Oropesa-Ávila M, de la Mata M, Delgado-Pavón A, de Lavera I, Alcocer-Gómez E, Álvarez-Córdoba M, Sánchez-Alcázar JA (2016) AMPK regulation of cell growth, apoptosis, autophagy, and bioenergetics. In: Cordero MD, Viollet B (eds) AMP-activated protein kinase. Springer, Berlin, pp 45–71

4.

Lv Q, Zhen Q, Liu L, Gao R, Yang S, Zhou H et al (2015) AMP-kinase pathway is involved in tumor necrosis factor alpha-induced lipid accumulation in human hepatoma cells. Life Sci 131:23–29

5.

Salminen A, Hyttinen JM, Kaarniranta K (2011) AMP-activated protein kinase inhibits NF-κB signaling and inflammation: impact on healthspan and lifespan. J Mol Med 89(7):667–676

6.

Ercal N, Gurer-Orhan H, Aykin-Burns N (2001) Toxic metals and oxidative stress part I: mechanisms involved in metal-induced oxidative damage. Curr Top Med Chem 1(6):529–539

7.

Lin C-F, Chen C-L, Huang W-C, Cheng Y-L, Hsieh C-Y, Wang C-Y et al (2010) Different types of cell death induced by enterotoxins. Toxins 2(8):2158–2176

8.

Pahwa R, Jialal I (2018) Chronic inflammation. StatPearls Publishing, Treasure Island, FL

9.

Han X, Tai H, Wang X, Wang Z, Zhou J, Wei X et al (2016) AMPK activation protects cells from oxidative stress-induced senescence via autophagic flux restoration and intracellular NAD+ elevation. Aging Cell 15(3):416–427

10.

Dziubak A, Wójcicka G (2017) The pathophysiological basis of the protective effects of metformin in heart failure. Postepy Hig Med Dosw (Online) 71(1):773–787

11.

Monge M, Ledeme N, Mazouz H, Lalau J-D, Moubarak M, Presne C et al (2007) Insulin maintains plasma antioxidant capacity at an early phase of kidney transplantation. Nephrol Dial Transplant 22(7):1979–1985

12.

De Broe ME, Kajbaf F, Lalau J-D (2018) Renoprotective effects of metformin. Nephron 138(4):261–274

13.

Triggle C, Ding H (2017) Metformin is not just an antihyperglycaemic drug but also has protective effects on the vascular endothelium. Acta Physiol 219(1):138–151

14.

Varjabedian L, Bourji M, Pourafkari L, Nader ND (2018) Cardioprotection by metformin: beneficial effects beyond glucose reduction. Am J Cardiovasc Drugs 18(3):181–193

15.

Markowicz-Piasecka M, Sikora J, Szydłowska A, Skupień A, Mikiciuk-Olasik E, Huttunen KM (2017) Metformin—a future therapy for neurodegenerative diseases. Pharm Res 34(12):2614–2627

16.

Kamyar M, Razavi BM, Hasani FV, Mehri S, Foroutanfar A, Hosseinzadeh H (2016) Crocin prevents haloperidol-induced orofacial dyskinesia: possible an antioxidant mechanism. Iran J Basic Med Sci 19(10):1070

17.

Adedeji HA, Ishola IO, Adeyemi OO (2014) Novel action of metformin in the prevention of haloperidol-induced catalepsy in mice: potential in the treatment of Parkinson's disease? Prog Neuropsychopharmacol Biol Psychiatry 48:245–251

18.

Mohammadzadeh N, Mehri S, Hosseinzadeh H (2017) Berberis vulgaris and its constituent berberine as antidotes and protective agents against natural or chemical toxicities. Iran J Basic Med Sci 20(5):538

19.

Mostafa DK, Ismail CA, Ghareeb DA (2016) Differential metformin dose-dependent effects on cognition in rats: role of Akt. Psychopharmacology 233(13):2513–2524

20.

Rameshrad M, Razavi BM, Hosseinzadeh H (2017) Protective effects of green tea and its main constituents against natural and chemical toxins: a comprehensive review. Food Chem Toxicol 100:115–137

21.

Jin J, Lim SW, Jin L, Yu JH, Kim HS, Chung BH et al (2017) Effects of metformin on hyperglycemia in an experimental model of tacrolimus-and sirolimus-induced diabetic rats. Korean J Intern Med 32(2):314

22.

Sola E, Lopez V, Burgos D, Cabello M, Gutierrez C, Martin A, Peña M, Gonzalez-Molina M (2006) Pulmonary toxicity associated with sirolimus treatment in kidney transplantation. Transplant Proc 38(8):2438–2440

23.

Sabiu S, Garuba T, Sunmonu T, Ajani E, Sulyman A, Nurain I et al (2015) Indomethacin-induced gastric ulceration in rats: protective roles of Spondias mombin and Ficus exasperata. Toxicol Rep. 2:261–267

24.

Suleyman H, Albayrak A, Bilici M, Cadirci E, Halici Z (2010) Different mechanisms in formation and prevention of indomethacin-induced gastric ulcers. Inflammation. 33(4):224–234

25.

Morsy MA, Ashour OM, Fouad AA, Abdel-Gaber SA (2010) Gastroprotective effects of the insulin sensitizers rosiglitazone and metformin against indomethacin-induced gastric ulcers in type 2 diabetic rats. Clin Exp Pharmacol Physiol 37(2):173–177

26.

Mazer M, Perrone J (2008) Acetaminophen-induced nephrotoxicity: pathophysiology, clinical manifestations, and management. J Med Toxicol. 4(1):2–6

27.

Yoon E, Babar A, Choudhary M, Kutner M, Pyrsopoulos N (2016) Acetaminophen-induced hepatotoxicity: a comprehensive update. J Clin Transl Hepatol 4(2):131

28.

Horiuchi T, Sakata N, Narumi Y, Kimura T, Hayashi T, Nagano K et al (2017) Metformin directly binds the alarmin HMGB1 and inhibits its proinflammatory activity. J Biol Chem 292:8436–8446 (jbc, M116, 769380)

29.

Ramachandran R, Saraswathy M (2014) Up-regulation of nuclear related factor 2 (NRF2) and antioxidant responsive elements by metformin protects hepatocytes against the acetaminophen toxicity. Toxicol Res 3(5):350–358

30.

Kim H, Moon SY, Kim J-S, Baek CH, Kim M, Min JY et al (2014) Activation of AMP-activated protein kinase inhibits ER stress and renal fibrosis. Am J Physiol Ren Physiol 308(3):F226–F236

31.

Randjelovic P, Veljkovic S, Stojiljkovic N, Sokolovic D, Ilic I (2017) Gentamicin nephrotoxicity in animals: current knowledge and future perspectives. EXCLI J 16:388

32.

Saleh P, Abbasalizadeh S, Rezaeian S, Naghavi-Behzad M, Piri R, Pourfeizi HH (2016) Gentamicin-mediated ototoxicity and nephrotoxicity: a clinical trial study. Niger Med J J Niger Med Assoc 57(6):347

33.

Janjua A, Waheed A, Bakhtiar S (2014) Protective effect of metformin against gentamicin induced nephrotoxicity in rabbits. Pak J Pharm Sci 27(6):1863–1872

34.

Lee JY, Lee SH, Chang JW, Song J-J, Jung HH, Im GJ (2014) Protective effect of metformin on gentamicin-induced vestibulotoxicity in rat primary cell culture. Clin Exp Otorhinolaryngol 7(4):286

35.

Conway R, Carey JJ (2017) Risk of liver disease in methotrexate treated patients. World J Hepatol 9(26):1092

36.

Bath RK, Brar NK, Forouhar FA, Wu GY (2014) A review of methotrexate-associated hepatotoxicity. J Dig Dis 15(10):517–524

37.

Hosseini A, Hosseinzadeh H (2018) Antidotal or protective effects of Curcuma longa (turmeric) and its active ingredient, curcumin, against natural and chemical toxicities: a review. Biomed Pharmacother 99:411–421

38.

Hadi NR, Al-Amran FG, Swadi A (2012) Metformin ameliorates methotrexate-induced hepatotoxicity. J Pharmacol Pharmacother 3(3):248

39.

Buggey J, Kappus M, Lagoo AS, Brady CW (2015) Amiodarone-induced liver injury and cirrhosis. ACG Case Rep J 2(2):116

40.

Chan ED, King TE (2013) Amiodarone pulmonary toxicity. Waltham. http://www.uptodate.com. Accessed 19 Nov 2013

41.

Babatin M, Lee SS, Pollak PT (2008) Amiodarone hepatotoxicity. Curr Vasc Pharmacol 6(3):228–236

42.

Tsang W, Houlden RL (2009) Amiodarone-induced thyrotoxicosis: a review. Can J Cardiol 25(7):421–424

43.

Krysiak R, Gilowska M, Szkróbka W, Okopień B (2016) The effect of metformin on the hypothalamic–pituitary–thyroid axis in patients with type 2 diabetes and amiodarone-induced hypothyroidism. Pharmacol Rep 68(2):490–494

44.

Wu Y, Beland FA, Chen S, Liu F, Guo L, Fang J-L (2015) Mechanisms of tolvaptan-induced toxicity in HepG2 cells. Biochem Pharmacol 95(4):324–336

45.

Efe O, Klein JD, LaRocque LM, Ren H, Sands JM (2016) Metformin improves urine concentration in rodents with nephrogenic diabetes insipidus. JCI Insight 1(11):88409

46.

Mehdizadeh R, Parizadeh MR, Khooei A-R, Mehri S, Hosseinzadeh H (2013) Cardioprotective effect of saffron extract and safranal in isoproterenol-induced myocardial infarction in wistar rats. Iran J Basic Med Sci 16(1):56

47.

Cha H-N, Choi JH, Kim Y-W, Kim J-Y, Ahn M-W, Park S-Y (2010) Metformin inhibits isoproterenol-induced cardiac hypertrophy in mice. Korean J Physiol Pharmacol 14(6):377–384

48.

Al-Rasheed NM, Al-Rasheed NM, Al-Rabeeah DA, Al-Barrak HS, Al-Salman SA, Ibrahim SA et al (2018) Possible protective mechanisms exerted by metformin or metformin and vitamin E in isoproterenol-induced cardiac injury. J Cell Biochem 119(5):3903–3912

49.

Soraya H, Khorrami A, Garjani A, Maleki-Dizaji N, Garjani A (2012) Acute treatment with metformin improves cardiac function following isoproterenol induced myocardial infarction in rats. Pharmacol Rep 64(6):1476–1484

50.

Kastl PR (1987) Inadvertent systemic injection of pilocarpine. Arch Ophthalmol 105(1):28–29

51.

Mehrabi S, Sanadgol N, Barati M, Shahbazi A, Vahabzadeh G, Barzroudi M et al (2018) Evaluation of Metformin effects in the chronic phase of spontaneous seizures in pilocarpine model of temporal lobe epilepsy. Metab Brain Dis 33(1):107–114

52.

Moreno C, Alves M, Paiva I, Rodrigues D, Ruas L, Saraiva J, Guelho D, Vicente N, Cardoso L, Carrilho F (2014) Severe side effects of methimazole in the treatment of hyperthyroidism. Endocrine Abstr 35:P1009

53.

Heidari R, Niknahad H, Jamshidzadeh A, Azarpira N, Bazyari M, Najibi A (2015) Carbonyl traps as potential protective agents against methimazole-induced liver injury. J Biochem Mol Toxicol 29(4):173–181

54.

Pugazhendhi A, Edison TNJI, Velmurugan BK, Jacob JA, Karuppusamy I (2018) Toxicity of doxorubicin (Dox) to different experimental organ systems. Life Sci 200:26–30

55.

Thorn CF, Oshiro C, Marsh S, Hernandez-Boussard T, McLeod H, Klein TE et al (2011) Doxorubicin pathways: pharmacodynamics and adverse effects. Pharmacogenet Genom 21(7):440

56.

Aleisa A, Al-Rejaie S, Bakheet S, Al-Bekairi A, Al-Shabanah O, Al-Majed A et al (2008) Protective effect of metformin on cardiac and hepatic toxicity induced by adriamycin in swiss albino mice. Asian J Biochem 3(2):99–108

57.

Wallace KB (2003) Doxorubicin-induced cardiac mitochondrionopathy. Pharmacol Toxicol 93(3):105–115

58.

Tabeshpour J, Mehri S, Shaebani Behbahani F, Hosseinzadeh H (2018) Protective effects of Vitis vinifera (grapes) and one of its biologically active constituents, resveratrol, against natural and chemical toxicities: a comprehensive review. Phytother Res 32:2164–2190

59.

Kobashigawa LC, Xu YC, Padbury JF, Tseng Y-T, Yano N (2014) Metformin protects cardiomyocyte from doxorubicin induced cytotoxicity through an AMP-activated protein kinase dependent signaling pathway: an in vitro study. PLoS One 9(8):e104888

60.

Emeka PM, Al-Ahmed A (2017) Effect of metformin on ECG, HR and BP of rats administered with cardiotoxic agent doxorubicin. Int J Basic Clin Pharmacol 6(5):1054–1059

61.

Argun M, Üzüm K, Sönmez MF, Özyurt A, Karabulut D, Soyersarıca Z et al (2016) Cardioprotective effect of metformin against doxorubicin cardiotoxicity in rats. Anatol J Cardiol 16(4):234

62.

Aleisa A, Al-Rejaie S, Bakheet S, Al-Bekari A, Al-Shabanah O, Al-Majed A et al (2007) Effect of metformin on clastogenic and biochemical changes induced by adriamycin in Swiss albino mice. Mutat Res Genet Toxicol Environ Mutagen 634(1):93–100

63.

Graham ML, Janecek JL, Kittredge JA, Hering BJ, Schuurman H-J (2011) The streptozotocin-induced diabetic nude mouse model: differences between animals from different sources. Comp Med 61(4):356–360

64.

Han X, Tao Y-L, Deng Y-P, Yu J-W, Cai J, Ren G-F et al (2017) Metformin ameliorates insulitis in STZ-induced diabetic mice. PeerJ 5:e3155

65.

Oriquat GA, Ali MA, Mahmoud SA, Eid RM, Hassan R, Kamel MA (2018) Improving hepatic mitochondrial biogenesis as a postulated mechanism for the antidiabetic effect of Spirulina platensis in comparison with metformin. Appl Physiol Nutr Metab 999:1–8

66.

Nasrolahi O, Khaneshi F, Rahmani F, Razi M (2013) Honey and metformin ameliorated diabetes-induced damages in testes of rat; correlation with hormonal changes. Iran J Reprod Med 11(12):1013

67.

Gales C, Zamfir C, Radulescu D, Stoica B, Nechifor M (2014) Protective effect of magnesium and metformin on endometrium and ovary in experimental diabetes mellitus. Magnes Res 27:69–76

68.

Oidor-Chan VH, Hong E, Pérez-Severiano F, Montes S, Torres-Narváez JC, Del Valle-Mondragón L, Pastelín-Hernández G, Sánchez-Mendoza A (2016) Fenofibrate plus metformin produces cardioprotection in a type 2 diabetes and acute myocardial infarction model. PPAR Res 2016:8237264

69.

Attia S, Helal G, Alhaider A (2009) Assessment of genomic instability in normal and diabetic rats treated with metformin. Chem Biol Interact 180(2):296–304

70.

Reinert T, Baldotto CSdR, Nunes FAP, Scheliga AAdS (2013) Bleomycin-induced lung injury. J Cancer Res 2013:480608

71.

Xiao H, Huang X, Liu Z, Dong R, Song D, Zhang X et al (2018) Metformin protects against bleomycin-induced pulmonary fibrosis in mice. Zhonghua yi xue za zhi 98(24):1951–1955

72.

Ursini F, Grembiale RD, D'Antona L, Gallo E, D'Angelo S, Citraro R et al (2016) Oral metformin ameliorates bleomycin-induced skin fibrosis. J Investig Dermatol 136(9):1892

73.

Kobayashi K, Ratain MJ (1994) Pharmacodynamics and long-term toxicity of etoposide. Cancer Chemother Pharmacol 34(1):S64–S68

74.

Karpinich NO, Tafani M, Schneider T, Russo MA, Farber JL (2006) The course of etoposide-induced apoptosis in Jurkat cells lacking p53 and Bax. J Cell Physiol 208(1):55–63

75.

El-Mir M-Y, Detaille D, Gloria R, Delgado-Esteban M, Guigas B, Attia S et al (2008) Neuroprotective role of antidiabetic drug metformin against apoptotic cell death in primary cortical neurons. J Mol Neurosci 34(1):77–87

76.

Dasari S, Tchounwou PB (2014) Cisplatin in cancer therapy: molecular mechanisms of action. Eur J Pharmacol 740:364–378

77.

Lesan V, Ghaffari SH, Salaramoli J, Heidari M, Rostami M, Alimoghaddam K et al (2014) Evaluation of antagonistic effects of metformin with cisplatin in gastric cancer cells. Int J Hematol Oncol Stem Cell Res 8(3):12

78.

Saif MW, Reardon J (2005) Management of oxaliplatin-induced peripheral neuropathy. Ther Clin Risk Manag 1(4):249

79.

El-fatatry BM, Ibrahim OM, Hussien FZ, Mostafa TM (2018) Role of metformin in oxaliplatin-induced peripheral neuropathy in patients with stage III colorectal cancer: randomized, controlled study. Int J Colorectal Dis 33(12):1675–1683

80.

Bhaskaran R, Huang CC, Chang DK, Yu C (1994) Cardiotoxin III from the Taiwan Cobra (Naja naja atra). J Mol Biol 235(4):1291–1301

81.

Langone F, Cannata S, Fuoco C, Barbato DL, Testa S, Nardozza AP et al (2014) Metformin protects skeletal muscle from cardiotoxin induced degeneration. PLoS One 9(12):e114018

82.

Burlá AK, Lobato NS, Fortes ZB, Oigman W, Neves MF (2013) Cardiac fibrosis and vascular remodeling are attenuated by metformin in obese rats. Int J Cardiol 165(3):483–487

83.

Castrogiovanni D, Ongaro L, Zuburía G, Giovambattista A, Spinedi E (2015) Oral metformin treatment counteracts adipoinsular axis dysfunction in hypothalamic obese rats. Int Sch Res Not 2015:284042

84.

Luo J (2014) Autophagy and ethanol neurotoxicity. Autophagy 10(12):2099–2108

85.

Ullah I, Ullah N, Naseer MI, Lee HY, Kim MO (2012) Neuroprotection with metformin and thymoquinone against ethanol-induced apoptotic neurodegeneration in prenatal rat cortical neurons. BMC Neurosci 13(1):11

86.

Prakash O, Nelson S (2002) Alcohol and liver disease. Ochsner J 4(4):241–244

87.

Tavakkoli A, Ahmadi A, Razavi BM, Hosseinzadeh H (2017) Black seed (Nigella sativa) and its constituent thymoquinone as an antidote or a protective agent against natural or chemical toxicities. Iran J Pharm Res 16(Suppl):2

88.

Borole KD, Bodhankar SL, Dawane JS, Kanwal JK (2012) Hepatorenal repercussions of alcoholic exposure in a rat model: a dose-dependent study of metformin intervention. Iran Biomed J 16(2):101

89.

Sundaram G, Brew BJ, Jones SP, Adams S, Lim CK, Guillemin GJ (2014) Quinolinic acid toxicity on oligodendroglial cells: relevance for multiple sclerosis and therapeutic strategies. J Neuroinflamm 11(1):204

90.

Jang S, Park S-H (2018) Antidiabetic drug metformin protects neuronal cells against quinolinic acid-induced excitotoxicity by decreasing intracellular calcium. Chonnam Med J 54(1):24–30

91.

Ahangarpour A, Oroojan AA, Rezae M, Khodayar MJ, Alboghobeish S, Zeinvand M (2017) Effects of butyric acid and arsenic on isolated pancreatic islets and liver mitochondria of male mouse. Gastroenterol Hepatol Bed Bench 10(1):44

92.

Ahangarpour A, Zeidooni L, Rezaei M, Alboghobeish S, Samimi A, Oroojan AA (2017) Protective effect of metformin on toxicity of butyric acid and arsenic in isolated liver mitochondria and langerhans islets in male mice: an in vitro study. Iran J Basic Med Sci 20(12):1297

93.

Prasad S, Sajja RK, Kaisar MA, Park JH, Villalba H, Liles T et al (2017) Role of Nrf2 and protective effects of metformin against tobacco smoke-induced cerebrovascular toxicity. Redox Biol 12:58–69

94.

Caetano BFR, Tablas MB, Pereira NEF, de Moura NA, Carvalho RF, Rodrigues MAM et al (2018) Capsaicin reduces genotoxicity, colonic cell proliferation and preneoplastic lesions induced by 1,2-dimethylhydrazine in rats. Toxicol Appl Pharmacol 338:93–102

95.

Zaafar DK, Zaitone SA, Moustafa YM (2014) Role of metformin in suppressing 1,2-dimethylhydrazine-induced colon cancer in diabetic and non-diabetic mice: effect on tumor angiogenesis and cell proliferation. PLoS One 9(6):e100562

96.

Pandey A, Verma S, Kumar VL (2017) Metformin maintains mucosal integrity in experimental model of colitis by inhibiting oxidative stress and pro-inflammatory signaling. Biomed Pharmacother 94:1121–1128

97.

Chin W, Lee VM, Archer MC (1993) Evidence that the hepatotoxicity of N-nitrosodimethylamine in the rat is unrelated to DNA methylation. Chem Res Toxicol 6(3):372–375

98.

Sharma V, Singh M (2014) Attenuation of N-nitrosodimethylamine induced hepatotoxicity by Operculina turpethum in Swiss Albino mice. Iran J Basic Med Sci 17(1):73

99.

Afzal M, Kazmi I, Gupta G, Rahman M, Kimothi V, Anwar F (2012) Preventive effect of metformin against N-nitrosodiethylamine-initiated hepatocellular carcinoma in rats. Saudi Pharm J 20(4):365–370

100.

Tolba R, Kraus T, Liedtke C, Schwarz M, Weiskirchen R (2015) Diethylnitrosamine (DEN)-induced carcinogenic liver injury in mice. Lab Anim 49(1_suppl):59–69

101.

Arboatti AS, Lambertucci F, Sedlmeier MG, Pisani G, Monti J, Álvarez ML, Francés DEA, Ronco MT, Carnovale CE (2018) Diethylnitrosamine increases proliferation in early stages of hepatic carcinogenesis in insulin-treated type 1 diabetic mice. Biomed Res Int. 2018:9472939

102.

Ohno T, Shimizu M, Shirakami Y, Baba A, Kochi T, Kubota M et al (2015) Metformin suppresses diethylnitrosamine-induced liver tumorigenesis in obese and diabetic C57BL/KsJ-+ Leprdb/+ Leprdb mice. PLoS One 10(4):e0124081

103.

Al-Bader A, Mathew T, Khoursheed M, Asfar S, Al-Sayer H, Dashti H (2000) Thioacetamide toxicity and the spleen: histological and biochemical analysis. Anatomia Histologia Embryologia 29(1):3–8

104.

Al-Hashem F, Al-Humayed S, Amin SN, Kamar SS, Mansy SS, Hassan S, Abdel-Salam LO, Ellatif MA, Alfaifi M, Haidara MA (2019) Metformin inhibits mTOR–HIF-1α axis and profibrogenic and inflammatory biomarkers in thioacetamide-induced hepatic tissue alterations. J Cell Physiol 234(6):9328–9337

105.

Conde de la Rosa L, Vrenken TE, Buist-Homan M, Faber KN, Moshage H (2015) Metformin protects primary rat hepatocytes against oxidative stress-induced apoptosis. Pharmacol Res Perspect. 3(2):e00125

106.

Haass C, Selkoe DJ (2007) Soluble protein oligomers in neurodegeneration: lessons from the Alzheimer's amyloid β-peptide. Nat Rev Mol Cell Biol 8(2):101

107.

Azadeh E-H, Asadbegi M, Salehi I, Yaghmaei P, Komaki A (2016) Neuroprotective role of antidiabetic drug metformin against amyloid β peptide-induced neuronal loss in hippocampal CA1 pyramidal neurons in rats fed high fat diet. J Chem Pharm Sci 9(4):3460–3465

108.

Van Nguyen C (2006) Toxicity of the AGEs generated from the Maillard reaction: on the relationship of food-AGEs and biological-AGEs. Mol Nutr Food Res 50(12):1140–1149

109.

Chung M-M, Chen Y-L, Pei D, Cheng Y-C, Sun B, Nicol CJ et al (2015) The neuroprotective role of metformin in advanced glycation end product treated human neural stem cells is AMPK-dependent. Biochimica et Biophysica Acta Mol Basis Dis 1852(5):720–731

110.

Kinsky OR, Hargraves TL, Anumol T, Jacobsen NE, Dai J, Snyder SA et al (2016) Metformin scavenges methylglyoxal to form a novel imidazolinone metabolite in humans. Chem Res Toxicol 29(2):227–234

111.

Fatemi I, Khaluoi A, Kaeidi A, Shamsizadeh A, Heydari S (2018) Protective effect of metformin on d-galactose-induced aging model in mice. Iran J Basic Med Sci 21(1):19

112.

Kenawy S, Hegazy R, Hassan A, El-Shenawy S, Gomaa N, Zaki H et al (2017) Involvement of insulin resistance in d-galactose-induced age-related dementia in rats: protective role of metformin and saxagliptin. PLoS One 12(8):e0183565

113.

Garg G, Singh S, Singh AK, Rizvi SI (2017) Antiaging effect of metformin on brain in naturally aged and accelerated senescence model of rat. Rejuvenation Res 20(3):173–182

114.

Lee Y-S, Byun J, Kim J-A, Lee J-S, Kim KL, Suh Y-L et al (2005) Monocrotaline-induced pulmonary hypertension correlates with upregulation of connective tissue growth factor expression in the lung. Exp Mol Med 37(1):27

115.

Ruiter G, Frances S, Schalij I, Sairras S, Grünberg K, Westerhof N et al (2013) Reversibility of the monocrotaline pulmonary hypertension rat model. Eur Respir J 42(2):553–556

116.

Agard C, Rolli-Derkinderen M, Dumas-de-La-Roque E, Rio M, Sagan C, Savineau J et al (2009) Protective role of the antidiabetic drug metformin against chronic experimental pulmonary hypertension. Br J Pharmacol 158(5):1285–1294

117.

Zhai C, Shi W, Feng W, Zhu Y, Wang J, Li S et al (2018) Activation of AMPK prevents monocrotaline-induced pulmonary arterial hypertension by suppression of NF-κB-mediated autophagy activation. Life Sci 208:87–95

118.

Li S, Han D, Zhang Y, Xie X, Ke R, Zhu Y et al (2016) Activation of AMPK prevents monocrotaline-induced extracellular matrix remodeling of pulmonary artery. Med Sci Monit Basic Res 22:27

119.

Huang T-C, Chen S-M, Li Y-C, Lee J-A (2014) Increased renal semicarbazide-sensitive amine oxidase activity and methylglyoxal levels in aristolochic acid-induced nephrotoxicity. Life Sci 114(1):4–11

120.

Amara VR, Surapaneni SK, Tikoo K (2019) Metformin attenuates cardiovascular and renal injury in uninephrectomized rats on DOCA-salt: involvement of AMPK and miRNAs in cardioprotection. Toxicol Appl Pharmacol 362:95–104

121.

Sarkar S, Schmued L (2010) Neurotoxicity of ecstasy (MDMA): an overview. Curr Pharm Biotechnol 11(5):460–469

122.

Porceddu PF, Ishola IO, Contu L, Morelli M (2016) Metformin prevented dopaminergic neurotoxicity induced by 3, 4-methylenedioxymethamphetamine administration. Neurotox Res 30(1):101–109

123.

Kuhar MJ, Couceyro PR, Lambert PD (1999) Catecholamines. In: Siegel GJ, Agranoff BW, Albers RW, Fisher SK, Uhler MD (eds) Basic neurochemistry: molecular, cellular and medical aspects. Lippincott-Raven, Philadelphia, pp 243–262

124.

Patil S, Jain P, Ghumatkar P, Tambe R, Sathaye S (2014) Neuroprotective effect of metformin in MPTP-induced Parkinson's disease in mice. Neuroscience 277:747–754

125.

Sheng F, Chen M, Tan Y, Xiang C, Zhang M, Li B et al (2016) Protective effects of otophylloside n on pentylenetetrazol-induced neuronal injury in vitro and in vivo. Front Pharmacol 7:224

126.

Hussein AM, Eldosoky M, El-Shafey M, El-Mesery M, Ali AN, Abbas KM, Abulseoud OA (2018) Effects of metformin on apoptosis and α-synuclein in a rat model of pentylenetetrazole-induced epilepsy. Can J Physiol Pharmacol 97(1):37–46

127.

Chen J, Zheng G, Guo H, Shi Z-N, Jiang J, Wang X-Y et al (2018) The effect of metformin treatment on endoplasmic reticulum (ER) stress induced by status epilepticus (SE) via the PERK-eIF2α-CHOP pathway. Bosn J Basic Med Sci 18(1):49

128.

Zhang Q-S, Tang W, Deater M, Phan N, Marcogliese AN, Li H, Al-Dhalimy M, Major A, Olson S, Monnat RJ (2016) Metformin improves defective hematopoiesis and delays tumor formation in Fanconi anemia mice. Blood 128(24):2774–2784

129.

Esmaeelpanah E, Razavi BM, Vahdati Hasani F, Hosseinzadeh H (2018) Evaluation of epigallocatechin gallate and epicatechin gallate effects on acrylamide-induced neurotoxicity in rats and cytotoxicity in PC 12 cells. Drug Chem Toxicol 41(4):441–448

130.

Oda SS (2017) Metformin protects against experimental acrylamide neuropathy in rats. Drug Dev Res 78(7):349–359

131.

Chassaing B, Aitken JD, Malleshappa M, Vijay-Kumar M (2014) Dextran sulfate sodium (DSS)-induced colitis in mice. Curr Protoc Immunol 104(1):15.25.1–15.25.14

132.

Di Fusco D, Dinallo V, Monteleone I, Laudisi F, Marafini I, Franzè E, Di Grazia A, Dwairi R, Colantoni A, Ortenzi A (2018) Metformin inhibits inflammatory signals in the gut by controlling AMPK and p38 MAP kinase activation. Clin Sci 132(11):1155–1168

133.

Deng J, Zeng L, Lai X, Li J, Liu L, Lin Q et al (2018) Metformin protects against intestinal barrier dysfunction via AMPKα1-dependent inhibition of JNK signalling activation. J Cell Mol Med 22(1):546–557

134.

Kandahari AM, Yang X, Laroche KA, Dighe AS, Pan D, Cui Q (2016) A review of UHMWPE wear-induced osteolysis: the role for early detection of the immune response. Bone Res 4:16014

135.

Yan Z, Tian X, Zhu J, Lu Z, Yu L, Zhang D et al (2018) Metformin suppresses UHMWPE particle-induced osteolysis in the mouse calvaria by promoting polarization of macrophages to an anti-inflammatory phenotype. Mol Med 24(1):20

136.

Liu Z, Li J, Zeng Z, Liu M, Wang M (2008) The antidiabetic effects of cysteinyl metformin, a newly synthesized agent, in alloxan-and streptozocin-induced diabetic rats. Chem Biol Interact 173(1):68–75

137.

Yi Q-Y, Deng G, Chen N, Bai Z-S, Yuan J-S, Wu G-H et al (2016) Metformin inhibits development of diabetic retinopathy through inducing alternative splicing of VEGF-A. Am J Transl Res 8(9):3947

138.

Chen D, Xia D, Pan Z, Xu D, Zhou Y, Wu Y et al (2016) Metformin protects against apoptosis and senescence in nucleus pulposus cells and ameliorates disc degeneration in vivo. Cell Death Dis 7(10):e2441

139.

Boll M, Lutz W, Becker E, Stampfl A (2001) Mechanism of carbon tetrachloride-induced hepatotoxicity. Hepatocellular damage by reactive carbon tetrachloride metabolites. Zeitschrift für Naturforschung C 56(7–8):649–659

140.

Poon MK, Chiu P-Y, Mak DH, Ko K-M (2003) Metformin protects against carbon tetrachloride hepatotoxicity in mice. J Pharmacol Sci 93(4):501–504

141.

Verma N, Pink M, Rettenmeier AW, Schmitz-Spanke S (2012) Review on proteomic analyses of benzo[a] pyrene toxicity. Proteomics 12(11):1731–1755

142.

Man'cheva T, Demidov D, Plotnikova N, Kharitonova T, Pashkevich I, Anisimov V (2011) Melatonin and metformin inhibit skin carcinogenesis and lipid peroxidation induced by benz(a)pyrene in female mice. Bull Exp Biol Med 151(3):363–365

143.

Hwang YP, Jeong HG (2010) Metformin blocks migration and invasion of tumour cells by inhibition of matrix metalloproteinase-9 activation through a calcium and protein kinase Cα-dependent pathway: phorbol-12-myristate-13-acetate-induced/extracellular signal-regulated kinase/activator protein-1. Br J Pharmacol 160(5):1195–1211

144.

Jang SY, Kim A, Kim JK, Kim C, Cho Y-H, Kim J-H et al (2014) Metformin inhibits tumor cell migration via down-regulation of MMP9 in tamoxifen-resistant breast cancer cells. Anticancer Res 34(8):4127–4134

145.

Kanigür-Sultuybek G, Ozdas Ş, Curgunlu A, Tezcan V, Onaran I (2007) Does metformin prevent short term oxidant-induced DNA damage? In vitro study on lymphocytes from aged subjects. J Basic Clin Physiol Pharmacol 18(2):129–140

146.

Ma W-Q, Sun X-J, Wang Y, Zhu Y, Han X-Q, Liu N-F (2019) Restoring mitochondrial biogenesis with metformin attenuates β-GP-induced phenotypic transformation of VSMCs into an osteogenic phenotype via inhibition of PDK4/oxidative stress-mediated apoptosis. Mol Cell Endocrinol 479:39–53

147.

Pavlović D, Kocić R, Kocić G, Jevtović T, Radenković S, Mikić D et al (2000) Effect of four-week metformin treatment on plasma and erythrocyte antioxidative defense enzymes in newly diagnosed obese patients with type 2 diabetes. Diabetes Obes Metab 2(4):251–256

148.

Gawarammana IB, Buckley NA (2011) Medical management of paraquat ingestion. Br J Clin Pharmacol 72(5):745–757

149.

Algire C, Moiseeva O, Deschênes-Simard X, Amrein L, Petruccelli L, Birman E, Viollet B, Ferbeyre G, Pollak MN (2012) Metformin reduces endogenous reactive oxygen species and associated DNA damage. Cancer Prev Res 5(4):536–543

150.

Do MT, Kim HG, Tran TTP, Khanal T, Choi JH, Chung YC et al (2014) Metformin suppresses CYP1A1 and CYP1B1 expression in breast cancer cells by down-regulating aryl hydrocarbon receptor expression. Toxicol Appl Pharmacol 280(1):138–148

151.

Cen J, Sargsyan E, Forslund A, Bergsten P (2018) Mechanisms of beneficial effects of metformin on fatty acid-treated human islets. J Mol Endocrinol 61(3):91–99

152.

Hong Y-S, Song K-H, Chung J-Y (2014) Health effects of chronic arsenic exposure. J Prev Med Public Health 47(5):245

153.

Ratnaike RN (2003) Acute and chronic arsenic toxicity. Postgrad Med J 79(933):391–396

154.

Kang Y-T, Hsu W-C, Wu C-H, Hsin I-L, Wu P-R, Yeh K-T et al (2017) Metformin alleviates nickel-induced autophagy and apoptosis via inhibition of hexokinase-2, activating lipocalin-2, in human bronchial epithelial cells. Oncotarget 8(62):105536

155.

Ahmed S, Mahmood Z, Javed A, Hashmi SN, Zerr I, Zafar S et al (2017) Effect of metformin on adult hippocampal neurogenesis: comparison with donepezil and links to cognition. J Mol Neurosci 62(1):88–98

156.

Huang YS, Li YC, Tsai PY, Lin CE, Chen CM, Chen SM et al (2017) Accumulation of methylglyoxal and d-lactate in Pb-induced nephrotoxicity in rats. Biomed Chromatogr 31(5):e3869

157.

Birben E, Sahiner UM, Sackesen C, Erzurum S, Kalayci O (2012) Oxidative stress and antioxidant defense. World Allergy Organ J 5(1):9

158.

Chukwunonso Obi B, Chinwuba Okoye T, Okpashi VE, Nonye Igwe C, Olisah Alumanah E (2016) Comparative study of the antioxidant effects of metformin, glibenclamide, and repaglinide in alloxan-induced diabetic rats. J Diabetes Res 2016:1635361

159.

Kronberg MF, Clavijo A, Moya A, Rossen A, Calvo D, Pagano E et al (2018) Glyphosate-based herbicides modulate oxidative stress response in the nematode Caenorhabditis elegans. Comp Biochem Physiol C Toxicol Pharmacol 214:1–8

160.

Yokoyama C, Sueyoshi Y, Ema M, Mori Y, Takaishi K, Hisatomi H (2017) Induction of oxidative stress by anticancer drugs in the presence and absence of cells. Oncol Lett 14(5):6066–6070

161.

Deavall DG, Martin EA, Horner JM, Roberts R (2012) Drug-induced oxidative stress and toxicity. J Toxicol 2012:645460

162.

Diaz-Morales N, Rovira-Llopis S, Banuls C, Lopez-Domenech S, Escribano-Lopez I, Veses S et al (2017) Does metformin protect diabetic patients from oxidative stress and leukocyte-endothelium interactions?. Mary Ann Liebert, Inc, New Rochelle

163.

Ouslimani N, Peynet J, Bonnefont-Rousselot D, Thérond P, Legrand A, Beaudeux J-L (2005) Metformin decreases intracellular production of reactive oxygen species in aortic endothelial cells. Metabolism 54(6):829–834

164.

Kajbaf F, De Broe ME, Lalau J-D (2016) Therapeutic concentrations of metformin : a systematic review. Clin Pharmacokinet 55(4):439–459

165.

Aldahmash BA, El-Nagar DM, Ibrahim KE (2016) Attenuation of hepatotoxicity and oxidative stress in diabetes STZ-induced type 1 by biotin in Swiss albino mice. Saudi J Biol Sci 23(2):311–317

166.

Bayliss JA, Lemus MB, Santos VV, Deo M, Davies JS, Kemp BE et al (2016) Metformin prevents nigrostriatal dopamine degeneration independent of AMPK activation in dopamine neurons. PLoS One 11(7):e0159381
Ethics declarations
Conflict of interest
The authors declare that they do not have any potential conflict of interest.
Ethical approval
This article does not contain any studies with human participants or animals performed by any of the authors.
Informed consent
Not applicable.
Additional information
Publisher's Note
Springer Nature remains neutral with regard to jurisdictional claims in published maps and institutional affiliations.
About this article
Cite this article
Meshkani, S.E., Mahdian, D., Abbaszadeh-Goudarzi, K. et al. Metformin as a protective agent against natural or chemical toxicities: a comprehensive review on drug repositioning. J Endocrinol Invest 43, 1–19 (2020) doi:10.1007/s40618-019-01060-3
Received:

Accepted:

Published:

Issue Date:
Keywords
Metformin protection

Toxin

Natural toxin

Chemical toxin