The Temporal Role of Cytokines in Flavivirus Protection and Pathogenesis
Virology (A Nicola, Section Editor)
Part of the following topical collections:
Abstract
Purpose of Review
The purpose of this review is to feature several cytokine families and describe the roles they play in mediating protection or pathogenesis at the different stages of flavivirus infections. We highlight the similarities and differences in the roles these cytokines play in the different flaviviruses.
Recent Findings
Cytokines play a role at every stage in flaviviral disease. In the past 3 years, exciting work has been done showing immunomodulatory effects of arthropod saliva on infection, novel roles of cytokines like IFNγ and TNFα in controlling acute flaviviral infection, critical roles of type III IFNs in limiting viral spread particularly in the neurotropic or teratogenic flaviviruses, and the detrimental effects of the inflammasome in recovery from neurotropic flavivirus infection.
Summary
Disease induced by flaviviral infection is the result of the complex, cytokine-driven interactions between host, virus, and vector and is distinct at each stage of infection. Though flaviviruses are similar in phylogeny, the mechanisms by which they cause disease can be distinct. However, a common theme persists, in that dysregulation of cytokines can cause devastating effects for the host. A thorough understanding of these pathways is a critical step in the development of therapeutic treatments, antivirals, and vaccines.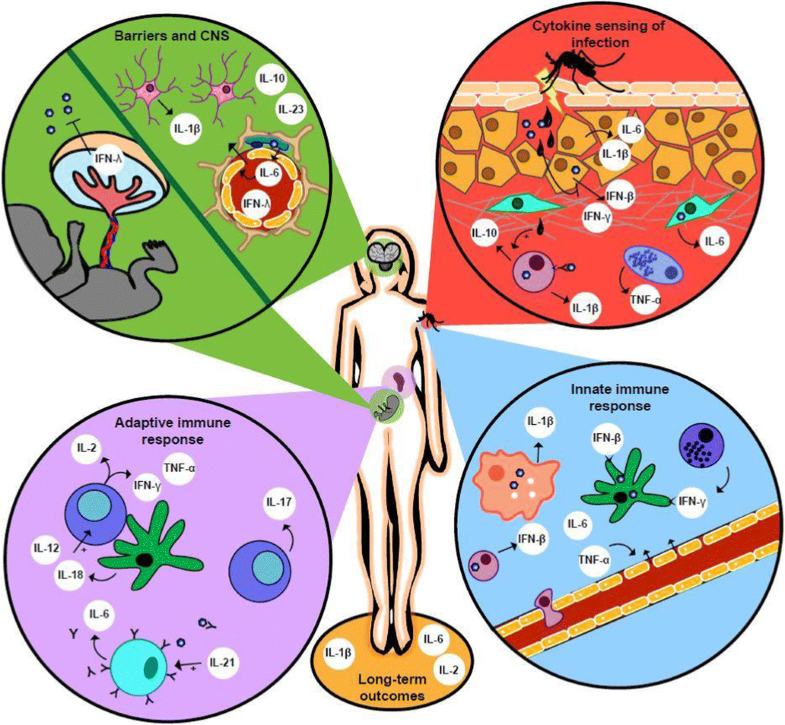 Keywords
Flavivirus 
Immune-mediated pathology 
Cytokine storm 
Viral pathogenesis 
Antiviral immunity 
Arbovirus 
Notes
Compliance with Ethical Standards
Conflict of Interest
Dr. Brien and Dr. Pinto reports grants from Emergent Biosolutions, outside the submitted work; .
Dr. Hassert has no conflicts of interest.
Human and Animal Rights and Informed Consent
This article does not contain any studies with human or animal subjects performed by any of the authors.
References
Papers of particular interest, published recently, have been highlighted as: • Of importance •• Of major importance
Copyright information
© Springer Nature Switzerland AG 2018