Public Health Perspectives on Aquaculture
Open Access
Global Environmental Health and Sustainability (JM Samet, Section Editor)
Abstract
Nearly half of all seafood consumed globally comes from aquaculture, a method of food production that has expanded rapidly in recent years. Increasing seafood consumption has been proposed as part of a strategy to combat the current non-communicable disease (NCD) pandemic, but public health, environmental, social, and production challenges related to certain types of aquaculture production must be addressed. Resolving these complicated human health and ecologic trade-offs requires systems thinking and collaboration across many fields; the One Health concept is an integrative approach that brings veterinary and human health experts together to combat zoonotic disease. We propose applying and expanding the One Health approach to facilitate collaboration among stakeholders focused on increasing consumption of seafood and expanding aquaculture production, using methods that minimize risks to public health, animal health, and ecology. This expanded application of One Health may also have relevance to other complex systems with similar trade-offs.
Keywords
Aquaculture 
Environment 
Fish 
Fish meal 
Fish oil 
Health 
n-3 PUFA 
Non-communicable diseases 
Nutrition 
Public health 
Seafood 
Introduction
Access to nutritious foods of animal origin, including aquatic animals, was crucial in the evolution of hominids and early human brain development [
1
•]. Aquatic animals contain essential nutrients, such as iodine and omega-3 long-chain polyunsaturated fatty acids (LCPUFAs), that are generally limited in other animal foods. While, historically, consumption of seafood has been important for humans, overfishing and other factors (e.g., population growth, pollution, ocean acidification) have greatly decreased wild fish stocks and damaged marine resources [
2
•]. In response to declining marine resources and an increasing demand for seafood, aquaculture has grown dramatically in the past four decades. In 2011, aquaculture accounted for nearly half of all seafood consumed by humans [
3
], and global aquaculture production continues to increase at a rate of 6 % per year [
4
]. Aquaculture production by country is depicted in Table 
1
.
Table 1
Global food fish aquaculture production by country in 2012 [121]
| Country | Metric tons | Percentage of total |
| --- | --- | --- |
| China, mainland | 41,108,306 | 61.7 % |
| India | 4,209,415 | 6.3 % |
| Viet Nam | 3,085,500 | 4.6 % |
| Indonesia | 3,067,660 | 4.6 % |
| Bangladesh | 1,726,066 | 2.6 % |
| Norway | 1,321,119 | 2.0% |
| Thailand | 1,233,877 | 1.9 % |
| Chile | 1,071,421 | 1.6 % |
| Egypt | 1,017,738 | 1.5 % |
| Myanmar | 885,169 | 1.3 % |
| Philippines | 790,894 | 1.2 % |
| Brazil | 707,461 | 1.1 % |
| Japan | 633,047 | 1.0 % |
| Korea, RO | 484,404 | 0.7 % |
| USA | 420,024 | 0.6 % |
| Other countries | 4,871,152 | 7.3 % |
| Total | 66,633,253 | 100 % |
In many populations around the world, several factors have led to an overall shift in eating habits toward terrestrial livestock products and calorie-dense, nutrient-poor, highly processed foods [
5
,
6
]. This shift, as well as other lifestyle and environmental factors, has contributed to a non-communicable disease (NCD) pandemic in many high-income, middle-income, and even some low-income countries [
7
,
8
,
9
]. In recent years, both the United Nations and the World Health Organization have recognized the global threat of NCDs and tried to strengthen national efforts to reduce their burden [
10
•,
11
]. Seafood has been recognized as an important source of healthy dietary fats [
12
]. Many countries have developed a variety of dietary and physical activity recommendations for their citizens, many of which are related to dietary fat intake, such as eliminating intake of trans-fatty acids, reducing intake of saturated fats, and increasing consumption of healthy mono- and polyunsaturated fats, which can come from seafood [
13
,
14
,
15
]. The US government has issued dietary guidelines specifically promoting increased consumption of a variety of seafood in place of some meat and poultry [
13
]. Following seafood dietary guidelines may improve health for some, but increasing seafood consumption would require increased aquaculture production and wild-caught fish harvests. It may not be possible for wealthier nations to make progress on this recommendation without depleting global fisheries and further harming aquatic ecosystems, which could impact the food supplies of other nations [
16
]. Therefore, it is insufficient to simply increase seafood production without also taking equity and the protection of the public's health and natural resources into account. To address these issues, we propose applying and expanding the One Health approach, which is an existing model for promoting synergy among the disciplines of human, animal, and environmental health sciences. Figure 
1
describes several key topics for One Health and aquaculture, many of which are covered in this manuscript. Applying the One Health concept to aquaculture and the human health sciences could stimulate collaboration among scientists and other professionals who work on these issues.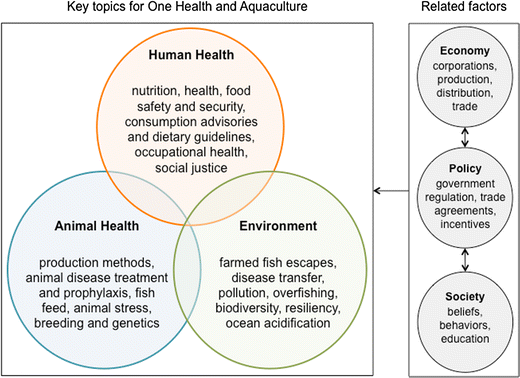 The specific aims of this manuscript were to: (i) characterize the Western diet; (ii) examine the role of seafood in human nutrition and health; (iii) discuss challenges facing aquaculture and their implications for public health, the environment, and production; and (iv) describe how the One Health approach could be used as a convening tool for shaping decisions in regard to addressing the multiple and interrelated issues surrounding aquaculture, concerning nutrition, health, and the environment. In the context of a complex system, we provide examples of trade-offs between human health, environmental health, and seafood production, where the latest scientific evidence can help inform policy.
Public Health, Environmental, and Production Challenges Facing Aquaculture
Aquaculture Development Moving Forward: Adopting and Expanding the One Health Concept
As with any type of agriculture, aquaculture interacts with human social systems and ecological systems, and this can lead to conflicts over natural resource use and environmental impacts [117]. There is a wide range of stakeholders involved with aquaculture, including industry groups, scientists, government agencies, nongovernmental organizations, and consumers, who each bring their own perspectives to the topic. Aquaculture producers are generally driven by profitability and long-term economic sustainability, which may include minimizing environmental impacts. Some aquaculture companies have taken steps and publicized plans to address a variety of environmental concerns [118], although governments, nongovernmental organizations, and consumers should hold them accountable regarding proposed plans and timelines. Human health professionals have historically been minimally involved with issues related to aquaculture, perhaps because of single-discipline focused research. Communicating the connections between aquaculture and public health could increase their involvement. We propose involving the medical and public health communities with aquaculture by applying and expanding the One Health concept. As stated earlier, this is a systems approach for linking human, animal, and environmental health issues relevant to a single topic [119]. One Health has historically focused on infectious diseases that pass between animals and humans, although recently others have suggested that food safety and food production are priority areas where the One Health concept could be applied [120]. A variety of disciplines, including research, clinical medical and veterinary practice, and policy, can be applied to aquaculture and seafood via One Health (Fig. 1). Animal health and environmental impacts are particularly important because they remain major constraints to production of aquaculture that could affect people's access to healthy food [97, 117].
In this manuscript, we have highlighted several cross-cutting topics that are relevant to aquaculture and One Health, including: (i) balancing the issues of increased fish consumption for health reasons (such as reducing NCDs), overfishing of wild-caught seafood, and increasing aquaculture production with minimal environmental impacts; (ii) identifying and communicating the human health risks from contaminants in seafood, and strategies to mitigate those risks; (iii) developing and promoting production methods that reduce or eliminate the need for antibiotics, pesticides, and other chemicals, which can have wide-ranging impacts on human, fish, and environmental health; and (iv) finding ecologically sustainable and safe animal feeds with acceptable levels of healthy nutrients and bioactive compounds (i.e., marine omega-3 fatty acids) without contributing to overfishing or compromising human food security for low-resource coastal communities. These are just a few of the most pressing issues that could benefit from collaboration with experts in the medical, public health, and veterinary communities.
Conclusion
The current epidemiologic profile of the global population shows increasing rates of NCDs. The health benefits associated with regular consumption of moderate amounts of seafood in place of meats, and increased consumption of vegetables and fruits, could help reduce rates of NCDs. Recommendations for increasing seafood consumption must be balanced with risks of further damage to fisheries, and other risks to public health and the environment from some forms of aquaculture. Therefore, examining the interactions between aquaculture, fisheries, human diet and health, and ecological health can assist in setting priorities for enhancing human nutrition and the ecological sustainability of aquaculture. We propose applying and expanding the One Health model to engage experts in a variety of fields to collaborate on developing methods and policies that will allow aquaculture to operate sustainably and contribute to human diets that promote health.
Notes
Acknowledgments
Jillian P. Fry and David C. Love were funded by the Johns Hopkins Center for a Livable Future (CLF), with a gift from the GRACE Communication Foundation (www.gracelinks.org) , which had no role in the study design, data collection and analysis, decision to publish, or preparation of the manuscript. The authors thank Robert Lawrence, Shawn McKenzie, Keeve Nachman, and Allison Righter at CLF for their helpful review of the manuscript.
Compliance with Ethics Guidelines
ᅟ
Conflict of Interest
Juan G. Gormaz, Jillian P. Fry, Marcia Erazo, and David C. Love declare that they have no conflict of interest.
Human and Animal Rights and Informed Consent
This article does not contain any studies with human or animal subjects performed by any of the authors.
References
Papers of particular interest, published recently, have been highlighted as: • Of importance
Copyright information
© The Author(s) 2014
Open Access This article is distributed under the terms of the Creative Commons Attribution License which permits any use, distribution, and reproduction in any medium, provided the original author(s) and the source are credited.