Abstract
Left brachiocephalic vein, also known as innominate vein runs in upper mediastinum posterior to the thymus and anterior to the transverse aortic arch and aortic branches. LBCV can be visualized on gray scale as well as color Doppler ultrasound at the level above the 3 vessel view. This is the first Indian study to demonstrate the significance of its routine visualization and its measurements on prenatal ultrasound. Isolated intrathymic LBCV is a normal variant and in isolation does not warrant an alteration in routine management of pregnancy. Absent LBCV or dilated LBCV are pathological and warrant a thorough anomalies scan and fetal echocardiography.
This is a preview of subscription content, log in to check access.
Access options
Buy single article
Instant unlimited access to the full article PDF.
US$ 39.95
Price includes VAT for USA
Subscribe to journal
Immediate online access to all issues from 2019. Subscription will auto renew annually.
US$ 99
This is the net price. Taxes to be calculated in checkout.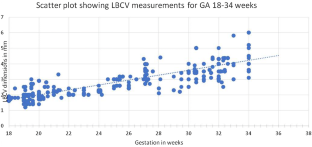 References
1.

Sinkovskaya E, Abuhamad A, Horton S, Chaoui R, Karl K. Fetal left brachiocephalic vein in normal and abnormal conditions. Ultrasound Obstet Gynecol. 2012;40:542–8.

2.

Karl K, Sinkovskaya E, Abuhamad A, Chaoui R. Intrathymic and other anomalous courses of the left brachiocephalic vein in the fetus. Ultrasound Obstet Gynecol. 2016;48:464–9.

3.

Bennett WF, Altaf F, Deslauriers J. Anatomy of the superior vena cava and brachiocephalic veins. Thorac Surg Clin. 2011;21:197–203, viii.

4.

Abuhamad A, Chaoui R. A practical guide to fetal echocardiography: normal and abnormal hearts. Philadelphia: Lippincott-Williams & Wilkins; 2010.

5.

Berg C, Knuppel M, Geipel A, Kohl T, Krapp M, Knopfle G, Germer U, Hansmann M, Gembruch U. Prenatal diagnosis of persistent left superior vena cava and its associated congenital anomalies. Ultrasound Obstet Gynecol. 2006;27:274–80.
Ethics declarations
Conflict of interest
The author declares that she has no conflict of interest.
Informed consent
This was a prospective observational study only not involving any interventions.
Additional information
Publisher's Note
Springer Nature remains neutral with regard to jurisdictional claims in published maps and institutional affiliations.
About this article
Cite this article
Shah, N. Fetal Left Brachiocephalic Vein (LBCV): Visualization and Its Measurements in Indian Population. J. Fetal Med. (2020) doi:10.1007/s40556-020-00239-6
Received:

Accepted:

Published:
Keywords
Left brachiocephalic vein

Prenatal

Ultrasound

LBCV

Innominate vein