Abstract
Background
Being unable to "get up from the floor" is a risk factor and predictor of serious fall-related injuries in older age; however, floor-rise training (FRT) is not widely used. The backward chaining method (BCM) is a success-oriented, step-by-step form of FRT. This systematic review aimed to evaluate the impact of BCM on physical and psychological outcome measures, and its clinical application.
Methods
Studies were identified through systematic searching of five databases. Criteria for inclusion were: use of BCM as a treatment method, outcome measures related to falls, and participants aged 60 + years. Study quality was evaluated using the Mixed Methods Appraisal Tool and PEDro scale, if applicable.
Results
Seven studies with a total of 446 participants (mean age 82.4 ± 5.3 years) were identified. Emerging evidence shows that BCM significantly improves the ability to get up unassisted from the floor, as well as mobility with reduced fall incidence in older people. Furthermore, it can potentially reduce fear of falling. Reporting on feasibility and acceptance of BCM was limited. Study quality varied widely.
Conclusions
BCM provides a promising intervention in fall-related recovery strategies for older adults and is most effective when offered to older adults at risk of falling. Considering the small number of included studies and the varying methodological quality, these findings should be evaluated accordingly. The growing evidence regarding the benefits of BCM, yet the lack of adoption into standard care, highlights the need for further research and clinical application of this intervention approach.
This is a preview of subscription content, log in to check access.
Access options
Buy single article
Instant unlimited access to the full article PDF.
US$ 39.95
Price includes VAT for USA
Subscribe to journal
Immediate online access to all issues from 2019. Subscription will auto renew annually.
US$ 99
This is the net price. Taxes to be calculated in checkout.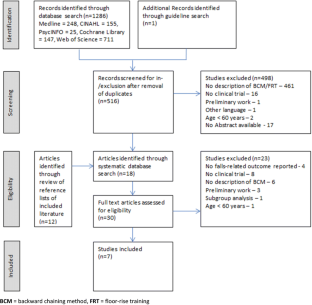 References
1.

Beard JR, Officer A, de Carvalho IA et al (2016) The World report on ageing and health: a policy framework for healthy ageing. Lancet Lond Engl 387:2145–2154

2.

Kannus P, Sievänen H, Palvanen M et al (2005) Prevention of falls and consequent injuries in elderly people. Lancet Lond Engl 366:1885–1893

3.

Heinrich S, Rapp K, Rissmann U et al (2010) Cost of falls in old age: a systematic review. Osteoporos Int 21:891–902

4.

World Health Organization (2007) WHO global report on falls prevention in older age. World Health Organization, Geneva, p 54

5.

Fleming J, Brayne C (2008) Inability to get up after falling, subsequent time on floor, and summoning help: prospective cohort study in people over 90. BMJ 17:a2227

6.

Wild D, Nayak US, Isaacs B (1981) How dangerous are falls in old people at home? Br Med J Clin Res Ed 282:266–268

7.

Bergland A, Laake K (2005) Concurrent and predictive validity of "getting up from lying on the floor". Aging Clin Exp Res 17:181–185

8.

Tinetti ME, Liu WL, Claus EB (1993) Predictors and prognosis of inability to get up after falls among elderly persons. JAMA 269:65–70

9.

Kulkarni D, Comely H (2002) Do physical therapists teach their older patients how to get up after a fall? J Geriatr Phys Ther 25:43

10.

Goodwin V, Martin FC, Husk J et al (2010) The National Clinical Audit of Falls and Bone Health—secondary prevention of falls and fractures: a physiotherapy perspective. Physiotherapy 96:38–43

11.

Gillespie LD, Robertson MC, Gillespie WJ et al (2012) Interventions for preventing falls in older people living in the community. Cochrane Database Syst Rev. https://doi.org/10.1002/14651858.CD005465.pub3

12.

Sherrington C, Tiedemann A, Fairhall N et al (2011) Exercise to prevent falls in older adults: an updated meta-analysis and best practice recommendations. N S W Public Health Bull 22:78–83

13.

Sherrington C, Fairhall NJ, Wallbank GK et al (2019) Exercise for preventing falls in older people living in the community. Cochrane Database Syst Rev [Internet]. 2019 [cited 2019 Feb 27]. https://www.cochranelibrary.com/cdsr/doi/10.1002/14651858.CD012424.pub2/abstract

14.

Kendrick D, Kumar A, Carpenter H et al (2014) Exercise for reducing fear of falling in older people living in the community. Cochrane Database Syst Rev. https://doi.org/10.1002/14651858.CD009848.pub2

15.

Liener UC, Becker C, Rapp K (2018) Weißbuch Alterstraumatologie. Kohlhammer Verlag, Stuttgart, p 148

16.

Zijlstra GA, Haastregt JC, van Eijk JT et al (2007) Prevalence and correlates of fear of falling, and associated avoidance of activity in the general population of community-living older people. Age Ageing 36:304–309

17.

Oude Voshaar RC, Banerjee S, Horan M et al (2006) Fear of falling more important than pain and depression for functional recovery after surgery for hip fracture in older people. Psychol Med 36:1635–1645

18.

American Geriatrics Society Expert Panel on the Care of Older Adults with Multimorbidity (2012) Patient-centered care for older adults with multiple chronic conditions: a stepwise approach from the American Geriatrics Society. J Am Geriatr Soc 60:1957–1968

19.

Jamour M, Metz BR, Becker C (2018) Geriatrisch-rehabilitatives basis-management. Ein Leitfaden für die Praxis. Kohlhammer Verlag, Stuttgart, p 155

20.

Reece AC, Simpson JM (1996) Preparing older people to cope after a fall. Physiotherapy 82:227–235

21.

Jayasinghe N, Sparks MA, Kato K et al (2014) Exposure-based CBT for older adults after fall injury: description of a manualized, time-limited intervention for anxiety. Cogn Behav Pract 21:432–445

22.

Wetherell JL, Bower ES, Johnson K et al (2018) Integrated exposure therapy and exercise reduces fear of falling and avoidance in older adults: a randomized pilot study. Am J Geriatr Psychiatry 26:849–859

23.

Decety J, Grezès J (1999) Neural mechanisms subserving the perception of human actions. Trends Cogn Sci 3:172–178

24.

Schuster C, Butler J, Andrews B et al (2012) Comparison of embedded and added motor imagery training in patients after stroke: results of a randomised controlled pilot trial. Trials 13:11

25.

Burton E, Farrier K, Lewin G et al (2018) Are interventions effective in improving the ability of older adults to rise from the floor independently? A mixed method systematic review. Disabil Rehabil. https://doi.org/10.1080/09638288.2018.1508509

26.

Miller SA, Forrest JL (2001) Enhancing your practice through evidence-based decision making: PICO, learning how to ask good questions. J Evid Based Dent Pract 1:136–141

27.

Hong QN, Gonzalez-Reyes A, Pluye P (2018) Improving the usefulness of a tool for appraising the quality of qualitative, quantitative and mixed methods studies, the Mixed Methods Appraisal Tool (MMAT). J Eval Clin Pract 24:459–467

28.

Maher CG, Sherrington C, Herbert RD et al (2003) Reliability of the PEDro scale for rating quality of randomized controlled trials. Phys Ther 83:713–721

29.

Skelton D, Dinan S, Campbell M et al (2005) Tailored group exercise (Falls Management Exercise—FaME) reduces falls in community-dwelling older frequent fallers (an RCT). Age Ageing 34:636–639

30.

Zak M (2005) Effectiveness of physiotherapeutic regimens for enhancing the individual capability of the elderly for unassisted coping after an incidental fall. Fizjoterapia [Internet]. 2005 Apr [cited 2019 Feb 27]. https://www.cochranelibrary.com/central/doi/10.1002/central/CN-00569609/abstract

31.

Zak M (2006) Physical rehabilitation regimens designed to aid the frail elderly in executing postural shifts safely and coping after incidental falls. Postepy Rehabil [Internet]. 2006 Jan [cited 2019 Feb 27]. https://www.cochranelibrary.com/central/doi/10.1002/central/CN-00641513/abstract

32.

Zak M, Skalska A, Szczerbińska K (2008) Instructional programmes on how to rise unassisted effectively after sustaining an incidental fall, designed specifically for the elderly: a randomized, controlled trial. Ortop Traumatol Rehabil 10:496–507

33.

Adams JM, Tyson S (2000) The effectiveness of physiotherapy to enable an elderly person to get up from the floor: a single case study. Physiotherapy 86:185–189

34.

Cox TB, Williams K (2016) Fall recovery intervention and its effect on fear of falling in older adults. Act Adapt Aging [Internet]. 2016 Jun 1 [cited 2019 Mar 14]. https://www.tandfonline.com/doi/abs/10.1080/01924788.2016.1158594

35.

Merlin T, Weston A, Tooher R (2009) Extending an evidence hierarchy to include topics other than treatment: revising the Australian "levels of evidence". BMC Med Res Methodol 9:34

36.

Blobaum P (2006) Physiotherapy evidence database (PEDro). J Med Libr Assoc 94:477–478

37.

Alexander NB, Ulbrich J, Raheja A et al (1997) Rising from the floor in older adults. J Am Geriatr Soc 45:564–569

38.

Ulbrich J, Raheja A, Alexander NB (2000) Body positions used by healthy and frail older adults to rise from the floor. J Am Geriatr Soc 48:1626–1632

39.

Hofmeyer MR, Alexander NB, Nyquist LV et al (2002) Floor-rise strategy training in older adults. J Am Geriatr Soc 50:1702–1706

40.

Crotty M, Unroe K, Cameron ID et al (2010) Rehabilitation interventions for improving physical and psychosocial functioning after hip fracture in older people. In: Cochrane Database of Systematic Reviews [Internet]. Wiley, Ltd; 2010 [cited 2017 Jul 9]. http://onlinelibrary.wiley.com/doi/10.1002/14651858.CD007624.pub3/abstract

41.

Schwickert L, Boos R, Klenk J et al (2016) Inertial sensor based analysis of lie-to-stand transfers in younger and older adults. Sensors 16:1277

42.

Schwickert L, Oberle C, Becker C et al (2016) Model development to study strategies of younger and older adults getting up from the floor. Aging Clin Exp Res 28:277–287

43.

Gschwind YJ, Bridenbaugh SA, Kressig RW (2010) Gait disorders and falls. GeroPsych 23:21–32

44.

Hawley-Hague H, Horne M, Skelton DA et al (2016) Older adults' uptake and adherence to exercise classes: instructors' perspectives. J Aging Phys Act 24:119–128

45.

Nyman SR, Victor CR (2012) Older people's participation in and engagement with falls prevention interventions in community settings: an augment to the Cochrane systematic review. Age Ageing 41:16–23

46.

Kinn S, Galloway L (2000) Do occupational therapists and physiotherapists teach elderly people how to rise after a fall? Br J Occup Ther 63:254–259

47.

Simpson JM, Mandelstam H (1995) Elderly people at risk of falling: do they want to be taught how to get up again? Clin Rehabil 9:65–69

48.

Getting down to and up from the floor safely [Internet]. 2015 [cited 2019 Sep 24]. http://www.laterlifetraining.co.uk/wp-content/uploads/2015/08/Backward-ChainingS_A4.pdf
Ethics declarations
Conflict of interest
The authors declare that they have no conflict of interest regarding the publication of this paper.
Human and animal rights statement
This review does not contain any experiments involving human participants or animals performed by any of the authors.
Informed consent
For this review formal consent were not required.
Additional information
Publisher's Note
Springer Nature remains neutral with regard to jurisdictional claims in published maps and institutional affiliations.
Appendix
Appendix
Example Search Strategy for Medline:
1. "Accidental Falls"[Mesh] OR Fall* [tiab] OR Slip* [tiab]
AND
2. "Backward Chaining" [tiab] OR (Rise [tiab] AND Floor* [tiab]) OR "Get up" [tiab] OR "Stand up" [tiab] OR Lie-to-stand* [tiab]
NOT
3. (Infant [mh] OR Child [mh] OR Adolescent [mh] OR "Young Adult" [mh] OR "Middle Aged" [mh]) NOT aged [mh]
Search date: September 15th 2019
Number of hits on that date: 248
About this article
Cite this article
Leonhardt, R., Becker, C., Groß, M. et al. Impact of the backward chaining method on physical and psychological outcome measures in older adults at risk of falling: a systematic review. Aging Clin Exp Res (2020) doi:10.1007/s40520-019-01459-1
Received:

Accepted:

Published:
Keywords
Falls

Fall prevention

Backward chaining method

Older adults

Floor rise training