Abstract
The synchronic loss of bone mineral density and decrease in muscle mass, strength, and function defines the scenario of osteosarcopenia, which is associated with an increased risk of falls and fractures in older adults. An important role in preventing muscle and bone loss is played by nutritional factors, in particular the intake of proteins, calcium, magnesium and vitamin D. This review summarizes the available literature concerning the influence of protein intake and supplementation (vitamin D, Ca, Mg, branched-chain amino acids) on the decline of musculoskeletal integrity in healthy older adults. Furthermore, in this paper, we attempted to give some suggestions to build up adequate nutritional and dietary strategies against the age-related loss of muscle and bone mass.
Access options
Buy single article
Instant access to the full article PDF.
US$ 39.95
Tax calculation will be finalised during checkout.
Subscribe to journal
Immediate online access to all issues from 2019. Subscription will auto renew annually.
US$ 79
Tax calculation will be finalised during checkout.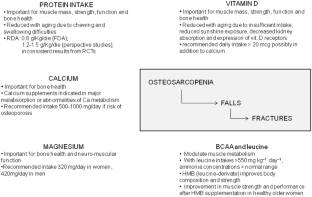 References
1.

Crepaldi G, Maggi S (2005) Sarcopenia and osteoporosis: a hazardous duet. J Endocrinol Investig 28:66–68

2.

Witard OC, Ball D (2017) The interaction between nutrition and exercise for promoting health and performance. Proc Nutr Soc 19:1–3. https://doi.org/10.1017/S0029665117001100

3.

Volkert D (2011) The role of nutrition in the prevention of sarcopenia. Wien Med Wochenschr 161:409–415. https://doi.org/10.1007/s10354-011-0910-x

4.

Moran DS, McClung JP, Kohen T et al (2013) Vitamin d and physical performance. Sports Med 43:601–611

5.

Boirie Y, Morio B, Caumon E et al (2014) Nutrition and protein energy homeostasis in elderly. Mech Ageing Dev 136–137:76–84

6.

Caroli A, Poli A, Ricotta D et al (2011) Invited review: dairy intake and bone health: a viewpoint from the state of the art. J Dairy Sci 94:5249–5262

7.

Veronese N, Berton L, Carraro S et al (2014) Effect of oral magnesium supplementation on physical performance in healthy elderly women involved in a weekly exercise program: a randomized controlled trial. Am J Clin Nutr 100:974–981

8.

Rasmussen B, Gilbert E, Turki A et al (2016) Determination of the safety of leucine supplementation in healthy elderly men. Amino Acids 48:1707–1716

9.

Luckose F, Pandey MC, Radhakrishna K (2015) Effects of amino acid derivatives on physical, mental, and physiological activities. Crit Rev Food Sci Nutr 55:1793–1807

10.

Binkley N, Buehring B (2009) Beyond FRAX: it's time to consider "sarco-osteopenia". J Clin Densitom 12:413–416

11.

Hirschfeld HP, Kinsella R, Duque G (2017) Osteosarcopenia: where bone, muscle, and fat collide. Osteoporos Int. https://doi.org/10.1007/s00198-017-4151-8

12.

Bruyère O, Cavalier E, Reginster JY (2017) Vitamin D and osteosarcopenia: an update from epidemiological studies. Curr Opin Clin Nutr Metab Care. https://doi.org/10.1097/MCO.0000000000000411

13.

Di Monaco M, Vallero F, Di Monaco R et al (2011) Prevalence of sarcopenia and its association with osteoporosis in 313 older women following a hip fracture. Arch Gerontol Geriatr 52:71–74

14.

Huo YR, Suriyaarachchi P, Gomez F et al (2015) Comprehensive nutritional status in sarco-osteoporotic older fallers. J Nutr Health Aging 19:474–480

15.

Yu R, Leung J, Woo J (2014) Sarcopenia combined with FRAX probabilities improves fracture risk prediction in older Chinese men. J Am Med Dir Assoc 15:918–923

16.

Isaacson J, Brotto M (2014) Physiology of mechanotransduction: how do muscle and bone "Talk" to one another? Clin Rev Bone Miner Metab 12:77–85

17.

Reginster JY, Beaudart C, Buckinx F et al (2016) Osteoporosis and sarcopenia: two diseases or one? Curr Opin Clin Nutr Metab Care 19:31–36

18.

Drey M, Sieber CC, Bertsch T et al (2015) Osteosarcopenia is more than sarcopenia and osteopenia alone. Aging Clin Exp Res. https://doi.org/10.1007/s40520-015-0494-1

19.

Fukagawa NK (2013) Protein and amino acid supplementation in older humans. Amino Acids 44:1493–1509

20.

Appleton KM (2016) Barriers to and facilitators of the consumption of animal-based protein-rich foods in older adults. Nutrients 8:187

21.

Rui MD, Marini I, Bartolucci ML et al (2014) Pressure pain threshold of the cervico-facial muscles in healthy elderly people: the role of gender, age and dominance. Gerodontology. https://doi.org/10.1111/ger.12117

22.

Esmée L, Doets, Kremer S (2016) The silver sensory experience—a review of senior consumers' food perception, liking and intake. Food Qual Prefer 48:316–332

23.

Hildebrandt GH, Dominguez BL, Schork MA et al (1997) Functional units, chewing, swallowing, and food avoidance among the elderly. J Prosthet Dent 77:588–595

24.

Baugreet S, Hamill RM, Kerry JP (2017) Mitigating nutrition and health deficiencies in older adults: a role for food innovation? J Food Sci 82:848–855

25.

Toffanello ED, Inelmen EM, Imoscopi A et al (2013) Taste loss in hospitalized multimorbid elderly subjects. Clin Interv Aging 8:167–174

26.

Imoscopi A, Inelmen EM, Sergi G et al (2012) Taste loss in the elderly: epidemiology, causes and consequences. Aging Clin Exp Res 24:570–579

27.

Wolfe RR, Miller SL, Miller KB (2008) Optimal protein intake in the elderly. Clin Nutr 27:675–684

28.

Bauer J, Biolo G, Cederholm T et al (2013) Evidence-based recommendations for optimal dietary protein intake in older people: a position paper from the PROT-age study group. JAm Med Dir Assoc 14:542–559

29.

Timmerman KL, Volpi E (2008) Amino acid metabolism and regulatory effects in aging. Curr Opin Clin Nutr Metab Care 11:45–49

30.

Pedersen AN, Cederholm T (2014) Health effects of protein intake in healthy elderly populations: a systematic literature review. Food Nutr Res. https://doi.org/10.3402/fnr.v58.23364

31.

Lindeman RD, Tobin J, Shock NW (1985) Longitudinal studies on the rate of decline in renal function with age. J Am Geriatr Soc 33:278–285

32.

Gaffney-Stomberg E, Insogna KL, Rodriguez NR et al (2009) Increasing dietary protein requirements in elderly people for optimal muscle and bone health. J Am Geriatr Soc 57:1073–1079

33.

Cuenca-Sanchez M, Navas-Carrillo D, Orenes-Piňero E (2015) Controversies surrounding high-protein diet intake: satiating effect and kidney and bone health. Adv Nutr 6:260–266

34.

Leitzmann C (2014) Vegetarian nutrition: past, present, future. Am J Clin Nutr 100:496S–502S

35.

Inelmen EM, Gimenez GF, Gatto MR et al (2000) Dietary intake and nutritional status in Italian elderly subjects. Nutr Health Aging 4:91–101

36.

Massey LK (2003) Dietary animal and plant protein and human bone health: a whole foods approach. J Nutr 133:862S–865S

37.

Sahni S, Mangano KM, Hannan MT et al (2017) Dairy intake is protective against bone loss in older vitamin d supplement users: the Framingham study. Nutr 147:645–652

38.

Tucker KL (2014) Vegetarian diets and bone status. Am J Clin Nutr 100:329S–335S

39.

Mangels AR (2014) Bone nutrients for vegetarians. Am J Clin Nutr 100:469S–475S

40.

Martone AM, Lattanzio F, Abbatecola AM et al (2015) Treating sarcopenia in older and oldest old. Curr Pharm Des 21:1715–1722

41.

Janssen HC, Samson MM, Verhaar HJ (2002) Vitamin D deficiency, muscle function, and falls in elderly people. Am J Clin Nutr 75:611–615

42.

Bischoff-Ferrari HA, Dawson-Hughes B (2007) Where do we stand on vitamin D? Bone 41:S13–S19

43.

Rizzoli R, Boonen S, Brandi ML et al (2008) The role of calcium and vitamin D in the management of osteoporosis. Bone 42:246–249

44.

Wu H, Pang Q (2017) The effect of vitamin D and calcium supplementation on falls in older adults: a systematic review and meta-analysis. Orthopade. https://doi.org/10.1007/s00132-017-3446-y

45.

Avenell A, Mak JCS, O'Connell D (2014) Vitamin D and vitamin D analogues for preventing fractures in post-menopausal women and older men. Cochrane Database Syst Rev. https://doi.org/10.1002/14651858.CD000227.pub4

46.

Borack MS, Volpi E (2016) Efficacy and safety of leucine supplementation in the elderly. Nutrition 146:2625S–2629S

47.

Scientific EFSA Panel on Dietetic Products NaAN (2011) Opinion on the substantiation of a health claim related to vitamin D and risk of falling pursuant to Article 14 of Regulation (EC) No 1924/2006 EFSA J, vol 9, p 2382

48.

Cramer JT, Cruz-Jentoft AJ, Landi F et al (2016) Impacts of high-protein oral nutritional supplements among malnourished men and women with sarcopenia: a multicenter, randomized, double-blinded, controlled trial. J Am Med Dir Assoc 17:1044–1055

49.

Vaes AMM, Tieland M, de Regt MF et al (2017) Dose-response effects of supplementation with calcifediol on serum 25-hydroxyvitamin D status and its metabolites: a randomized controlled trial in older adults. Clin Nutr. https://doi.org/10.1016/j.clnu.2017.03.029

50.

Rizzoli R (2014) Dairy products, yogurts, and bone health. Am J Clin Nutr 99:1256S–1262S

51.

Reid IR, Bristow SM, Bolland MJ (2015) Calcium supplements: benefits and risks. J Intern Med 278:354–368

52.

Nieves JW (2005) Osteoporosis: the role of micronutrients. Am J Clin Nutr 81:1232S–1239S

53.

Inelmen EM, Gimenez GF, Gatto MR et al (2000) Dietary intake and nutritional status in Italian elderly subjects. J Nutr Health Aging 4:91–101

54.

Mahdavi-Roshan M, Ebrahimi M, Ebrahimi A (2015) Copper, magnesium, zinc and calcium status in osteopenic and osteoporotic post-menopausal women. Clin Cases Miner Bones Metab 12:18–21

55.

Veronese N, Stubbs B, Solmi M et al (2017) Dietary magnesium intake and fracture risk: data from a large prospective study. Br J Nutr 117:1570–1576

56.

Orchard TS, Larson JC, Alghothani N et al (2014) Magnesium intake, bone mineral density, and fractures: results from the Women's Health Initiative Observational Study. Am J Clin Nutr 99:926–933

57.

Mero A (1999) Leucine supplementation and intensive training. Sports Med 27:347–358

58.

Kim JS, Wilson JM, Lee SR (2010) Dietary implications on mechanisms of sarcopenia: roles of protein, amino acids and antioxidants. J Nutr Biochem 21:1–13

59.

Wu H, Xia Y, Jiang J et al (2015) Effect of beta-hydroxy-beta-methylbutyrate supplementation on muscle loss in older adults: a systematic review and meta-analysis. Arch Gerontol Geriatr 61:168–175

60.

Kuriyan R, Lokesh DP, Selvam S et al (2016) The relationship of endogenous plasma concentrations of β-hydroxy β-methyl butyrate (HMB) to age and total appendicular lean mass in humans. Exp Gerontol 81:13–18

61.

Berton L, Bano G, Carraro S et al (2015) Effect of oral beta-hydroxy-beta-methylbutyrate (HMB) supplementation on physical performance in healthy old women over 65 years: an open label randomized controlled trial. PLoS One 10:e0141757

62.

Pennings B, Boirie Y, Senden JM (2011) Whey protein stimulates postprandial muscle protein accretion more effectively than do casein and casein hydrolysate in older men. Am J Clin Nutr 93:997–1005

63.

Kramer IF, Verdijk LB, Hamer HM et al (2017) Both basal and post-prandial muscle protein synthesis rates, following the ingestion of a leucine-enriched whey protein supplement, are not impaired in sarcopenic older males. Clin Nutr 36:1440–1449
Funding
This study did not receive any funding.
Ethics declarations
Conflict of interest
The authors declare that they have no conflict of interest.
Statement of human and animal rights
This article does not contain any studies with human participants or animals performed by any of the authors.
Informed consent
Not applicable.
Additional information
Publisher's Note
Springer Nature remains neutral with regard to jurisdictional claims in published maps and institutional affiliations.
About this article
Cite this article
De Rui, M., Inelmen, E.M., Pigozzo, S. et al. Dietary strategies for mitigating osteosarcopenia in older adults: a narrative review. Aging Clin Exp Res 31, 897–903 (2019). https://doi.org/10.1007/s40520-019-01130-9
Received:

Accepted:

Published:

Issue Date:
Keywords
Sarcopenia

Osteoporosis

Osteosarcopenia

Older people

Protein intake

Calcium