Abstract
Background
Industrialization has led to more varied and attractive high-calorie foods. Health problems such as obesity and diabetes are partially attributed to eating-related self-regulation difficulties that may be caused by increasingly frequent cues for highly palatable foods. Research studies aim at understanding the factors underlying responses to food cues. This has led to the development of food stimuli databases. However, they present some limitations.
Objectives
This study aimed at providing a controlled set of pictures, including 40 food pictures with high- and low-calorie stimuli, matched with 40 non-food pictures. The second objective was to provide a ready-to-use database with normative data regarding responses and associations between demographic, anthropometric and eating-related characteristics, and picture ratings.
Participants
A sample of 264 participants rated the total set of pictures.
Measures
Attractiveness, arousal and palatability were assessed for each picture, as well as participant's current type of diet, BMI, hunger levels and eating behaviors (uncontrolled and emotional eating).
Results
Image characteristics (shape, colors, luminance) were comparable between food and matched non-food pictures. Positive correlations were found between hunger levels and attractiveness, arousal and palatability of food. Uncontrolled and emotional eating was positively correlated with high-calorie food palatability, and uncontrolled eating was positively correlated with high-calorie food attractiveness. Participants who did not report any specific diet rated high-calorie foods as more attractive and arousing, whereas vegan and vegetarian participants assessed low-calorie foods as more attractive and palatable.
Conclusion
The Food-Cal controlled set of picture database can be considered as a useful tool for experimental research.
Level of evidence
Level V, cross-sectional descriptive study.
This is a preview of subscription content, log in to check access.
Access options
Buy single article
Instant unlimited access to the full article PDF.
US$ 39.95
Price includes VAT for USA
Subscribe to journal
Immediate online access to all issues from 2019. Subscription will auto renew annually.
US$ 99
This is the net price. Taxes to be calculated in checkout.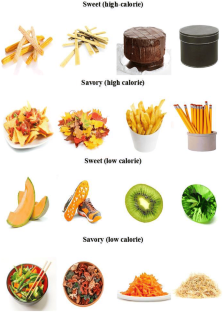 References
1.

Arce-Lopera C, Masuda T, Kimura A, Wada Y, Okajima K (2013) Luminance distribution as a determinant for visual freshness perception: evidence from image analysis of a cabbage leaf. Food Qual Preferences 27:202–207

2.

Ares G, Varela P (2018) Methods in consumer research, volume 2: alternative approaches and special applications. Elsevier, Cambridge

3.

Balleine BW (2005) Neural bases of food-seeking: affect, arousal, and reward in corticostriatolimbic circuits. Physiol Behav 86:717–730

4.

Blechert J, Meule A, Busch NA, Ohla K (2014) Food-pics: an image database for experimental research on eating and appetite. Front Psychol 5:617. https://doi.org/10.3389/fpsyg.2014.00617

5.

Boggiano MM, Chandler PC, Viana JB, Oswald KD, Maldonado CR, Wauford PK (2005) Combined dieting and stress evoke exaggerated responses to opioids in binge-eating rats. Behav Neurosci 119:1207–1214

6.

Cappelleri JC, Bushmakin AG, Gerber RA, Leidy NK, Sexton CC, Lowe MR, Karlsson J (2009) Psychometric analysis of the Three-Factor Eating Questionnaire-R21: results from a large diverse sample of obese and non-obese participants. Int J Obes 33:611–620. https://doi.org/10.1038/ijo.2009.74

7.

Cepeda-Benito A, Fernandez MC, Moreno S (2003) Relationship of gender and eating disorder symptoms to reported cravings for food: construct validation of state and trait craving questionnaires in Spanish. Appetite 40(1):47–54. https://doi.org/10.1016/S0195-6663(02)00145-9

8.

Charbonnier L, van Meer F, van der Laan LN, Viergever MA, Smeets PA (2016) Standardized food images: a photographing protocol and image database. Appetite 96:166–173. https://doi.org/10.1016/j.appet.2015.08.041

9.

de Lauzon B, Romon M, Deschamps V, Lafay L, Borys JM, Karlsson J et al (2004) The Three-Factor Eating Questionnaire-R18 is able to distinguish among different eating patterns in a general population. J Nutr 134:2372–2380

10.

Dinkel A, Berth H, Exner C, Rief W, Balck F (2005) German version of the Restraint Scale for the assessment of restrained eating. Diagnostica 51(2):67–74

11.

Foroni F, Pergola G, Argiris G, Rumiati RI (2013) The FoodCast research image database (FRIDa). Front Hum Neurosci 7:51. https://doi.org/10.3389/fnhum.2013.0005

12.

Foster MT, Warne JP, Ginsberg AB, Horneman HF, Pecoraro NC, Akana SF, Dallman MF (2009) Palatable foods, stress, and energy stores sculpt corticotropin-releasing factor, adrenocorticotropin, and corticosterone concentrations after restraint. Endocrinology 150(5):2325–2333. https://doi.org/10.1210/en.2008-1426

13.

Frank S, Laharnar N, Kullmann S, Veit R, Canova C, Hegner YL, Fritsche A, Preissl H (2010) Processing of food pictures: influence of hunger, gender, and calorie content. Brain Res 1350:159–166. https://doi.org/10.1016/j.brainres.2010.04.030

14.

Führer D, Zysset S, Stumvoll M (2008) Brain activity in hunger and satiety: an exploratory visually stimulated fMRI study. Obesity 16:945–950

15.

Genschow O, Reutner L, Wänke M (2012) The color red reduces snack food and soft drink intake. Appetite 58:699–702

16.

Giel KE, Friederich H-C, Teufel M, Hautzinger M, Enck P, Zipfel S (2011) Attentional processing of food pictures in individuals with anorexia nervosa: an eye-tracking study. Biol Psychiatry 69:661–667. https://doi.org/10.1016/j.biopsych.2010.09.047

17.

Goldstone AP, Prechtl de Hernandez CG, Beaver JD, Muhammed K, Croese C, Bell G, Durighel G, Hughes E, Waldman A, Frost G, Bell JD (2009) Fasting biases brain reward systems towards high-calorie foods. Eur J Neurosci 30(8):1625–1635. https://doi.org/10.1111/j.1460-9568.2009.06949.x

18.

Hagan MM, Chandler PC, Wauford PK, Rybak RJ, Oswald KD (2003) The role of palatable food and hunger as trigger factors in an animal model of stress induced binge eating. Int J Eat Disord 34:183–197

19.

Hoffman SR, Stallings SF, Bessinger RC, Brooks GT (2013) Differences between health and ethical vegetarians. Strength of conviction, nutrition knowledge, dietary restriction, and duration of adherence. Appetite 65:139–144. https://doi.org/10.1016/j.appet.2013.02.009

20.

Holsen LM, Lawson EA, Christensen K, Klibanski A, Goldstein JM (2014) Abnormal relationships between the neural response to high- and low-calorie foods and endogenous acylated ghrelin in women with active and weight-recovered anorexia nervosa. Psychiatry Res Neuroimaging 223:94–103. https://doi.org/10.1016/j.pscychresns.2014.04.015

21.

Houben K, Roefs A, Jansen A (2012) Guilty pleasures II: restrained eaters' implicit preferences for high, moderate, and low-caloric food. Eat Behav 13:275–277. https://doi.org/10.1016/j.eatbeh.2012.03.007

22.

Houwer JD, De Bruycker ED (2007) Implicit attitudes towards meat and vegetables in vegetarians and nonvegetarians. Int J Psychol 42(3):158–165. https://doi.org/10.1080/00207590601067060

23.

Kakoschke N, Kemps E, Tiggemann M (2014) Attentional bias modification encourages healthy eating. Eat Behav 15:120–124. https://doi.org/10.1016/j.eatbeh.2013.11.001

24.

Killgore WD, Young AD, Femia LA, Bogorodzki P, Rogowska J, Yurgelun-Todd DA (2003) Cortical and limbic activation during viewing of high- versus low-calorie foods. Neuroimage 19:1381–1394. https://doi.org/10.1016/S1053-8119(03)00191-5

25.

Killgore WD, Yurgelun-Todd DA (2010) Sex differences in cerebral responses to images of high- versus low-calorie food. NeuroReport 21:354–358. https://doi.org/10.1097/WNR.0b013e32833774f7

26.

Knebel JF, Toepel U, Hudry J, LeCoutre J, Murray MM (2008) Generating controlled image sets in cognitive neuroscience research. Brain Topogr 20:284–289

27.

Kroemer NB, Krebs L, Kobiella A, Grimm O, Pilhatsch M, Bidlingmaier M, Zimmermann US, Smolka MN (2013) Fasting levels of ghrelin covary with the brain response to food pictures. Addict Biol 18:855–862. https://doi.org/10.1111/j.1369-1600.2012.00489.x

28.

Meule A, Lutz A, Vögele C, Kübler A (2012) Women with elevated food addiction symptoms show accelerated reactions, but no impaired inhibitory control, in response to pictures of high-calorie food-cues. Eat Behav 13(4):423–428. https://doi.org/10.1016/j.eatbeh.2012.08.001

29.

Meule A, Vögele C (2013) The psychology of eating. Front Psychol 4:215. https://doi.org/10.3389/fpsyg.2013.00215

30.

Miccoli L, Delgado R, Guerra P, Versace F, Rodríguez-Ruiz S, Fernández-Santaella MC (2016) Affective pictures and the open library of affective foods (OLAF): tools to investigate emotions toward food in adults. PLoS ONE 11(8):e0158991. https://doi.org/10.1371/journal.pone.0158991

31.

Morris JS, Dolan RJ (2001) Involvement of human amygdala and orbitofrontal cortex in hunger-enhanced memory for food stimuli. J Neurosci 21:5304–5310

32.

Murdaugh DL, Cox JE, Cook EW, Weller RE (2012) fMRI reactivity to high-calorie food pictures predicts short- and long-term outcome in a weight-loss program. Neuroimage 59:2709–2721. https://doi.org/10.1016/j.appet.2011.11.029

33.

Nijs IM, Franken IH, Muris P (2008) Food cue-elicited brain potentials in obese and healthy-weight individuals. Eat Behav 9(4):462–470. https://doi.org/10.1016/j.eatbeh.2008.07.009

34.

Payson S (1994). Using historical information to identify consumer concerns about food safety, vol 1835. Technological Bulletin, US Department of Agriculture, pp 1–19

35.

Porubska K, Veit R, Preissl H, Fritsche A, Birbaumer N (2006) Subjective feeling of appetite modulates brain activity: an fMRI study. Neuroimage 32:1273–1280. https://doi.org/10.1016/j.neuroimage.2006.04.216

36.

Rogers PJ, Hill AJ (1989) Breakdown of dietary restraint following mere exposure to food stimuli: interrelationships between restraint, hunger, salivation, and food intake. Addict Behav 14:387–397

37.

Siep N, Roefs A, Roebroeck A, Havermans R, Bonte ML, Jansen A (2009) Hunger is the best spice: an fMRI study of the effects of attention, hunger, and calorie content on food reward processing in the amygdala and orbitofrontal context. Behav Brain Res 198:148–158. https://doi.org/10.1016/j.bbr.2008.10.035

38.

Simmons WK, Martin A, Barsalou LW (2005) Pictures of appetizing foods activate gustatory cortices for taste and reward. Cereb Cortex 15:1602–1608. https://doi.org/10.1093/cercor/bhi038

39.

Stockburger J, Renner B, Weike AI, Hamm AO, Schupp HT (2009) Vegetarianism and food perception. Selective visual attention to meat pictures. Appetite 52(2):513–516. https://doi.org/10.1016/j.appet.2008.10.001

40.

Toepel U, Knebel JF, Hudry J, le Coutre J, Murray MM (2009) The brain tracks the energetic value in food images. Neuroimage 44(3):967–974. https://doi.org/10.1016/j.neuroimage.2008.10.005

41.

Tryon MS, Carter CS, de Cant R, Laugero KD (2013) Chronic stress exposure may affect the brain's response to high calorie food cues and predispose to obesogenic eating habits. Physiol Behav 120:233–242. https://doi.org/10.1016/j.physbeh.2013.08.010

42.

Van der Laan LN, de Ridder DT, Viergever MA, Smeets PA (2011) The first taste is always with the eyes: a meta-analysis on the neural correlates of processing visual food cues. Neuroimage 55(1):296–303. https://doi.org/10.1016/j.neuroimage.2010.11.055

43.

Van Koningsbruggen GM, Veling H, Stroebe W, Aarts H (2014) Comparing two psychological interventions in reducing impulsive processes of eating behaviour: effects on self-selected portion size. Br J Health Psychol 19:767–782. https://doi.org/10.1111/bjhp.12075

44.

Wang Z, Bovik AC, Sheikh HR, Simoncelli EP (2004) Image quality assessment: from error visibility to structural similarity. IEEE Trans Image Process 13(4):600–612. https://doi.org/10.1109/tip.2003.819861

45.

Wang GJ, Volkow ND, Telang F, Jayne M, Ma J, Rao M, Zhu W, Wong CT, Pappas NR, Geliebter A, Fowler JS (2004) Exposure to appetitive food stimuli markedly activates the human brain. Neuroimage 21(4):1790–1797. https://doi.org/10.1016/j.neuroimage.2003.11.026
Ethics declarations
Conflict of interest
The authors declared that they had no conflicts of interest with respect to their authorship or the publication of this article.
Ethical approval
All procedures performed in the study were in accordance with the ethical standards of the institutional research committee and with the 1964 Helsinki declaration and its later amendments.
Informed consent
All participants signed an informed consent before completing the study.
Additional information
Publisher's Note
Springer Nature remains neutral with regard to jurisdictional claims in published maps and institutional affiliations.
This article is part of topical collection on Food and Addiction.
About this article
Cite this article
Shankland, R., Favre, P., Corubolo, D. et al. Food-Cal: development of a controlled database of high and low calorie food matched with non-food pictures. Eat Weight Disord 24, 1041–1050 (2019) doi:10.1007/s40519-019-00687-8
Received:

Accepted:

Published:

Issue Date:
Keywords
Picture database

High-calorie foods

Low-calorie foods

Controlled food pictures

Eating behaviors