Stem Cells, Scaffolds and Gene Therapy for Periodontal Engineering
Stem-cell Biology for Tooth and Periodontal Regeneration (M Bartold, Section Editor)
Abstract
The periodontium is continually exposed to a variety of challenges. Over the past decade, preclinical and clinical research has highlighted the complex modulatory role of the periodontal ligament (PDL) as a mediator of tissue repair and homeostasis. Experiments carried out in both human and animal models have highlighted the importance of the PDL as a protective structure. The unique properties of PDL cells endow this tissue with functional attributes that are not replicated by other biological systems. Furthermore, distinct PDL matricellular properties favor a synchronized molecular response to environmental challenges that supports normal dental and alveolar adaptation. Today, the mechanism by which periodontal integrity is restored and maintained is the focus of novel and innovative research. The ability to decipher the molecular mechanisms that support periodontal homeostasis, together with emerging science in biomaterials and stem cell biology, represents a unique opportunity to enhance the predictability of current regenerative surgical approaches and to develop novel treatment strategies for periodontal tissue engineering. This review will focus on the most recent available information concerning cells, gene delivery, and new scaffold technologies that are relevant in periodontal regeneration.
Keywords
Periodontal ligament 
Periodontal regeneration 
Periodontal engineering 
Tissue engineering 
Stem cells 
Introduction
The tooth-supporting apparatus is composed of the alveolar bone, the periodontal ligament (PDL), the cementum, and the gingiva. The periodontium is a highly specialized, adaptive, and dynamic tissue able to sustain different microbiological, inflammatory, and mechanical challenges through a number of complex molecular events [1]. Alterations of this equilibrium in the form of different periodontal diseases affect a significant percentage of the adult population [2, 3].
Periodontal regeneration has long been the ultimate goal in periodontal therapy [
4
]. However, treating and re-establishing the diseased periodontium's original structure, properties, and function constitute a significant challenge [
5
]. Different approaches have been proposed, but the amount of regenerated tissue is oftentimes limited and difficult to predict. By definition, periodontal regeneration implies the regeneration of the cementum, periodontal ligament, alveolar bone in a specific temporal sequence and spatial distribution is based on a number of essential factors (Fig. 
1
) [
6
,
7
,
8
,
9
].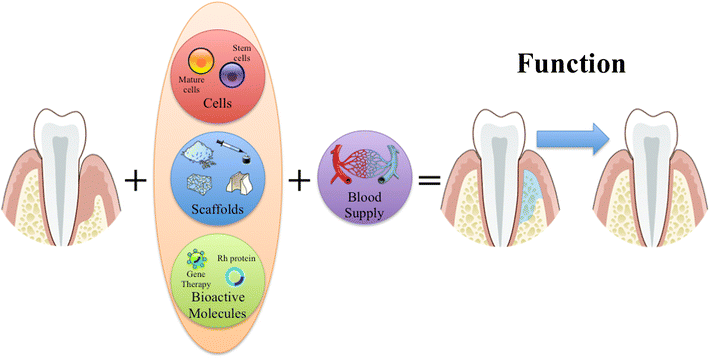 Although the exact cellular and molecular events are still not clear, we know that specific cells must first migrate to the healing area and proliferate to provide the machinery needed for the new tissue to grow and differentiate. This process is mediated and coordinated by soluble factors, many cell types, extracellular matrix (ECM), and matricellular proteins. Ideally, scaffolds will provide a three-dimensional template structure to support and facilitate these processes. Angiogenic signals and new vascular networks provide the nutritional base for tissue growth and homeostasis, after which normal mechanical stimuli will increase to promote an organized ECM synthesis as well as cementum and bone formation and maturation. Once those structures are established, PDL fibers become organized and connect the tooth to the alveolar bone. Finally, because of the microbial load at the periodontal area, strategies to control infection and host response are required to optimize periodontal regeneration [8, 9, 10].
This paper focuses on key concepts and the most recently published information in periodontal engineering (2012–2013) concerning early-stage cell and gene delivery by new scaffold technologies. The discussion focuses primarily on three important aspects: 1) cell-based therapy, 2) scaffold fabrication technologies, and 3) gene therapy in periodontal engineering.
Cells for Periodontal Regeneration
Generally, cell therapy involves the transfer of new cells into a tissue to treat diseases or disorders. In regenerative medicine, cells are used to improve the regeneration process by promoting new tissue growth and differentiation [11]. They can be delivered as either promoters of multiple cell types needed in the regeneration process or as carriers to deliver different types of molecules, either directly or by gene therapy [12]. In the context of periodontal regeneration, cells seeded into periodontal defects should be easy to harvest, non-immunogenic, and highly proliferative, and should have the ability to differentiate into various types of cells comprising periodontal tissue [13].
Different types of cells – either mature or stem cells – from both extraoral and intraoral origins have been proposed for periodontal regeneration (Table 
1
, adapted from [
9
]). During the last year, important advances have occurred in terms of new strategies to obtain these cells as well as a description of some special properties of particular interest in periodontal regeneration. This includes not only ease of access to the cells, but also initial in vivo applications that demonstrate very promising results. In that context, it is very interesting that the gingiva contains mesenchymal stem cells [GMSC) [
14
,
15
,
16
,
17
,
18
,
19
]. These cells are both mesoderm- and neural crest-derived, the latter showing an increased capacity to differentiate to neural cells and chondrocytes, as well as to modulate immune cells, when compared to the other [
20
]. This is of special relevance since neural crest cells, as a transient, migratory, multipotent cell population, participate in the embryonic development of most dental tissues, including the gingiva, dental follicle, periodontal ligament, and alveolar bone, which are, in fact, sources of adult stem cells as well [
21
]. Mesenchymal stem cells have been also generated from human foreskin iPSC (induced pluripotent stem cells). These cells exhibit the capacity to regenerate periodontal tissues in a rat periodontal defect model [
22
••]. Other studies have confirmed the possibility of obtaining mesenchymal stem cells from alveolar bone marrow by slow minimally-irrigated osteotomy [
23
] or Bichat's fat pad [
24
].
Table 1
Types and uses of cells in periodontal regeneration (9)
Cell type

Origin

Defect type

Bone marrow stromal cells

Autograft

Class III defects

Periodontal fenestration

Osteotomy

Adipose stromal cells

Autograft

Periodontal palatal defects

Periodontal ligament cells

Autograft

Class II defects

Periodontal fenestration

Allograft/Xenograft

Periodontal fenestration

Periodontal ligament stem cells

Allograft

Ectopic

Periodontal fenestration

Autograft

Periodontal defects

Cementoblasts

Allograft

Ectopic

Periodontal fenestration

Dental follicle cells

Allograft

Ectopic

Periodontal fenestration
More and more reports are showing the utility of periodontal ligament stem cells (PDL-SC) for periodontal regeneration [25, 26]. These cells can be effectively isolated from the PDL and are capable of forming cementum and periodontal ligament tissues upon in vivo transplantation, as described almost a decade ago with human cells transplanted into a mouse model [27]. Such potential has been confirmed recently in a dog model, which could be used as another periodontal regeneration large-animal model [28].
The regenerative potential of PDL-SC has classically been assessed in acute rat fenestration models, where transplanted cells are carried by a collagen sponge [29]. Other approaches include chronic class II/III defects (created sometime prior to or concurrently with the regenerative procedure). These studies are usually performed in dogs. Within the last year, a report has confirmed no superiority in class II periodontal regeneration when comparing autogenous cortical bone (ACB), ACB + PRP (platelet rich plasma), or a combination of PRP + MSCs [30]. However, the lack of a MSCs + ACB + PRP group in this particular study skews the comparison. In other cases, the addition of PDL cells makes the regeneration process more effective, especially in combination with collagen sponges and collagen membranes in class III defects [31].
More recently, efforts in periodontal regeneration have begun to utilize cell sheet engineering. The principle of cell sheet engineering is based on the capacity of cells to attach and proliferate on a temperature-responsive polymer surface (usually poly(N-isopropylacrylamide) or PIPAAm). When the cell sheet has grown, cells with extracellular matrix proteins spontaneously detach from the culture dishes by lowering the temperature [32]. This approach is even being used in a clinical study with autologous PDL cells (http://upload.umin.ac.jp/cgi-open-bin/ctr/ctr.cgi?function=brows&action=brows&type=summary&recptno=R000005979&language=E). New developments include the possibility of configuring multilayered cell sheets that could carry not only different layers of cells but also abundant extracellular matrix, which would eliminate the adverse effect of cell carriers. The approach was recently tested in a rodent animal model and showed a clear superiority over monolayer cell design [33••].
Mesenchymal stem cells derived from the PDL have been studied more extensively, although it is important to note that some reports are promoting the use of other intraoral sources such as the gingiva. While the potential to differentiate into multiple cell lineages and generate new bone ectopically is more effectively achieved using PDLSCs, some authors highlight drawbacks such as limited cell availability and reduced clinical applicability (sacrifice of a tooth to obtain stem/progenitor cells from their dental pulp or periodontal ligament) [34, 35]. Gingival-derived stem cells have been effectively applied in a recent miniature pig periodontal regeneration study [35]. The combination of autologous gingival-derived stem cells loaded in a scaffold showed better regeneration outcomes (higher changes in clinical attachment level, probing depth, gingival recession, histological attachment level, and lower junctional epithelium length and connective tissue adhesion) compared with unloaded scaffolds and negative controls. Interestingly, this study initially induced periodontal defects over a period of 4 weeks, which indicates some advantage over an acute intrasurgically created defect.
Delivery of Cells for Periodontal Engineering
There are various cell delivery methods in periodontal engineering applications (Table 
2
, adapted from [
36
]). In general, scaffolds are used in tissue regeneration to provide and maintain the necessary space for the cells to grow and to physically support the regeneration process. They should 1) provide a three-dimensional architecture that supports a desired volume, shape, and mechanical strength; 2) have a high porosity and surface-to-volume ratio, with a well-interconnected open-pore structure to promote high seeding density and to embrace bioactive molecules; 3) be biocompatible; and 4) degrade at a controlled rate and pattern that allows sufficient support until tissue defects are fully regrown [
37
].
Table 2
Types and uses of biomaterial in periodontal engineering (36)
Biomaterial-free

Biomaterial-assisted

Biomaterial-based

Cell suspension

Natural origin

Injectable (soft scaffolds)

Cell sheet engineering

Synthetic polymers

Solid biomaterials

Cell pellets or microtissues

Ceramics

Microencapsulation

Growth factor

ECM-composed
As mentioned above, scaffolds classically consist of random collagen sponges. However, extensive studies in scaffold engineering have been conducted in recent years, and scaffolds can be combined with cell- or gene-based approaches to serve as supportive carriers conducting a sustained release of bioactive factors, thereby inducing stimuli for tissue formation [9]. Bioactive molecules such as growth factors may also be encapsulated into nanoparticles and microparticles to aid in their sustained release from scaffolds. Other approaches include mimicking stem cell niches to regulate daughter cell proliferation, differentiation, and dispersion into surrounding tissue or attracting useful cells to a desired anatomic site [9, 38]. The feasibility to establish a three-dimensional polarity in scaffolding design constitutes an important advance in creating biomimetic scaffold surfaces that can be applied in gene and cell therapy strategies [39]. Several other scaffold fabrication technologies have been used recently, including conventional prefabricated scaffolds such as particulate, solid form, and injectable scaffolds. Regardless of scaffold form, their purpose is the same, which is to influence the environment where they are implanted to promote a better outcome [40, 41].
Conventional scaffolds are usually prefabricated from both natural and synthetic polymeric materials. Naturally derived scaffolds include autografts, allografts, and xenografts. Ceramics are another form of naturally derived scaffolds, most commonly used in bone regeneration and implant therapy [42]. Alloplasts and other polymers are synthetically engineered materials consisting of bioactive molecules that serve a purpose similar to that of natural scaffolds.
Delivery of Molecules in Periodontal Engineering
The delivery of different molecules, mainly growth factors [
71
], was the first approach in using a biological agent modifier for periodontal regeneration purposes. Because periodontal regeneration requires these molecules, it is very important to identify them to benefit periodontal engineering. Some are successfully being used in clinical studies [
72
]. They can be delivered either by recombinant products or gene therapy [
64
,
73
]. Furthermore, gene therapy can be performed by directly delivering the infecting agent or by an indirect or cell-based delivery approach [
9
]. Table 
3
shows various viral and non-viral gene therapy vectors used in tissue engineering (adapted from [
9
]).
Table 3
Viral and non-viral gene therapy vectors used in tissue engineering (9)
Vector

Type

Advantages

Disadvantages

Retrovirus

Viral

Non-immunogenic

Infects only dividing cells

Constitutive transgene expression

Insertional mutagenesis

Lentivirus

Viral

Infects dividing and non-dividing cells

Insertional mutagenesis

Infects wide range of cell types

Potential pathogenicity

Low immune response

Complex large-scale preparation

Adenovirus

Viral

Infects dividing and non-dividing cells

Potential immunogenicity

Does not integrate into target cell genome

Transient expression

Adeno-associated virus

Viral

Infects dividing and non-dividing cells

Difficult to produce at high titers

Low immunogenicity

Small transgenes

Non-pathogenic in human

Plasmid

Non-viral

Non-immunogenic

Low transduction efficiency

Non-pathogenic

DNA polymer complexes

Non-viral

Infects dividing and non-dividing cells

Low transduction efficiency

Cell-specific targeting
Gene therapy can be defined as the treatment of disease or disorder by transferring genetic materials to introduce, suppress, or manipulate specific genes that direct an individual's own cells to produce a therapeutic agent [9]. Gene therapy has several advantages over traditional treatments, the first of which is greater sustainability than that of a single protein or compound application. Whereas the half-lives of pharmaceutical compounds or recombinant protein usually range from several hours to several days, viral vector genes can be expressed in vivo from weeks to years. Secondly, gene delivery reduces technical challenges associated with ex vivo protein expression and purification such as palmitoylation and glycosylation. Third, transient and controlled delivery of genetic sequences encoding a combinatorial group of regenerative factors could mimic the natural biologic healing response. And, fourth, coupled with tissue-engineering strategies, gene delivery in a spatially controlled and bioavailable fashion offers strong potential for three-dimensional tissue regeneration at the tooth-ligament-bone interface [9].
Various in vitro and ex vitro studies have suggested that PDGF (platelet-derived growth factor), FGF (fibroblast growth factor), IGF (insulin growth factor), BMP (bone morphogenic protein), and other growth factors are able to strongly stimulate periodontal regeneration, including both bone and cementum ([71].
Future Directions in Periodontal Engineering
As discussed in this review, many different approaches and biologic agents are being studied in the area of periodontal engineering. The major challenge today remains the timely organization of the sequence of events that must happen with the healing area in order to promote the cells that are needed at each precise moment and without compromising normal cell function. New materials and signaling molecules – whether delivered by gene therapy or not – are therefore of great interest. Additional evidence and practice standardization are still needed in order to satisfy the regulatory requirements to apply these technologies in the clinical scenario. It is necessary to understand differences in the regenerative process between chronic periodontal pathology and other defects such as implant sites, extraction sockets, etc. The application of periodontal engineering, therefore, requires a thorough understanding of the homeostasis and pathogenesis of these defects.
Conclusions
Periodontal regeneration based on tissue engineering approaches has a solid background for clinical application in human periodontal defects. The cell-based, scaffold, and gene therapy methods interface and complement each other. However, some of these therapies are still at the preclinical level. In the near future, the success of periodontal regeneration will undoubtedly be conditioned on the ability to correctly diagnose clinical situations where these techniques can be predictably applied.
Notes
Acknowledgments
The authors would like to thank Sarah Volk for her assistance in editing this manuscript. The authors receive funding support from the TALENTIA Scholarship Program and Research Group CTS #583 (Junta de Andalucía, Spain) (MPM) and the NIH/NIDCR DE019872 (HR). The authors declare no financial interest in any of the products listed in this review.
Compliance with Ethics Guidelines
ᅟ
Conflict of Interest
Dr. Miguel Padial-Molina received a grant from NIH.
Dr. Hector F. Rios reported no potential conflicts of interest relevant to this article.
Human and Animal Rights and Informed Consent
This article does not contain any studies with human or animal subjects performed by any of the authors.
References
Papers of particular interest, published recently, have been highlighted as: • Of importance •• Of major importance
Copyright information
© Springer International Publishing AG 2013