Characterizing robustness and sensitivity of convolutional neural networks for quantitative analysis of mitochondrial morphology
Abstract
Background
Quantitative analysis of mitochondrial morphology plays important roles in studies of mitochondrial biology. The analysis depends critically on segmentation of mitochondria, the image analysis process of extracting mitochondrial morphology from images. The main goal of this study is to characterize the performance of convolutional neural networks (CNNs) in segmentation of mitochondria from fluorescence microscopy images. Recently, CNNs have achieved remarkable success in challenging image segmentation tasks in several disciplines. So far, however, our knowledge of their performance in segmenting biological images remains limited. In particular, we know little about their robustness, which defines their capability of segmenting biological images of different conditions, and their sensitivity, which defines their capability of detecting subtle morphological changes of biological objects.
Methods
We have developed a method that uses realistic synthetic images of different conditions to characterize the robustness and sensitivity of CNNs in segmentation of mitochondria. Using this method, we compared performance of two widely adopted CNNs: the fully convolutional network (FCN) and the U-Net. We further compared the two networks against the adaptive active-mask (AAM) algorithm, a representative of high-performance conventional segmentation algorithms.
Results
The FCN and the U-Net consistently outperformed the AAM in accuracy, robustness, and sensitivity, often by a significant margin. The U-Net provided overall the best performance.
Conclusions
Our study demonstrates superior performance of the U-Net and the FCN in segmentation of mitochondria. It also provides quantitative measurements of the robustness and sensitivity of these networks that are essential to their applications in quantitative analysis of mitochondrial morphology.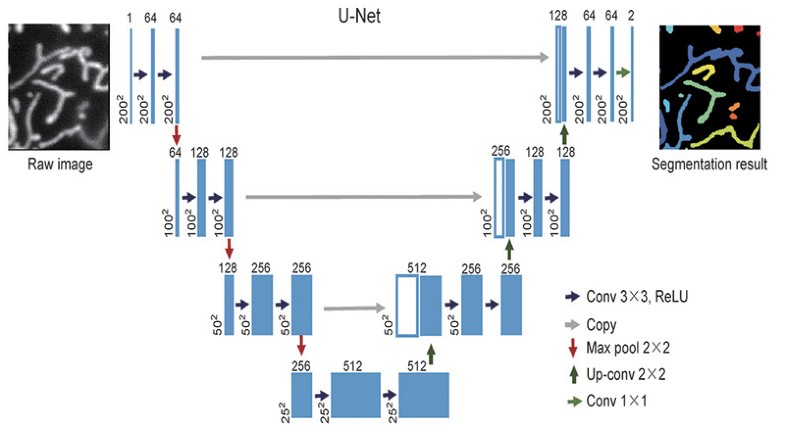 Keywords
convolutional neural network 
mitochondrial morphology 
image segmentation 
robustness 
sensitivity 
Notes
Acknowledgements
Xiaoqi Chai acknowledges support of a Ji-Dian Liang Graduate Research Fellowship. Qinle Ba acknowledges support of a Bertucci Graduate Research Fellowship. Ge Yang acknowledges support of NSF CAREER grant DBI-1149494 and NSF grant CBET-1804929. The authors would also like to thank Yile Feng and Weicheng Lin for their technical assistance.
Copyright information
© Higher Education Press and Springer-Verlag GmbH Germany, part of Springer Nature 2018