Abstract
Purpose
Point-of-care ultrasound (POCUS) has been shown to have unique potential in low-income countries. Physicians and other healthcare providers can perform effective scans after a short period of training. This study aimed to evaluate indications and utility of ultrasonography as the main imaging service in a poor rural sub-Saharan region of Africa. Second, it evaluated the effect of a short training on POCUS for non-physician health providers and their agreement with a group of Italian physicians.
Methods
This study was undertaken in Lokomasama—a chiefdom of Sierra Leone—between January and February 2019. Based on clinical indications, ultrasound findings were evaluated with respect to the initial diagnostic hypothesis. Volunteer doctors conducted a theoretical–practical training of two community health officers (CHO) on chest and abdominal POCUS and E-FAST protocol. The evaluation of the achieved technical skills was obtained with a numeric score. Inter-observer agreement concerning ultrasound diagnosis based on clinical indications was assessed.
Results
A total of 196 consecutive patients underwent ultrasound examination. POCUS findings were in keeping with the clinical diagnosis in the 49.5%. POCUS changed the initial diagnosis in 17% of cases. After training, E-FAST and POCUS knowledge score was 90% and 83%, respectively. An excellent inter-observer agreement (0.88) was found between CHOs and physicians.
Conclusion
POCUS represents a powerful diagnostic tool in a low-income country that may improve the patient management. Training of non-physician health providers is doable and may improve healthcare management in resource-limited settings.
This is a preview of subscription content, log in to check access.
Access options
Buy single article
Instant unlimited access to the full article PDF.
US$ 39.95
Price includes VAT for USA
Subscribe to journal
Immediate online access to all issues from 2019. Subscription will auto renew annually.
US$ 99
This is the net price. Taxes to be calculated in checkout.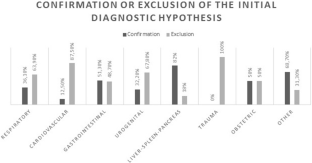 References
1.

Mindel S (1997) Role of imager in developing world. Lancet 350(9075):426–429

2.

Wanjiku GW, Bell G, Wachira B (2018) Assessing a novel point-of-care ultrasound training program for rural healthcare providers in Kenya. BMC Health Serv Res 18:607

3.

Rao P, Joseph D (2019) Africa wired: portable ultrasound device to tackle child mortality. Africa renewal online. https://www.un.org/africarenewal/magazine/december-2016-march-2017/africa-wired-portable-ultrasound-device-tackle-child-mortality. Accessed 28 Sept 2019

4.

Becker DM, Tafoya CA, Becker SL, Kruger GH, Tafoya MJ, Becker TK (2016) The use of portable ultrasound devices in low- and middle-income countries: a systematic review of the literature. Trop Med Int Health 21(3):294–311

5.

Kotlyar S, Moore CL (2008) Assessing the utility of ultrasound in Liberia. J Emerg Trauma Shock 1(1):10–14

6.

Shah SP et al (2009) Impact of the introduction of ultrasound services in a limited resource setting: rural Rwanda 2008. BMC Int Health Hum Rights 9:4

7.

Moore CL, Copel JA (2011) Point-of-care ultrasonography. N Engl J Med 364:749–757. https://doi.org/10.1056/NEJMra0909487

8.

Sippel S et al (2011) Review article: use of ultrasound in the developing world. Int J Emerg Med 4:72

9.

Flick D (2016) Bedside ultrasound education in primary care. J Ultrasound Med 35:1369–1371. https://doi.org/10.7863/ultra.15.08073

10.

Robertson TE, Levine AR, Verceles AC, Buchner JA, Lantry JH, Papali A et al (2017) Remote tele-mentored ultrasound for non-physician learners using FaceTime: a feasibility study in a low-income country. J Crit Care. https://doi.org/10.1016/j.jcrc.2017.03.028

11.

World Health Organization (1985) Future use of new imaging technologies in developing countries. Report of a WHO Scientific Group. World Health Organ Tech Rep Ser 723:1–67

12.

Kolbe Nina et al (2015) Point of care ultrasound (POCUS) telemedicine project in rural Nicaragua and its impact on patient management. J Ultrasound 18:179–185. https://doi.org/10.1007/s40477-014-0126-1

13.

Rikjen MJ et al (2009) Obstetric ultrasound scanning by local health workers in a refugee camp on the Thai–Burmese border. Ultrasound Obstet Gynecol 34:395–403

14.

Soldati G, Demi M (2017) The use of lung ultrasound images for the differential diagnosis of pulmonary and cardiac interstitial pathology. J Ultrasound 20:91–96

15.

Orso D, Ban A, Guglielmo N (2018) Lung ultrasound in diagnosing pneumonia in childhood: a systematic review and meta-analysis. J Ultrasound 21:183–195
Acknowledgements
We would like to acknowledge all the local staff (CHW, nurses, and CHO) of "Love Bridges Health Center" in Lokomasama and of "Bureh Town Community Health Center." We would like to thank Surf4Children Onlus, which supported this no-profit project. We also are thankful with Dr. Shane O'Connor for English revision.
Ethics declarations
Conflict of interest
All the authors declare that they have no conflict of interest.
Ethical statement
The study involves human participants, but no invasive procedures have been performed.
Informed consent
Written informed consent has been obtained from all participants or caregivers.
Additional information
Publisher's Note
Springer Nature remains neutral with regard to jurisdictional claims in published maps and institutional affiliations.
About this article
Cite this article
Sabatino, V., Caramia, M.R., Curatola, A. et al. Point-of-care ultrasound (POCUS) in a remote area of Sierra Leone: impact on patient management and training program for community health officers. J Ultrasound (2020). https://doi.org/10.1007/s40477-019-00426-w
Received:

Accepted:

Published:
Keywords
POCUS

Training

Ultrasound

Sub-Saharan Africa