Abstract
Dunbar syndrome, also known as median arcuate ligament syndrome, is a rare clinical condition due to the external compression of the celiac trunk by the median arcuate ligament causing abdominal angina. We report a case of Dunbar syndrome and its borderline imaging findings focused on the crucial diagnostic role of color-Doppler ultrasound. We also reviewed the current literature, delineating the clinical manifestations and the diagnostic workup of the Dunbar syndrome with the objective to increase the knowledge of this clinical entity as a cause of postprandial abdominal pain and to underline the pivotal role of color-Doppler ultrasound to avoid incorrect or delayed diagnosis.
This is a preview of subscription content, log in to check access.
Access options
Buy single article
Instant unlimited access to the full article PDF.
US$ 39.95
Price includes VAT for USA
Subscribe to journal
Immediate online access to all issues from 2019. Subscription will auto renew annually.
US$ 99
This is the net price. Taxes to be calculated in checkout.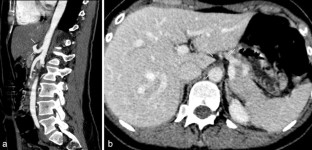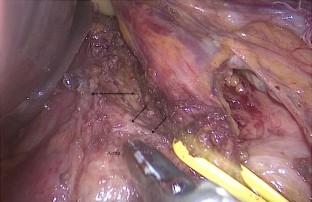 References
1.

Torres O, Pereira Gama-Filho O, Torres C, Medeiros R et al (2017) Laparoscopic treatment of Dunbar syndrome: a case report. Int J Surg Case Rep 37:230–232. https://doi.org/10.1016/j.ijscr.2017.06.056

2.

Rubinkiewicz M, Ramakrishnan PK, Henry BM, Roy J, Budzynski A (2015) Laparoscopic decompression as treatment for median arcuate ligament syndrome. Ann R Coll Surg Engl 97:e96–e99. https://doi.org/10.1308/rcsann.2015.0025

3.

Dunbar JD, Molnar W, Beman FF, Marable SA (1965) Compression of celiac trunkand abdominal angina. Am J Roentgenol Radium Ther Nucl Med 95:731–744

4.

Harjola PT (1963) A rare obstruction of the coeliac artery; report of case. Ann Chir Gynecol Fenn 52:547–550

5.

Duran M, Simon F, Ertas N, Schelzig H et al (2017) Open vascular treatment of median arcuate ligament syndrome. BMC Surg 17(1):95. https://doi.org/10.1186/s12893-017-0289-8

6.

Kim EN, Lamb K, Relles D, Moudgill N, Di Muzio PJ, Eisenberg JA (2016) Median arcuate ligament syndrome-review of this rare disease. JAMA Surg 151(5):471–477. https://doi.org/10.1001/jamasurg.2016.0002

7.

Lambda R, Tanner DT, Sekhon S, McGahan JP, Corwin MT, Lall CG (2014) Multidetector CT of vascular compression syndromes in the abdomen and pelvis. Radiographics 34:93–115. https://doi.org/10.1148/rg.341125010

8.

Sunkara T, Caughey ME, Zhen KC, Chiong B, Gaduputi V (2017) Dunbar syndrome-A rare cause of foregut ischemia. J Clin Diagn Res 11(7):OD13–OD14. https://doi.org/10.7860/jcdr/2017/28142.10267)

9.

Coelho J, Silva J, Domingos M, Paulin J et al (2015) Laparoscopic treatment of celiac axis compression syndrome: case report. ABCD Arq Bras Cir Dig. 28(4):295. https://doi.org/10.1590/S0102-6720201500030020

10.

Bobadilla JL (2013) Mesenteric ischemia. Surg Clin North Am 93(4):925–940. https://doi.org/10.1016/j.suc.2013.04.002

11.

Michalik M, Dowgiałło-Wnukiewicz N, Lech P, Majda K, Gutowski P (2016) Hybrid (laparoscopy + stent) treatment of celiac trunk compression syndrome (Dunbar syndrome, median arcuate ligament syndrome (MALS). Videosurgery Miniinv 11(4):236–239. https://doi.org/10.5114/wiitm.2016.64070

12.

Bjorck M, Koelemay M, Acosta S et al (2017) Editor's choice– management of the diseases of mesenteric arteries and veins: clinical practice guidelines of the European Society of Vascular Surgery (ESVS). Eur J Vasc Endovasc Surg 53:460–510. https://doi.org/10.1016/j.ejvs.2017.01.010

13.

Gander S, Mulder DJ, Jones S, Ricketts JD, Soboleski DA, Justinich CJ (2010) Recurrent abdominal pain and weight loss in an adolescent: celiac arterycompression syndrome. Can J Gastroenterol 24:91–93. https://doi.org/10.1155/2010/534654

14.

Karavelioglu Y, Kalcik M, Sarak T (2014) Dunbar Syndrome as an unusual case of exercise-induced retrosternal pain. Arch Turk Soc Cardiol 43(5):465–476. https://doi.org/10.5543/tkda.2015.52563

15.

Horton MK, Talamini MA, Fishman EK (2005) Median arcuate ligament syndrome: evaluation with CT angiography. RadioGraphics 25:1177–1182. https://doi.org/10.1148/rg.255055001

16.

Ozel A, Toksoy G, Ozdogan O et al (2012) Ultrasonographic diagnosis of median arcuate ligament syndrome: a report of two cases. Med Ultrason 14:154–157

17.

Aswani Y, Thakkar H, Anandpara KM (2015) Imaging in median arcuate ligament syndrome. BMJ Case Rep. https://doi.org/10.1136/bcr-2014-207856

18.

Gruber H, Loizides A, Peer S, Gruber I (2012) Ultrasound of the median arcuate ligament syndrome: a new approach to diagnosis. Med Ultrason 14:5–9

19.

Erden A, Yurdakul M, Cumhur T (1999) Marked increase in flow velocities during deep expiration: a duplex Doppler sign of celiac artery compression syndrome. Cardiovasc Intervent Radiol 22:331–333

20.

Wolfman D, Bluth EI, Sossaman J (2003) Median arcuate ligament syndrome. J Ultrasound Med 22:1377–1380

21.

Ferrara D, Esposito F, Blasio R et al (2018) Role of color Doppler ultrasound in the early diagnosis of a major complication after percutaneous renal biopsy: two case reports. J Ultrasound 21(4):343–349. https://doi.org/10.1007/s40477-018-0326-1

22.

Youssef AT (2018) Intrauterine arterial pseudoaneurysm, a rare cause of per vaginal bleeding. J Ultrasound 21(4):333–337. https://doi.org/10.1007/s40477-018-0295-4

23.

Di Serafino M, Verde F, Ferro F et al (2019) Ultrasonography of the pediatric spleen: a pictorial essay. J Ultrasound 22(4):503–512. https://doi.org/10.1007/s40477-018-0341-2

24.

Wang XM, Hua XP, Zheng GL (2018) Celiac artery compression syndrome evaluated with 3-D contrast-enhanced ultrasonography: a new approach. Ultrasound Med Biol 44(1):243–250. https://doi.org/10.1016/j.ultrasmedbio.2017.09.008

25.

Cantisani V, David E, Ferrari D, Fanelli F, Di Marzo L, Catalano C et al (2017) Color Doppler ultrasound with superb microvascular imaging compared to contrast enhanced ultrasound and computed tomography angiography to identify and classify endoleaks in patients undergoing EVAR. Ann Vasc Surg 40:136–145. https://doi.org/10.1016/j.avsg.2016.06.038

26.

Cantisani V, Grazhdani H, Clevert DA, Iezzi R, Aiani L, Martegani A et al (2015) EVAR: Benefits of CEUS for monitoring stent-graft status. Eur J Radiol 84(9):1658–1665. https://doi.org/10.1016/j.ejrad.2015.07.001

27.

David E, Cantisani V, Grazhdani H et al (2016) What is the role of contrast-enhanced ultrasound in the evaluation of the endoleak of aortic endoprostheses? A comparison between CEUS and CT on a widespread scale. J Ultrasound 19(4):281–287
Ethics declarations
Conflict of interest
The Authors declare that they have no conflict of interest.
Informed consent
All procedures followed were in accordance with the ethical standards of the responsible committee on human experimentation (institutional and national) and with the Helsinki Declaration of 1975, and its late amendments. Additional informed consented was obtained from all patients for which identifying information is not included in this article.
Human and animal rights
This article does not contain any studies with human or animal subjects performed by any of the Authors.
Additional information
Publisher's Note
Springer Nature remains neutral with regard to jurisdictional claims in published maps and institutional affiliations.
About this article
Cite this article
Acampora, C., Di Serafino, M., Iacobellis, F. et al. Insight into Dunbar syndrome: color-Doppler ultrasound findings and literature review. J Ultrasound (2020) doi:10.1007/s40477-019-00422-0
Received:

Accepted:

Published:
Keywords
Celiac trunk compression

Median arcuate ligament

Dunbar syndrome

Color-Doppler ultrasound