Abstract
Foot pain is common in daily clinical practice but thrombosis of the foot veins is rarely considered as a differential diagnosis. Several cases of plantar veins thrombosis are reported in literature but a detailed description of ultrasonographic findings in case of thrombosis of the dorsal venous arch of the foot is lacking. We report a case of ours with a thrombosis of the medial marginal vein and dorsal venous arch of the foot, showing its close anatomical relation with the extensor hallucis longus tendon.
This is a preview of subscription content, log in to check access.
Access options
Buy single article
Instant unlimited access to the full article PDF.
US$ 39.95
Price includes VAT for USA
Subscribe to journal
Immediate online access to all issues from 2019. Subscription will auto renew annually.
US$ 99
This is the net price. Taxes to be calculated in checkout.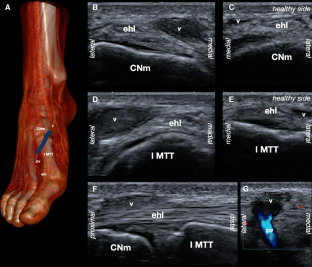 References
1.

Czihal M, Röling J, Rademacher A et al (2015) Clinical characteristics and course of plantar vein thrombosis: a series of 22 cases. Phlebology 30:714–718

2.

Siegal DS, Wu JS, Brennan DD et al (2008) Plantar vein thrombosis: a rare cause of plantar foot pain. Skelet Radiol 37:267–269

3.

Özçakar L, Kara M, Chang KV et al (2015) EURO-MUSCULUS/USPRM. Basic scanning protocols for ankle and foot. Eur J Phys Rehabil Med 51:647–653

4.

Bianchi S, Martinoli C (2007) Foot. Ultrasound of the musculoskeletal system. Springer, Berlin, pp 835–888

5.

Catalano O, Varelli C, Sbordone C et al (2019) (2019) A bump: what to do next? Ultrasound imaging of superficial soft-tissue palpable lesions. J Ultrasound. https://doi.org/10.1007/s40477-019-00415-z

6.

Ng JM, Rosenberg ZS, Bencardino JT, Restrepo-Velez Z, Ciavarra GA, Adler RS (2013) US and MR imaging of the extensor compartment of the ankle. Radiographics 33(7):2047–2064

7.

Becciolini M, Bonacchi G, Becciolini A (2017) Sonographic findings in a case of cactus thorn arthritis. J Clin Ultrasound 45:240–241

8.

Van Hul E, Vanhoenacker F, Van Dyck P, De Schepper A, Parizel PM (2011) Pseudotumoural soft tissue lesions of the foot and ankle: a pictorial review. Insights into Imaging 2(4):439–452

9.

Zdilla MJ, Miller KD, Swearingen JV et al (2018) The use of ultrasonography to identify the intersection of the dorsomedial cutaneous nerve of the hallux and the extensor hallucis longus tendon: a cadaveric study. J Foot Ankle Surg 57:296–300

10.

Uhl JF, Gillot C (2012) Anatomy of the foot venous pump: physiology and influence on chronic venous disease. Phlebology 27:219–230

11.

Shadid N, Frank J, Sommer A (2008) Superficial thrombophlebitis of the venous dorsal arch of the foot and deep venous thrombosis after foam sclerotherapy. Int J Dermatol 47(SUPPL. 1):29–31

12.

Khodarahmi I, Alizai H, Adler R (2019) Partially thrombosed aneurysm of the medial marginal vein. J Clin Ultrasound 47(7):436–438
Ethics declarations
Conflict of interest
The authors declare that they have no conflict of interest.
Ethical approval
All procedures performed in studies involving human participants were in accordance with the ethical standards of the institutional and/or national research committee and with the 1964 Helsinki declaration and its later amendments or comparable ethical standards.
Informed consent
Informed consent was obtained from all individual participants included in the study.
Additional information
Publisher's Note
Springer Nature remains neutral with regard to jurisdictional claims in published maps and institutional affiliations.
About this article
Cite this article
Becciolini, M., Galletti, S., Vallone, G. et al. Sonographic diagnosis of clinically unsuspected thrombosis of the medial marginal vein and dorsal arch of the foot. J Ultrasound (2020) doi:10.1007/s40477-019-00421-1
Received:

Accepted:

Published:
Keywords
Foot

Veins

Medial marginal vein

Dorsal venous arch

Thrombosis

Ultrasound