Abstract
Point-of-care ultrasound (POCUS) is a widely used tool in critical care areas, allowing for the performance of accurate diagnoses and thus enhancing the decision-making process. Every major organ or system can be safely evaluated with POCUS. In that respect, the utility of POCUS in cardiac arrest is gaining interest. In this article, we will review the actual role of ultrasound in cardiac arrest and the main POCUS protocols focused to this scenario as well as discuss the potential role of POCUS in monitoring the efficacy of the chest compressions.
Sommario
La diagnostica ecografica (point-of-care ultrasound, POCUS) è uno strumento ampiamente utilizzato nelle aree di terapia intensiva e rianimazione, dove consente di ottenere diagnosi accurate e di migliorare il processo decisionale. Ogni grande organo o sistema puo' essere tranquillamente esaminato con POCUS. In questo ambito, l'utilità del POCUS nei casi di arresto cardiaco sta riscuotendo un interesse crescente. In questo articolo passeremo in rassegna l'effettivo ruolo degli ultrasuoni nei casi di arresto cardico ed i principali protocolli POCUS mirati a questo scenario. Trattaremo inoltre il potenziale ruolo del POCUS nel monitoraggio dell'efficacia delle compressioni toraciche.
This is a preview of subscription content, log in to check access.
Access options
Buy single article
Instant unlimited access to the full article PDF.
US$ 39.95
Price includes VAT for USA
Subscribe to journal
Immediate online access to all issues from 2019. Subscription will auto renew annually.
US$ 99
This is the net price. Taxes to be calculated in checkout.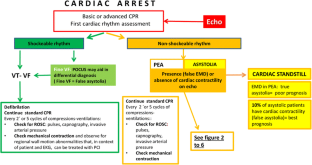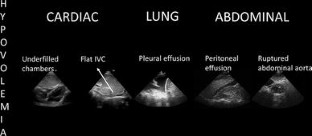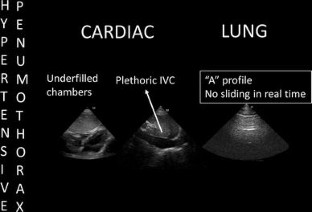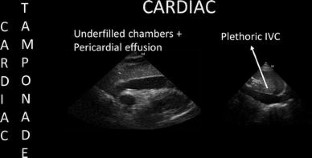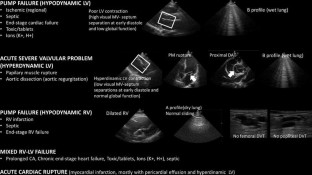 References
1.

Soar J, Nolan JP, Böttiger BW, Perkins GD, Lott C, Carli P et al (2015) European resuscitation council guidelines for resuscitation 2015: section 3. Adult Advanced life support. Resuscitation 95:100–147

2.

Link MS, Berkow LC, Kudenchuk PJ, Halperin HR, Hess EP, Moitra VK et al (2015) Part 7: adult advanced cardiovascular life support: 2015 American heart association guidelines update for cardiopulmonary resuscitation and emergency cardiovascular care. Circulation 132(18 Suppl 2):S444–S464

3.

Breitkreutz R, Price S, Steiger HV, Seeger FH, Ilper H, Ackermann H et al (2010) Focused echocardiographic evaluation in life support and peri-resuscitation of emergency patients: a prospective trial. Resuscitation 81(11):1527–1533

4.

Gaspari R, Weekes A, Adhikari S, Noble VE, Nomura JT, Theodoro D et al (2016) Emergency department point-of-care ultrasound in out-of-hospital and in-ED cardiac arrest. Resuscitation 109:33–39

5.

Chardoli M, Heidari F, Rabiee H, Sharif-Alhoseini M, Shokoohi H, Rahimi-Movaghar V (2012) Echocardiography integrated ACLS protocol versus conventional cardiopulmonary resuscitation in patients with pulseless electrical activity cardiac arrest. Chin J Traumatol 15(5):284–287

6.

Amaya SC, Langsam A (1999) Ultrasound detection of ventricular fibrillation disguised as asystole. Ann Emerg Med 33(3):344–346

7.

Querellou E, Meyran D, Petitjean F, Le Dreff P, Maurin O (2009) Ventricular fibrillation diagnosed with trans-thoracic echocardiography. Resuscitation 80(10):1211–1213

8.

Seif D, Perera P, Mailhot T, Riley D, Mandavia D (2012) Bedside ultrasound in resuscitation and the rapid ultrasound in shock protocol. Crit Care Res Pract 2012:503254

9.

Blanco P, Miralles Aguiar F, Blaivas M (2015) Rapid ultrasound in shock (RUSH) velocity-time integral: a proposal to expand the RUSH protocol. J Ultrasound Med 34:1691–1700

10.

Hernandez C, Shuler K, Hannan H, Sonyika C, Likourezos A, Marshall J (2008) C.A.U.S.E.: cardiac arrest ultra-sound exam—a better approach to managing patients in primary non-arrhythmogenic cardiac arrest. Resuscitation 76(2):198–206

11.

Breitkreutz R, Walcher F, Seeger FH (2007) Focused echocardiographic evaluation in resuscitation management: concept of an advanced life support-conformed algorithm. Crit Care Med 35(5 Suppl):S150–S161

12.

Testa A, Cibinel GA, Portale G, Forte P, Giannuzzi R, Pignataro G, Silveri NG (2010) The proposal of an integrated ultrasonographic approach into the ALS algorithm for cardiac arrest: the PEA protocol. Eur Rev Med Pharmacol Sci 14(2):77–88

13.

Lichtenstein D (2014) How can the use of lung ultrasound in cardiac arrest make ultrasound a holistic discipline? The example of the SESAME-protocol. Med Ultrason 16(3):252–255

14.

Lichtenstein D, Malbrain ML (2015) Critical care ultrasound in cardiac arrest. Technological requirements for performing the SESAME-protocol—a holistic approach. Anaesthesiol Intensive Ther 47(5):471–481

15.

Labovitz AJ, Noble VE, Bierig M, Goldstein SA, Jones R, Kort S et al (2010) Focused cardiac ultrasound in the emergent setting: a consensus statement of the American Society of Echocardiography and American College of Emergency Physicians. J Am Soc Echocardiogr 23(12):1225–1230

16.

Querellou E, Leyral J, Brun C, Lévy D, Bessereau J, Meyran D, Le Dreff P (2009) In and out-of-hospital cardiac arrest and echography: a review. Ann Fr Anesth Reanim 28(9):769–778

17.

Blanco P, Volpicelli G (2016) Common pitfalls in point-of-care ultrasound: a practical guide for emergency and critical care physicians. Crit Ultrasound J 8(1):15

18.

Blaivas M (2008) Transesophageal echocardiography during cardiopulmonary arrest in the emergency department. Resuscitation 78(2):135–140

19.

Blyth L, Atkinson P, Gadd K, Lang E (2012) Bedside focused echocardiography as predictor of survival in cardiac arrest patients: a systematic review. Acad Emerg Med 19(10):1119–1126

20.

Flato UA, Paiva EF, Carballo MT, Buehler AM, Marco R, Timerman A (2015) Echocardiography for prognostication during the resuscitation of intensive care unit patients with non-shockable rhythm cardiac arrest. Resuscitation 92:1–6

21.

Hwang SO, Zhao PG, Choi HJ, Park KH, Cha KC, Park SM, Kim SC, Kim H, Lee KH (2009) Compression of the left ventricular outflow tract during cardiopulmonary resuscitation. Acad Emerg Med 16(10):928–933

22.

Shin J, Rhee JE, Kim K (2007) Is the inter-nipple line the correct hand position for effective chest compression in adult cardiopulmonary resuscitation? Resuscitation 75(2):305–310

23.

Higano ST, Oh JK, Ewy GA, Seward JB (1990) The mechanism of blood flow during closed chest cardiac massage in humans: transesophageal echocardiographic observations. Mayo Clin Proc 65(11):1432–1440

24.

Kühn C, Juchems R, Frese W (1991) Evidence for the 'cardiac pump theory' in cardiopulmonary resuscitation in man by transesophageal echocardiography. Resuscitation 22(3):275–282

25.

Liu P, Gao Y, Fu X, Lu J, Zhou Y, Wei X et al (2002) Pump models assessed by transesophageal echocardiography during cardiopulmonary resuscitation. Chin Med J (Engl) 115(3):359–363
Ethics declarations
Conflict of interest
Authors have no conflict of interest to disclose.
Ethical approval
All procedures performed in studies involving human participants were in accordance with the ethical standards of the institutional and/or national research committee and with the 1964 Helsinki declaration and its later amendments or comparable ethical standards.
Human and animal studies
This article does not contain any studies with human participants or animals performed by any of the authors.
Informed consent
For this type of study formal consent is not required.
About this article
Cite this article
Blanco, P., Martínez Buendía, C. Point-of-care ultrasound in cardiopulmonary resuscitation: a concise review. J Ultrasound 20, 193–198 (2017). https://doi.org/10.1007/s40477-017-0256-3
Received:

Accepted:

Published:

Issue Date:
Keywords
Point-of-care

Ultrasound

Cardiac arrest

Cardiopulmonary resuscitation