Abstract
Purpose
The presence of the subacromial-subdeltoid (SASD) bursa inflammation has recently been proposed as a primary radiologic factor predicting persistent limitation and pain in operated patients. The aim of the study was to verify the hypothesis that pain, or increased shoulder pain, could be associated with SASD bursitis not only in operated patients but also in general population.
Methods
A consecutive series of 1940 shoulder ultrasound examinations were performed by our Department over a 5-year period using linear multi-frequency probes. All reports of examination executed for shoulder pain were reviewed. The video clips were independently reviewed by two radiologists: effusion in the SASD bursa and the presence of other pathological conditions were evaluated and confirmed.
Results
A total of 1147 shoulder video clips were re-evaluated, and 1587 pathologies were detected; 65.5 % of patients had only one pathology, 30.4 % had two and 4.1 % presented three pathologies. The difference between the group with and without effusion is statistically significant for acromioclavicular joint arthritis, supraspinatus tendon calcific tendinopathy, full-thickness and superficial tear of the supraspinatus, traumas and rheumatoid arthritis with a p value <0.01.
Conclusions
Our study shows that the effusion in the SASD bursa is frequently associated with shoulder pain often independently from the underlying pathology; further studies are needed to confirm the statistical significance of this relationship by clarifying possible confounding factors.
Riassunto
Scopo del lavoro
La presenza di alterazioni flogistiche a livello della borsa subacromiondeltoidea (BSAD) è stata recentemente proposta come fattore principale per predire la comparsa di dolore e limitazione funzionale nei Pazienti operati a livello della spalla. Lo scopo del nostro studio è di verificare l'ipotesi che il dolore, o l'incremento dello stesso, sia associato con la flogosi della BSAD non solo nei Pazienti operati ma anche nella popolazione generale.
Materiali e Metodi
In 5 anni nel nostro dipartimento sono state eseguite, utilizzando esclusivamente sonde lineari multifrequenza, 1940 ecografie della spalla. Tutti gli esami aventi come indicazione il dolore sono stati selezionati. I videoclip degli esami selezionati sono stati rivalutati da due radiologi indipendentemente: è stata in tal modo confermata la presenza di versamento nella BSAD e di altri reperti patologici.
Risultati
Sono stati rivalutati i videoclip di 1147 ecografie di spalla. Sono state individuate 1587 alterazioni patologiche; il 65.5 % dei Pazienti presentava unicamente un riscontro patologico, il 30.4 % ne presentava due e il 4.1 % ne presentava 3. La differenza tra gruppo con e senza versamento è statisticamente significativa (p value <0.01) in caso di artrosi acromionclaveare, tendinopatia calcifica del sovraspinato, lesioni a tutto spessore e del versante bursale del tendine del sovraspinato, nei traumi e nell'artrite reumatoide.
Conclusioni
Il nostro studio mostra come il versamento nella BSAD sia frequentemente associato con il dolore di spalla spesso indipendentemente dalla patologia sottostante; ulteriori studi sono necessari per confermare tale relazione e chiarire l'influenza di possibili fattori confondenti.
This is a preview of subscription content, log in to check access.
Access options
Buy single article
Instant unlimited access to the full article PDF.
US$ 39.95
Price includes VAT for USA
Subscribe to journal
Immediate online access to all issues from 2019. Subscription will auto renew annually.
US$ 99
This is the net price. Taxes to be calculated in checkout.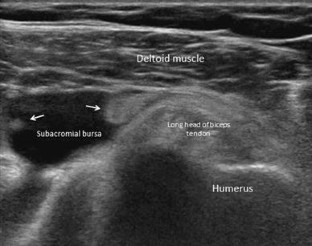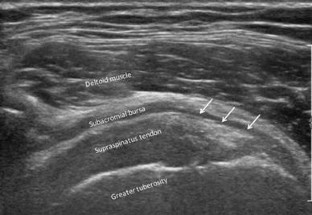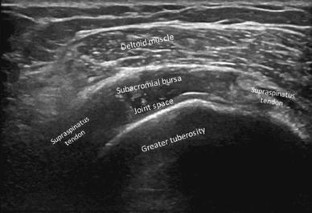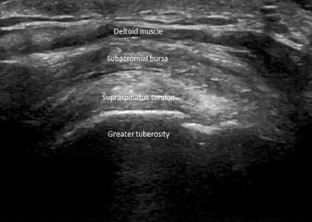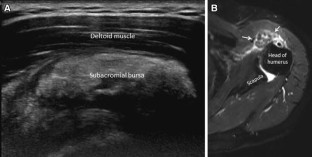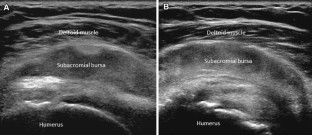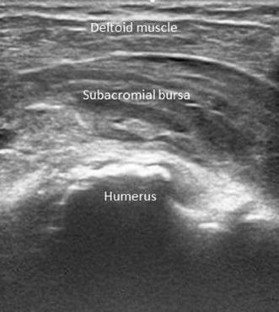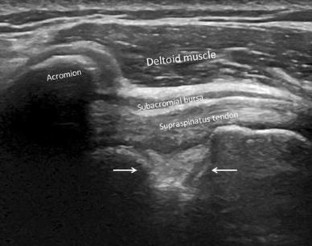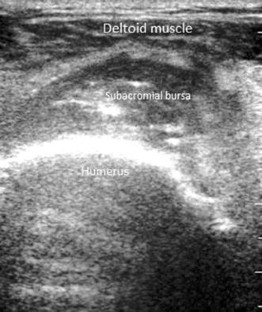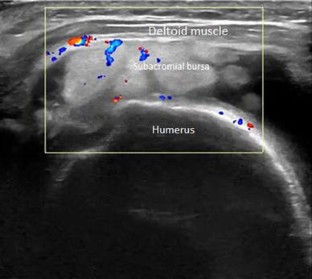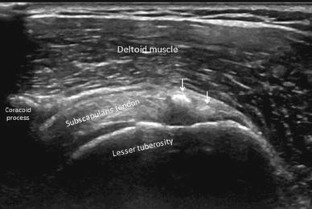 References
1.

Chalian M, Soldatos T, Faridian-Aragh N et al (2011) MR evaluation of synovial injury in shoulder trauma. Emerg Radiol 18(5):395–402

2.

Collin P, Abdullah A, Kherad O, Gain S, Denard PJ, Lädermann A (2014) Prospective evaluation of clinical and radiologic factors predicting return to activity within 6 months after arthroscopic rotator cuff repair. J Shoulder Elbow Surg. doi:10.1016/j.jse.2014.08.014 Epub ahead of print

3.

Hirji Z, Hunjun JS, Choudur HN (2011) Imaging of the bursae. J Clin Imaging Sci 1:22

4.

Jacobson JA (2011) Shoulder US: anatomy, technique, and scanning pitfalls. Radiology 260(1):6–16

5.

Precerutti M, Garioni E, Madonia L, Draghi F (2010) US anatomy of the shoulder: pictorial essay. J Ultrasound 13(4):179–187

6.

Cadogan A, McNair P, Laslett M, Hing W (2013) Shoulder pain in primary care: diagnostic accuracy of clinical examination tests for non-traumatic acromioclavicular joint pain. BMC Musculoskelet Disord 14:156

7.

Kim HA, Kim SH, Seo YI (2007) Ultrasonographic findings of the shoulder in patients with rheumatoid arthritis and comparison with physical examination. J Korean Med Sci 22(4):660–666

8.

Guerini H, Fermand M, Godefroy D et al (2012) US appearance of partial-thickness supraspinatus tendon tears: application of the string theory. Pictorial essay. J Ultrasound 15(1):7–15

9.

Arslan G, Apaydin A, Kabaalioglu A, Sindel T, Lüleci E (1999) Sonographically detected subacromial/subdeltoid bursal effusion and biceps tendon sheath fluid: reliable signs of rotator cuff tear? J Clin Ultrasound 27(6):335–339

10.

Hodgson RJ, O'Connor PJ, Hensor EM, Barron D, Robinson P (2012) Contrast-enhanced MRI of the subdeltoid, subacromial bursa in painful and painless rotator cuff tears. Br J Radiol 85(1019):1482–1487

11.

Costantino TG, Roemer B, Leber EH (2007) Septic arthritis and bursitis: emergency ultrasound can facilitate diagnosis. J Emerg Med 32(3):295–297

12.

Khan H, Al-Tawil K (2013) Spontaneous isolated infection of the subacromial bursa. Case Rep Orthop. doi:10.1155/2013/564690

13.

Chiang ER, Ma HL, Wang ST, Hung SC, Chen TH (2009) Arthroscopic treatment for pigmented villonodular synovitis of the shoulder associated with massive rotator cuff tear. Arthroscopy 25(7):716–721

14.

Madruga Dias J, Costa MM, Duarte A, Pereira da Silva JA (2013) Localized pigmented villonodular synovitis of the shoulder: a rare presentation of an uncommon pathology. Acta Med Port 26(4):459–462

15.

Kim TK, Lee DH, Park JH, Kim CH, Jeong WK (2014) Synovial osteochondromatosis in the subacromial bursa mimicking calcific tendinitis: sonographic diagnosis. J Clin Ultrasound 42(4):237–240
Conflict of interest
The authors have nothing to disclose.
Ethical standards
Studies have been approved by the appropriate ethics committee and have therefore been performed in accordance with the ethical standards laid down in the 1964 Declaration of Helsinki and its later amendments.
Electronic supplementary material
Below is the link to the electronic supplementary material.
Supplementary material 11: Video 10 Bursal rupture (after dislocation) (MPG 1092 kb)
Supplementary material 12: Video 11 Septic bursitis (MPG 2846 kb)
Supplementary material 14: Video 12B Pigmented villonodular synovitis—Color Doppler (MPG 2494 kb)
Supplementary material 13: Video 12A Pigmented villonodular synovitis—B-Mode (MPG 2276 kb)
Supplementary material 1: Video 1A Acromioclavicular joint arthritis (MPG 1772 kb)
Supplementary material 2: Video 1B Osteoarthritis and SASD bursitis (MPG 1782 kb)
Supplementary material 3: Video 2 Rheumatoid arthritis (MPG 1312 kb)
Supplementary material 4: Video 3 Partial supraspinatus tendon tear (MPG 2118 kb)
Supplementary material 5: Video 4 Complete supraspinatus tendon tear (MPG 864 kb)
Supplementary material 6: Video 5 Bursitis as a complication in the reconstruction of the supraspinatus tendon (MPG 664 kb)
Supplementary material 7: Video 6 Calcium-related bursitis (MPG 858 kb)
Supplementary material 8: Video 7 Acute shoulder trauma (MPG 4670 kb)
Supplementary material 9: Video 8 Acute shoulder trauma (MPG 598 kb)
Supplementary material 10: Video 9 Acute shoulder trauma (Hill-Sachs lesion) (MPG 998 kb)
About this article
Cite this article
Draghi, F., Scudeller, L., Draghi, A.G. et al. Prevalence of subacromial-subdeltoid bursitis in shoulder pain: an ultrasonographic study. J Ultrasound 18, 151–158 (2015). https://doi.org/10.1007/s40477-015-0167-0
Received:

Accepted:

Published:

Issue Date:
Keywords
Ultrasound

Subacromion-subdeltoid bursa

Bursal inflammation

Shoulder pain