Abstract
Purpose of Review
In 2017, the World Health Organization (WHO) designated snakebite envenoming (SBE) as a category A neglected tropical disease (NTD). This review aims to highlight clinical syndromes of envenomation, gaps in current knowledge, and provide updates on advancements in treatments for snakebites in Africa.
Recent Findings
While antivenoms are the mainstay of treatment, many marketed in Africa are ineffective and potentially dangerous, though newer antivenoms on the market are effective with low rates of adverse reactions. Key treatment adjuncts such as airway devices and medications may improve mortality and patient comfort. Previously, long-held recommendations need reevaluation and are likely unnecessary.
Summary
With the new designation, an active WHO working group, and several independent groups focusing on a multidisciplinary approach to improve key gaps in knowledge and apply new treatment modalities, we can greatly decrease the morbidity and mortality associated with snakebite in Africa.
This is a preview of subscription content, log in to check access.
Access options
Buy single article
Instant unlimited access to the full article PDF.
US$ 39.95
Price includes VAT for USA
Subscribe to journal
Immediate online access to all issues from 2019. Subscription will auto renew annually.
US$ 99
This is the net price. Taxes to be calculated in checkout.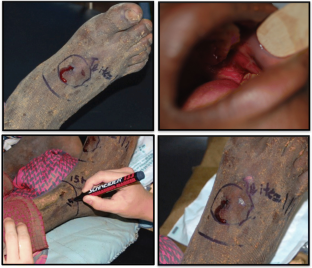 References
Papers of particular interest, published recently, have been highlighted as: • Of importance •• Of major importance
1.

•• Gutiérrez JM, Calvete JJ, Habib AG, Harrison RA, Williams DJ, Warrell DA. Snakebite envenoming. Nat Rev Dis Primers. 2017;3:17063 An excellent and very thorough overview of the epidemiology, toxinology, pathophysiology, clinical management, and future directions of the snakebite crisis worldwide is presented in this comprehensive review article.

2.

Chippaux J-P. Snakebite envenomation turns again into a neglected tropical disease! J Venom Anim Toxins Incl Trop Dis. 2017;23:38.

3.

WHO/Regional Office for Africa. Guidelines for the prevention and clinical management of snakebite in Africa. Geneva: World Health Organization; 2010.

4.

Chippaux J-P. Estimate of the burden of snakebites in sub-Saharan Africa: a meta-analytic approach. Toxicon. 2011;57:586–99.

5.

•• Halilu S, Iliyasu G, Hamza M, Chippaux J-P, Kuznik A, Habib AG. Snakebite burden in Sub-Saharan Africa: estimates from 41 countries. Toxicon. 2019;159:1–4 Provides an estimate of the total burden of snakebite deaths, amputations, and PTSD in sub-Saharan Africa and calculates an annual burden of over 1 million DALYs, which helps justify future efforts to fund the issue. Also provides updated estimates of the incidence and mortality in 41 different countries across the sub-continent.

6.

• Habib AG, Brown NI. The snakebite problem and antivenom crisis from a health-economic perspective. Toxicon. 2018;150:115–23 This paper discusses the economics of snakebite and cost-effectiveness of antivenom treatment.

7.

Habib AG, Kuznik A, Hamza M, Abdullahi MI, Chedi BA, Chippaux J-P, et al. Snakebite is under appreciated: appraisal of burden from West Africa. PLoS Negl Trop Dis. 2015;9:e0004088.

8.

Langley RL. Snakebite during pregnancy: a literature review. Wilderness Environ Med. 2010;21:54–60.

9.

Adewole AA, Ugiagbe OA, Onile TG, Joseph GA, Kassim OD, Medupin PF, et al. Snake bite in third trimester of pregnancy with systemic envenomation and delivery of a live baby in a low resource setting: a case report. Case Rep Womens Health. 2017;16:14–7.

10.

Muhammed A, Dalhat MM, Joseph BO, et al. Predictors of depression among patients receiving treatment for snakebite in General Hospital, Kaltungo, Gombe State, Nigeria: August 2015. Int J Ment Heal Syst. 2017;11:26.

11.

Williams SS, Wijesinghe CA, Jayamanne SF, Buckley NA, Dawson AH, Lalloo DG, et al. Delayed psychological morbidity associated with snakebite envenoming. PLoS Negl Trop Dis. 2011;5:e1255.

12.

Sloan DJ, Dedicoat MJ, Lalloo DG. Healthcare-seeking behaviour and use of traditional healers after snakebite in Hlabisa sub-district, KwaZulu Natal. Tropical Med Int Health. 2007;12:1386–90.

13.

Chippaux JP. Snake bite epidemiology in Benin. Bull Soc Pathol Exot. 2002;95:172–4.

14.

Blaylock RS. The identification and syndromic management of snakebite in South Africa. S Afr Fam Pract. 2005;47:48–53.

15.

Habib AG. Public health aspects of snakebite care in West Africa: perspectives from Nigeria. J Venom Anim Toxins Incl Trop Dis. 2013;19:27.

16.

Gutiérrez JM, Rucavado A, Escalante T, Herrera C, Fernández J, Lomonte B, et al. Unresolved issues in the understanding of the pathogenesis of local tissue damage induced by snake venoms. Toxicon. 2018;148:123–31.

17.

•• Benjamin JM, Chippaux J-P, Sambo BT, Massougbodji A. Delayed double reading of whole blood clotting test (WBCT) results at 20 and 30 minutes enhances diagnosis and treatment of viper envenomation. J Venom Anim Toxins Incl Trop Dis. 2018;24:14 The WBCT has been used for decades with reading times of either 20 min or 30 min to diagnose venom-induced coagulopathies and assess the efficacy of antivenom therapies in various clinical trials, but this is the first paper to evaluate the test at both reading times minutes in the same group of patients. This study identifies significant discrepancies between results at the two reading times and proposes a delayed double reading at both times to increase the accuracy and utility of the test.

18.

Abubakar IS, Abubakar SB, Habib AG, et al. Randomised controlled double-blind non-inferiority trial of two antivenoms for saw-scaled or carpet viper (Echis ocellatus) envenoming in Nigeria. PLoS Negl Trop Dis. 2010;4:e767.

19.

Warrell DA, NMcD D, Greenwood BM, Ormerod LD, Pope HM, Watkins BJ, et al. Poisoning by bites of the saw-scaled or carpet viper (Echis carinatus) in Nigeria. Q J Med. 1977;46:33–62.

20.

Maduwage K, Isbister GK. Current treatment for venom-induced consumption coagulopathy resulting from snakebite. PLoS Negl Trop Dis. 2014;8:e3220.

21.

Einterz EM, Bates ME. Snakebite in northern Cameroon: 134 victims of bites by the saw-scaled or carpet viper, Echis ocellatus. Trans R Soc Trop Med Hyg. 2003;97:693–6.

22.

Chippaux JP, Amadi-Eddine S, Fagot P. Diagnosis and monitoring of hemorrhage due to viper envenomation in the African savanna. Bull Soc Pathol Exot. 1999;92:109–13.

23.

Chippaux JP, Lang J, Eddine SA, Fagot P, Rage V, Peyrieux JC, et al. Clinical safety of a polyvalent F(ab′)2 equine antivenom in 223 African snake envenomations: a field trial in Cameroon. VAO (Venin Afrique de l'Ouest) Investigators. Trans R Soc Trop Med Hyg. 1998;92:657–62.

24.

Chippaux J-P, Massougbodji A, Stock RP, Alagon A, Investigators of African Antivipmyn in Benin. Clinical trial of an F(ab′)2 polyvalent equine antivenom for African snake bites in Benin. Am J Trop Med Hyg. 2007;77:538–46.

25.

Warrell DA, Ormerod LD, Davidson NM. Bites by puff-adder (Bitis arietans) in Nigeria, and value of antivenom. Br Med J. 1975;4:697–700.

26.

Bittenbinder MA, Zdenek CN, Op den Brouw B, Youngman NJ, Dobson JS, Naude A, et al. Coagulotoxic cobras: clinical implications of strong anticoagulant actions of African spitting Naja venoms that are not neutralised by Antivenom but are by LY315920 (Varespladib). Toxins. 2018. https://doi.org/10.3390/toxins10120516.

27.

Debono J, Dobson J, Casewell NR, et al. Coagulating colubrids: evolutionary, pathophysiological and biodiscovery implications of venom variations between boomslang (Dispholidus typus) and twig snake (Thelotornis mossambicanus). Toxins. 2017. https://doi.org/10.3390/toxins9050171.

28.

Pope CH. Fatal bite of captive African rear-fanged snake (Dispholidus). Copeia. 1958;1958:280–2.

29.

Weinstein SA, White J, Keyler DE, Warrell DA. Non-front-fanged colubroid snakes: a current evidence-based analysis of medical significance. Toxicon. 2013;69:103–13.

30.

Krüger HJ, Lemke FG. Fatal boomslang bite in the northern cape. Afr J Emerg Med. 2019;9:53–5.

31.

Baldé MC, Chippaux J-P, Boiro MY, Stock RP, Massougbodji A. Use of antivenoms for the treatment of envenomation by Elapidae snakes in Guinea, Sub-Saharan Africa. J Venom Anim Toxins Incl Trop Dis. 2013;19:6.

32.

Chu ER, Weinstein SA, White J, Warrell DA. Venom ophthalmia caused by venoms of spitting elapid and other snakes: report of ten cases with review of epidemiology, clinical features, pathophysiology and management. Toxicon. 2010;56:259–72.

33.

Ratnayake I, Shihana F, Dissanayake DM, Buckley NA, Maduwage K, Isbister GK. Performance of the 20-minute whole blood clotting test in detecting venom induced consumption coagulopathy from Russell's viper (Daboia russelii) bites. Thromb Haemost. 2017;117:500–7.

34.

Gaus DP, Herrera DF, Troya CJ, Guevara AH. Management of snakebite and systemic envenomation in rural Ecuador using the 20-minute whole blood clotting test. Wilderness Environ Med. 2013;24:345–50.

35.

Punguyire D, Iserson KV, Stolz U, Apanga S. Bedside whole-blood clotting times: validity after snakebites. J Emerg Med. 2013;44:663–7.

36.

Isbister GK, Maduwage K, Shahmy S, Mohamed F, Abeysinghe C, Karunathilake H, et al. Diagnostic 20-min whole blood clotting test in Russell's viper envenoming delays antivenom administration. QJM. 2013;106:925–32.

37.

Lavonas EJ, Tomaszewski CA, Ford MD, Rouse AM, Kerns WP 2nd. Severe puff adder (Bitis arietans) envenomation with coagulopathy. J Toxicol Clin Toxicol. 2002;40:911–8.

38.

Wani SA, Al Salmi LA, Habib O, Uzair Ul Haq M. Use of permanent markers for intraoperative marking in body contouring surgery: an innovative technique. World J Plast Surg. 2018;7:387–8.

39.

Chaisakul J, Isbister GK, Kuruppu S, Konstantakopoulos N, Hodgson WC. An examination of cardiovascular collapse induced by eastern brown snake (Pseudonaja textilis) venom. Toxicol Lett. 2013;221:205–11.

40.

Johnston MA, Fatovich DM, Haig AD, Daly FFS. Successful resuscitation after cardiac arrest following massive brown snake envenomation. Med J Aust. 2002;177:646–9.

41.

Curry S. Rapid collapse and anaphylactoid reactions from rattlesnake bites. In: The Tox and the hound (EMCrit). 2019. https://emcrit.org/toxhound/ff-rapid-collapse-rattlesnake/ Accessed 25 Aug 2019

42.

Brasil de Souza T d AC, de Giuseppe PO, Arni RK, Murakami MT. Chapter 216 - BmooMPα-I (Bothrops moojeni). In: Rawlings ND, Salvesen G, editors. Handbook of proteolytic enzymes (third edition). Cambridge: Academic Press; 2013. p. 1001–5.

43.

Gupta RC. Reproductive and developmental toxicology. Cambridge: Academic Press; 2011.

44.

Warrell DA. 134 - Animals hazardous to humans. In: Magill AJ, Hill DR, Solomon T, Ryan ET, editors. Hunter's tropical medicine and emerging infectious disease. 9th ed. London: W.B. Saunders; 2013. p. 938–65.

45.

Fry B. Venomous reptiles and their toxins: evolution, Pathophysiology and Biodiscovery. Oxford: Oxford University Press; 2015.

46.

Warrell DA. 75 - Venomous and poisonous animals. In: Farrar J, Hotez PJ, Junghanss T, Kang G, Lalloo D, White NJ, editors. Manson's tropical infectious diseases. 23rd ed. London: W.B. Saunders; 2014. p. 1096–1127.e3.

47.

World Health Organization. WHO guidelines for the production, control and regulation of snake antivenom immunoglobulins. 2010.

48.

Habib AG, Warrell DA. Antivenom therapy of carpet viper (Echis ocellatus) envenoming: effectiveness and strategies for delivery in West Africa. Toxicon. 2013;69:82–9.

49.

Visser LE, Kyei-Faried S, Belcher DW, Geelhoed DW, van Leeuwen JS, van Roosmalen J. Failure of a new antivenom to treat Echis ocellatus snake bite in rural Ghana: the importance of quality surveillance. Trans R Soc Trop Med Hyg. 2008;102:445–50.

50.

Benjamin JM, Chippaux J-P, Tamou-Sambo B, Akpakpa OC, Massougbodji A. Successful management of two patients with intracranial hemorrhage due to carpet viper (Echis ocellatus) envenomation in a limited-resource environment. Wilderness Environ Med. 2019. https://doi.org/10.1016/j.wem.2019.04.003.

51.

•• Potet J, Smith J, McIver L. Reviewing evidence of the clinical effectiveness of commercially available antivenoms in sub-Saharan Africa identifies the need for a multi-centre, multi-antivenom clinical trial. PLoS Negl Trop Dis. 2019;13:e0007551 This paper evaluates most of the existing evidence for each of the available antivenoms for sub-Saharan Africa and identifies the urgent need for robust multi-center, multi-antivenom RCTs in Africa.

52.

Warrell DA. Unscrupulous marketing of snake bite antivenoms in Africa and Papua New Guinea: choosing the right product--'what's in a name?'. Trans R Soc Trop Med Hyg. 2008;102:397–9.

53.

Harrison RA, Oluoch GO, Ainsworth S, et al. Preclinical antivenom-efficacy testing reveals potentially disturbing deficiencies of snakebite treatment capability in East Africa. PLoS Negl Trop Dis. 2017;11:e0005969.

54.

Habib AG. Effect of pre-medication on early adverse reactions following antivenom use in snakebite: a systematic review and meta-analysis. Drug Saf. 2011;34:869–80.

55.

•• Morais V. Antivenom therapy: efficacy of premedication for the prevention of adverse reactions. J Venom Anim Toxins Incl Trop Dis. 2018;24:7 This comprehensive review article discusses the current evidence surrounding pretreatment with various medications to reduce early antivenom reactions.

56.

Williams DJ, Jensen SD, Nimorakiotakis B, Müller R, Winkel KD. Antivenom use, premedication and early adverse reactions in the management of snake bites in rural Papua New Guinea. Toxicon. 2007;49:780–92.

57.

de Silva HA, Pathmeswaran A, Ranasinha CD, et al. Low-dose adrenaline, promethazine, and hydrocortisone in the prevention of acute adverse reactions to antivenom following snakebite: a randomised, double-blind, placebo-controlled trial. PLoS Med. 2011;8:e1000435.

58.

de Silva HA, Ryan NM, de Silva HJ. Adverse reactions to snake antivenom, and their prevention and treatment. Br J Clin Pharmacol. 2016;81:446–52.

59.

Malasit P, Warrell DA, Chanthavanich P, Viravan C, Mongkolsapaya J, Singhthong B, et al. Prediction, prevention, and mechanism of early (anaphylactic) antivenom reactions in victims of snake bites. Br Med J. 1986;292:17–20.

60.

de Menezes JB, Hering SE. Immediate hypersensitivity reactions following intravenous use of antivenom sera: predictive value of hypersensitivity skin test. Rev Inst Med Trop Sao Paulo. 1991;33:115–22.

61.

Lam A, Cabral M, Touré A, Fall M, Diouf A, Chippaux JP. Evaluation de la prise en charge des envenimations au Sénégal: étude clinique de l'Inoserp® Panafricain. Toxicol Anal Clin. 2018;30:165–6.

62.

Coulibaly SK, Diallo T, Diara A, Soulaymani A, Maiga AI. Sérothérapie antivenimeuse au Mali: expérience du centre de santé de référence de Kati région de Koulikoro. Toxicol Anal Clin. 2018;30:165.

63.

Chippaux J-P, Baldé MC, Sessinou É, Yéro Boiro M, Massougbodji A. Evaluation of a new polyvalent antivenom against snakebite envenomation (Inoserp® Panafricain) in two different epidemiological settings: Northern Benin and Maritime Guinea. Méd Santé Trop. 2015;25:56–64.

64.

Hawkins SC. Wilderness EMS. Philadelphia: Lippincott Williams & Wilkins; 2017.

65.

World Health Organization, Regional Office for South-East Asia Staff, Who Regional Office for South-East Asia. Guidelines for the management of snakebites. Geneva: World Health Organization; 2018.

66.

Hawkins SC, Abo B The Carolina Wilderness EMS Externship. ACEP EMS-Prehospital Care Section Newsletter. 2011.

67.

Watt G, Meade BD, Theakston RDG, Padre LP, Tuazon ML, Calubaquib C, et al. Comparison of Tensilon® and antivenom for the treatment of cobra-bite paralysis. Trans R Soc Trop Med Hyg. 1989;83:570–3.

68.

Banerjee RN, Sahni AL, Chacko KA. Neostigmine in the treatment of Elapidae bites. In: Ohsaka A, Hayashi K, Sawai Y, Murata R, Funatsu M, Tamiya N, editors. Animal, plant, and microbial toxins, vol. 2 Chemistry, pharmacology, and immunology. Boston: Springer New York; 1976. p. 475–81.

69.

Faiz A, Ghose A, Ahsan F, Rahman R, Amin R, Hassan MU, et al. The greater black krait (Bungarus niger), a newly recognized cause of neuro-myotoxic snake bite envenoming in Bangladesh. Brain. 2010;133:3181–93.

70.

Lewin MR, Bickler P, Heier T, Feiner J, Montauk L, Mensh B. Reversal of experimental paralysis in a human by intranasal neostigmine aerosol suggests a novel approach to the early treatment of neurotoxic envenomation. Clin Case Rep. 2013;1:7–15.

71.

Lewin MR, Samuel SP, Wexler DS, Bickler P, Vaiyapuri S, Mensh BD. Early treatment with intranasal neostigmine reduces mortality in a mouse model of Naja naja (Indian cobra) envenomation. J Trop Med. 2014;2014:131835.

72.

Currie B, Fitzmaurice M, Oakley J. Resolution of neurotoxicity with anticholinesterase therapy in death-adder envenomation. Med J Aust. 1988;148:522–5.

73.

Jorge MT, Malaque C, Ribeiro LA, et al. Failure of chloramphenicol prophylaxis to reduce the frequency of abscess formation as a complication of envenoming by Bothrops snakes in Brazil: a double-blind randomized controlled trial. Trans R Soc Trop Med Hyg. 2004;98:529–34.

74.

Cumpston KL. Is there a role for fasciotomy in Crotalinae envenomations in North America? Clin Toxicol. 2011;49:351–65.

75.

Tanen DA, Danish DC, Grice GA, Riffenburgh RH, Clark RF. Fasciotomy worsens the amount of myonecrosis in a porcine model of crotaline envenomation. Ann Emerg Med. 2004;44:99–104.

76.

Lavonas EJ, Ruha A-M, Banner W, et al. Unified treatment algorithm for the management of crotaline snakebite in the United States: results of an evidence-informed consensus workshop. BMC Emerg Med. 2011;11:2.

77.

Ho KM, Power BM. Benefits and risks of furosemide in acute kidney injury. Anaesthesia. 2010;65:283–93.

78.

van der Voort PHJ, Boerma EC, Koopmans M, Zandberg M, de Ruiter J, Gerritsen RT, et al. Furosemide does not improve renal recovery after hemofiltration for acute renal failure in critically ill patients: a double blind randomized controlled trial. Crit Care Med. 2009;37:533–8.
Ethics declarations
Conflict of Interest
The authors declare that they have no conflict of interest.
Human and Animal Rights and Informed Consent
This article does not contain any studies with human or animal subjects performed by any of the authors.
Additional information
Publisher's Note
Springer Nature remains neutral with regard to jurisdictional claims in published maps and institutional affiliations.
This article is part of the Topical Collection on Hot Topics in Tropical Medicine
About this article
Cite this article
Benjamin, J.M., Abo, B.N. & Brandehoff, N. Review Article: Snake Envenomation in Africa. Curr Trop Med Rep (2020). https://doi.org/10.1007/s40475-020-00198-y
Keywords
Snakebite

Snakebite envenoming

Africa

Envenomations

Antivenom

Neglected tropical diseases