A New Look at an Old Disease: Recent Insights into the Global Epidemiology of Dengue
Open Access
Infectious Disease Epidemiology (A Reingold, Section Editor)
Part of the following topical collections:
Abstract
Purpose of Review
By all measures, the morbidity and mortality due to dengue are continuing to worsen worldwide. Although both early and recent studies have demonstrated regional differences in how dengue affects local populations, these findings were to varying extents related to disparate surveillance approaches.
Recent Findings
Recent studies have broadened the recognized spectrum of disease resulting from DENV infection, particularly in adults, and have also demonstrated new mechanisms of DENV spread both within and between populations. New results regarding the frequency and duration of homo- and heterotypic anti-DENV antibodies have provided important insights relevant to vaccine design and implementation.
Summary
These observations and findings as well as difficulties in comparing the epidemiology of dengue within and between regions of the world underscore the need for population-based dengue surveillance worldwide. Enhanced surveillance should be implemented to complement passive surveillance in countries in the tropics to establish baseline data in order to define affected populations and evaluate the impact of dengue vaccines and novel vector control interventions.
Keywords
Dengue 
Epidemiology 
Burden 
Introduction
As is true for many emerging infectious diseases, increasing global circulation of dengue is a result of the expansion and urbanization of society [1]. The four genetically and antigenically distinct dengue virus (DENV) types [2•] diverged from a common ancestor roughly 1000 years ago [3]. Each virus independently shifted from a mosquito-monkey-mosquito cycle of transmission to becoming endemic in humans several hundred years ago [3, 4]. The advent of maritime transportation enabled the dispersal of Aedes mosquitoes and DENV-infected humans throughout the tropics, and dengue outbreaks were increasingly reported during the seventeenth century [3]. World War II played a prominent role in enabling co-circulation of multiple DENV types and subsequent epidemics of dengue hemorrhagic fever (DHF) in Southeast Asia in the 1950s [5]. Aedes mosquitoes were nearly eradicated from the Americas in the middle of the twentieth century [6]. However, unsustainable vector control strategies [7] allowed the resurgence of Aedes mosquito populations in the Americas, and epidemics of DHF were first reported throughout the region in the 1980s [8]. Thus, the global spread and increasing severity of dengue were enabled by increased population growth, more frequent and expansive international travel, and societal urbanization that produced more abundant mosquito breeding sites (e.g., refuse, discarded tires, septic tanks) [9].
The four DENV types and their mosquito vectors are now present throughout the tropics and sub-tropics worldwide (Fig.
1
) [
10
,
11
]. Recent dengue incidence has increased greatly [
8
], having roughly doubled each decade since 1990 [
12
]. Though both annual incidence and methods utilized to estimate incidence vary, recent estimates have suggested that 96 million dengue cases occurred in 2010 [
13
] and 58 million dengue cases and over 9000 deaths occurred in 2013 [
14
•]. Longitudinal analysis of surveillance data from Southeast Asia [
15
] and the Americas [
8
] demonstrated longer and more frequent dengue epidemics and increasing dengue-related morbidity and mortality. By all measures, the worldwide economic and health-associated burden of dengue has increased dramatically since World War II, and this trend will likely continue until an effective dengue vaccine and/or sustainable control strategy is identified to prevent DENV transmission [
16
].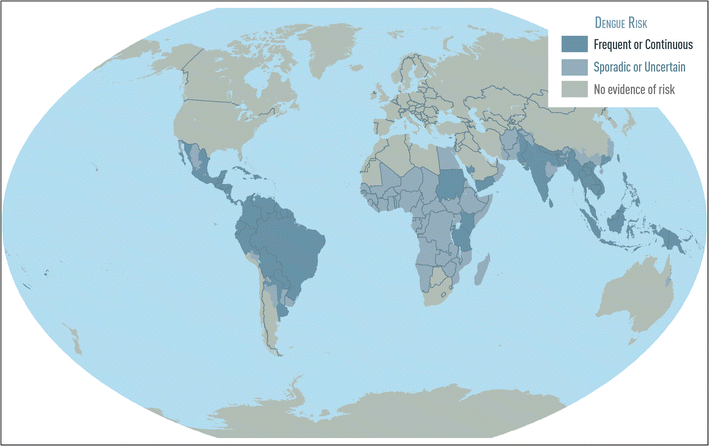 As such prevention and control strategies are implemented, measuring their effect will be critical to demonstrate efficacy in preventing disease and saving lives. Findings from evaluations can be used to develop recommendations regarding best practices in controlling dengue. Doing so will require a comprehensive understanding of the epidemiology of dengue, including the populations most affected, spectrum of clinical disease, and temporal and spatial patterns of illness. Despite several decades of study, many misperceptions regarding the epidemiology of dengue persist among the public, clinicians, and public health professionals. These misperceptions have occurred in part because much of our early knowledge of dengue was gained during the first DHF epidemics in Southeast Asia. Understanding of these epidemics was limited by a lack of population-based case identification and/or laboratory diagnostics to distinguish dengue from other causes of acute febrile illness (AFI). Specifically, many early studies of dengue in Southeast Asia were performed solely among hospitalized children suspected to have dengue [17]. As a result, dengue hemorrhagic fever (and hence, by proxy, dengue) was perceived to be an illness exclusively of childhood. Still other studies were conducted in dengue-naïve adults (i.e., soldiers) sent overseas to Asia [18]. Consequently, our initial understanding of dengue came from populations that were not representative of the entire population living in areas with endemic dengue.
This review calls attention to new findings on the epidemiology of dengue worldwide with respect to previous perceptions. In particular, these new findings include improved recognition of the spectrum of disease caused by DENV infection, particularly in adults, the mechanisms of DENV dissemination within populations, and the role of homo- and heterotypic anti-DENV antibodies in affecting DENV transmission in populations. We discuss whether these findings are due to increased clinical awareness, improved surveillance and diagnostics, demographic changes, or actual epidemiological shifts in affected populations. We provide an epidemiologic framework hopefully useful to further improve our understanding of dengue epidemiology, and we detail the additional steps needed to gain a more complete understanding of the epidemiology of dengue worldwide.
Conclusions
Although we now know more about dengue than ever before, much work remains before a comprehensive understanding of the modern epidemiology of dengue can be achieved. In addition, despite more than a century of research, still no effective means to prevent dengue in communities is available. Until such a solution is found, the worldwide burden of dengue is likely to continue to increase.
Despite recent advances in dengue vaccines [123, 124] and novel approaches to vector control [125], challenges in both fields [126, 127] have left optimization of patient management through increased clinical awareness as the only approach to reduce dengue-related mortality [45•]. To effectively measure the effect of interventions on the incidence and burden of dengue, as well as to consistently define the occurrence of epidemics, baseline surveillance data that are gathered equivalently throughout the world is urgently needed [128]. Moreover, implementing enhanced surveillance (i.e., sentinel health care facilities in which clinicians are trained and encouraged on how to appropriately identify, manage, and report dengue patients) in areas with existing passive surveillance systems will enable calculation of accurate rates of dengue and severe dengue, and allow for inter- and intra-country comparison of the burden due to dengue [19, 128].
A persistent limitation to understanding the burden of dengue is reporting of dengue cases to public health authorities. In the absence of consistent case reporting, an accurate understanding of the epidemiology of dengue will be difficult to achieve. An additional benefit to complementing passive surveillance with a limited number of enhanced surveillance sites is therefore to gain a more accurate estimate of the morbidity and mortality due to dengue. Implementation of enhanced surveillance sites will therefore better enable an accurate estimation of the burden of severe and fatal dengue. Furthermore, to improve case identification, availability of dengue diagnostics, both rapid tests and laboratory-based confirmatory testing, is needed to differentiate patients with dengue from other AFIs, and thus additional emphasis should be placed on improved dengue laboratory capacity worldwide, but especially in areas where dengue is neglected. Finally, without country-specific knowledge of all age groups affected by dengue, the required evidence for countries to identify the age groups that should receive a dengue vaccine is both insufficient and convoluted. Periodic population-based serosurveys can and will be useful for this purpose but are logistically challenging and labor intensive. Enhanced surveillance is the most feasible route to gain an accurate, comprehensive, and comparable understanding of the global epidemiology of dengue.
Notes
Acknowledgements
We apologize to colleagues whose work was not cited here due to space limitations. The authors would like to thank Ryan Lash for assistance with figure preparation.
Compliance with Ethical Standards
Conflict of Interest
Tyler M. Sharp, Kay M. Tomashek, Jennifer Read, Harold S. Margolis, and Stephen H. Waterman each declare no potential conflicts of interest.
Human and Animal Rights and Informed Consent
This article does not contain any studies with human or animal subjects performed by any of the authors.
Funding
This work was funded by the US Centers for Disease Control and Prevention.
References
Papers of particular interest, published recently, have been highlighted as: • Of importance •• Of major importance
Copyright information
© The Author(s) 2017
Open Access This article is distributed under the terms of the Creative Commons Attribution 4.0 International License (http://creativecommons.org/licenses/by/4.0/), which permits unrestricted use, distribution, and reproduction in any medium, provided you give appropriate credit to the original author(s) and the source, provide a link to the Creative Commons license, and indicate if changes were made.